Paradise Garden Buffet at the Flamingo: Prices & Hours 2023
Updated January, 2023
(Please note: the Flamingo Hotel & Casino is open, however the Paradise Garden Buffet remains closed and may be so permanently. We'll update this article as soon as a re-opening is announced.)
The buffet at the Flamingo Hotel and Casino is called the Paradise Garden Buffet. It's located near the entrance to the Linq promenade, by the lush pond and garden areas.
One of the best features of the Flamingo's Buffet is its setting.
Floor to ceiling windows surround the dining area, offering gorgeous views of the outdoor waterfalls, ponds and plush landscaping.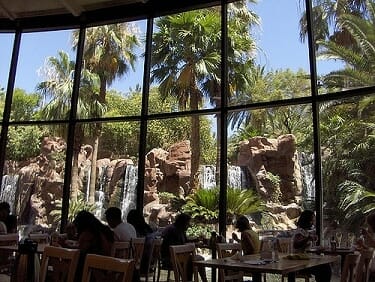 You're also likely to see a variety of birds, including, of course, flamingos! The ponds in the garden have Koi fish. Compared to the dark and sometimes smoky interiors of some buffets, it's a welcome change and makes for a peaceful meal away from the noise of the casino floor.
To be honest, the Paradise Garden buffet never ranks among the best buffets in Las Vegas. In a town where every casino is in a race to one up each other's buffet, the Flamingo's buffet does not really stand out for anything other than its views and fairly affordable prices.
There are a few quirks found at the Paradise Garden Buffet not seen at most (or any) other Vegas buffets.
For example: there is not a weekday night buffet.
It does have a weekend dinner buffet on Fridays and Saturdays, however I can't think of another buffet in town that doesn't open on weeknights. It's particularly odd given that the Flamingo Hotel has 3,600 hotel rooms, and is nearly always busy.
Also noteworthy is its daily brunch buffet, rather than a separate breakfast and lunch buffet. Granted, some casinos spread special weekend brunch buffets, however the Paradise Garden Buffet has brunch seven days a week.
Lastly, the Paradise Garden charges kids 10 and over the same as adults. It's odd. A tween will get chased off by security just walking by the slot machine area. But at the cashier stand, Caesars Entertainment decides to count them adults.
I'm not sure a 10 year old girl is going to eat the same as a 40 year-old chubby male, but they will pay the same admission fee.
The Paradise buffet does have a very reasonably priced brunch buffet. Maybe not in terms of places like Golden Corral, but for being in the heart of the Las Vegas Strip, the Flamingo's brunch buffet is very affordable.
Paradise Garden Brunch Buffet
Included is the standard breakfast buffet fare such as a made-to-order omelet station, waffles, chicken-fried steak, pancakes, fruits, eggs Benedict, French toast, bacon, made-to-order breakfast sandwiches, etc.
There are also made-to-order crepes.
More on the lunch side of things, you'll find a salad bar with a selection of pre-made salads, along with a yogurt parfait bar. You can also make your own sandwich choosing among the cheeses and deli meats.
Buffet stations include Mexican, Asian, brick-oven cooked pizza, and a barbeque station with smoked beef brisket and pulled pork. There's also made-to-order hamburgers.
Paradise Garden Dinner Buffet
The twice-weekly dinner buffet happens on just Friday and Saturday nights.
The selections for the dinner buffet rotate, as I have seen a "Summer BBQ Dinner" theme, (features smoked brisket, bamboo roasted salmon, a Louisiana seafood boil, as well as prime rib, crab legs, and peel and eat shrimp among other items) as well as a "Surf and Turf" theme.
Most always you'll see dessert offerings that include chocolate mousse, chocolate chip cookies, cakes, and sweet dessert crepes you can have made-to-order with say, chocolate and whipped cream, etc. There are also varieties of pies, such as blueberry, cherry and the like.
Perhaps the most popular dessert feature is the chocolate fountain. (Try not to stick your mouth under it).
(Related: Flamingo parking fee)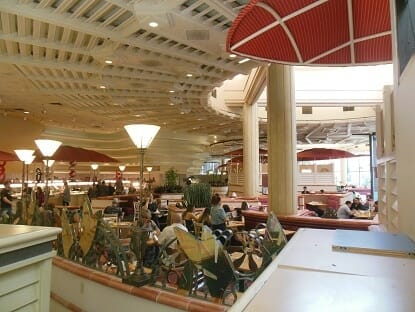 Flamingo Buffet Hours & Prices
Brunch Seven Days a week: 7 AM to 2 PM
Monday – Friday: $24.99
Saturday & Sunday: $26.99
Dinner:
Sunday – Thursday: Closed
Friday and Saturday: 5 PM to 10 PM
$31.99
Kids Prices:
For Children ages 4 to 9
Brunch: $10.99 Dinner: $12.99
Kids 3 and under eat free.
The prices above do not include taxes (8.25% on the Strip). Thus, a Sunday brunch for two would cost $58.43 before tip.
This is one buffet that often seems to have Groupon specials, so you may want to check them out before buying your buffet.
Paradise Garden Buffet and the Buffet of Buffets Pass
The Flamingo Hotel and Casino is part of Caesars' Entertainment. As such the Paradise Garden Buffet is included in the Buffet of Buffets pass.
A person who purchased the Buffet of Buffets pass will have unlimited access to the Paradise Garden Buffet during hours of operation for a 24 hour period.
Overall the Paradise Garden Buffet at the Flamingo is unlikely to "wow" anyone other than the easily impressed (like me), however if you're looking for a value-priced buffet in a pretty setting, this buffet may be worth your while.
(By Steve Beauregard. Photos courtesy of Napolean_70 via Flickr.)