Flamingo Las Vegas Parking Fee 2023, Map & Valet
Flamingo Las Vegas parking fees start at $15 for one to three hours of self-parking. And as the 9th largest hotel in Las Vegas, with 3,626 rooms and suites, the Flamingo Hotel and Casino has plenty of need for parking spaces.
And even though most of the resort's guests fly in and take a taxi, limo, or shuttle from the Airport by the Strip, there is a noticeable strain on the hotel's older seven story parking garage – particularly on weekends and holidays.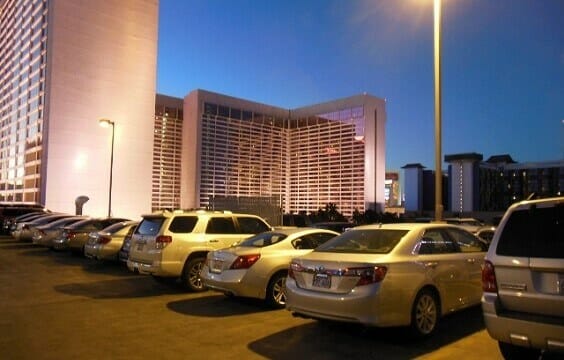 In addition, since its parking structure was closed for the building of the Linq promenade shopping area, guests at the Hilton Grand Vacations Suites at Flamingo park at this lot – making a busy parking garage even more crowded.
The Flamingo's seven story concrete parking garage is situated directly behind the hotel. The first two levels are for valet parking, while the other five are for hotel guests and well, anybody else who wants to park there.
Flamingo Las Vegas Parking Fee
Registered guests staying at the Flamingo have to pay this fee, as do non-guests.
Recently the Flamingo has implemented a flat rate fee on weekends, which is higher than weekdays. Cheaper, hourly parking rates are not available on the weekends. Parking rates are as follows:
| | |
| --- | --- |
| Monday – Thursday | |
| First Hour | Free |
| 1 – 3 Hours | $15 |
| 3 – 24 Hours | $18 |
| Each Additional Day | $18 |
| | |
| --- | --- |
| Friday – Sunday | |
| First Hour | Free |
| 1 – 24 Hours | $23 |
| Each Additional Day | $23 |
| Flamingo Hotel Guests | $18 |
The Flamingo increases parking rates during special events, which may include Super Bowl Sunday, July 4th weekend, Thanksgiving weekend, and the like.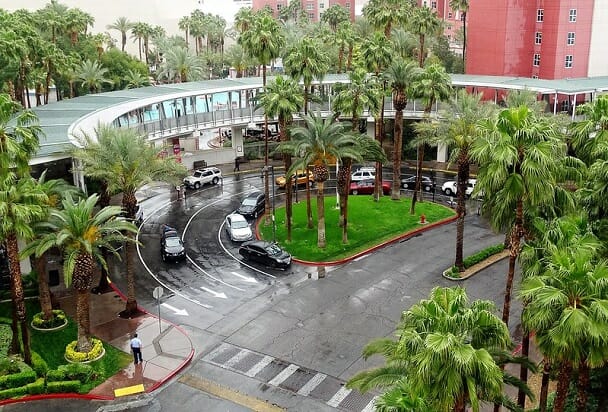 Free parking is available to Caesars Rewards members at Platinum, Diamond or Seven Stars status. Also, Nevada residents (with proof of I.D.) receive three hours of complimentary parking.
You will get a ticket when arriving, and pay at a self-pay kisok before leaving. They accept cash and/or debit/credit cards.
Flamingo Hotel & Casino Parking Map
(The red dot marks the entrance to the self-park parking garage. The Yellow dot is the valet parking area, while the black dot shows you the taxi and limos and rideshare pick-up/drop off area).
Flamingo Parking Rules
Flamingo Hotel guests can use their hotel room key to access self-parking at any other Caesars Entertainment property during their stay. They don't mention that it's free on their website, so I'm assuming you would have to pay a new fee at a different property.
Drivers staying at the Flamingo will have the parking fee automatically applied to their room bill.
Flamingo Hotel & Casino Valet Parking Fee
Hotel guests and non-hotel guest alike have to pay the valet parking fee. Current rates are as follows:
| | |
| --- | --- |
| Monday – Wednesday | $36 |
| Thursday – Sunday | $40 |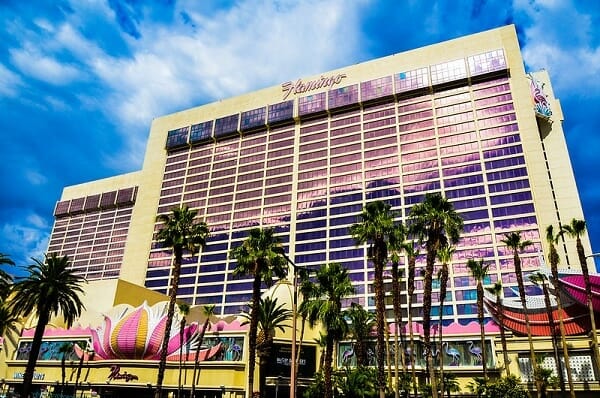 Valet parking remains free for anyone who reached Platinum, Diamond, or Seven Stars status on their Caesars Rewards card.
During special events and holidays, these rates can shoot up dramatically.
Flamingo Las Vegas Valet Parking Rules
For hotel guests using the valet, the valet parking fee will be automatically charged to your room. You will also receive in-and-out privileges.
Non hotel guests do not have in-and-out privileges for valet parking at the Flamingo.
So if you aren't staying at the Flamingo, and decide to valet park there on say, a Sunday, and stay for an hour, you'll pay $40. However even if you just drive out for lunch somewhere or run an errand, you'll still be charged a new $40 valet fee when you come back.
Flamingo Hotel guests and non-guests alike, who drive to a different Caesars Entertainment property, (say the Paris Las Vegas), will have to pay a new valet parking fee at any resort other than the Flamingo. Even on the same day.
A Crowded Garage
Because the Flamingo is so centrally located on the Strip, close to everything, the parking garage does get a lot of visitor traffic from folks not necessary staying in the hotel.
Unfortunately for those of you staying at the Flamingo, there is not a separate parking area reserved for hotel guests. In fact, some hotel guests have been known to have to park at the nearby Cromwell Parking garage, or Linq parking garages.
Once you've navigated up the Flamingo's smallish parking lanes, you may spend awhile finding a spot, driving up level after level.
We ended up parking on the rooftop, which is open air and offers wonderful views of the Flamingo's pink-tinted exterior, as well as views of Bally's, the Cromwell, and glimpses of the Bellagio water fountains. But as an inconvenience, the parking garage's elevator does not go to the rooftop, meaning you may find yourself hauling heavy luggage up and down one flight of stairs to the 6th level.
The walkway to the hotel entrance is on the third level.
Another tip
Many parking spots close to the elevator are reserved for rental cars or handicap spaces, so if you see a too-good-to-be-true space up close to the elevator, it is probably reserved.
Being older, the Flamingo parking garage is a little cramped, and you'll need to make some tight corners. The parking garage isn't as old as the hotel itself, which opened in 1946, however the smallish spaces and tight corners aren't really a comfortable fit for today's SUVs.
Despite not being the nicest casino parking lot in Las Vegas, the Flamingo's parking garage is fairly convenient for you to either get on the Strip or on the Interstate.
Flamingo Hotel and Casino Las Vegas Parking Garage Directions
When arriving, you access the parking lot by taking Linq Lane, which is just off of Flamingo Road, behind the Flamingo of course.
Linq Lane runs parallel to the Las Vegas Monorail tracks. Once on Linq Lane, you'll take the first left at an unnamed street. (Don't worry, you'll see signs pointing you to the parking area). This street is just past a small strip mall that is home to the Stagedoor liquor store and the famous Battista's Hole in the Wall Italian Restaurant.
Continue straight on this unnamed access road, following the pink Flamingo signs. After you pass under the monorail tracks, you can either continue forward for valet parking on the right, or you can turn left into the self-parking garage.
Getting out, is pretty quick and easy. At the parking garage exit, three quick right hand turns will get you on Flamingo Road. From there it's a short drive to either the Strip or the I-15 entrance ramps.
Flamingo Hotel and Casino Valet Parking
As mentioned, you'll access this by staying right on the unnamed street, rather than making a left into the parking garage. Some say you only tip the valet when picking up the car, but I always give him at least $3 when dropping off. (Sort of as a cheap insurance policy that he won't trash my car).
Driving to the Garage on the Strip
As some people have pointed out to me, you can access the Flamingo's parking area directly from the Strip. This is true, but I strongly recommend against it. Making a right hand turn when pedestrians are present can be impossible on the Strip. The crowds of walkers aren't interested in you getting to your parking spot quickly, and you could be idling there for a while, waiting for a break in the long stream of pedestrians.
Instead, save the time and headache by going on Flamingo Road to use the Linq Lane parking access road.
(By Steve Beauregard. Photos courtesy of gamboool.com and by Tomas Del Coro and Billy Kerr via Flickr).