Updated September, 2021
Between valet parking, and a 5 story self-parking garage, here is lots of room for the numerous visitors to the Linq Hotel, Linq promenade shopping area, and High Roller Ferris Wheel.
With 2,256 hotel rooms, the Linq Hotel and Casino isn't one of the largest hotels in Las Vegas, so there is usually enough room for those of you staying there in the resort's 5 level parking garage located behind the hotel, (on the east side).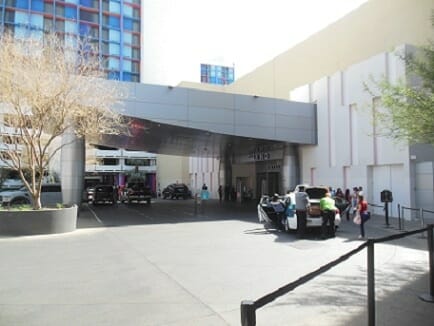 Access to the hotel from the parking garage isn't as easily found as it is at other resorts, but the walk from the hotel to the garage is shorter than others I've experienced. You'll reach the hotel by taking the Linq Parking Garage elevators to the first level.
As with most other hotels and casinos on the Las Vegas Strip, you will have to pay to park at the Linq if you're just visiting – whether you are just stopping by to ride the observation wheel, eat a meal, ride the Fly Linq Zipline, etc. If you are staying at the hotel, self-parking is free.
Linq Hotel/Casino Parking Fee
| | |
| --- | --- |
| First Hour | Free |
| 1 – 3 Hours | $12 |
| 3 – 24 Hours | $15 |
| Each Additional Day | $15 |
These self-parking fees can increase during busy times, such as March Madness, Labor Day, Memorial Day, etc. Event pricing is a flat $25 for 0 to 24 hours of parking.
Either way, parking remains free to hotel guests, Caesars Rewards Card members (the player's card for the Linq and other Caesars Entertainment properties), who have reached Platinum, Diamond or Seven Stars, and Nevada residents who have state-issued i.d. Nevada residents can park for free for 3 hours.
For self-parking, you will receive a ticket when entering the parking garage. You'll then use a self-serve kiosk to pay before leaving.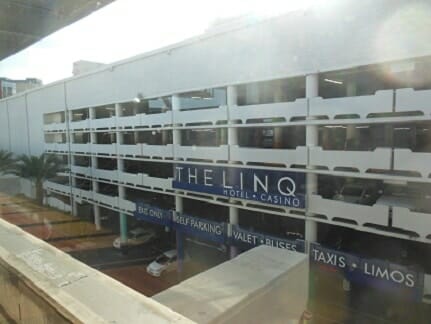 Linq Valet Parking Fee
(Valet parking remains unavailable. We'll update this once it returns).
Other notes about the parking fees:
For hotel guests, the valet parking fee will be automatically charged to your room.
There is an additional $20 fee for oversized vehicles.
Hotel guests are entitled to park at any other Caesars Entertainment property, without an addition fee. You also have in-and-out privileges for the Linq. You'll just use your hotel room key at the gate.
However valet parking does not entitle you to in and out privileges at other Caesars Entertainment hotels.
In other words, let's say you valet park here for two hours or less to ride the Linq High Roller. You'll be charged once you leave. Then let's say you come back later in the night to eat at a restaurant on the Linq Promenade and stay another two hours. You'll get charged another fee.
As with the self-parking, anyone with a Caesars Rewards card who has reached Platinum, Diamond or Seven Stars status will receive free valet parking.
As with self-parking, valet fees will be paid at a self-serve kiosk, (unless you are a Linq Hotel guest in which it's automatically charged to your room bill). Any valet tips given must be cash; you cannot charge it to the bill.
(Related: Which casinos on the Strip have free parking?)
Directions to Linq Self Parking Garage
From the Las Vegas Strip, you'll want to east on Flamingo Road. Right after you pass the Cromwell Hotel and Casino on your left, you'll take the first left, on Linq Lane.
Linq Parking Map
(The blue line shows you how to get to the Linq parking from the Strip. The Black star is the entrance to the Linq Self-Parking garage, the Linq Hotel Valet Parking, and the High Roller Valet Parking area.)
From there, it's just 1,000 feet to Winnick Avenue, where you'll want to follow the signs and go left. Technically it is Krueger Drive.
Once there, it's very easy to find your way to the Linq's Self-Parking garage, which will be on your left.
The garage itself has five stories, and has low ceilings. This garage is not exclusively for hotel guests; anyone can use it.
Linq Hotel and Casino Valet Parking Directions
Access to the valet parking services at the Linq Hotel (note I say "hotel." Linq Promenade and High Roller valet parking is addressed further down below in this article), is on the back side of the resort, accessible from Linq Lane.
You'll follow the same directions as you would for self-parking, only following the "valet signs" to the hotel's shiny, fancy new port cochere.
Linq Promenade and High Roller Observation Wheel Parking and Valet
Parking for the promenade and observation wheel is in the Linq garage, following some of the same directions listed above for the Linq Hotel self-parking garage. However the Caesars Forum Conference Center may offer additional parking in their underground garage.
Again, from the Strip, you'll want to head east on Flamingo Avenue, turning left onto Linq Lane, then following the signage into the garage.
Alternatively, before the garage, the Linq Promenade and High Roller have a valet stand on your left.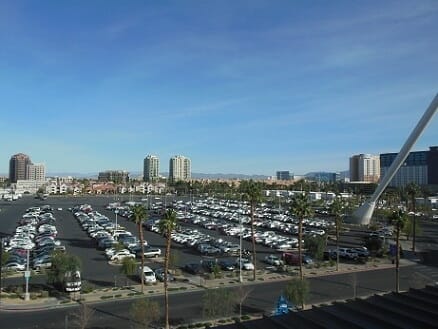 Random Linq Hotel Parking Garage Tidbits
The 5th floor of the Linq Hotel and Casinos' parking garage used to feature a long running enclosed exhibit of over 250 classic cars.
On March 1, 2014, the lower level of the Linq's parking garage (it was still called "The Quad" back then, flooded, after heavy rains drenched the Las Vegas valley.
(By Steve Beauregard. Original photos from Gamboool.com).