Updated February 6th, 2021
Situated at the end of the Linq Promenade in the heart of the Las Vegas Strip, the High Roller is the exiting, enormous large Ferris wheel that whisks riders up in air-conditioned cabins 550 feet above the busy Las Vegas Strip below.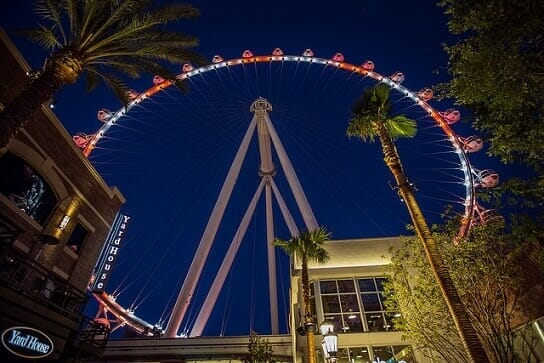 Day or night, the perspective and views are incredible. For many visitors, including me, the High Roller Ferris Wheel is a must-do at least one during their Las Vegas vacation.
As for cost? Well, since its opening a few years ago, ticket prices have been all over the map as Caesars Entertainment management is constantly fiddling with ticket prices and promotions. Prices have been reduced to encourage ridership, and cabins offering an open bar have been introduced.
Typically you won't have to experience any kind of line to wait to ride the High Roller.
You can purchase tickets online through the Linq's website here: Linq High Roller Official site.
The ticket will be sent to your phone for you to scan to gain entry. If you choose to use the "Will Call" option to get a physical ticket, it will cost a total of $6 more – even if you're buying just one ticket.
Authorized Linq ticket sellers like Vegas.com often have specials that can save you a few bucks off of the ticket. As of this update in December of 2020, Vegas.com has a deal for $21 tickets (daytime) – a savings of $5 over the Linq's price (after Linq fees). They also have $32.99 night tickets, which saves you six bucks off the Linq's price.
$21 & $33 Tickets
(I am an affiliate for Vegas.com and will receive a commission should you purchase your Linq tickets through them).
High Roller Online Ticket Prices 2021
Please note, tickets are typically two or three dollars more if purchased at the box office. Below are online prices after fees.
Daytime
(Rides until 4 PM)
Adults: $26 or $21 here: $21 day Linq Tickets
Youth: (Ages 7-17) $12 from the Linq – or $9 at Vegas.com

Kids 6 and under: Free (but require a ticket)
Again, these are prices after fees. The Linq's website prices sometimes show a lower price, which don't reflect the service fees and processing fees you find when you checkout.
Night
(Rides after 4 PM)
Adults: $39 from the Linq's site, or $32.99 when bought at Vegas.com here:
$32.99 Night Tickets
Youth: (Ages 7-17) $20 from the Linq, or $19 at Vegas.com
Kids 6 and under: Free (but require a ticket)
You can purchase tickets at the Linq ticket booth (at the base of the Ferris Wheel), or at the kisok on the Linq Promenade. You can also buy tickets from Guest Services inside the Linq Hotel.
Also note that if you are a resident of Nevada, (and have a Nevada driver's license to back that up), you will receive 50% off of the standard prices.
Linq High Roller Hours of Operation
While the High Roller Las Vegas used to run from Noon to 2 AM, seven days a week, hours have been changed since the re-opening.
Hours are now:
Monday – Thursday: 4PM to Midnight

Friday – Sunday: Noon to Midnight
Your daytime High Roller is not valid after 4 PM. The nighttime pass, (also called the "Anytime Pass"), is more expensive, and as such, you can ride during anytime of the day or night, (but just once).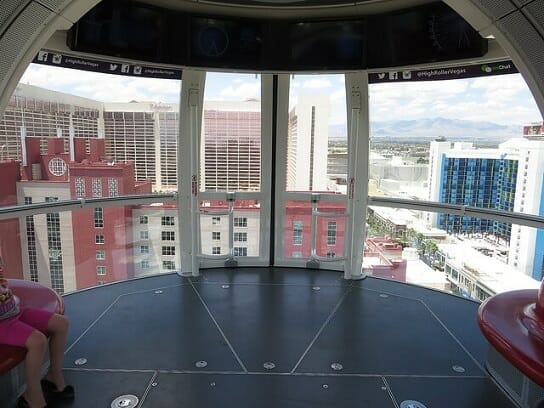 High Roller "Happy Half-Hour" Ticket Prices
Editor's note: Although the High Roller is back in gear, the Happy Half-Hour option is still not available. We'll update this article as soon as they re-institute it. Below is information on it pre-Covid, with the prices probably similar (or the same) when it starts up again.
To promote ridership, the High Roller offers a happy hour special, in which your ticket price gives you a ride in a pod with a free, open bar.
The free drinks are available for pretty much the duration of the entire 30 minute ride.
High Roller Happy Hour Prices and Hours
Day:
$35 when purchased on the Linq site.
Night:
$50 from the Linq site.
The daytime ticket allows you to ride one time anytime from Noon to 6 PM.
After the switch to night pricing at 6 PM the price goes up for the free drink cabin. Prices are the same seven days a week.
The nighttime happy hour starts at 6 PM and goes until 12:50 AM.
There are 4 cabins designated as the High Roller "Happy Hour" pods. After purchasing your happy hour tickets, you'll wait in a separate area for one of the pods. All four pods have a bar of course, and a bartender.
Once inside, the free drinks start as soon as the doors close. Yes, you can drink all-you-can for the duration of the ride, which takes thirty minutes. A savvy and quick drinker can get five drinks in during the 30 minute ride. Please note that "last call" is about 3/4th of the ride in.
The liquor selection includes Jose Cuervo tequilla, Bacardi rum, Sky vodka, and Tanqueray gin, among others. There are the usual mixers, along with Sprite, Pepsi, ginger ale, soda water, lime juice, etc. Please note regular water is not served.
As for beer, plastic bottles of Coors Light (with the screw on/off caps) are served. One tip for my fellow cheapskates is to get a beer, tuck it in a backpack for later, then get another beer for the ride.
A Chocolate Ride and Yoga Rides
Editor's note: as with the Happy Hour ride, these are not back available yet.
A new feature started in in 2016 and still running today is a ride called the "Chocolate Experience."
Running on Thursday nights, from 5 PM to 8 PM, riders who pay $45 (after fees), can ride in special cabins with chocolate tastings of five different types of chocolates. There is also a wine pairing with the chocolates.
Another specialty rides are the designated yoga rides, in which you'll perform yoga exercises during the half-hour loop. These yoga rides occur on Sunday, Wednesday and Fridays mornings, at 11:30 AM. For exact prices, please call the Linq at: (702) 322-0593.
Linq High Roller Family Ticket Package
Editor's note: as with the Happy Hour ride, these are not back available yet.
The High Roller's previous package deal for a family 4 pack ticket option is on and off again.
As of this update, it's on again. It costs just $60 (after fees) total, for all four of you. Two adults and two kids (age 7 to 17), can ride during the day (before 6 PM).
However at Vegas.com, the price is just $54 (total, not per person). Available here: $54 Day family package
The anytime (night) ticket costs a total of $100 (after fees) for the entire family on the Linq's site. This allows you to ride once anytime from open to closing.
Cheaper tickets are available here $94 Night Family Tickets
High Roller vs. London Eye
Ticket prices for the Ferris Wheel are comparable to those of the London Eye, which is the 443 foot Ferris Wheel set on the banks of the River Thames in England's capital. A ride on the London Eye costs 19 British Pounds, which equals around $31 U.S. dollars.
At 550 feet tall, the High Roller is the highest observation wheel in the world, topping a Ferris Wheel in Singapore by nine feet. In case you're wondering, an "observation wheel" and Ferris Wheel are the same thing, however Caesars Entertainment prefers to call the High Roller an observation wheel.
Although just a baby, the observation wheel has already become a Las Vegas landmark, visible from nearly all parts of the center Strip. It has forever changed the already incredible Sin-City skyline.
When did the new Las Vegas Ferris Wheel Open?
The High Roller opened to the public at 1 p.m. on April 1st, 2014.
A group of executives from Caesars Entertainment (they own the High Roller), along with a congresswoman and other dignitaries, took the first official ride, before the pods were open for public ridership.
In early 2014, all of the pods were attached to the High Roller, and testing was completed. Originally planned to open in June of 2013, the High Roller experienced some delays, and it's April 1st opening took place several months after the opening of the retail plaza it anchors, Caesar Entertainment's Linq shopping promenade.
The High Roller is set about 1,200 feet from the Strip, in-between the Flamingo Hotel and Casino, and the Linq Hotel and Casino.
It's the centerpiece of Caesars Entertainment's $550 million Linq Project – a restaurant/shopping/entertainment complex that has 300,000 square feet of retail space, all set on prime space right on the Las Vegas Strip. Coincidentally perhaps, the number 550 represents both the cost of the Linq project, and the High Roller's height in feet.
The Linq officially opened December 27th, 2013, with a scaled-down opening featuring six businesses, including the re-opening of my much-beloved O'Sheas Casino. The new version has three bars and 5,000 feet of casino space. Other Linq tenants include a Starbucks, Purple Zebra (a daiquiri-type bar with a futuristic vibe), a hot dog place called Hotte Doggery (not the cheap $1 hot dogs – these are gourmet), Chayo Cocina (a Mexican restaurant with fantastic views of the High Roller), and a Koto – an shop selling "eccentric gifts."
Ground-breaking for the observation wheel portion of the project began in February of 2012. With the wheel and foundation structures in place, (the wheel was completed in late October of 2013), the cabins, or "pods" began being affixed to the High Roller in November of 2013. The final cabin was attached on December 2nd, 2013.
How many people can fit in the High Roller Observation Wheel pod?
There are 28 cabins total on the Ferris Wheel. Each of these pods weighs 44,000 pounds, and can carry 40 passengers.
According to Caesars Entertainment, the ride last for about 1/2 hour. (The cabins travel one foot per second). Management of Caesars Entertainment said that during the first full year of operation, (ending March of 2015), the High Roller had an average of 5,000 riders per day. This was well below the company's stated expectation of between 4 to 5 million riders each year (4 million riders equals an average of 11,000 riders per day.)
Can you Drink on the Ferris Wheel?
This is Las Vegas. Of course you can drink in the High Roller. Even if you are not riding in a "Happy Half-Hour" cabin. The operators of the Ferris wheel sell drinks (on the ground level) at the "Wheelhouse" and they encourage you to bring them onboard. Or you could bring the beer you purchased at a liquor store on board as well. Just a warning though, there aren't bathrooms in the cabins.
You also won't be able to smoke. Each cabin has eight flat screen TV screens, in case you can't find anything interesting to look at when dangling 550 feet above the most dazzling city on Earth.
There is also bench seating.
Is the High Roller the Tallest Structure in Las Vegas?
Nope. The High Roller tops out at 550 feet, but the Stratosphere portion of the Stratosphere Hotel and Casino tops out at 1,148 feet.
(By Steve Beauregard. Photos courtesy of Robert Pernett and Ken Lund via Flickr).