Carnival World Buffet at the Rio Las Vegas 2023
(Editor's note: While the Rio is open, the Carnival World Buffet remains closed. Below is our original write-up. We'll update this article as soon as a re-opening date is announced.)
The Rio All-Suites Hotel & Casino has dropped a notch or two in the eyes of many hotel reviewers. Similarly, the resort's Carnival World Buffet has seemingly also fallen in the eyes of many Las Vegas buffet veterans.
The Rio has traditionally been known as the epicenter of Las Vegas buffets.
Up until fairly recently, the Rio was home to two very well-regarded buffets, perhaps two of the best in town. However in October of 2015, the separate Seafood buffet merged with the Carnival World buffet to create one, larger super-buffet boasting over 300 different menu items.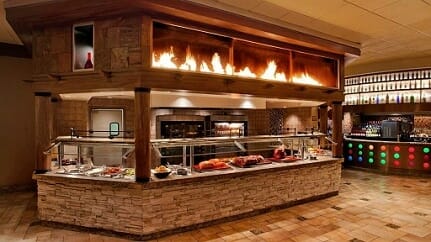 The carnival is one of the larger buffets in Sin City, with a serving line that snakes around for what seems like miles.
It's also that rare Las Vegas buffet not to serve breakfast. In the summer of 2017, they stopped severing lunch as well, however a weekend brunch is offered.
In May of 2018, they removed the upgrade seafood option, eliminating many seafood dishes. Prices were raised in July of 2018 and again in July 2019. Currently they are the following:
Carnival World Buffet Price & Hours
Champagne Brunch
(Saturday & Sunday): 9 AM to 3 PM: $29.99
Dinner
(Monday – Thursday): 4 PM to 9 PM: $34.99
(Friday): 4 PM to 9:30 PM: $34.99
(Saturday/Sunday): 3 PM to 9:30 PM $34.99
Please note that these prices do not include the Las Vegas/Clark County sales tax of 8.38%. Therefore, a weekend dinner buffet for two ($34.99 x 2) would cost you a total of $75.75 after tax.
Recently a new locals discount has been instituted. You have to show both a Nevada driver's license and Caesars Rewards player's card to receive this 25% discount off of the cost of the buffet.
Another locals promotion just added is the buy one, get one free offer available on your birthday. Additionally, if you can bring three paying customers with you, you'll eat free any day during your birthday month.
Also, the Carnival World Buffet is included when you purchase a Buffet of Buffets Pass. While there used to be an additional $25 fee to use your pass at the Carnival Buffet, that is no longer the case. There is no extra upgrade fee with your BOB pass.
Lastly, for an additional $20, you can purchase a VIP pass that allows you to skip the buffet lines.
Rio Carnival Buffet All-You-Can-Drink
Rio's buffet offers an all-you-can drink option. For $13 extra, you can have unlimited draft beers and wine (house white or red).
And, as the name implies, the Champagne brunch on Saturday and Sundays includes unlimited champagne and mimosas.
Children's Prices
Kids who are between 5 to 12 years of age pay $15 for each buffet (regardless of the day). Teenagers pay full price.
Below is a list of menu items you will typically find during the dinner buffet.
Rio's Carnival Buffet Menu Items
The large buffet has the familiar lineup of different stations, although Carnival seems to have more choices than most Las Vegas buffets. At the time of this writing, buffet dishes and options included the following:
Salad
There are the make-your-own salads of course, with three different types of greens to choose from and all the fixin's you could want, fresh fruit, (versus the canned fruit you often see at Vegas buffets) including melon, cantaloupe, watermelon, and pineapple.
There's also a small vegetarian section here, and pre-made salads include a crab & shrimp salad, macaroni salad, traditional potato salad, and chilled vegetables.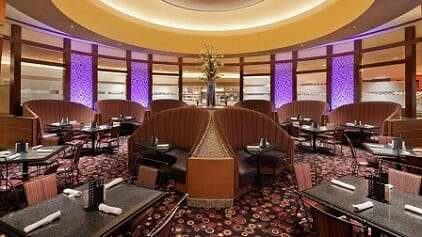 Japanese
The teppanyaki cooking station is a favorite. The sushi section less so, as there is only a small selection of the standards (spicy tuna roll, California roll), etc. The Japanese area also offers a variety of noodle dishes.
A highlight for many is the made-to-order soup station, where a chef prepares your dish there on the spot. On a recent visit, the extensive soup choices were: egg noddle, Vietnamese pho, Udon noodles soup, egg drop, wonton, rice noodle soup with tom yum broth, and a hot & sour soup. You may add a variety of toppings and extras into your dish, including fish, beef, and chicken dumplings.
Mexican
Nothing fancy here, just your typical cheese enchilada, Spanish rice, tilapia, green pork chili, nacho bar with all of the fixin's (nacho cheese, refried beans, lettuce, fresh cheese, tomatoes, four kinds of salsa, onions, etc.), and menudo soup.
Asian
Here you'll find vegetable fried rice, green curry chicken dish, chow mein, vegetable spring rolls, sesame balls, and several other hot dishes all with your choice of sauces: soy, plum, chili, sweet & sour etc.,
There is a shrimp har gow (or dim sum shrimp dumplings), barbecue pork buns, pork & shrimp shu mai, pork ribs, and several meat dishes, including duck.
Italian
The Italian station has make-your-own Caesar salad bar, which is next to a small, but well-regarded pizza section. You usually don't hear compliments about buffet pizza, but the four different pizzas here get good reviews on the flavor front.
There's also spaghetti with your choice of meat sauce or a meat-less marnara, beef lasagna, and clams with garlic & parsley.
American
A unique menu item here not found at hardly any other buffet in town is the baked trout. The American station also includes fried shrimp, French fries, chicken wings, mashed potatoes with brown or white gravy, seasoned vegetables, and teriyaki pork ribs.
Carving Station
Along with the buffet standard: Prime rib, you'll find roasted pork loin, roasted turkey, baked ham, beef ribs, rotisserie chicken, and sides like corn on the cob, and mushroom rice, among others.
Unlike other Vegas buffets, Carnival has a wide variety of meat offerings, including grilled pineapple, beef hot dogs, grilled pork belly, mini corn dogs, and chicken sate.
Other items you'll find here include peel and eat shrimp, blue crab, clam chowder and fried catfish.
So although they have eliminated the seafood upgrade, the buffet here still includes the following seafood items: sushi, peel and eat shrimp, fried shrimp, green mussels, ceviche shooters, ahi tuna poke, catfish, fresh cod, and fresh salmon.
(Related: Bacchanal Buffet at Caesars Palace Price)
Dessert
In addition to the usual assortment of cakes, cookies, cupcakes, mousses, eclairs, Carnival has a great selection of tasty fruit pies including cherry, blueberry, and of course, apple.
Other temptations include Crème brulee, fruit tarts, and flan. There is an area of sugar-free desserts as well.
Up until recently, there was a Gelato section that included ten different flavors, including a green tea gelato. However I have heard from a recent visitor that the gelato has been replaced by soft-serve ice cream.
Carnival's drink station include the make-your-own Pepsi machine with seemingly a million different flavors, juices, teas, coffees. Unlike years past, the drink station is self-service now.
Carnival Buffet Phone
You can use this number for general questions, or to reserve table for large parties only, which they define as 14 or more guests.
(702) 731-7778
One other note: if you happen to be a Caesars Rewards member at the Diamond level, you get front-of-the-line access, as well as a separate dining room.
While the Rio used to be the epicenter of buffets in Las Vegas, the Carnival World Buffet is no longer the must-go-to buffet experience (in my view). However if you can get a good deal, (we've heart of Groupon deals at $69.99 for two, with drinks included), it may be worth your while.
(Photos courtesy of Rio All Suite Hotel & Casino