Le Village Buffet at Paris Las Vegas Prices 2023
Updated January 2023
(Editor's note: The Le Village Buffet at the Paris Las Vegas Hotel and Casino remains closed, and it looks like for good. We'll update this article if and when a re-opening date is announced.)
While the Wynn buffet impress a gorgeous whimsical motif, and the Bacchanal Buffet dazzles with a sophisticated, contemporary design, no Strip buffet can match the charm of the Le Village Buffet at the Paris Hotel & Casino.
The French village-themed buffet sits right off the casino floor, and offers both indoor and "outdoor" patio seating under the Paris Las Vegas casino's faux blue sky.
Instead of your typical buffet "stations," here each different food area is represented by one of the five provinces of France.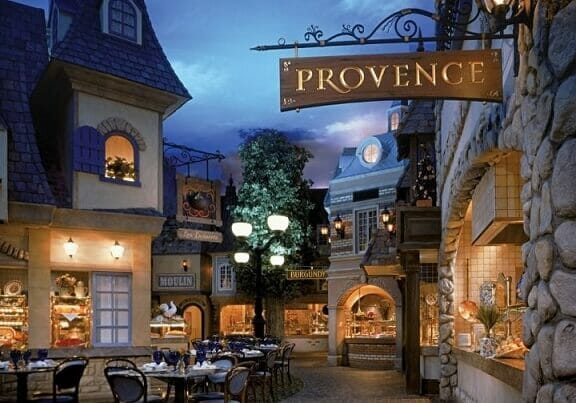 Unlike most of the other Las Vegas Strip buffets, Le Village does not have your typical Asian and Mexican food stations. No "make your own nachos" here. Nor will you find buffet staples like pizza.
What you will find is decent buffet with unique offerings in an atmosphere unlike any other buffet you've been to.
Paris Le Village Buffet Hours & Prices
Breakfast
7 days a week: 7 AM to 10 AM – $23.99 ($14.99 for kids)
Champagne Brunch
7 Days a Week: 10 AM to 3 PM – $30.99 ($19.99 for kids)
Dinner
Sunday – Thursday: 3 PM to 10 PM – $34.99 ($17.99 for kids)
Friday – Sunday: 3 PM to 11 PM – $34.99 ($19.99 for kids)
Le Village Buffet All-You-Can Drink Option
For $12.99, anyone (over 21) who has paid for a buffet entry can upgrade to this all-you-can-drink option.
You won't get well drinks with this, however your choices include Miller Lite or Blue Moon on draft, white or red house wines, and Bloody Mary's.
Buffet of Buffets
As you may be aware, Caesars Entertainment offers a 24 hour unlimited buffet package called the Buffet of Buffets. This pass gives you unlimited access to six different Las Vegas buffets.
The Le Village Buffet is one of buffets included in this package. Unlike with the Bacchanal Buffet, there is no extra fee when using your Buffet of Buffets pass at Le Village Buffet.
Le Village Buffet Menu
Much like the décor, the menu at Le Village Buffet is very heavily French themed. The various food stations are named after provinces in France, including Brittany, Burgandy, and Provence.
Le Village Buffet Breakfast Menu
During breakfast and brunch you'll find eggs benedict, smoked salmon, sausage frittata, sausage bread pudding, Bavarian sausage, and a cheese blintz.
The carving station has slab bacon (thicker than what most of us are used to), with ham and more sausage. In keeping with the French theme, there are a selection of individual, cute mini-quiches.
One nod to the typical Strip buffet is the requisite made-to-order omelet station.
However you'll also find a sweet breakfast palenta, little apple turnovers, and all the usual breakfast buffet items, from fresh fruits, to bacon, waffles, a delicious raisin bread French toast, yogurt, scrambled eggs, etc.
As with the dinner buffet, the made-to-order crepe station is very popular, and you'll have your choice among a variety of fruits and toppings.
Lastly, there's a very tempting wide selection of pastries, muffins, and of course, croissants. The sticky buns have three different sauce options: chocolate, vanilla or caramel.
Le Village Buffet Dinner Menu
On the dinner side, I don't guarantee each of these dishes will be available, as the menu is always subject to change, however these dishes below are what was served on a recent visit and is typical of what you'll likely find.
In the Provence area, you'll find Penne puttanesca, pasta with truffle cream, pork bean cassoulet, roasted carrots with bacon, eggplant caponata and Lyonnais potatoes (sliced potatoes sautéed in butter, with onions and parsley).
Other sides include poached pears, sweet potatoes, mashed potatoes, mushrooms, Brussel sprouts & carrots, scalloped potatoes, rice pilaf, saffron rice, and fingerling potatoes.
Carving area has prime rib, leg of lamb, and roast beef with the horseradish and au jus. Next to it are cooked vegetable compliments, such as creamed spinach, steamed broccoli and cauliflower.
(Related: Paris Las Vegas Parking).
Seafood dishes include a "Clams, sausage & basil" dish, mussels, peel n' eat shrimp. Smoked salmon, trout, seafood bouillabaisse.
Ever had duck or pork pate? You can here. It's next to the cheese platter with various artisanal cheeses and cured meats.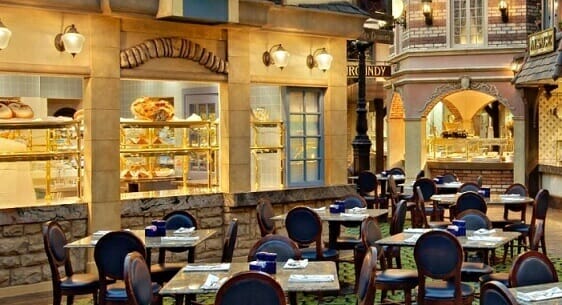 Le Village Buffet's salad bar is pretty standard. Next to it are the chilled crab legs. And while I mentioned there isn't an Asian station here, there is oddly enough, a small selection of sushi.
This night their soup selections included cream of chicken soup and of course, French onion soup.
Also in this area were cornichons, next to which were mixed olives and a Feta cheese salad.
In other "provinces," you'll find a three-cheese macaroni dish, rotisserie chicken and Yukon gold mashed potatoes. There also a good selection of grilled vegetables.
Le Village Buffet's signature is their made-while-you-watch crepes stand.
Savory or Sweet? You can choose from either a meal crepe, dessert crepe, or both!
A little chalkboard shows the eight standard crepes, (four savory and four sweet), however you can customize your own with a variety of ingredients.
On this night the savory options were: a Chicken, spinach & artichoke crepe, Truffle mushroom, Ham & Cheese, and Caprese.
The dessert crepe options were a banana Nutella, strawberry ricotta, brandy apple, and the cookie butter fluffernuter. (And yes, that's the real name. It comes from the dessert sandwich of the same name).
Sauces include chocolate, vanilla, caramel, and there are other fruits to add should you wish, including prunes.
Desserts
Popular desserts (other than the crepe station), include macaroons (I think I counted five different flavors, along with macaroon pops), vanilla bean crème brulee and crème caramel. You'll also find bread pudding, cheesecake, canoli cups, a praline cake, fruit tarts, eclairs and the like.
Instead of the ice cream machine, here there's a self-serve soft custard machine with cones and optional toppings
The small "No sugar added" dessert section includes chocolate cake, carrot cake and Black Forest cake, along with cookies.
Paris Le Village Buffet Phone & Website
(702) 946-7000
The official buffet website can be reached Here
Lastly, Le Village Buffet is perhaps the only buffet in Las Vegas in which you can make reservations. You do this through the Open Table app or at Opentable.com.
(by Steve Beauregard. Photos courtesy of Caesars Entertainment)