Paris Las Vegas Parking Fee 2023, Valet & Map
With a unique décor and central-Strip location, the Paris Las Vegas Hotel and Casino continues to hold its charm and appeal. The resort sits on 32 acres and has just under 3,000 rooms.
Guests to the Paris Las Vegas Hotel and Casino are served by a large seven story parking structure behind the resort.
Because Paris Las Vegas and Bally's are owned by the same company (Caesars Entertainment), and are physically joined together, the two resorts both use the same parking garage. Unfortunately, there are fees to park here, both for self-parking and valet services.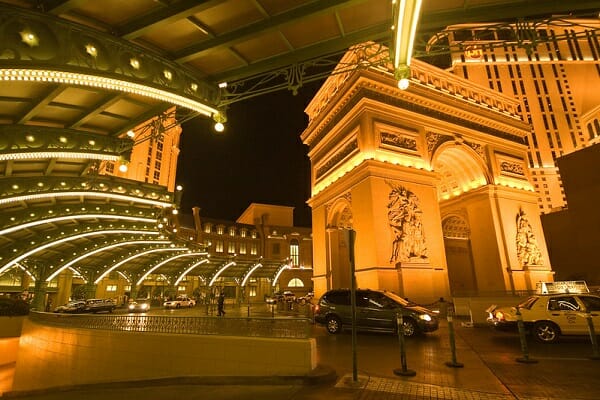 The Horseshoe Las Vegas parking garage is the same as its sister, Paris next door. Valet parking areas are different for each hotel however. (More on that below). If you are just going to be in and out real quick, know that one hour or less of self-parking is completely free.
Other than that, registered hotel guests staying at the Paris, and non-guests alike will have to pay for self-parking. Current rates are as follows:
Paris Las Vegas Parking Fee
| | |
| --- | --- |
| Monday – Thursday | |
| First Hour | Free |
| 1 – 3 Hours | $15 |
| 3 – 24 Hours | $18 |
| Each Additional Day | $18 |
| | |
| --- | --- |
| Friday – Sunday | |
| First Hour | Free |
| 1 – 24 Hours | $23 |
| Each Additional Day | $23 |
| Paris Las Vegas Hotel Guests | $18 |
During busy times in Las Vegas (i.e. July 4th weekend, Memorial Day, etc.), the flat weekend rate can jump higher. However it has been custom that hotel guests will only be charged the normal flat rate for 24 hours.
Please also note that Platinum, Diamond, or Seven Stars Caesars Rewards Card members receive free parking. Nevada residents with proof of residency get their first 3 hours of parking fee.
Paris Las Vegas Valet Parking Fee
| | |
| --- | --- |
| Monday – Wednesday | $36 |
| Thursday – Sunday | $40 |
Please note that increased special event/holiday pricing for valet services is always a possibility
For those of you have Caesars Rewards cards and have reached either the Platinum, Diamond, or Seven Stars status, your valet parking is complimentary.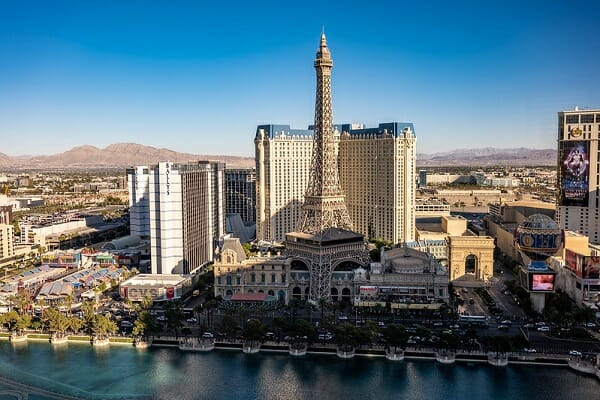 Some other notes:
For hotel guests, the valet parking fee will be automatically charged to your room.
Hotel guests will have in-and-out privileges, however non-hotel guests will have to pay a new valet parking fee each time they drive to the Paris, even if its on the same day.
Everyone will be charged a new valet parking fee when going to a different Caesars Entertainment property.
Paris Las Vegas Hotel & Casino Parking Map
(Here's a map of Paris Las Vegas. The star marks the valet area, while the black lines show the 3 possible driving routes into the parking garage and valet. Paris Drive, the bottom black line, is the main road to the self-parking garage entrance and exits).
Directions to the Self-Park Parking Garage
Access to the Paris Las Vegas parking garage is from either one of two different Strip entrances, or from Audrie Street, directly behind the resort.
The main, most popular entrance into the parking garage is off of Paris Drive, a little straight away street that is in-between the Paris and its neighbor, Planet Hollywood.
(Here is the entrance and exits into the Paris Las Vegas parking garage off of Paris Drive).
When Going South on the Strip
Going South on the Strip, (towards MGM Grand for example), you'll want to take a left into the resort at Paris Drive. To be honest, I can't remember if this street is even marked as "Paris Drive" on a sign, but it will be pretty obvious to you that this is the entrance (it has stoplights).
(Related: MGM Grand Self Parking Garage information).
This Paris Drive is right after you pass the Eiffel Tower, and before you get to the big blue Paris balloon (officially called the "Montgolfier Balloon").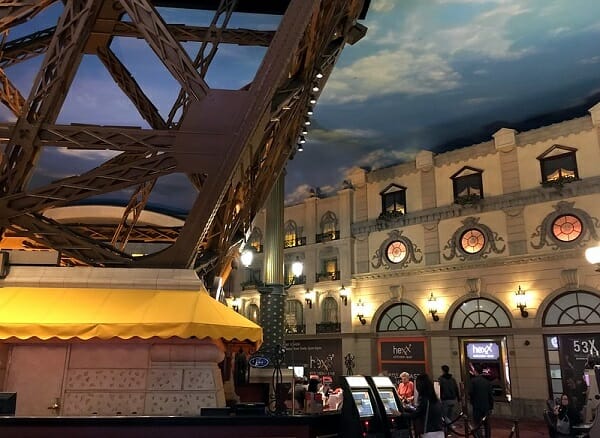 Once on Paris Drive, heading towards the hotel, you'll see the replica Arc de Triomphe on your left. Be sure to stay in one of the right lanes however, as the left lane will take you to the valet parking area.
From there you'll drive a ways on a straight line before seeing the parking entrance on your left.
When Going North on the Strip
Going north on the Strip, you'll simply take a right after you pass Planet Hollywood, at the Paris balloon. This is called "Paris Drive." Staying in the right lane will lead you down the tree-lined road to the entrance to the parking garage, which will be on your left.
If, for some reason, the pedestrian traffic and/or car and taxi traffic is jamming Paris Drive, you can sneak in another way, by driving a little further north. Just before you get to Bally's, there is another unmarked side street. This street, in-between Paris and Bally's goes straight, then up towards the shared Paris/Bally's parking structure.
You can only use this street if you are going north on the Strip, as there is a median on the Strip preventing south-bound drivers from using it. (Although I'm sure some have tried).
Getting to the Garage from Flamingo Road
A third way to get into the garage is to sneak through Bally's. It's the upper most black one on the map above.
I say "sneak through," because you're cutting across Bally's property to the garage. You'll drive underneath a pedestrian overpass, before taking a left, and going up the ramp to the parking garage. The signage is very good here.
Oversized Parking at Paris Las Vegas
Entrance into the resort's parking garage is seven feet, four inches. There isn't oversized parking available at Paris. If you have an oversized vehicle, you should call the resort. Caesars' website says there is oversized parking at the Flamingo down the street, however I believe there may be are surface lot spaces available for oversized vehicles available closer at Bally's next door.
Paris Las Vegas Valet Parking
The valet parking area at the Paris Hotel and Casino may be the prettiest in all of Sin City, with its French-inspired decorative window overhangs, not to mention the replica of the Arc de Triomphe that greets you upon arrival.
Best of all, right after you exit your car, you are within 20 steps of being inside the casino.
You'll access this off of the Strip, going east on Paris Drive. It's the road at the large blue Paris balloon you see from the Strip.
Once on this entryway, stay in your left lane. The valet lane circles left around the Arc de Triomphe.
Paris Las Vegas Address, Phone & Website
3655 S Las Vegas Blvd
Las Vegas, NV 89109
Phone: (877) 796-2096
Website: Caesars.com/ParisLasVegas
More about Paris Las Vegas Hotel & Casino
Being in such a great location, across from the Bellagio fountains, the unique Paris is a somewhat affordable option for those not wanting to pay the higher prices at say, the Aria or Cosmopolitan. There are 2,900 hotel rooms, many with views of the Bellagio fountains, although you will have to pay a little more for those.
The casino itself has 1,700 slot machines, 130 table games, and a sportsbook.
Dining options tilt towards the more upscale side, with restaurants like Gordon Ramsey Steak, Mon Ami Gabi, Nobu, Hexx Kitchen and Bar, Vanderpump A' Paris, and a new offering from Martha Stewart, called The Bedford.
(By Steve Beauregard. Photos courtesy of Guillermo Moreno, Danny Navarro and Jared via Flickr.)