It has undergone ownership changes, remodeling, name changes, a devastating fire, and newer, fancier resorts sprouting up all around it. Yet despite it all, Bally's Las Vegas Hotel and Casino remains a popular stalwart in Las Vegas – an affordable, if average, hotel destination with an incredible location in the heart of the Las Vegas Strip.
The resort that opened years ago as the original MGM in Las Vegas is owned by Caesars Entertainment, and is physically connected to another Caesars-owned property, the Paris Las Vegas Hotel and Casino.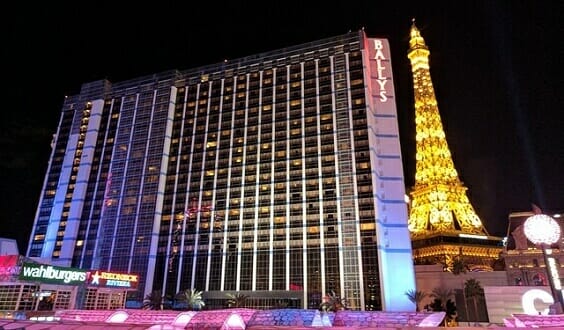 As such, Bally's seven-story parking structure (located just to the south of Bally's), also doubles as the Paris Las Vegas Parking garage.
Bally's Las Vegas Self-Park Parking Fee
The rates below are non-holiday parking fees for hotel guests, and non-guests alike:
| | |
| --- | --- |
| Monday – Thursday | |
| First Hour | Free |
| 1 – 3 Hours | $15 |
| 3 – 24 Hours | $18 |
| Each Additional Day | $18 |
| | |
| --- | --- |
| Friday – Sunday | |
| First Hour | Free |
| 1 – 24 Hours | $23 |
| Each Additional Day | $23 |
| Bally's Hotel Guests | $18 |
Please note that special event pricing can increase these significantly. In the past however, hotel guests staying at Bally's are "only" charged $18/day during holiday/event pricing. Special events may include any busy 3 day holiday weekend, such as Labor Day, New Year's Eve, etc.
Free Parking at Bally's Las Vegas
Anyone who has a Caesars Rewards card at the Platinum, Diamond, or Seven Stars level receives complimentary self-parking.
Self parking used to be free for registered hotel guests but that changed in December of 2021. Hotel guests will be charged the prices above. Nevada residents (with I.D.) receive 3 hours of free parking.
Self-Parking Privileges for Hotel Guests
Once you've paid a parking fee at Bally's, you can use your hotel room key to access the self-parking garages at other Caesars properties. It's not clear on their website, so assume you will have to pay a fee at the other properties.
Bally's Valet Parking Fees
| | |
| --- | --- |
| 0 – 4 Hours | $30 |
| 4 – 24 Hours | $36 |
As with self-parking, valet parking will be free for anyone at the Platinum, Diamond, or Seven Stars status on their Caesars Rewards players card. Hotel guests pay the valet fee, as do Nevada residents.
Valet In and Out Privileges
Guests staying at Bally's hotel have in and out privileges for Bally's.
Guests not staying at Bally's do not have in-and-out privileges, and therefore will have to pay a new fee each time they enter the garage.
Some other notes:
For hotel guests, the valet parking fee will be automatically charged to your room.
Whether you're using valet parking, or self-parking, you'll pay at a kiosk before retrieving your car. Tips to valets must be in cash and cannot be charged on the kiosk machines.
(Here's a map of the Bally's Las Vegas resort. Red dots represent the entrances to parking areas. Access to the parking garage is from either Flamingo Road, or from the Strip. The black star is the valet area.)
Directions
Access to the Bally's self-park parking garage is accessible from either two entrances on the Strip, or from the main entrance off of Flamingo.
When going east on Flamingo, you will simply take the first right after the Strip. It's right at the big "Starbucks" sign on your right.
(Related: Paris Las Vegas parking garage).
Once on this, the curvy little road, (and good signage), will point you to take a left then immediate right into an underneath passage that leads you to the Bally's/Paris parking garage. Alternatively, you could just stay in the far left lane and use the Bally's valet parking services.
There are also two ways to get to the parking garage from the Strip, but only when going north. The first lane is an unmarked lane immediately after the Paris Las Vegas. Take a right on this (you can only take a right), and it will lead you directly up a ramp to the parking garage.
A few feet up the road to the North, you see another entrance to Bally's – this time it is marked as an entrance. It will also lead you to the self-parking area.
Please note, that whichever way you get there, you'll do some walking should you use the Bally's self-park parking garage. Depending on where you find a parking spot, it can be a ¼ mile walk from the Bally's parking garage to the hotel registration desk.
Other Bally's Parking
There are a few uncovered spaces of public self-parking located directly behind the resort, off of Flamingo Road. I've personally parked here when driving an oversized vehicle that wouldn't fit in the Planet Hollywood Hotel & Casino parking garage. Fees for this lot are the exact same as the garage.
When driving east on Flamingo Road, (going away from the Strip), Bally's will be on your right. After the shuttle drop off area, and just after you pass the large "Race and Sports Book Avenue Shoppes" sign on the building, you'll pass another building that has large signage that reads, "Employment Center."
You'll want to take the next right, onto an unmarked drive, where there are some uncovered public parking spaces. Please note that this drive is the right you take before you get to the next street, Koval Lane. This parking area is much closer if you are intending to go to a convention at Bally's, the Bally's Events Center, the sports book, or to the Shoppes. This entrance is right next to the Bally's Food Court.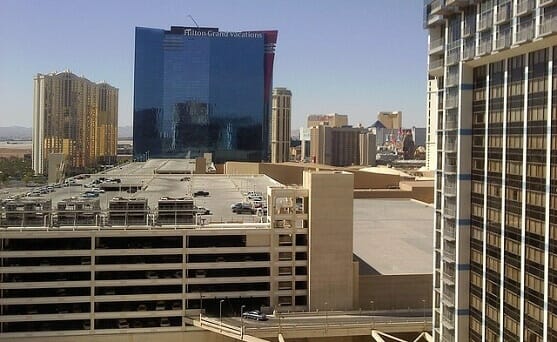 Secret Drop-off area at Bally's Las Vegas
OK, so maybe it's not a big secret, but if you are wanting to just drop off a friend, or run into the casino very quickly, there is a drop off area off of Flamingo Road.
To use it, you'll just want to go on Flamingo, past the shuttle drop-off area, past the first light, past the length of the hotel, taking a right on Linq Lane, where you see the "Race and Sports Book" sign.
Valet parking Directions at Bally's Las Vegas
Valet parking at Bally's Las Vegas is pretty straightforward. It's most easily gotten to by using the right turn on Flamingo Road, immediately east of the Strip. Once on there, staying in the left lane and following the signs will point you to the valet.
The valet entrance can also be accessed from the Strip, by using the designated Bally's entrance (right turn) after passing both the Paris Las Vegas, and the little road directly north of the Paris Las Vegas.
Bally's also has parking for RVs, or other oversized vehicles. There is a separate parking area for RVs, and guests arriving in a camper or RV are encouraged to call Bally's ahead of time to secure a spot.
Bally's number for over-sized parking is (702) 967-4481. Please also note that there are no utility hook-ups available.
One final note: Bally's is being re-branded as "Horseshoe Las Vegas." The name change is expected to go in effect before the end of this year.
(By Steve Beauregard. Photos courtesy of James Welch and Tim Johnson via Flickr).