MGM Grand Las Vegas Parking Fee 2023, Directions & Valet
As the biggest hotel in Las Vegas in Las Vegas, the MGM Grand Hotel and Casino on the Strip has a huge demand for parking.
After all, the hotel has just over 5,000 rooms. In addition, attached to the resort is the MGM Grand Garden Arena, which fills up its seats with concerts, events, and both boxing and UFC fights.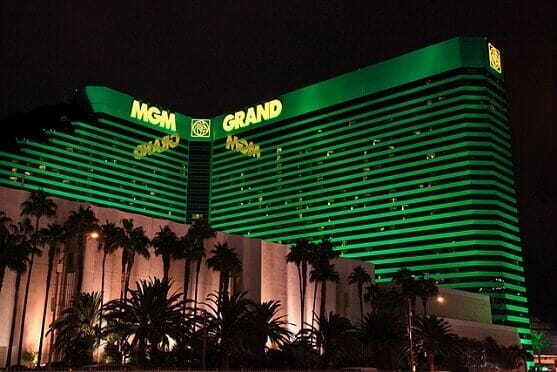 Despite the massive need for parking, the MGM Grand does a pretty good job fulfilling this demand for car space.
They accomplish this thanks to a massive seven story parking structure to the east of the hotel and casino.
MGM Grand Las Vegas Parking Fees
| | |
| --- | --- |
| 1st Hour | Free |
| 1 – 4 Hours | $15 |
| 4 – 24 Hours | $18 |
| Each Additional Day | $18 |
These apply to everyone, including hotel guests. However self-Parking is free to those gamblers who have Pearl, Gold, Platinum, or Noir MGM Rewards Player's cards. Those of you at just the "Sapphire" level, like I am, will have to pay for parking.
Also, Nevada residents with proof of residency receive their first 3 hours of self-parking free.
Hotel Guests receive in-and-out privileges at the MGM Grand and sister properties, (like the Luxor, Bellagio, etc), however those not staying at an MGM Resorts property will have to pay a new fee every time you exit.
MGM Grand Hotel & Casino Parking Map
(Red dots represent the various entrances to the self-parking garage. Yellow represents the two different valet parking areas.)
In June of 2016, the MGM Grand made history in an inauspicious way, by breaking with long-standing tradition to become the first resort on the Las Vegas Strip to begin to charge their loyal customers for parking. This includes charging guests who are staying at the hotel, as well as people just wanting to stop in and gamble, shop, or dine at the property.
(Related: Free parking near the MGM Grand)
The parking fee also applies to those of you going to shows or concerts at the MGM Grand Garden Arena. When entering the self-parking garage, you'll receive a ticket. Instead of paying an attendant at a booth when you leave, MGM asks that you pay (on foot) at a self-serve kisok when leaving the MGM when you're walking back to your car.
MGM Grand Self Parking Garage Directions
When driving to the MGM Grand, (or Garden Arena), you'll most likely be going one of three ways: east or west on Tropicana Boulevard off of the Strip, or the road behind the MGM Grand, which is called "Koval Lane."
When going east on Tropicana (away from the Strip)
You'll want to get in your left lane. Go past the first stoplight, and just past the MGM Grand. Where the OYO Hotel and Casino is located, take a left into Audrie Street. You'll be under the giant tracks of the Las Vegas Monorail. From there, you can either go left to register at the hotel and use their valet parking, or take an immediate right to drive to the self-parking garage.
When going west on Tropicana (towards the Strip)
Way before you get to the giant green MGM Grand building, you'll see the tan 7 story MGM Grand parking garage on your right.
(Related: Paris Las Vegas parking garage information).
Proceed in the far right lane, which because it's own separate lane. This curves into the MGM Grand property, where – from there – you can either go right for access to the self-parking lot, stay in the middle to drive on Audrie Street past the MGM Grand, or go left to reach the valet parking.
When going south on Koval Lane, you'll see the parking structure on your right. You'll take a right directly into the parking garage off of Koval.
It's a pretty good walk from the garage to the casino. Using aerial maps which I used to measure, the distance from the far corner parking space to the casino is .29 mile. If you wanted to get to the Strip sidewalk, it would be a ½ mile walk.

Once you've parked, you'll make your way to one of the two banks of elevators. You'll take the elevators down to the ground level, where the underground walkway takes you past shops, food and drink stands, and Brad Garrett's Comedy Club before escalators whisk you back up to the hotel/casino's main level.
MGM Grand Valet Parking & Fees
| | | |
| --- | --- | --- |
| Parking Time | Monday – Thursday | Friday – Sunday |
| 0 – 2 Hours | $18 | $20 |
| 2- 4 Hours | $22 | $24 |
| 4 – 24 Hours | $26 | $30 |
| Each Additional Day | $26 | $30 |
As with self-parking, hotel guests have in-and-out valet parking privileges to this, and other MGM Resort properties, while non-hotel guests will have to pay a new fee each time they valet.
The main valet parking area at the MGM Grand is at the hotel entrance off of Tropicana Avenue. There will be numerous lanes with signs indicating "valet parking" under MGM Grand's giant port cochere.
During big events at the MGM Grand Garden Arena, there is additional valet parking on the north side of the massive parking garage. This can be accessed off of Koval Lane. It's actually called the "East Valet."
Additionally, the MGM Grand Conference Center offers valet parking during busy meetings. This valet area is just north of the self-parking garage and is accessed off of Koval Lane.
These rates do not include valet tip.
Please note, however, that valet parking IS free for those of you who are high, or semi-high rollers.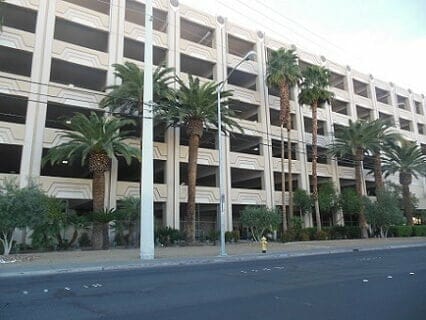 Gamblers with MGM Rewards players cards who have reached for Gold, Platinum, or NOIR status are entitled to free valet parking. (But still be sure to tip the valet drivers). Those of who at the Sapphire or Pearl status will have to pay for valet parking
MGM Grand Garden Arena Parking
There is not a separate parking area for people going to an event at the MGM Grand Garden Arena. Instead, guests use the same 7 story parking garage that is used by hotel guests and visitors to the casino.
This means the MGM Grand parking garage can get packed – especially when there is an event at the MGM Grand Garden Arena.
After all, this is a venue that has hosted nearly all of the major UFC and boxing matches of the past 25 years. The arena has also been home to the Billboard Music Awards, Iheart Radio Music Festival, Academy of Country Music Awards, exhibition hockey games, and the NCAA's PAC 12 Men's Basketball championship.
On nights when there is an event at the Garden Arena, getting out will take a while. Some have reported waits of up to three hours to get out of the parking garage. One person I read about claimed that after a concert, he couldn't' get out of the parking garage until 1:30 a.m.
(Related: Free places to park on the Las Vegas Strip)
But for now, the best advice when leaving an event at the MGM Grand Garden Arena is to either park elsewhere and walk or take the Las Vegas monorail to your destination, or stick around the casino for a while and play, eat, or enjoy a cocktail while the masses fight to exit the parking garage.
Another piece of advice: when going to a concert or event at the arena, give yourself plenty of time, both in terms of driving and walking. The distance from the most distant parking space in the parking garage to the front of the MGM Grand Garden area is ½ mile. Plus it will be very crowded, meaning it could easily take you 20 minutes just to walk from your car to the arena entrance.
(By Steve Beauregard. Top photo courtesy of Hakan Dahlstrom via Flickr, bottom one is mine).