Flavors: Harrah's Las Vegas Buffet Price 2023
(Editor's note: Harrah's Las Vegas Flavors Buffet remains closed, and may never re-open. Google's search page for Flavors reports that it is "permanently closed." If a re-opening is ever announced, we'll update this article accordingly.)
Flavors, the name of the buffet at Harrah's Las Vegas Hotel & Casino, is sort of like Harrah's itself: not the fanciest on the Strip, but a mid-level, convenient, reasonably-priced option.
Flavors, the Buffet, (it's official name), is centrally located right off the casino floor, and more towards the exit doors that lead you to Casino Royale next door.
The décor is open, and fairly plain, but functional, and befitting of this decent, moderately-priced buffet.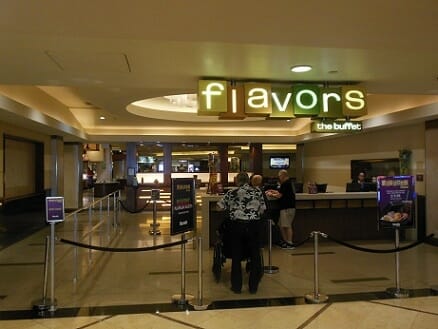 Harrah's Las Vegas Buffet Price and Menu
Menu Items
We'll mostly cover the dinner buffet here, as Flavor's breakfast buffet is pretty typical, with the usual selections of pastries, egg dishes, sausage, bacon, omelet station, pancakes, Belgium waffles, strawberry crepes and the like.
If you can't get your fill of cereal at home, there are the small, individual boxes of cereals such as Lucky Charms, Total, Frosted Flakes and the like.
Lunch and Dinner buffets you'll find eight main stations, which we'll simplify by calling them: Salad, Mexican, Seafood, Italian, Carving, Asian, Dessert and Beverage.
Salad
"Fresh" is the name of Harrah's salad bar station.
There is regular lettuce, mixed greens, eight different salad dressings and the usual assortment of condiments.
Some pre-made salads include a broccoli salad, a greek olive/artichoke salad, and a cucumber salad. What "Fresh" lacks are fresh fruits, as all I saw were canned fruit options.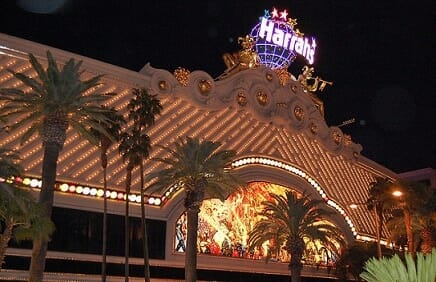 Mexican
This section is called Ole, and has a taco bar with your choice of taco shells, chips or tortilla with ground beef or chicken fajitas as the protein. Toppings include nacho cheese, grated cheese, guacamole, salsa, and all the other usual toppings. There are also, chicken tamales, and pulled pork sopes here in the Ole area. The barbecue pork ribs are in this section for some reason.
To the right of Ole, is a selection of soups, that (depending on the night), may include chicken posole, clam chowder, and/or a shrimp & sweet corn soup, among others.
Seafood station
Called "Splash" the highlight are the crab legs.
Here you'll also find "Cajun EZ-Peel Shrimp," fried shrimp, mussels, clam chowder, "Marinated green lip mussels from New Zealand," saffron rice, tilapia scampi, hushpuppies, french fries, cole slaw and a crab salad.
(Related: MGM Grand Buffet price)
Asian
Not elaborate, the Asian-themed section includes a selection of sushi, Chinese dumplings, fried rice, steamed jasmine rice, pork buns, chow mein, pepper steak with a plum sauce option, spring rolls, Singapore noodle dish, vegetable stir fry, and sesame balls.
A highlight are the little, individual shooter dishes, that act as a nice touch and a break from the typical dishes served out of a large steel pan. These shooters include a seaweed shooter, and an orange scallop shooter with cranberry sauce.
Rounding out the Asian section are soups, including egg drop soup, and congee (which is a Asian rice porridge).
Carving station
Flavor's carving area is small and simple with basics like prime rib, turkey, and kielbasa sausage.
The carving station is flanked on both sides by side dishes ranging from green beans, to steamed broccoli & cauliflower, macaroni & cheese, stuffing, baked beans, mashed potatoes with brown gravy, corn on the cob, "house made buttermilk fried chicken," wood smoke chicken, grilled vegetables, popcorn shrimp, yams, collard greens and waffle fries.
Italian
The pasta station includes spaghetti, lasagna, penne, ravoli, sausage and peppers, linguine & clams (weekend nights), and pizza of course (there were four varieties on a recent visit).
You'll also find garlic break, Italian vegetable soup, and grilled pork marsala.
Dessert
Simply called "Sweet" this isn't exactly the largest buffet dessert section in town.
Nevertheless, you'll find apple and cherry pies, cream puffs, flan, crème brulee, macaroons, and a seemingly bigger selection of cupcakes than you'll find at most other buffets.
There's ice cream of course, and the cookies and cream ice cream here gets good reviews. On a recent visit, gelato flavors included strawberry, pineapple and chocolate chip.
Beverage
The self-serve beverage station has one of those newer Pepsi dispensers in which you choose from hundreds of drink/flavor options, along with orange juice, grapefruit, cranberry and apple juices, the usual assortment of coffees, iced and hot teas, cappuccino, regular milk, and skim milk.
Harrah's Flavors Buffet Prices & Hours
Breakfast
(Monday – Friday) 8 AM to 11 AM: $21.99
Brunch
(Saturday & Sunday) 8 AM to 4 PM: $30.99
Lunch
(Monday – Friday) 11 AM to 4 PM: $25.99
Dinner
(Monday – Friday) 4 PM to 9 PM: $31.99
(Saturday & Sunday) 4 PM to 9 PM: $34.99
Flavors Buffet Children's Prices
For every buffet, (including brunch), the children's buffet price is exactly $10 less than the adult price.
Please also note that these prices do not include the sales tax of 8.25%, meaning the price for a weekend dinner buffet for two adults is $75.75 after tax.
All You Can Drink Champagne Option
During the weekend brunch only, guests can pay $7 more to have unlimited amounts of champagne. If you ask your server, you can even get a to-go cup to take some champagne out with you.
Harrah's Buffet Pass
There is not a specific pass for Flavors, the Buffet only. However there is a 24 hour unlimited buffet pass for sale that includes entrance to Flavors.
It's called the Buffet of Buffets pass, and is offered by Caesars Entertainment. The pass can be purchased at the Harrah's buffet cashier stand, and entitles you to unlimited access to several other Caesar's-owned buffets in town.
Harrah's Flavors Buffet Phone
(702) 369-5000
Please note that if you are going to have 14 or more people in your party, you should call Flavors ahead of time for seating at the following number:
(702) 731-7778
Overall, Flavors the Buffet is an adequate, reasonably priced buffet, especially when compared to other Las Vegas Strip buffets.
Perhaps the only downside is that it doesn't have its own bathrooms inside the restaurant area, and therefore one has to walk a long ways to get to a restroom on the casino floor, however given the amount of food most of us put away at a buffet, a little extra walking doesn't seem like a bad thing.
(By Steve Beauregard. Harrah's outside photos courtesy of Theresa Earnheart via Flickr.