Wynn Buffet Price, Hours & Menu January 2023
Updated January 1st, 2023
The popular and amazing Wynn Buffet is fully open, seven days a week, with 16 live action cooking stations, new menu items, and a convenient online reservation option.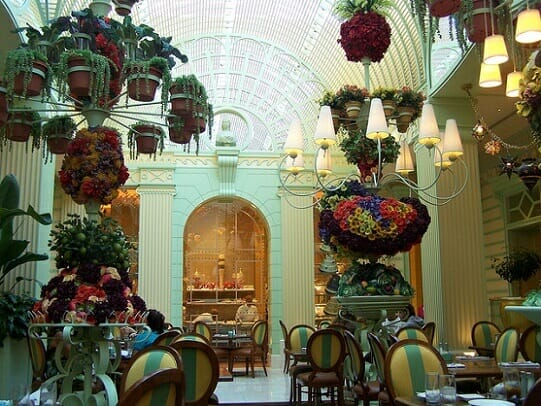 Wynn Buffet Decor
The Wynn's buffet, (officially called "The Buffet at Wynn") is beautiful. And that's BEFORE you see the food.
It's high ceilings, elaborate flower displays, crown molding, soft red awnings, and open atrium with marble flooring gives it a décor and atmosphere unlike that of any other buffet in Las Vegas.
When dinning under the Wynn Buffet arched atrium ceiling, you can almost imagine you're seated in another Steve Wynn creation: the Bellagio Conservatory.
It's nearly always ranked up there with the Bacchanal Buffet at Caesars Palace and the Wicked Spoon Buffet at the Cosmopolitan, as one of the top three buffets in Las Vegas.
As for price? It doesn't come cheap, but you get what you pay for, say people who use over-used sayings.
Wynn Buffet Prices & Hours 2023
Standard, non-holiday prices for the Wynn Buffet are as follows:
| | | |
| --- | --- | --- |
| Breakfast | Monday – Thursday: 8 AM – 9 AM | $38.99 |
| Brunch | Monday – Thursday: 9 AM – 3 PM | $45.99 |
| Gourmet Brunch | Friday, Saturday & Sunday: 8 AM – 3 PM | $49.99 |
| Dinner | Monday – Thursday: 3 PM – 9 PM | $64.99 |
| Gourmet Dinner | Friday, Saturday & Sunday: 3 PM – 9 PM | $69.99 |
These prices do not include the 8.38% Las Vegas sales tax, nor does it include the tip. So, for example, the weekend dinner buffet would cost 2 people a combined total of $151.71 after tax and before tip.
Wynn Buffet Reservations
While they do not offer reservations, you can pre-pay and receive priority seating by clicking on the green tab on the Wynn website here: Wynn Buffet. There isn't any extra charge for this.
The Wynn says they try to seat every person with priority seating within 30 minutes of the designated buffet time. Please note that you must cancel your reservation at least 24 hours prior, or you'll be charged the full amount.
Based on the online seating system, it appears you can only have a maximum of six in your party.
Wynn Buffet Holiday Pricing
During holidays, prices are subject to rise. These holidays can range from normal ones (like Christmas) to artificial holidays like Super Bowl weekend.
For the 2022 Labor Day weekend, prices jumped $10 per meal, meaning brunch is $59.99 while dinner prices were $79.99.
(Youtuber Derek and Catherine review the Wynn Buffet, and their new "Live Large" upgrade option.)
Wynn Buffet Children's Prices
Children aged 10 and up pay the same price as adults.
For children 3 to 9 years of age, the prices are exactly half of the adult prices. For example, the weekend brunch price for a child is $24.50.
Kids under 3 eat free.
Wynn Buffet All-You-Can Drink Option
A popular add-on to the Wynn Buffet is their "Endless Pour." Now at $29.99, the package entitles you to unlimited mimosas, wine, beer and select cocktails.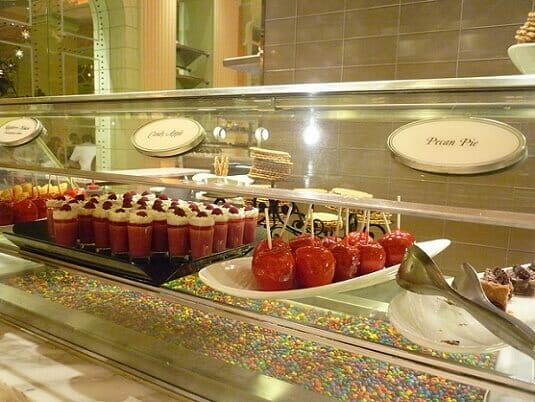 On a recent visit, wine selections included a chardonnay, rose, and cabernet sauvignon. There was also three different wine spritzers. The bountiful selection of beers available included Budweiser, Bud Light, Coors Light, Corona, Heineken, Michelob Ultra, Stella Artois, Shock Top, and Wynn's signature house beer, Singing Frog.
On the cocktail front, there was a regular margarita, a cucumber margarita, a pineapple mule, and a Bloody Mary made with Absolut Pepper Vodka.
Again, these cocktail, wine and beer varieties are subject to change on the season.
Wynn Buffet Live Large Upgrade
It's not advertised on their website, and it may not always be available, however the Wynn has an upgrade option costing $125. For that you receive VIP entry, a glass of champagne, and a whole lobster. Should you want the lobster only, the fee is $50 (on top of the normal buffet price). Either way, this upgrade is only available Monday – Thursdays.
The Wynn Buffet Menu
The spacious, elegantly-appointed buffet's menu has been revamped upon the re-opening, with several new dishes offered.
For those non-carnivores out there, the Wynn Buffet may be the city's most vegan-friendly buffet, with plenty of dishes available for you. (Wynn founder Steve Wynn himself is vegan).
Below is a sampling of menu items from a typical weeknight dinner Buffet at the Wynn, with the caveat that they are all subject to the executive chef's discretion. Las Vegas buffets are always trying to improve their menu so they are always subject to change.
Wynn Dinner Buffet Menu
Soups & Salads
Pre-made salads and mixes included the following: Fresh mixed melon, fregola & citrus salad, Greek salad, Italian Butterbean Salad, Radicchio & mixed green salad, a Pea & Pancetta Tortellini pasta salad, and Caesar salad.
The selection of pre-made salads served on small plates were an Italian Wedge Salad, a Tomato & Cucumber salad with Hibiscus Vinaigrette dressing, Golden Beet & Burrata salad, small individual bowls of ceviche, Melon & Prosciutto Brochette.
In addition, there is a smallish (by buffet standards), make-your-own salad bar.
Soups include: Lentil Soup, New England Clam Chowder, Spring Vegetable Soup (vegan), and Chicken Noodle.
The cute Charcuterie area was filled with Genoa Salami, Pepperoni, Prosciutto, Sopressata, grapes, Apple butter, Apricot jam, a roasted garlic & artichoke dip spread, an Olive Tapenade (dip), Manchego cheese, Cheddar and Parmesan cheese.
Next to this area is a selection of assorted breads and breadsticks – all of which I find to be carb-fillers unworthy of valuable stomach space, but to each his own.
Mediterranean
Unique to the Wynn Buffet is teh Freshly-made latkes station, with latkes given to you right off the grill. Your four options are: Smoked salmon, Pomegranate & dill, Caramel apples, and Roasted Beet & Goat Cheese with lemon zest.
Dishes here included a Potato gnocchi with clams, a Rock Shrimp Penne Pasta, Grandma's Baked Meatballs, Crispy Polenta with broccolini and sun-dried tomatoes,
There is also Sautéed Summer Squash & Tomatoes, Lasagna alla bolognese, Lasagna Florentine, and Crispy chicken parmesan.
Pizza selections during this visit ranged from your standard pepperoni, to a truffle mushroom pizza. Options also found were a meat lovers pizza and standard cheese.
(Related: MGM Grand Buffet price)
Asian Section
Starting with Sushi, selections included Spicy Tuna, Nigiri Sushi, California Roll and a Veggie Roll (among others).
Other Asian-inspired fare included BBQ Pork Buns, Chicken Potstickers, spring rolls, and Shrimp Sui Mai.
A unique feature found at the Wynn Buffet is the made-to-order Congee station. (Congee is a Chinese rice porridge.)
You can choose your Congee condiments from among the following: "1,000 year duck egg," fresh ginger, dried shrimp, Dried BBQ pork, Scallions, and Goji Berries.
Rounding out this station were Drunken Noodles with Beef Tenderloin, Thai Chicken Wings, and Pineapple fried rice.
Carvery
The array of meats and poultry here included Polish Sausage, Hot Italian Sausage, and Pineapple Sausage, Grilled Tri-Tip, Herb-roasted turkey, and Dry-rubbed rotisserie chicken.
There is carved to order Honey ham, Beef Brisket, along with both BBQ Beef ribs and BBQ Pork Ribs.
Hot dishes included the following: Mashed potatoes Charred Cauliflower, Sugar snap peas, Herbed basmati rice, and Charred Broccolini w/Parmesan cheese.
Other offerings included Seasonal vegetables, Charred Sweet Potatoes, Loaded Fingerling Potatoes, and a not one, not two, but 4-cheese Mac n' Cheese dish. This is in addition to a "Smoky Mac n' Cheese." Other hot dishes in this section include the Honey Glazed corn bread, BBQ Baked Beans, and a Southern Style Corn Skillet.
Seafood
In addition to varieties of sushi, there are the ever-popular Hot crab legs. In addition, down the seafood line are chilled split Opilio crab legs (Opilio crab is a species of snow crab).
Seafood dishes include a Red Thai Curry Salmon (with pumpkin and shishito peppers), a Herb marinated Mahi Mahi (with white bean puree and truffle), and a steamed cod dish with ginger and scallions.
Of course, there's your basic chilled shrimp, along with oysters, Beer Braised Mussels, and Marinated Mussels. Jonah Crab claws round out the seafood section.
Dessert
A station becoming more and more popular among Las Vegas buffets are a Made to order Crepe station, and the Wynn has one here as well. Choices include: Strawberry, Blueberry, Mixed Berry, Nutella & Banana, and Peach.
As with the Wynn Buffet's other stations, there is beautiful presentation here, as all of these are served on small individual plates.
Sweets include an Opera Cake, Carrot Cake, Chocolate Raspberry Tangos, Lemon Bars, Bundt cake, a parfait, strawberry shortcake chocolate mousse, Crème Brulee, Raspberry Mousse. Vegan Tapioca Pudding, and NY Style Cheesecake.
Other choices feature Brownie bites, Rice Krispies, Chocolate Lava Cake, Oatmeal raisin cookies, chocolate chip cookies, warm cobbler (peach and blackberry), and a butterscotch bread pudding.
The wheel of delight (as I call it), is a circular selection of various hand-scooped ice creams and sorbets. These are in addition to the soft-serve frozen yogurt machine. The selection of nine toppings here include marshmallows, Reese's Pieces, and even Capt'n Crunch (among others).
No Sugar Added desserts include a strawberry cake and chocolate cake.
Drinks
Besides the Endless Pour options (see above), non-alcoholic drinks include Coke products (including Mr. Pibb even), coffee, and milk. Tea options range from regular iced tea, to raspberry iced tea, Arnold Palmer, and a selction of hot tea flavors.
Juices include orange, apple, pineapple, cranberry, grapefruit, tomato and lemonade.
Wynn Brunch Buffet Menu Items
You should note that crab legs are not served during brunch. You will however find plenty of the traditional breakfast items, including pancakes, mini Belgian waffles, Cinnamon & Sugar French Toast, and the requisite made-to-order omelet station. Other breakfast fare includes Corn beef hash, egg whites, scrambled eggs, and crispy hash browns.
This being brunch, many of the items we've listed above in the dinner buffet section (Sushi, the Congee station for example), are served at Brunch. The selections of pizza include breakfast pizza.
As always, these are subject to change and the executive chef's whims, however straight from their menu board out front, here's a list of the more special "breakfasty" stations and menu items you'll find during the weekend gourmet brunch:
The Carvery
Sea Salted Crusted Strip Loin, Beef Tri Tip, Herb roasted turkey, Honey Glazed Ham, Cured and Smoked Pepper Bacon Slab, Pineapple Rope Sausage, Polish Rope Sausage.
Brunch Time Benedicts
Choose one of four varieties: Traditional, Corn Fritter, Lox Benedict, or Lobster Eggs Benedict.
Made to Order Pancake Station
Choices include: Red velvet chocolate chip, Bananas Foster, Strawberry Shortcake, and Buttermilk & Vanilla Bean. There's even a Vegan Blueberry option.
Latin Street Cart Favorites
Carne Asada, Chicken Mole, Charro Beans, Pork tamales, Chorizo and Eggs and a Cheese Enchilada with Salsa Verde.
Lighter Fare
Overnight oats, Fresh cut watermelon, cantaloupe, pineapple and honeydew.
The Parfait & Granola station features vanilla yogurt, dried berries and nuts, and blueberry flaxseed granola.
The Bloody Mary Shrimp Ceviche consists of non-alcoholic Bloody Mary Mix, popcorn shrimp, and zucchini.
Crepe Station
Ingredients and toppings here include: Fresh strawberry compote, Mixed berry compote, Bananas Foster with candied pecans, Nutella & Bananas, Grilled Peach Cobbler Filling, and Fresh Vanilla Bean Whipped Cream.
Wynn Buffet Phone Number and Website
Phone: (702) 770-3340
Website: Wynn Buffet
Wynn Buffet Dress Code
Wynn Las Vegas official site describes the buffet's dress code as "resort casual."
While we're not entirely sure what this means, we have seen signs near the entrance that read: "Gentlemen must wear shirts with sleeves" and that "ladies must wear opaque cover-ups." Also, "Proper footwear required."
Skip the Line Pass
Prior to the Covid shutdown, during very busy times, the Wynn Buffet customers could always expect an hour plus wait. To avoid this, they offered a skip-the-line that allows you expedited entry.
Prices to skip the line started at $10 per person, Monday through Friday, to $16 per person to skip the line during brunch and weekend dinners. On holidays, the skip-the-line pass jumped up to $20 per person.
With the new reservation system, it appears the upgrade is not needed and therefore appears to have been eliminated.
(By Steve Beauregard. Photos courtesy of James Havard and kennejima via Flickr.)