(Updated June 16, 2021)
The popular and amazing Wynn Buffet opens back up on July 1st!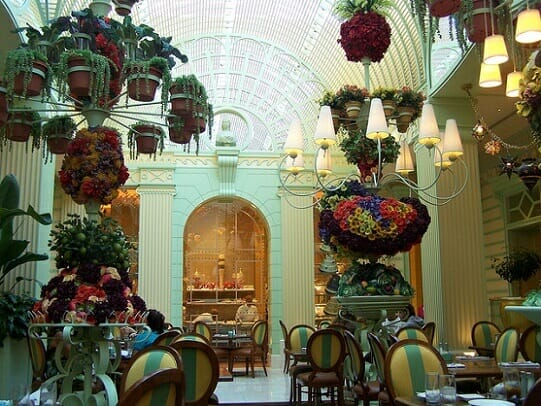 Wynn Buffet Decor
The Wynn's buffet, (officially called "The Buffet at Wynn") is beautiful. And that's BEFORE you see the food.
It's high ceilings, elaborate flower displays, crown molding, soft red awnings, and open atrium with marble flooring gives it a décor and atmosphere unlike that of any other buffet in Las Vegas.
When dinning under the Wynn Buffet arched atrium ceiling, you can almost imagine you're seated in another Steve Wynn creation: the Bellagio Conservatory.
Already a visually-pleasing experience, the Wynn Buffet was completely renovated in late 2015.
It's nearly always ranked up there with the Bacchanal Buffet at Caesars Palace and the Wicked Spoon Buffet at the Cosmopolitan, as one of the top three buffets in Las Vegas.
As for price? It doesn't come cheap, but you get what you pay for, say people who use over-used sayings.
Wynn Buffet Prices & Hours
These hours are updated, however prices have yet to be announced. These are standard, non-holiday prices pre-shutdown. We will update this once prices are announced.
| | | |
| --- | --- | --- |
| Breakfast | Thursday, Friday & Monday: 8 AM – 10 AM | $38.99 |
| Lunch | Thursday, Friday & Monday: 10 AM – 3 PM | $45.99 |
| Dinner | Thursday, Friday & Monday: 3 PM – 9 PM | $64.99 |
| Gourmet Brunch | Saturday/Sunday: 8 AM – 3 PM | $48.99 |
| Gourmet Dinner | Saturday/Sunday: 3 PM – 9 PM | TBD |
Please note, the dinner buffet is actually open until 9:30 PM on Saturday and Sunday nights.
These prices do not include the 8.25% Las Vegas sales tax, nor does it include the tip. So, for example, the weekday dinner buffet would cost 2 people a combined total of $140.70 after tax and before tip.
Should you have 7 or more in your party, there will be an 18% tip automatically applied to your bill. Parties of 13 or more guests will have a 21% tip charged automatically.
Wynn Buffet Holiday Pricing
During holidays, prices are subject to rise. These holidays can range from normal ones (like Christmas) to artificial holidays like Super Bowl weekend. On Labor Day last year, the weekend dinner price rose $3 per person more, while the brunch price shot up $9 more per person.
Last Christmas, holiday pricing begins on December 15th when prices went up $3 more for each buffet for a few days until Christmas Eve.
On Christmas last year, dinner cost $62.99. On New Year's Eve, the dinner buffet jumped to $72.99.
Skip the Line Pass
(Below is the policy before the Covid-19 shutdown. We will update this when more information becomes available).
During very busy times, the Wynn Buffet customers can expect an hour plus wait. To avoid this, they often offer a skip-the-line that allows you expedited entry.
Prices to skip the line start at $10 per person, Monday through Friday, to $16 per person to skip the line during brunch and weekend dinners. On holidays, the skip-the-line pass jumps up to $20 per person.
Currently, they also offer a VIP pass, in which, for $20, you get a skip-the-line pass, a glass of sparkling wine or sangria, and a 10% off the next day's buffet coupon – all for $20.00
Wynn Buffet Children's Prices
Children aged 11 and up pay the same price as adults.
For children 3 to 10 years of age, the prices are exactly half of the adult prices.
Kids under 3 eat free.
Wynn Buffet All-You-Can Drink Option
Editor's note: This was offered pre-Covid. We'll update this to see if it is still available upon re-opening.
A new feature with the re-opening is your choice of two "Endless Pour" options. Previously there was only one all-you-can drink option.
Either way, your bottomless beverage package lasts for two hours. Beers and cocktails are listed below. Both options offer wine of course. The cheaper package has offerings from StoneCap Vineyards, whereas the more costlier option has wine from Sterling Vineyards and Starmont Vineyards.
Endless Pour 1: $24.99
Beers include: Golden Road Mango Cart, Stella Artois, Lagunitas IPA, and Bud Light. There's also sangria and mimosas.
Cocktail options are either a Margarita or Island Breeze Punch. You can also get Brut champagne.
Endless Pour 2: $29.99
Beers include: Modelo, Newcastle, Firestone Union Jack IPA, Goose Island. There's also Cava champagne (sparkling wine).
Your two cocktail choices are: Aperol Spritz or a Bloody Mary.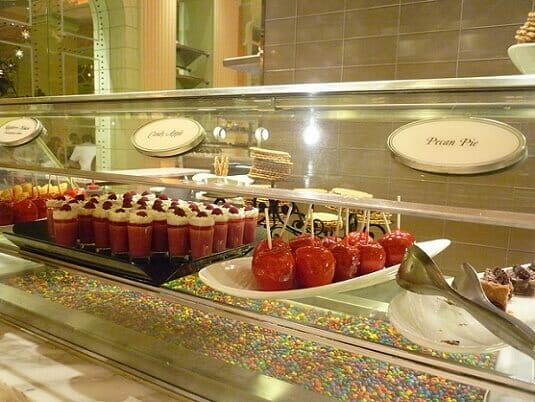 The Buffet at the Wynn Menu
The spacious, elegantly-appointed buffet's menu has been revamped upon the re-opening, with several new dishes offered.
For those non-carnivores out there, the Wynn Buffet may be the city's most vegan-friendly buffet, with plenty of dishes available for you. (Wynn founder Steve Wynn himself is vegan).
Below is a sampling of menu items from the Buffet at the Wynn, with the caveat that they are all subject to the executive chef's discretion. Las Vegas buffets are always trying to improve their menu so they are always subject to change. Below are a sampling of items directly from the Menu on the Wynn Buffet homepage.
Brunch
On the more breakfast side of brunch, you'll find special dishes like lobster eggs Benedict, and a new dish: S'mores pancakes. Healthier options include yogurt Parfait and Acai Overnight Oats.
Of course you'll find bacon, potatoes, biscuits and gravy, ham, and other traditional breakfast staples, however Wynn separates themselves from typical breakfast buffet fare with dishes that include Cinnamon Sugar French toast and Lemon ricotta cheese blintzes with a strawberry compote.
Other breakfast items include fried chicken and waffles, a Corned Beef & Egg Slider and Egg White Frittata.
Lunch
Soups include Corn Chowder and a Chicken Noodle Soup, while pre-made salad options are as follows: Caesar Salad, Grilled Peach Caprese Salad, Baby Kale Salad and a Greek Salad.
They have shrimp cocktail, and four varieties of sushi, including a Tsukemono Roll.
Other seafood dishes include Fish and Chips, Grilled Salmon, Baked Oysters, and Fried Calamari.
On the carnivore side, you'll find Waygu Beef Sliders, Chili Marinated Striploin, and Dry Rubbed Rotisserie Chicken.
Italian offerings include Penne with Meatball, and Rigatoni Mezzi. The three different pizza varieties include a Smoked Salmon Pizza.
Wynn Buffet's "Far East Flavors" section offers the following plates: Sweet Chili Chicken Wings, Pineapple and Pork Fried Rice, Spicy Honey Shrimp, Chicken Potstickers, a Vegan Spring Roll, Shrimp Shu Mai and Steamed BBQ Pork Bun.
Desserts
From cheesecake (regular and raspberry) to fudge chocolate cake, to a red candy apple, the new dessert offerings have anything you want, including the following: Crème Bruleé, strawberry shortcake, Key Lime Pie, Mango Tapioca, and Butterscotch Bread Pudding, among others. There's also ice cream and Dessert Crêpes.
Gourmet Brunch
The pricier Friday, Saturday and Sunday Gourmet Brunch will include everything above, along with extra dishes – most notably: Alaskan crab legs.
Other dishes exclusive to the gourmet brunch buffet include: a Smoked Salmon & Bagel, Bloody Mary Shrimp Ceviche, Slow Roasted Prime Rib of Beef, and roasted turkey.
Dinner Buffets
Soups & Salads
Soups include: Lobster Bisque, Cantaloupe Gazpacho and Chicken Noodle Soup, while your choice of pre-made salads include: Baby Kale Salad, Caesar Salad, an Italian Wedge Salad and Butterbean Salad.
(Related: MGM Grand Buffet price)
Seafood
In addition to five types of sushi, there's the quirky Tuna Poke Nachos. I already mentioned the Alaskan Opilio Crab Legs, next to which is Shrimp Cocktail and Oysters on the Half Shell. (There's also baked oysters).
Specialties
Wynn Buffet dinner specialties include Beer Braised Mussels, Togarashi Spiced Atlantic Salmon and a chili Marinated Lamb T-Bone.
Mediterranean Feast
The highlight of the "Mediterranean Feast" area may be the lobster ravioli.
Other dishes in this section include Seafood Paella (Tiger Shrimp, Crawfish, Scallops, Saffron &Pork Chorizo), Rigatoni with Meatballs, Eggplant Parmesan, Shrimp Campanelle, pizza, and a four cheese calzone.
Asian Section
Sesame Chicken
Mongolian Beef
Kimchi Fried Rice
Shrimp and Pork Leek Cake
Chicken Potstickers
Vegan Spring Roll
Shrimp Shu Mai
Steamed BBQ Pork Bun
Carving Section
Herb Roasted Turkey, (with cranberry sauce), Slow Roasted Prime Rib of Beef with au jus, and Beef Ribs.
Dessert
The elegant chocolate fountain may be gone, but you'll still satisfy that sweet tooth with dishes that include Banana Sticky Toffee Pudding, chocolate Lava Cake, butterscotch bread pudding, and warm chocolate chip cookies, ice cream, and carrot cake (among others).
Gourmet Dinner Buffet
The more expensive weekend dinner buffet includes everything mentioned above, along with extras. The highlight here may be the Steak & Lobster.
Other dishes only found on the gourmet dinner buffets include: Seafood Boil, Broiled Shrimp and Scallops, Double Cut Lamb Chops, Mongolian Beef, a Miso Marinated Ribeye, Crispy Pork Belly, and Char Siu Pork Ribs.
Wynn Buffet Phone Number and Website
(702) 770-3340
Wynn Buffet Dress Code
Wynn Las Vegas official site describes the buffet's dress code as "resort casual."
While we're not entirely sure what this means, we have seen signs near the entrance that read: "Gentlemen must wear shirts with sleeves" and that "ladies must wear opaque cover-ups." Also, "Proper footwear required."
For more information about the Wynn Buffet, go to their official site here: Wynn Buffet
(By Steve Beauregard. Photos courtesy of James Havard and kennejima via Flickr.)