(Updated February 18th, 2021)
Editor's note: After being one of the only Strip buffets to re-open during Covid, the Wicked Spoon closed on January 11th, 2021. We'll update this article once it re-opens.
Chic, quirky and sophisticated, the Cosmopolitan hotel and casino in Las Vegas is a little different than most other Strip resorts.
So is its buffet.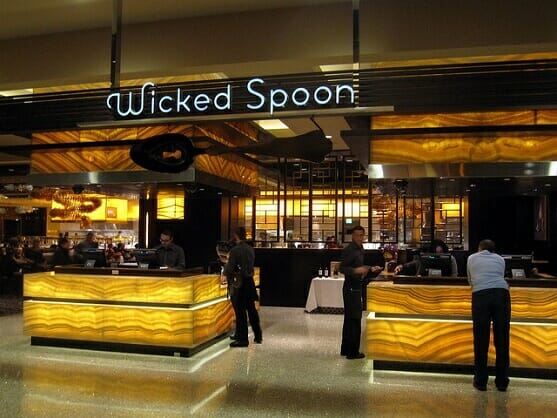 The Cosmopolitan is back open, and so is this well-renowned buffet, albeit it with numerous changes.
Called the "Wicked Spoon," Cosmo's buffet is one of – if not THE – best in town.
It often ranks right up there with the Bacchanal Buffet at Caesars Palace as one of the most delicious places to chow down on the Strip. The Las Vegas Review-Journal's editors have named it the "Best buffet in Las Vegas."
The sleek, contemporary dining room is located on the second floor of the Chelsea Tower, set back by itself in the back of the resort.
The Wicked Spoon is credited with starting the individual plate movement that we're seeing a lot more of in Vegas buffets. This is where entrees are served individually on small plates, replacing the traditional Vegas steel pan and tongs.
Wicked Spoon Changes
In this era of post-Covid dining, you don't go up and grab a handle or plate. When seated, you'll be given a sheet with a QR code that you can scan to pull up that day's menu items.
Then, whenever you're ready, you'll walk up to each station, where a Wicked Spoon server will hand you a plate of whichever dish you point at. It's still all-you-can eat.
You also are required to wear a mask when walking to your table and to the various buffet stations.
Also, it is recommended that you make reservations. You can do so here: Wicked Spoon reservations
Wicked Spoon at the Cosmopolitan Buffet Prices & Hours
The post-Covid reopening of the Cosmo has seen a reduction in buffet hours and even days served. Now, there is only a brunch buffet (no dinner), and it runs just three days a week. We'll update this article when hours expand. Until then, below are current hours and prices.
Brunch
Thursday – Sunday: 8 AM to 3 PM – $39 ($20 for kids)
Please note that kids ages 11 and over will pay the full adult prices, while children 4 and under eat free.
Also keep in mind the Las Vegas/Clark County sales tax rate of 8.25% on these buffets.
A couple going to a brunch buffet ($36 per person) would pay a total of $84.43 after tax (but before tip).
Wicked Spoon Buffet Unlimited Drinks
Those of you wanting to get your drink on while eating at the Wicked Spoon can get unlimited drinks by paying $19 more for the bottomless beverage package.
This add-on entitles you to have 2 hours of unlimited drinks. Drink options at brunch include champagne, mimosas, bloody Mary's, or drafts of Modelo beer.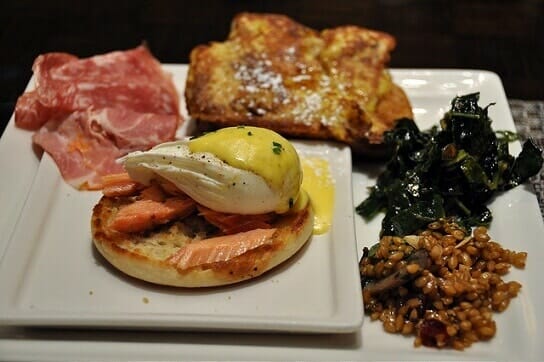 Wicked Spoon Line Pass Price
If you're willing to shell out some more to avoid a line to get into the buffet, you can purchase a "Skip-the-line" pass for $20.
During the holiday buffet pricing times, I have seen the Line Pass cost you $25.
VIP passes are also available if you qualify with your play at the Cosmopolitan, so be sure to ask you casino host about this, (if you have one).
Holiday Pricing at the Wicked Spoon
As with the Bellagio Buffet and nearly every other Las Vegas Strip hotel buffet, prices at the Cosmo's buffet jump up a a little during holidays.
These will include basically any three-day weekend, (i.e. Memorial Day, 4th of July, Labor Day, Thanksgiving, Christmas, New Year's Eve, etc.).
Prices will vary depending on the holiday and whether you go to the brunch or dinner buffet, but typically you can expect to pay between $4 to $8 more per person than the standard non-holiday buffet price.
For last Christmastime, increased holiday buffet pricing started on December 21st, and ran up until New Year's. Brunch prices were $47, while the dinner buffet cost $55 per person. However their New Year's Eve dinner was much more expensive, with the NYE buffet costing $80 per person last year.
(Related: MGM Grand Buffet prices)
For Mother's Day 2019, Brunch and Dinner prices were $45 and $53 respectively. These increased prices applied to both Saturday (the day before Mother's Day) and Mom's day itself.
Lastly this buffet can experience long lines, especially on weekend nights and for the Sunday brunch. I've heard of Sunday afternoon lines going 2 hours long.
Wicked Spoon Buffet Menu Items
With the re-opening of the buffet, the menu has been adjusted. You can find the menu here:
Wicked Spoon Buffet Menu
(Editor's note: Below is out coverage of menu items before the shutdown – including dinner items -at the Wicked Spoon. Many of these items remain on the current brunch menu. We will leave up as it is likely to resemble this once things are back up and running as normal.)
I've done my best to get these in the right spots, and I always throw out the disclaimer that the buffet menu is subject to change based on the Chef's whims.
However here is a sample list of menu items you'll typically find at the Wicked Spoon.
Many of these items overlap between brunch and diner, however some will be brunch only.
These brunch items include individual crepes, cheesy hash browns, biscuits & chorizo gravy, eggs benedict, donuts, fresh watermelon juice in cute little individual bottles, fresh fruit toppings for French Toast, and the like. There's even a make-your-own peanut butter and jelly sandwich area, of all things.
More traditional, pricier items, like crab legs, will be available at dinner only.
Here are some of the serving areas:
Salad Bar
Everyone has pre-made salads, but the Wicked Spoon has these cute individual salads served in chilled jars, such as their popular crab avocado & grapefruit salad, and kale salad.
The deli and meat and cheese selections include "Big John's Cajun Cheddar."
Carving Station
Here you'll find "Home made Italian sausage," roasted pork loin, steamship of ham, beef culotte, roasted chicken, prime rib, bone marrow with kimchi, and lamb.
Americana Station
Angry mac n' cheese, deep fried chicken served in a mini deep-fat fryer, buffalo frog legs, cheesy mashed potatoes.
I can't remember what stations these two unique dishes were found at, so I'm including them here: Jamaican chicken tacos, and Swedish meatballs with lingonbery sauce.
Asian Station
Your eyes are sure to be drawn to the fried rice served in little to-go boxes – the white square boxes you always find a Chinese restaurants.
Popular dishes here include a vegetarian twist on a traditional favorite, Kung Pao chickpeas, apricot-glazed pork belly with kimchi and spiced cashews, Hong Kong-style chow mien, charred beef with black beans and asparagus, Yuzu walnut
chicken, and fried dumplings, curry tofu, oxtail pho with many topping options, sushi of course (4 different varieties if I recall), and spicy Korean chicken wings.
Italian
There's pizza of course, but much more gourmet than found at most buffets. Fig & pear, along with lamb sausage are some of the more unique toppings.
This area is also home to Troffie pasta with kale pesto and Italian sausage, calzones, eggplant parmesan, duck prosciutto, garganelli pasta with butternut squash and pancetta, beef ravioli, rigatoni with lamb Bolognese, and gnocchi in pea puree.
Seafood Station
Salt and pepper head-on shrimp, the aforementioned smoke trout mousse with roe, seared salmon with cauliflower puree & blistered tomatoes, Jonah stone claws, snow crab legs, grilled shrimp, clams, shrimp & grits, and salt & pepper calamari.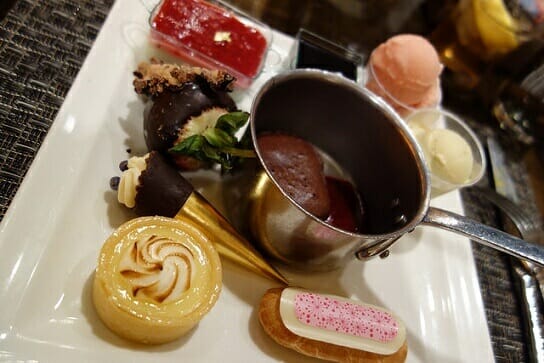 Dessert Station
A highlight is the gelato and ice cream bar, with 18 different flavors.
On a recent night these included Nutella, Oreo mint, pistachio, mango & passion fruit, coconut, strawberry balsamic, salted peanut caramel, almond joy, lemon sorbet blood orange sorbet, tiramisu, thai iced tea and stracciatella.
You'll also find apricot sticky buns with caramel icing, chocolate-dipped strawberries, the aforementioned Heath-bar dipped strawberries and cookies like sugar, chocolate chip and M&M cookies.
Cakes include chocolate raspberry cake, chocolate pistachio cake, dulce de leche cheesecake, mini chocolate bundt cakes with raspberry sauce, white chocolate mousse cake and coffee almond cakes with milk chocolate mousse.
In addition, you can choose among a selection of banana cream tarts, orange chocolate tarts, raspberry dipped Rice Krispies treats and coffee-chocolate dipped Rice Krispies treats.
Gluten-free desserts include a banana walnut cake, a carrot spice pecan cake, and vegan coconut tapioca with mango.
As more of an example how Wicked Spoon is so good at the little things, they even have candy-store style glass jars full of candy, such as salt-water taffy and lollipops.
Drink Station
Drink options include apple, grapefruit, tomato, orange, pineapple, and cranberry juices, coffee, regular iced tea and raspberry ice team, along with your typical selection of Coke products.
Wicked Spoon Phone Number and Website
Official Website: Wicked Spoon Buffet
Phone: (877) 893-2001
However if you're going to have 13 or more people in your party, you should call this number ahead of time: (877) 551-7776.
2 for 1 Coupons at the Wicked Spoon Buffet
The Cosmopolitan's player's club program is called Identity. People just signing up start at the "Velvet" level.
The next level up is "Sterling," and those of you who reach it can receive a 2 for 1 entry into the Wicked Spoon (limit one per month).
If you gamble enough to reach one of the next two levels, "Gold" and "Platinum," you will be entitled to a Wicked Spoon 2-for-1 coupon everyday, rather than one per month. You'll also have priority access to the buffet.
To access this 2 for 1 coupon, you'll just show the card to the cashier at the start of the buffet.
Wicked Spoon Express Takeout
(Editor's note: This option is unavailable currently.)
Lastly, as with many other Strip buffets, the Wicked Spoon has a take out option, for those of you who would rather take your buffet up to your room.
The price for this is $20, regardless of the buffet time. For that price, you'll get a box (with different partitioned areas) and the chance to load up. They also give you a small bottled water. While I haven't done this personally, many who have say it's a good value and that they're able to get plenty enough food in the container to fill themselves up.
(By Steve Beauregard. Photos courtesy of Stefan Krasowiski, Bradley Tinney and kennejima via Flickr).