Cosmopolitan Las Vegas Parking Fee 2023 & Valet
With art, foliage, and a clean modern look, the Cosmopolitan Las Vegas has one of nicest parking garage entrances in all of Sin City. It's clean and convenient to use.
It is believed to be the only casino in Las Vegas to use terrazzo in its valet and port cochere areas, (according to the contractor who laid it, APF out of Arizona).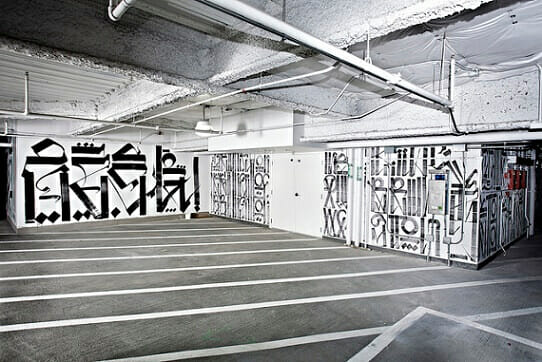 The Cosmopolitan in Las Vegas has parking for 3,800 vehicles. It's also unusual in that it's one of the few parking garages I know of that has hired artists to paint their designs on large murals on the walls.
The parking garage itself is completely underground.
It has 4 levels, and 3,800 total parking spaces that serve guests for both the east side and west towers, (along with other people who just want to visit the casino or the numerous restaurants, shopping and clubs at the Cosmo).
Registered hotel guests staying at the Cosmo receive free self-parking and valet. Everyone else pays the following:
Cosmopolitan Las Vegas Parking Fee
| | |
| --- | --- |
| Hotel Guests | Free |
| 0 – 1 Hour | Free |
| 1 – 4 Hours | $15 |
| 4 – 24 Hours | $18 |
| Each additional 24 Hours | $18 |
Please note that anyone with a Cosmopolitan reward card (called the "Identity" card), who has reached the status of Sterling, Gold, or Platinum, will receive complimentary parking. (The lowest card level is "Silver." Those members still have to pay to park).
In addition, it's free to park your motorcycle, moped, or any other two wheeled vehicle. Lastly, locals get 3 hours of free parking.
These parking fees will rise when there are concerts and other special events (such as New Year's Eve). Event pricing will usually be between 4 PM to 11 PM. However registered hotel guests and Identity card holders (at any level) are not subject to the higher event pricing.
In other words, hotel guests and all upper-tier Identity card holds still get free parking during events. Silver card holders will pay "normal" parking fees. All others pay event parking prices.
One last note: although the Cosmo is now owned by MGM Resorts, those with MGM Rewards benefits cannot use those here, as of this update.
Cosmopolitan Las Vegas Valet Parking Fee
| | |
| --- | --- |
| Hotel Guests | Free |
| 0 – 4 Hours | $25 |
| 4 – 24 Hours | $35 |
| Each additional 24 Hours | $35 |
Again, Cosmo hotel guests do not have to pay valet parking fees.
You access the Cosmo valet stand from Harmon Avenue, using the same directions as if you were going to self-park. However instead of going down the self-park ramp you'll watch for the signs that point you to the right hand lane and the Cosmopolitan's Porte Cochere.
Gold and Platinum Cosmopolitan Rewards members do not have to pay these valet parking fees. All others (Silver and Sterling level members), will have to pay for valet parking. Be sure to have your Identity player's card with you when arriving.
Cosmo Las Vegas Parking Map
(The black star is the main entry into the Cosmo's parking garage. The red star shows you the secret, back street way.)
Tickets
When entering the garage, you'll take a parking ticket. Be sure to keep it safe. Anyone who loses their parking ticket is charged a "lost ticket fee" of $50.
Each level of the parking garage has self-service kiosks by the elevators. You can pay by credit or debit card on all levels. If you want to pay by cash, you can only do so at levels B2 and B3.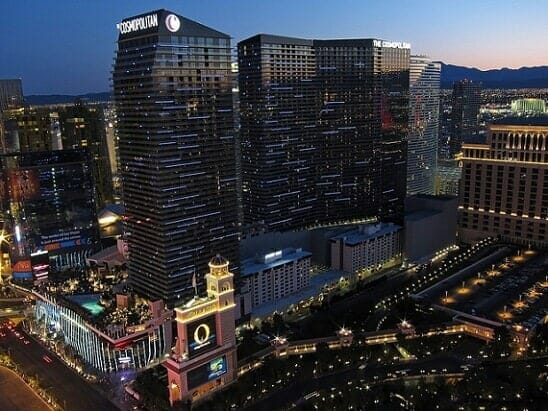 You should also note that if you leave after having valet parked, then drive back to the Cosmo, you will be charged a brand new valet fee – even if you just leave for a few hours and come back.
Cosmopolitan Parking Directions
There are two ways to get to the parking garage from the Strip: the obvious way, and the secret way.
1) The obvious way. (Black Star on map)
From Las Vegas Boulevard, go west on Harmon towards the Cosmopolitan. After driving approximately 400 feet, you'll take a right at the first stoplight. The street sign simply says, "Cosmopolitan."
Once you're inside, you'll see the large COSMOPOLITAN letters on the wall on your right. Keep going straight for a few feet.
On your right you'll find valet parking. Staying in the left lane will take you down a ramp to the self-parking area. It's clearly marked.
At the bottom of the ramp, you'll take a left. A few feet ahead you'll see a digital sign, that you'll see at some of the other nicer casinos, such as at the Wynn parking garage.
Updated continuously, this sign lets you know how many parking spaces there are available on each level. It will say, for example, "LEVEL B4." On the far right of the sign, in blue, are the available number of parking spaces on that level.
The Cosmopolitan parking garage also has a light above each individual parking space. The color of the light will let you know if the space is full (Red), empty (Green) or handicapped only, (Blue).
This way, when you look down a long row of cars and see only red lights, you'll know to keep going down a different lane.
(Related: Wicked Spoon Buffet Price)
2) The Secret Way (Red Star on Map)
For many, the easier and faster way to access the Cosmopolitan parking garage is through the "secret" entrance/exit on the north side of the property (the Bellagio side).
This can only be done, however, when going south on the Strip. After you pass the Bellagio on your right, and immediately past the large "Bellagio" sign, you'll see a small, unmarked access road directly in front of the Cosmopolitan.
(Related: Free parking on the Las Vegas Strip)
Take a right on this non-descript road to access the parking garage from the north end. On days or nights when this area of the Strip is packed with traffic, it can, however, take longer this way. There aren't stop lights here, and the the constant flow of pedestrian traffic can mean you may have to wait awhile before being able to make a turn.
Cosmopolitan Oversized Parking
The self-parking garage height is 8 feet, 2 inches. However registered hotel guests can have their oversized vehicle valet parked.
(By Steve Beauregard. Photos courtesy of Allen McGregor and The Cosmopolitan of Las Vegas via Flickr.)