Atlantic City 4th of July Fireworks Schedule 2023
Updated January 5th, 2023
(Editor's Note: One plans for this year's celebration are announced, we'll update this article. Until then, below is the write up for last year's party).
Atlantic City continues to be on the rebound!
Gaming revenues are on the rise, and visitor numbers are increasing. Caesars has put $400 million into remodeling their 3 resorts, while newer joints like the Hard Rock & Casino Atlantic City and the Ocean Casino Resort continue to do well.
All of which means that this year's Atlantic City's 4th of July fireworks show this year should be more exciting than ever. The party started with fireworks on Friday night.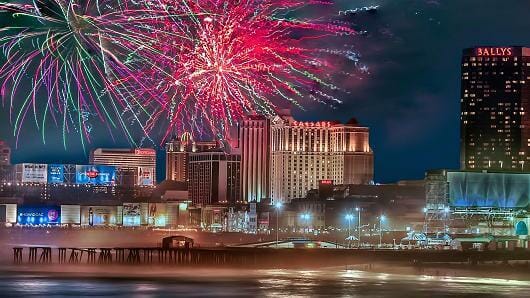 In years past, there were Independence Day firework shows both on the Boardwalk, and in the Marina District, however I've been informed that the Borgata will not be having a fireworks display this year. (There are other fireworks displays in the A.C. area, however this article concerns the tourist areas only).
In addition to their usual July 4th weekend boardwalk fireworks display, the Tropicana Hotel & Casino lights off fireworks every Saturday night in the summer. (More on that below). In fact, the 3 day weekend will be filled with fireworks.
As for Independence Day, this year, the 4th of July falls on a Monday.
As has been tradition, this year's main Independence Day show will be graciously put on by the Tropicana on the Boardwalk.
Atlantic City Fireworks for July 4th, 2022
Monday, July 4th: 10 PM – Tropicana – Boardwalk/Beach
In addition, here were the earlier fireworks shows in Atlantic City:
North Beach: Friday July 1st, 2022 9:30 PM
Tropicana: Saturday, July 2nd: 10 PM
The North Beach area starts at the Steel Pier and includes: the Hard Rock, Resorts, and Ocean Casino Resort.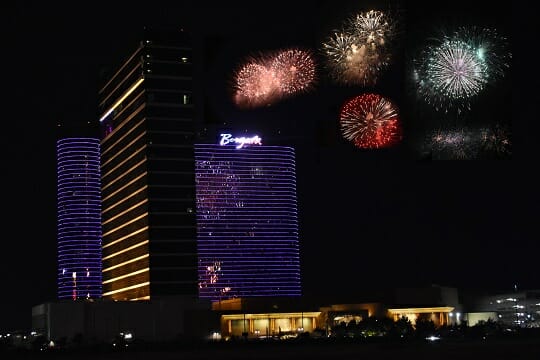 Tropicana Fireworks 2022
Famous fireworks company Grucci has always put on this show, which will take place at 10 PM on Monday, the 4th. These Boardwalk fireworks were shot off from both in front of the Tropicana and Steel Pier last time, but will likely be just in front of the Trop this year.
Independence Day Fireworks Viewing Spots in Atlantic City
It's free, of course, to watch the fireworks all along the beach and boardwork, but many casinos have viewing parties and promotions.
* Resorts Hotel and Casino has free live music at both their Landshark Bar & Grill, and at Margaritaville.
* Harrah's Resort Atlantic City has – in years past – had beer and wine tents set up in the Waterfront Conference Center parking lot. No plans have been announced however as of this update.
* At Bally's, the Beach Bar & BBQ has live music starting at 1 PM and going all night.
July 4th, 2002 Weekend Shows in Atlantic City
In addition to fireworks, gambling and the weekend party, there are added entertainment options typically scheduled on this busy weekend. (I'm a Ticketmaster affiliate and may receive a commission should you purchase tickets).
The Black Crowes – Saturday, July 2nd 8 PM at the Borgata Event Center.
Pat Benatar & Neil Giraldo – Saturday July 2nd at Caesars Atlantic City – Tickets here: Pat Benatar
New Kids On The Block – Sunday July 3rd at Etess Arena at the Hard Rock.
DJ's performing over the three-day weekend include:
James Hype at Ocean Resort Casino's HQ2 Nightclub/Beachclub on Saturday, July 2nd at 11 PM.
Steve Aoki at Ocean Resort Casino's Beachclub, on Sunday, starting at 11 AM.
Gattusso, also at Ocean Resort's nightclub, on Sunday at 11 PM.
Other
According to Weatherspark.com, the evening of July 4th is historically very pleasant in Atlantic City. In fact, the average temperature at 9 PM is 74 degrees (historically). On average, there is a 30% chance of rain taking place at some point on the Fourth of July. The sun sets at 8:27 PM on July 4th this year. And every year:)
As of this July 4th, 2022 update: Weather.com predicts a 0% chance of rain today, with an expected high of 79 degrees during the day.
Atlantic City is a very popular destination for July 4th celebrations. In 2019, for example, beach lifeguards said it was the busiest weekend they had ever seen. According to the Press of Atlantic City, lifeguards estimated there were 100,000 people on the beach on the Sunday before Independence Day.(Related: Atlantic City New Year's Eve Fireworks)
Tropicana Atlantic City Weekly Fireworks
If you're planning on being in Atlantic City the weekend prior to or the weekend after Independence Day, you'll still get to see fireworks – thanks to the generosity of the Tropicana Casino Resort.
Tropicana's Weekly "Summer Celebration" fireworks are shot off on the beach just south of the beachfront in front of the Tropicana. The show lasts ten minutes.
These take place every Saturday night in the summer (from May 28th, 2022 until September 3rd), starting at 10 PM.
Miscellaneous
* Atlantic City casinos bring close to $3 billion in gaming revenue per year. This includes online gaming.
* Atlantic City's busiest casino in terms of revenue is the Borgata, with nearly twice the revenue of its closest competitor, the Hard Rock. Harrah's and The Tropicana are typically neck and neck in third place.
(By Steve Beauregard. Photos courtesy of the Atlantic City Casino Reinvestment Development Authority and from the Borgata media page).