Atlantic City New Year's Eve Fireworks for 2023/2024
Updated January 5th, 2023
(Editor's note: We'll update this once plans for NYE 2024 are announced. Below is the article for 2023.)
It may be full of non-stop action, but the casinos and visitors to Atlantic City do usually take a quick pause on December 31st to welcome in the New Year with a dazzling fireworks display over the famed boardwalk.
This is in addition to the numerous casino parties, and dinners held up and down the boardwalk, (as well in the Marina District).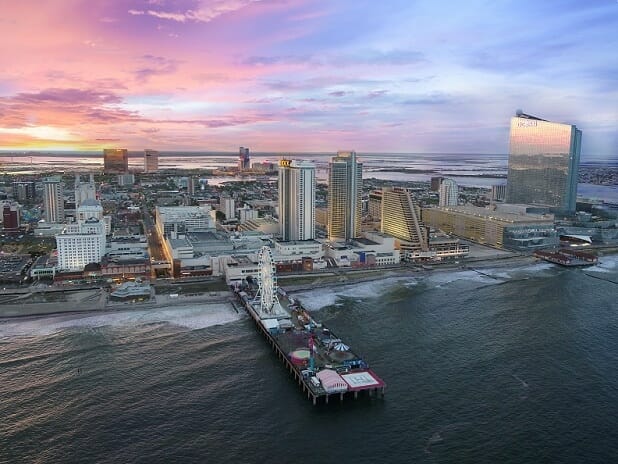 Between luxurious special gourmet dinners, to pool parties, concerts and celebrity DJ's, there's no shortage of entertainment options for the throngs of visitors who flock to AC each NYE to ring in the New Year. Most of them at a big cost.
The fireworks, however are free.
In year's past, the fireworks specialist company Grucci lights up the sky over the Atlantic, with a display visible for all the neck-cranking visitors on the boardwalk below.
They are shot off from the beach in front of the Tropicana Atlantic City Hotel & Casino.
The Trop graciously puts on the NYE fireworks show, just as they do with a fireworks show on every Saturday night during the summer. The Tropicana is also one of the main sponsors of the July 4th Atlantic City Fireworks display.
Unlike on July 4th, there aren't fireworks shot off from the Marina District on New Year's Eve.
As for New Years, this year, December 31st falls on a Saturday.
Atlantic City New Year's Eve 2023 Fireworks Time
Saturday December 31st. Starting at 9 PM.
Please note, nothing officially has been announced yet, but we expect the show to be the same as in year's prior.
Per the Tropicana's website from last year: "Start the night off with a bang! At 9 PM on the Boardwalk, Tropicana will dazzle the sky with a vibrant firework performance." Fireworks by Grucci, the company putting on the show, says the fireworks will go off at midnight however.
Based on last year's show, the Tropicana fireworks shows will include, "intricately designed scenes and vivid effects including Grucci high aerials and grand illuminations."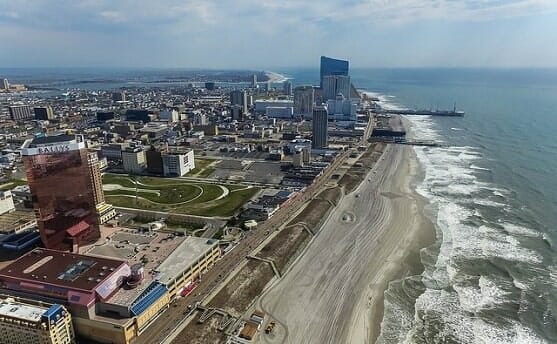 Atlantic City 2022/2023 New Year's Eve Parties, Concerts & Shows
Some concerts and events have been announced, but some are still to be determined (TBD). We'll update as soon as more parties are revealed. We've described some of last year's parties as well, to give you a hint of what to expect this year. (We may receive a commission should you purchase tickets from links below).
Bally's AC Hotel & Casino
DJ Jerry Blavat and the Intruders perform at a dinner show in Bally's Grand Ballroom. Tickets are $150 each, and include a prime rib dinner, open bar, dancing, and a champagne toast at midnight. Doors open at 8 PM. These may be sold out as I can no longer find any ticket info on this.
At The Yard, (Bally's indoor/outdoor bar), their NYE 2023 package costs $75, and includes an open bar and hors d'oeurves from 9 PM – 11 PM. After 11 PM, there will be a cash bar and live music.
Borgata Hotel & Casino
Comedian Deon Cole will perform two shows at the Borgata's Music Box Theater on Saturday 12/31/22: 7 PM and 10 PM. Tickets here: Deon Cole NYE.
For 2023, the resort's Premier Nightclub has EDM group Cash Cash performing at 9 PM. General Admission tickets start at $39, and their are open-bar packages starting at $70. Information here: Premierborgata.com
Caesars Atlantic City
Caesars AC's Boardwalk Saloon at the Wild West Casino has a NYE party starting at 9 PM. Tickets are $70 (before taxes and fees), and includes an open bar from 9 to 11 PM, and a champagne toast at midnight. Info here: Caesars.com/WildWildWest
The Claridge Hotel
Next to Bally's The Claridge's rooftop bar, Vue has a NYE part that includes a 3 hour open bar (9 PM – Midnight), appetizers, party favors, champagne toast at midnight, and DJ. Tickets start at $79 before taxes.
Golden Nugget Atlantic City
Golden Nugget's NYE party at the Wave nightclub costs $75.

The entry fee gets you a 3 hour open bar (until 11 PM), live entertainment by The Exceptions, party favors, and a champagne toast at midnight.
Hard Rock Atlantic City
Hard Rock Live – In the resort's Hard Rock Live at Etess Arena, Earth Wind & Fire will be performing on the 31st at 10:00 PM. (Also on Friday the 30th at 9 PM).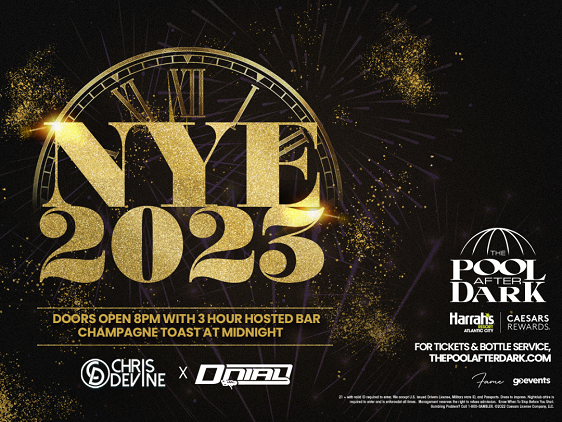 Harrah's Resort Atlantic City
The indoor Pool After Dark at Harrah's has a NYE party costing you $95 per person (before taxes and fees, but early bird tix are cheaper). The cost includes a three-hour open bar, from 8 PM to 11 PM, and DJ, and balloon drop. Another option is to show up after 11 PM, in which case tickets are $50 (and does not include an open bar).
Ocean Casino Resort
HQ2 Nightclub – New York DJ Gattuso performs at 9 PM at a party with a 2 hour bar between 9 PM – 11 PM. Information here: Gattuso NYE.
Ocean Casino's sportsbook, The Gallery Bar, Book & Games (and the Balcony Bar above it), will have the ball drop on their massive LED wall, along with live music by a a DJ and party favors.
Resorts Casino Hotel Atlantic City
Forever Motown (which features members of such iconic groups as the Four Tops and Temptations), perform on 12/31/22 at 10:30 PM. Tickets start at $45.
TBD – LandShark Bar – Last year, as has been the case in years' past, the LandShark Bar & Grill had no cover and a party starting at 8 PM. There was a margarita toast at midnight. No word yet on what's going on this year.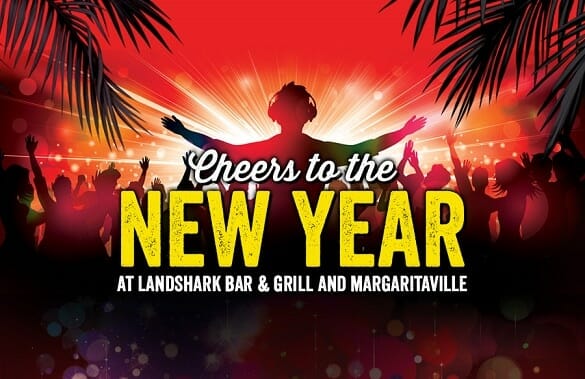 Margaritaville's party starts at 8:30 PM with live music courtesy of The Remedy Band.
Showboat Atlantic City
The former "Party on the Pier" folks have moved their popular and big New Year's Eve extravaganza up the boardwalk to the Showboat. This is billed as six parties all under one roof, with venues including the Bourbon room (formerly the House of Blues), among others.
The party features: a "DJ concert hall party, live bands & light show, dueling pianos, karaoke, multiple other DJs, and more!"

A general admission ticket costs $79.95, as of this update, but that is for a limited number of early bird seats. Last year's prices were $89.95 when the early bird special ended. Either way, admission gets you entry from 9 PM to 3 AM. GA tickets include a 5 hour open bar (9 PM to 2 AM), entertainment, light snacks, live ball drop viewing, champagne toast at midnight and more.
The VIP ticket (early bird price is $119.95 as of this update), and gets you in the door an hour earlier, at 8 PM, and entitles you to a 6 hour upgraded open bar, catered food buffet stations from 8 PM to 11 PM, free coat check, and champagne toast at midnight.
Tropicana Atlantic City Casino & Resort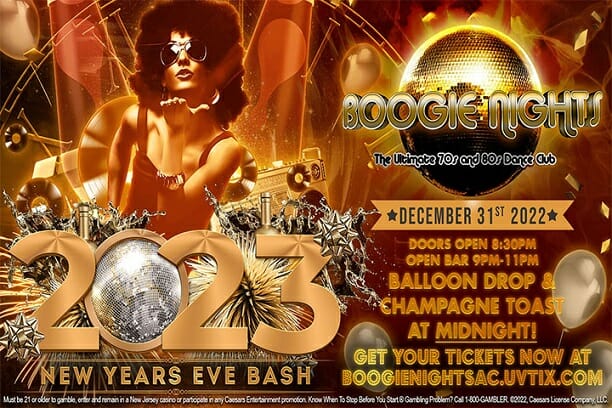 In addition to this, and hosting the fireworks right outside on the beach, the Trop's Boogie Nights dance club has a NYE party costing you $75 per person (before taxes and fees) as of this update. This general admission includes an open bar (from 9 PM to 11 PM), and a complimentary champagne toast and balloon drop at midnight. Table reservations start at $400 minimum spend (as of this update). Info here: Caesars.com/Tropicana/BoogieNights
Anthem Lounge (the nightclub in The Quarter – the resort's dinning/shopping/entertainment area), is home to their "Out of this World" space-themed NYE event. The party runs from 9 PM to Midnight, with tickets starting at $75 (until 12/26), which includes a 3 hour open bar, party favors, noise makers (other than your own voice), and a champagne toast at midnight. Info here: Anthemlounge.com
Polar Bear Plunge
Not NYE related, but you can shake off that hangover (and quickly) by participating in the 2023 Polar Bear Plunge.
It takes place at noon, directly in front of Resorts AC on New Year's Day. The cost is $25 and includes a t-shirt. Proceeds go to the Cancer Support Community New Jersey at Gilda's Club. After the plunge, there is a party at the Landshark Bar & Grill at Resorts Casino. Tickets and information here: Resorts AC Polar Bear Plunge
Weather in AC on New Year's Eve
As of this morning's 12/31/22 update, the forecast from Weather.com predicts it will be 49 degrees at midnight on the NYE, with a 59% chance of rain.
According to USclimatedata.com, the average high temperature on December 31st in Atlantic City is 42.6 degrees, while the average low for the day is 25.2 degrees.
(By Steve Beauregard. Top photo courtesy of Do Ac (The Casino Reinvestment Development Authority). Middle photo courtesy of Marco Verch via Flickr.)