Smack dab in the heart of the action on the Boardwalk, Bally's Atlantic City Hotel & Casino has two casinos, three hotel towers, and 4,000 parking spaces.
As with most casinos in Atlantic City, parking here comes at a price.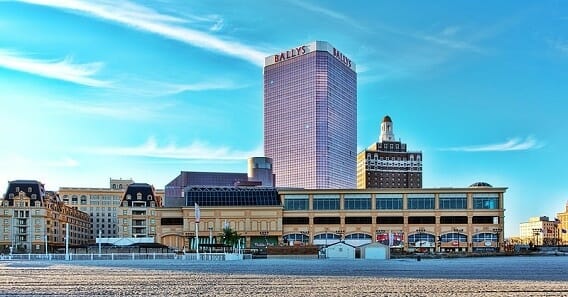 There is a parking fee for hotel guests, and a higher one for those not staying at the resort. Valet parking includes a charge as well (in addition to the customary tip).
Bally's self-parking fees are the exact same as the Caesars AC Parking Fee next door (the two resorts are connected via walkways).
However if you're looking to save a buck, weekend valet parking is $10 cheaper at Bally's for some reason. (More on that below).
Bally's Self- Parking Fee Atlantic City
These apply 24 hours a day, and you pay a daily charge. In other words, it's not an hourly rate.
Hotel Guests: $5 per day
This is in addition to the nightly resort fee. Everyone else not registered at the hotel:
Midweek: $10 per day *

Weekend: $25 per day
Mid-week pricing is not defined on their website, however in year's past, the lower mid-week pricing would be if you entered into the garage Monday morning to 6 AM Thursday.
*During "Peak" times, (which can include everything from holiday weekends to just busy summer days), Bally's AC's mid-week parking price jumps to $25.
Those of who with Caesars Rewards cards who have reached either the Platinum, Diamond or Seven Stars levels receive complimentary self-parking.
Bally's AC Parking Map
The black "P" above marks the entrance into the self-parking garage.
The red star is hotel valet parking while the blue star is the casino valet parking drop-off.
Bally's Atlantic City Hotel & Casino Valet Parking Price
Platinum, Diamond and Seven Stars members receive free valet parking services.
Registered hotel guests: $10 per day
Keep in mind, this is in addition to the nightly resort fee.
Everyone else:
Midweek: $25

Weekend: $30

Special Event: $40
These prices are the same for Peak and Non-Peak times alike.
You can expect the Event pricing to kick in for Memorial Day weekend, July 4th, Labor Day, and the annual Air Show. It may also apply if there are crowds at the Atlantic City Convention Center, which is just a 15 minute walk north.
(Related: Tropicana Casino AC Parking Cost)
Bally's Atlantic City Parking Garage Directions
Self parking: Entrance into the self-parking garage is off of S. Michigan Avenue. Going towards the hotel, after you pass Pacific Avenue, the self-parking garage entrance will be clearly marked on your right.
Current prices will be posted at the entrance.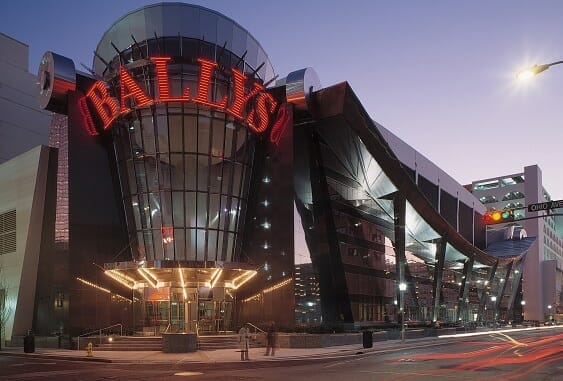 There are elevators of course, and access to both the Wild Wild West Casino and Bally's Casino.
The Wild Wild West Casino is in the same building complex as the parking garage, and access to Bally's 15,000 square foot sportsbook (the largest in Atlantic City), is via the Wild Wild West entrance.
Access to Bally's Casino is via two pedestrian skyways that cross over both S. Michigan Avenue and Pop Lloyd Avenue.
Valet parking: You have two options. First, you can follow the directions above on S. Michigan Avenue. However instead of turning right into the parking garage, you'll continue a few feet further towards the beach, where you'll clearly be directed to the casino valet area on Pop Lloyd Blvd.
The other way, which is faster for those of you using the hotel valet, is to head towards the beach on S. Ohio Avenue. South of Pacific Avenue, you'll see the hotel valet parking stand on your right.
Other
* Bally's AC does not have parking spots for oversized vehicles.
* Clearance into the self-parking garage is 6 feet, 4 inches.
* You can sometimes earn free parking when playing with your Caesars Rewards card, so be sure to check for any available comps at Caesars Rewards desk before leaving. I believe that earning 25 tier credits a day will earn you free parking.
* While Bally's $40 event pricing seems high, just a few years ago it was even higher. The Press of Atlantic City ran an article written by Donald Wittkowski that showed self-parking to be $50 for events such as the Blake Shelton concert. As a result of the high parking fees, a New Jersey assemblyman asked the state to investigate possible price gouging. I'm not sure what became of the complaint, however it's interesting to note prices are lower today, after the assemblyman made noise about it.
* Bally's opened in December of 1979 as "Bally's Park Place." The Wild Wild West Casino opened in 1997.
* There are three hotel towers. The main, tall, pink windowed one is Bally's Tower with 750 rooms. Jubilee rooms you'll see advertised on Bally's website are nicer, renovated upper floor rooms (floors 36 to 44), in the Bally's Tower.
The original Dennis Tower, which was built in 1921, blocks ocean views from people staying at the Garden Tower.
The third one is the Garden Tower, which is a three story addition on top of the valet parking garage. It's connected to the resort via a pedestrian skyway.
Bally's Atlantic City Address, Phone & Website:
1900 Pacific Avenue
Atlantic City, NJ. 08401

(609) 340-2000

Website: Bally's Atlantic City Hotel & Casino
(By Steve Beauregard. Photos courtesy of Atlantic City Convention & Group Sales and Bruce.Emmerling via Flickr.).