On its website, Caesars AC says its founder, "believed that every one of his guests should be treated as a Caesar."
Apparently back in ancient Roman times, dictators were charged to park their chariot.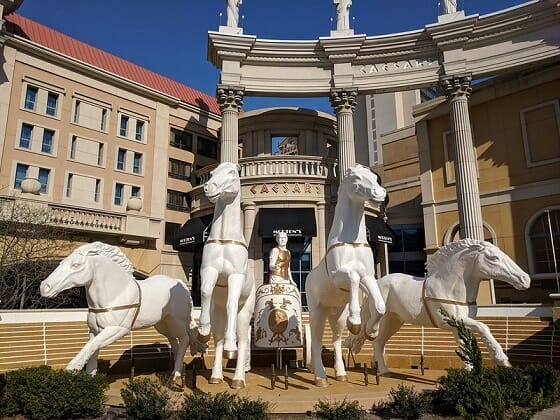 Like its neighbors up and down the Boardwalk, Caesars Atlantic City Hotel & Casino charges its guests to park. There are different rates for registered hotel guests vs just visitors, (more on that below), but everyone is charged a fee to park at the resort.
Caesars Atlantic City Parking Prices
First off, these rates are self-parking rates. Valet parking prices are further down below.
Registered Hotel Guests: $5 per day
People not staying at the hotel:
Midweek: $10 per day *

Weekend: $25 per day
* A note about Mid-Week pricing:
Mid-week pricing is Monday to Thursday. During what they call "Peak" times, Caesars increases the cost of mid-week parking to $25.
When does this "Peak" pricing go into effect?
There's no standard definition. I called Caesars AC, and was told that peak pricing varies, based on demand, and can go into effect any time. However you can expect that peak pricing will be in effect during any holiday. When July 4th falls during a weekday for example, expect the increased peak parking cost.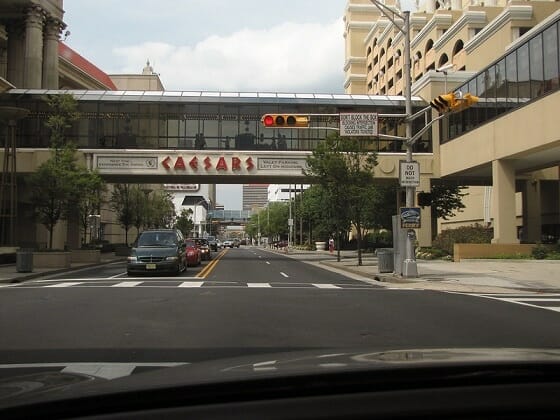 Also, if there is a sold-out show at Caesars, the annual Thunder Over the Boardwalk Air Show, or any other big convention or event in Atlantic City, you're most likely going to be charged the higher-priced peak pricing rates.
Either way, the current parking rates are always posted on the signage before you enter the garage.
Guests staying at Caesars AC's hotel will pay $5 per day, regardless of the day, or how busy the resort is. This applies to all hotel guests staying in one of Caesars AC's 1,141 hotel rooms. The parking cost is on top of the nightly resort fee.
I've read reports of hotel guests receiving $5 coupon vouchers off the parking price, making the parking free, when showing a Caesars Rewards card (at any level) upon check-in. So be sure to show your card, or ask about this voucher.
One last note: Caesars Rewards card holders at the Platinum, Diamond, or Seven Stars level receive free self-parking.
Caesars AC Parking Map
There are two parking garages here, the Colosseum Parking Garage (red P) and the Temple Garage, (black P). They combine to provide over 5,200 covered parking spaces.
There are two access points into the Colosseum garage.
One is on S. Missouri Street, way to the west. However at this entrance, (the brown P), is where you'll enter under a distinctive arch. A single car lane takes you to bridge and over Arkansas Street into the garage. The other entry into the Colosseum garage is right on Arkansas Street.
Entry into the Temple Garage is off of Missouri Street.
Regardless of which garage you park at, there are elevators and stairs to take you to the second level, where some beautiful glass-enclosed overhead pedestrian skywalks on the second floor will lead you from the parking garage into the resort.
Caesars Atlantic City Valet Parking Cost
For registered hotel guests: $10 per day
For non-hotel guests:
Midweek: $25

Weekend & Events: $40
These are daily prices. If there is a holiday or special event going on, the midweek valet price will shoot up to $40.
The valet parking area is at the intersection of Pacific and S. Missouri Avenues, right behind the statue and fountains of the white horses pulling the chariot.
You'll enter into the valet area off of S. Missouri Avenue.
While you'll drop off your car on the street level of course, the valet parking stand to retrieve your car is on the second level.
As with self-parking, valet parking for Platinum, Diamond, or Seven Stars members is complimentary.
Free Parking at Caesars Atlantic City?
Even if you're not a high roller, you can get free parking with enough play.
If you earn 25 tier credits (in one day), you'll get free self-parking. The credits can be earned on slots or table games. Or both.
After earning at least 25 credits, you'll want to swipe your Caesars Rewards card at one of the casino kiosks, and print out the voucher. From there, you'll take your voucher and the parking ticket you received when entering the garage to get free self-parking.
Other
* You can find latest information about parking prices at Caesars AC, or any other Caesars Entertainment casino across the country here: Caesars.com/Parking
* The daily parking rate for hotel guests gives you unlimited in and out privileges. In other words, you don't have to pay an additional fee if you return that same day.
* Unfortunately there isn't any oversized parking available.
* Clearance in the self-parking garages is 7 feet maximum.
* Those Caesars Rewards members at Silver Stars level have their own priority parking on the 7th level of the Colosseum Garage.
* Pedestrian skyways connect you to the Wild Wild West Casino and Bally's. Bally's Atlantic City self parking fees are the same as Caesars.
* The Colosseum Garage is the newer of the two massive garages and has (reportedly, I haven't counted), 3,224 covered parking spaces.
* The older, ten-story Temple parking garage has reportedly 2,122 parking spaces.
* To my knowledge, and as of this writing, there aren't any electric vehicle charging docks at Caesars Atlantic City.
* Built in, Caesars Atlantic City boats over 115,000 square feet of casino floor space, with just over 2,000 slot machines, and 129 table games.
(By Steve Beauregard. Photos courtesy of: sporst, and Dustin via Flickr).