BLT Burger Las Vegas at the Mirage – Menu, Review & Hours
(Editor's Note: BLT Burger at the Mirage has closed for good. Below is our original article about it).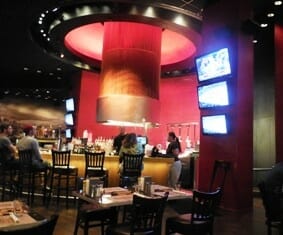 BLT Burger at the Mirage in Las Vegas is the a gourmet hamburger restaurant easily found near the south front entrance of the Mirage Hotel and Casino.
It's part of a Las Vegas trend, where restaurants put a fancy touch on the classic American hamburger, charging more of course, in the process. Still my wife and I feel the BLT Burger at the Mirage delivers. Then again, I could have just been really hungry.
It has modern decor, an eclectic menu, open feel, and is great for people watching. Alternatively, you can sit at the bar and watch the cooks work their magic, as it is on open grill concept type of place.
Because it's not fast food, you will shell out for your meal here. The website claims the average check is $22, but I have a hard time believing that. Two burgers, fries and shakes can easily run you in the $70 range before tip.
We were able to escape fairly easily by splitting the incredible Kobe beef sliders, waffle bites and ahi tuna spring roll. I cannot do the waffle bites justice, as it's hard to make friend potatoes sound enticing. These, however, were delicious, either due to the spices in the fryer, or the pickled jalapenos toppings or something.
We also tossed in a bourbon infused milkshake called the "Grandma's Treat." Our tap, including a generous tip to our wonderful (and very pregnant waitress), was in the mid $50's, and we enjoyed every bite of our appetizer-based meal.
In fact, it was the Grandma's Treat that got us into the place, and I recommend you put it on your culinary bucket list, as it is delectable. The spiked milkshake consists of vanilla ice cream, caramel and Maker's Mark bourbon. If there is anything sweeter than sharing an incredibly wonderful bourbon milkshake with your sweetheart on a fun-filled Las Vegas night, I cannot think of it, (other than the birth of my children and all that crap).
BLT Burger Menu
To save money, you can fill up by sticking with just appetizers. The BLT Burger menu's list of appetizers is as follows:
Fried Dill Pickles
Chili Bowl
Ahi Tuna Spring Roll
BBQ Nachos
Waffle Bites
Mini Lobster Roll
Chicken Wings
As for salads, they offer a traditional vegetable and Caesars salads, along with what's called a "5 Spice Chinese Chicken" salad and twist on the usual Cobb salad called the "Southern Fried Chicken Cobb" salad. It has a chipotle-BBQ ranch dressing over black beans, eggs, beets, bacon, tomatoes, avocado, onions, corn of course, and smoked gouda cheese.
BLT Burger List
As you might imagine, BLT Burger Las Vegas has hamburgers. Their versions range from a simple 7 ounce plain hamburger, to a Colorado lamb burger, to Tex-Mex (with Chili, Jack cheese, avocado, salsa, sour cream, and jalapenos).
Unique offerings include veggie falafel, buffalo chicken, turkey, and the "Stripper" (it has no bun).
American Wagyu Truffle is for those of you are above the dollar menu at McDonalds, as I'm unfamiliar with half of the items on it. Also on the list of different burgers is the Salmon, which has Atlantic Salmon topped with red onion, watercress (which you won't find at Wendy's), and avocado – all served with a spicy cayenne based tartar sauce.
The "Interstate 80," on the other hand, is more to my liking, with crusted bacon, smoky sweet BBQ sauce, caramelized onions, and sharp cheddar cheese.
Sides
As for sides, the BLT Burger Las Vegas serves up six different kinds of fries: Skinny, fat, curly, waffle, buffalo, and sweet potato. Sides also include onion rings, and horseradish cole slaw.
Desserts
Other than shakes, there is not a huge dessert menu at BLT Burger at the Mirage. The offerings include a brownie bite sundae, a pie of the week, and deep friend Oreos.
Drinks
The draft beer menu at BLT Burger at the Mirage features twenty different draft beers, ranging from your basic Coors Light, to a BLT lager. There's also your typical Samuel Adams, Blue Moon, New Belgium offerings, along with one from the Sin City brewery.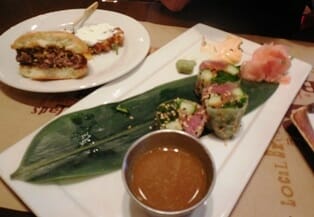 The prepared list of beers (and yes, you can mix drinks with beer), include a "Honey Beer" which is described on the menu as a combination of the BLT pilsner, fresh lemon, and honey syrup. The "Shandygaff," on the other hand, is less sweet, as it is a mixture of Blue Moon and Reed's Ginger beer.
There are eight different house cocktails on the drink menu, including a somewhat tempting drink called the "Smokey Heat." It's Milagro tequila mixed with lime and chipotle syrup.
Five different "Adult Floats" put a nice twist on the traditional ice cream float. The "Double Barrel," for example, consists of Jack Daniels, Root beer, and vanilla ice cream.
Keeping with the alcohol dessert theme, BLT Burger at the Mirage serves up six different spiked milkshakes. I've already mentioned the Grandma's Treat. Next trip I will certainly try the "Malibu Barbie," which is Malibu rum mixed with pineapple juice, coconut milk, and vanilla ice cream.
Those of you not wanting your milkshake spiked can choose from 13 non-alcoholic milkshakes, including a cream sickle and "Twinkie Boy" (vanilla ice cream, caramel, and Twinkies). The creatively named "Lunch Box" is a vanilla milkshake with peanut butter and jelly added.
BLT Burger Las Vegas Hours and Location
Sunday through Thursday: 11 am. to 2 a.m.
Friday and Saturday: 11 a.m. to 4 a.m.
The BLT Burger is located at the southern Strip entrance to the Mirage, just past the sports book.
Despite my positive experience and glowing review above, the Southern Nevada Health District closed BLT Burger on March 16, 2016 for health violations. BLT Burger had been warned, and given a "C" rating by health department inspectors, just ten days earlier, on March 10th.
(By Steve Beauregard. Photos from gamboool.com)