Caesars Palace History
By Steve Beauregard
A larger-than-life resort, Caesars Palace was dreamed up and built by a larger-than-life character.
World War II vet Jay Sarno, who grew up dirt poor in Missouri, worked hard building motels in the 1950's. He also had a love of gambling – so much so that his wife told a reporter that Jay once won and lost $100,000 playing craps…all in the same night!
This love of craps led him to Las Vegas, where he envisioned a casino/hotel much more glamourous than the what the strip had been offering.
Thus, he began planning the resort in 1962.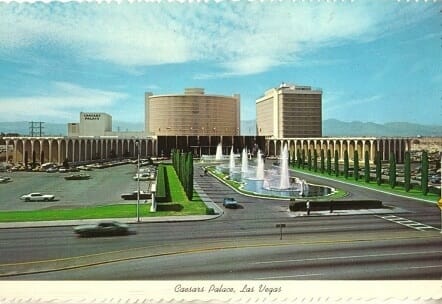 It opened on August 5, 1966 at a cost of $24 million, and was unlike anything Las Vegas had seen. With fountains and pools and employees in Roman-themed uniforms, it was an immediate hit, and set the standard for the themed-hotels that are so common in Sin City today.
The Roman Tower, at 14 stories and with 680 rooms, was the first, of what would be six hotel towers. Celebrities including Gene Kelly attended a star-stunning opening night, in which singer Andy Williams performed at the Circus Maximus ballroom (which then held 800 guests). Jimmy Hoffa attended the elaborate grand opening. And why not? His Teamsters Union reportedly contributed over ten million dollars in funding for the casino.
First Sale
Just three years after the opening, the luxurious resort was sold to…a hot dog stand owner. And no I'm not making that up.
Lum's Inc, which started as a hot dog stand, and would grow to a chain of over 200 resturatnts, purchased Caesars Palace in 1969 for $58 million, or roughly what I've put into quarter slots there over the years.
They quickly shed the Lum's name for "Caesars World" in 1971. Since then Caesars Palace has gone through several owners, including ITT Shearaton and Hilton Hotels, ending when Harrah's purchased Caesars Entertainment for $9.4 billion in the summer of 2005.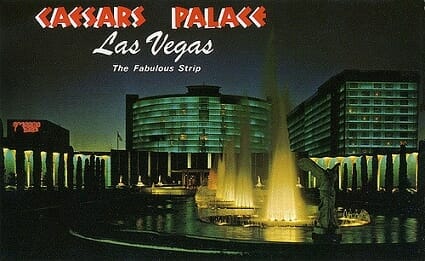 The first addition to Caesars came quickly, just four years after its opening, when the Centurion Tower opened in 1970 with 222 rooms (and also 14 stories tall).
Other milestones in development of the mega-resort we know today include the opening of the first phase of the Forum Shops, in 1992, along with its successful expansion in 2004. (For more details on the Forum Shops, go here: Caesars Palace Forum Shops List and Hours)
Expansion
In 1997, the Palace Tower, (much shinier, whiter and more regal-looking than the rest of the resort) opened up. Four years later, the entire resort was remodeled to closer resemble the Palace Tower look, as oppossed to the blue curved mesh look many of us fondly remember.
Since then, there's been the 35 story Augusta Tower opening (in 2005), which added nearly 1,000 more rooms to the resort, and the recent Octavius Tower opening in 2012, has put Caesars Palace at number 19, in the list of largest hotels in the world.
Caesars has certainly seen its share of history over it's exciting 40 plus years.
Daredevil Evel Knievel jumped his motorcycle over the resort's fountains in a now-famous stunt back on New Year's Eve in 1967. The jump was a ratings bonanza for ABC, and attracted a fascinated world-wide audience. Unfortunately, a hard landing resulted in several serious broken bones and a long-time hospital stay. Still, Knievel was able to parlay the jump into fame and fortune, which he later lost.
In 1980, a motorcycle daredevil named Gary Wells attempted Knievel's feat, but was also unsuccessful. Wells crashed into a concrete wall, and nearly was killed.
Finally, in 1989, a rider successfully jumped the fountains. It was none other than Robby Knievel, Evel Knievel's son.
TV and Film
From talk shows to "Rain Man" to "Iron Man" to "The Hangover," (and the upcoming "Hangover III"), several TV shows and movies have used the luxurious backdrop of Caesars Palace as their set.
There's of course, the famous scene in "Rainman", where Tom Cruise's character allows his autistic big brother Ray, (played by Dustin Hoffman), to drive for the very first time. The drive takes place on a driveway (now since closed) around the fountains. Another scene where Ray is solicited by a prostitute takes place at the signature bar inside, Cleopatra's Barge.
The actual room where "Rainman" was filmed is called the Emperors Suite in the Forum Tower. While not filmed in the room itself, scenes in the first "Hangover" were filmed on a set modeled after this suite. Either way, you can rent this suite for $4,200 a night. It sounds expensive, but you get to take home whatever shampoo you didn't use.
Other films with scenes shot at the hotel include "Rocky III," "Get Shorty," "Fools Rush In" and "Last Vegas."
While not actually filmed on location, the hit 90's sitcom "Friends" used Caesars Palace as a backdrop for a two-part episode that wrapped up season five of the hit show. In the episode, Joey is forced to take a job as one of the ancient Roman gladiators, while Phoebe fights an older lady to get the seat at a lucky slot machine.
On the TV side, USA Networks' "Royal Pains" has filmed here, as has the HBO mob classic, "The Sopranos." Going further back, many of Jerry Lewis's famous Labor Day Muscular Dystrophy Association Telethons took place at Caesars Palace, helping introduce the resort to millions of Americans. More importantly, during the 45 years as host of MDA telethon, Lewis reportedly helped raise $2 billion dollars to fight the disease.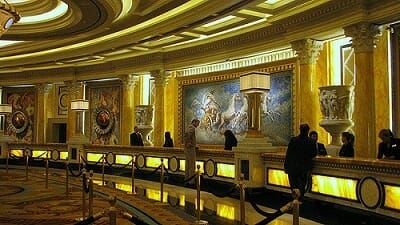 On the live sports front, Caesars Palace turned the parking lot into a boxing ring for a string of highly-watched fights during the 1970's and 80's. Over 30,000 people attended the Larry Holmes/Gerry Cooney fight there on June 11, 1982.
Marvin Hagler and Thomas Hearns held a classic bout at Caesars on April 15, 1985. It's often cited as one of the top five boxing matches of all time.
Caesars Palace Did you Know…
* Frank Sinatra was once vice-president of Entertainment?
* In 1987, a 19 year-old hit a million dollar slot machine jackpot in the casino? Unfortunately, because he wasn't of legal gambling age (21), he was not allowed to keep the winnings. Funny how the resort probably kept his losses though, huh? The man's family sued Caesars, but ended up losing.
* In 1983, Caesars had an option to purchase the Dunes Hotel and Casino, where the Bellagio now stands? According to a 1983 statement by Caesars officials, buying the Dunes "would not be in the best interests" of the company. Hmm. Imagine Caesars Palace owning all the valuable land where the Bellagio now stands. (Do you think they'd like to have that option back?)
* The builder of Caesars Palace, Jay Sarno, removed the apostrophe from "Caesar's Palace" because he wanted to convey the impression that the resort wasn't just for Caesar, but that it was meant for everybody.
* President Donald Trump once made a bid to purchase Caesars, but was reportedly concerned about too much casino competition in the city? (This was back in 1989).
* A Grand Prix Race was held on the grounds in 1981?
* Caesars Palace in the number one casino in the world in terms of giving out the most million dollar jackpot slot machine wins?
(Bottom photo courtesy of Angel via Flickr.)