Baltimore Casino List: – Map & Information
Thanks to voter-approved initiatives passed in 2008 and 2012, the state of Maryland has six casinos.
Two of these are in the Baltimore area. One is a spacious Caesars-entertainment owned casino right in town, while the other is 14 miles south in Hanover.

By far the closest casino for most Baltimore residents and visitors is the Horseshoe Casino Baltimore on Russell Street, just ¼ mile south of M&T Bank Stadium. Caesars Entertainment is, and has, been attempting to improve the area by buying, and redeveloping abandoned properties in the area, to make the walk from the stadium to the casino safer, and more appealing.
The still, fairly-new building is the third largest casino in Maryland, (and the third most popular of the six), generating between $15 million to $20 million in gambling revenue each month, per the Maryland Lottery and Gaming Authority.
Casinos in Baltimore, Maryland
Opened in 2014, the Horseshoe Casino is the only casino in Baltimore.
The two-story casino, with 122,000 square feet of casino space, has over 1,800 slot machines and video poker gaming machines.
(Here's a map showing you the Horseshoe Baltimore (Purple Star), and Maryland Live! (Black Star)
These are video lottery terminals (or VLTs), which look similar to traditional slots and which have denominations ranging in denominations from one penny to (gulp) $500 per spin. Of the 1,800 gaming machines, 150 are video poker machines.
On the table game side, you'll find 131 here. These range from the usual suspects like roulette and blackjack (if you consider 6:5 to be blackjack) to games like Mississippi Stud, Pai Gow Poker, Let it Ride, Three Card Poker, and more.
Horseshoe's craps tables offer the very unusual (and player friendly) 100x odds bet, while the Oriole Palace section is the casino's high-limit room, with baccarat and Fortune Pai Gow tables at limits I can't afford.
The Horseshoe's WSOP Poker room has 22 tables and spreads both weekly tournaments, monthly high-hand promotions, and WSOP satellites. In addition, there's an off-track betting parlor for wagering on the ponies.
Caesars Sportsbook opened in December 2021, and offers in-person sport betting with seven live teller windows, along with 11 more self-serve betting kiosks. There's of course plush seating and a huge video LED wall screen.
The Terrace at the Horseshoe
To accommodate smokers, Caesars invested $15 million dollars in building a climate-controlled outdoor gaming terrace. The 10,000 square foot area boasts a bar, 160 slots, 15 video poker machines, and 16 table games.
The Horseshoe doesn't have a hotel attached, but there several dining options inside.
Horseshoe Baltimore Restaurants
For quick bites, there's the Baltimore Marketplace food court. It's a little more upscale and appealing than your typical Subway/Taco Bell type food court. It includes a Piezzetta Pizza Kitchen, Ben's Chili Bowl, B'More Beers, and Tony Luke's "South Philly" sandwich shop.
Other restaurants include the upscale Gordon Ramsay Steak, FU Noodle House, and a new Brew Bothers sports bar. This is in addition to Poe's Nest – a Baltimore Raven's themed sports bar.
You have to be 21 years or older to play here. Please also note that the Horseshoe does not serve free drinks to players.
Parking at the Horseshoe Baltimore Casino
Self-Parking is free everyone here now. (Previously it was for Caesars Rewards card holders at the Platinum, Diamond, and Seven Star levels).
However when the Ravens are at home, or when there are other events at M&T Bank Stadium, parking fees may apply.
Valet parking is complimentary here, based on availability.
Horseshoe Baltimore Address, Phone, & Website
1525 Russell Street
Baltimore, MD. 21230
(844) 777-SHOE
Website: www.caesars.com/horseshoe-baltimore
Live! Casino & Hotel
This is one busy place, as the Live! is in a monthly-neck and neck race with the MGM National Harbor, (the closest casino to Washington D.C.), as the most popular casino in Maryland (based on gaming revenue). Most recent figures from the Maryland State Lottery and Gaming Control Agency show that Live! overtook MGM National Harbor as number one in the state. It's also the second closest casino to Baltimore.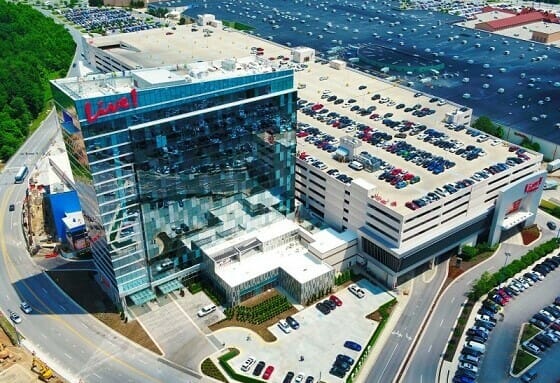 Live! also holds the distinction of being the largest casino in Maryland. In fact, with 160,000 square feet of casino floor space, Live! is is one of the largest casinos in the United States and bigger than many of the resorts on the Las Vegas Strip.
As such, you'll find 4,000 slot machines/video poker machines and 200 table games at Live! Every table game you'd want to play is here, from basic black jack, craps and roulette, to Face Up Pai Gow Poker, to Casino War, and everything in-between. This is in addition to the numerous electronic table games and "dealer-assisted" table games which allow you to bet at your own private gaming screen.
The new FanDuel Sportsbook features 40 TV screens, 10 betting windows, 31 self-serve betting kioisks, and a 100 foot video wall. The 15,000 square foot 50 table poker room is by far the largest in the state and hosts World Poker Tour stops. Typically you'll find several daily tournaments, and room sponsors high-hand promotions as well.
Maryland Live!'s Orchid Gaming & Smoking Patio caters to gamblers who smoke with an elegant decor featuring a bar, 12 live table games, 28 electronic table games and 150 slots. There's also often live entrainment here.
The only potential downside for Baltimore residents, is that Live! is a little further away from central Baltimore than the Horseshoe.
(Related: Casinos in Philadelphia)
Located 17 miles southwest of downtown, next to the massive Arundel Mills shopping complex, Google maps estimates it's a 22 to 30 minute drive most times, with that going up to a 50 minute drive on Friday afternoons.
Live! originally opened in June of 2012 as "Maryland Live!" In the summer of 2018, a $200 million dollar addition to Live! added a 17 story hotel tower with 310 rooms, a 1,500 person event center, a spa, a restaurant, bar and coffee stand. Also added were 1,000 more parking spaces.
There are ten restaurants at Live!, including a buffet, a Bobby Flay burger joint (Bobby's Burger Palace), Sports & Social, The Prime Rib, Luk Fu, a Cheesecake Factory and more.
The Hall at Live! can seat 4,000 people, and hosts everything from boxing to big-name musicians and comedians.
Self-parking at Live! is free at the resort's 7-story parking garage. In the past, valet parking has beens $20 if you don't have a player's card, $5 if you're at Classic, Gold, or Platinum Live! level, and free for Black Card and Chairman's Club Live! members.
Live! Casino Hotel Maryland Address, Phone Number & Website
7002 Arundel Mills Circle
Hanover, MD. 21076
(855) 5MD-LIVE
Website: Maryland.livecasinohotel.com
Other Casinos Near Baltimore
There are other Maryland casinos, along with some in surrounding states that are reasonably close to Baltimore.
Most prominent of these is the aforementioned MGM National Harbor, which is 44 miles to the south, which equates to almost always an hour-plus drive.
The $1.4 billion hotel/casino – just 10 miles from Washington D.C. – opened in December of 2016.
Here are the other closest casinos to Baltimore, in order of proximity to downtown:
Hollywood Casino Perryville – 43 miles to the northeast
Casino at Delaware Park – 70 miles northeast
Harrah's Philadelphia (The closest Philadelphia casino) – 88 miles northeast
Rocky Gap Casino Resort – 129 miles to the west
Casino at Ocean Downs, Maryland – 142 miles southeast
These casinos aren't covered here as they are all (with the exception of Hollywood Casino Perryville at times), an hour or more drive away.
In addition, we're not covering the Atlantic City casinos here as they are 150-plus miles away with well over a two and 1/2 hour drive.
(By Steve Beauregard. Photos courtesy of Caesars Entertainment and Live! Casino & Hotel).