By Steve Beauregard
While the nation's capital doesn't have legalized gambling, there are two large, Vegas-style casinos within thirty miles of the District of Columbia.
These two are contemporary, spacious casino resorts in Maryland – one north of the District, the other south, but both offering thousands of slot machines, numerous table games, poker, a variety of entertainment venues, and dining options that range from fast-food to high-end.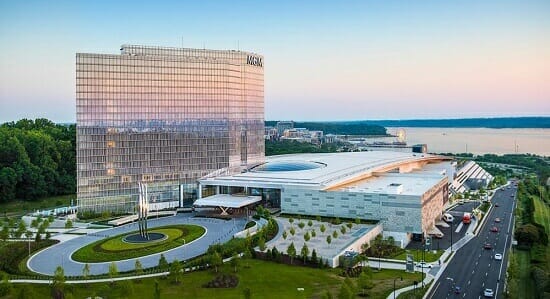 Here's a look at the closest casinos to the District of Columbia. There are several horse racing tracks in the region as well, but the focus here is just on traditional casinos.
Map of Casinos Near Washington D.C.
(The black star represents MGM National Harbor, while the red star to the north is Live! Hotel & Casino)
Casinos near Washington D.C.
MGM National Harbor
Opened in late 2016, this resort just off the banks of the Potomac River is the closest thing the District of Columbia has to its own casino, being just 11 miles south of D.C.
The drive from downtown on I-295 to this spacious resort at Oxon Hill takes twenty to thirty minutes most times, but up to an hour during weekday afternoon rush hours.
MGM National Harbor has beautiful grounds, waterfalls, artwork and décor. It's gorgeous – both inside and out.
And in terms of traffic, it's also been a huge hit.
With over 12 million annual visitors to National Harbor, the MGM gets a good chunk of those. In fact, MGM says they receive six million visitors a year.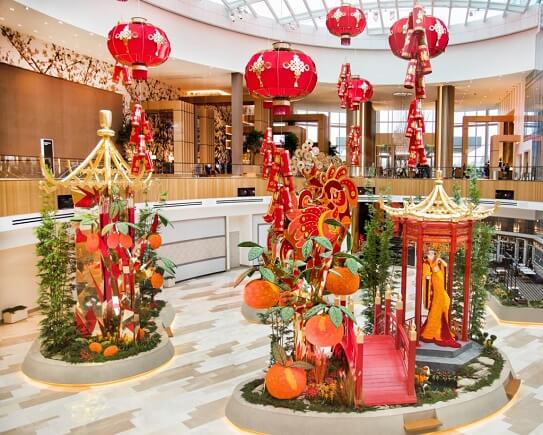 While that's great for the casino, it's not necessary advantageous for the lower limit player. Recently the minimums for the lowest limit craps game was $25. And that was on a Monday night!
Slot Machines & Table Games
The 125,000 square foot gaming floor makes the MGM National Harbor bigger than many of the casino on the Las Vegas Strip.
On this floor you'll find over 3,100 slot machines and video poker machines. While there is electronic roulette, they do not offer bubble craps machines.
The casino's selection of 140 table games include plenty of the favorites, (blackjack, craps, roulette), along with Spanish 21, Ultimate Texas Hold'em, Pai Gow, and Four Card Poker (among others).
There's mini baccarat here, but also midi-baccarat, where the players get to handle the cards.
Either way, please let me reiterate that the table games here have higher limits than you may be used to.
You're not going to find easy-going, fun $5 tables here. In fact, on weekend nights, you're not likely to find a table under $50 minimum.
Poker
It's not hyperbole to say MGM National Harbor's poker room is one of the biggest and best in the United States.
No smoky, old outdated joint here.
In fact, shortly after its opening in December 2016, the room became so popular, MGM added tables into a new and expanded renovated room on the second floor.
As such, there are now 46 tables. For comparison, the poker rooms at the Bellagio and Venetian (the biggest poker rooms in Las Vegas), have less than forty tables.
The usual limit and No-Limit Texas Hold'em are spread, as well as Omaha games. Seven Card Stud and other poker games are available upon request. There's also a healthy selection of daily tournaments.
Race Book
Also on the second floor you'll find the race book, with off-track betting and 24 screen showing races.
Maryland does not have legal sports betting (yet), so you won't be able to lose your $50 on that "sure fire" Monday Night Football pick.
Restaurants
MGM National Harbor's numerous dining options cover all cuisines, ranging from a Shake Shack franchise to the Voltaggio Brothers Steak House, (from TV's "Top Chef" fame).
Oddly enough, this is the rare casino to not offer a buffet.
The resort's "National Market" is their version of a food court, but don't think you're at the mall. This is much more pretty and upscale, with nine different options, including Pappas Crab Cakes, George Washington Beer & Wine, and Honey's Fried Chicken & Donuts.
The resorts bars include Felt, a lobby bar, and the Blossom Cocktail lounge.
Hotel
The beautiful 24 story glass and steel hotel tower has 308 rooms – 74 of which are suites. Many offer gorgeous views of the Potomac.
First though, you're greeted by an impressive, multi-story light filled lobby, or as they call it, the "oval conservatory." It's illuminated (in the day at least), by a giant wall of windows and, (for lack of a better word), a gigantic skylight.
Similar to the conservatory at the Bellagio in Las Vegas, the décor here changes with the season.
There is a modest, but pretty, outdoor pool and lounge area.
With two stories covering 27,000 square feet, the spa and salon has eleven treatment rooms, a barber shop for the guys, and a pretty decent fitness center.
Entertainment
Simply named, "The Theater," the resort's 3,000 seat venue hosts everything from famous singers, to comedians to Cirque shows and everything in-between.
There's also live music on weekends at the Felt bar.
Shopping
MGM National Harbor gives you 18,000 square feet of retail space with shops all over the circular walkway. The retail landscape is always subject to change, but as of the time of this writing, stores here include Breitling watches and a shoe/handbag store by Sarah Jessica Parker.
Address, Phone & Website
101 MGM National Avenue
Oxon Hill, MD. 20745

Phone: (301) 749-7500

Website: MgmNationalHarbor.com
One last note: parking at MGM National Harbor is free in one of the resort's thousands of underground spaces. There is a fee for valet parking however.
Live! Casino & Hotel Maryland
Located 27 miles northeast of the city, located just south of the Baltimore Washington International Airport, the Live! Hotel & Casino is the second closest casino to the center of Washington D.C.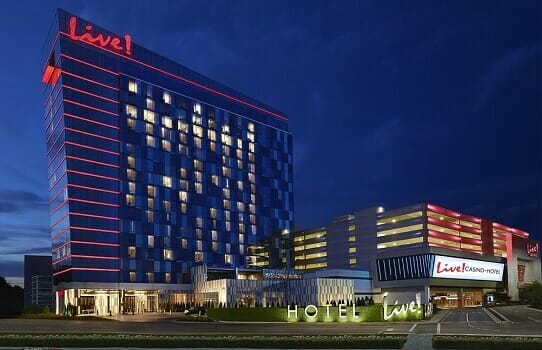 However it terms of size, it's number one in Maryland, in terms of square footage, slots, and table games. In fact, with 160,000 square feet of casino floor space, Live! is one of the biggest casinos in the United States.
Live! (don't ever forget the exclamation mark), has 4000 slot machine/video poker machines.
There are 200 table games here, including all the usual suspects, along with Mississippi Stud, Three card Poker, Four Card Poker, Criss Cross Poker, Ultimate Texas Hold'em, and Pai Gow Poker.
In addition to these, there are several of the E-tables, where you place your bets electronically while a live dealer spins the roulette wheel or deals the cards.
While several other casinos around the country have e-table roulette and blackjack, Live! is the rare one to offer this electronic betting/live dealer combination on craps and mini-baccarat.
Gaming Smoking Patio
Another unique feature of Live! is the spacious and elegantly designed Orchid Gaming Smoking Patio, which offers a variety of slots, some table games and e-table games.
While the rest of the casino is non-smoking, this outdoor gaming space is nicely decorated, and covered, with basically the feel that you are inside. For you smokers, it's a nice reprieve from the token, concreted walled-off smoking areas offered by many casinos.
Poker
As big as the MGM National Harbor's poker room is, the one at Live! is even bigger.
The spacious room has fifty tables!
In addition to hosting a stop on the World Poker Tour, Live!'s poker room hosts at least two tournaments a day, every day of the week.
Hotel
Live! opened in 2012 without accommodations, however a newer 17 story hotel tower, (completed in 2018), now gives the resort 310 hotel rooms and 52 suites.
Restaurants
Live! Casino & Hotel's eleven different dining options include a New York style deli, the Prime Rib steakhouse, fast casual Mexican and seafood, a Bobby Flay hamburger restaurant, as well as a Cheesecake Factory.
Entertainment
The newly expanded Live! Events Center seats 4,000 for concerts, comedians and more. A more intimate venue, the Live! Center State, seats 400.
There's also live music at many of the casino bars.
Address, Phone & Website:
7002 Arundel Mills, Circle #7777
Hanover, Maryland 21076

Phone: (443) 445-2929

Website: LiveCasinoHotel.com
What is the Closest Casino to Washington D.C.?
The MGM National Harbor is by far the closest casino to D.C. From Dupont Circle, it's exactly 11.8 miles to the casino.
Closest Casino to Various Washington Metropolitan Area Cities & Counties
Depending on your origination point in the Washington metropolitan area, the MGM may not be the closest gaming option.
Here then are the respective distances from various cities and counties to: (1) the MGM National Harbor, followed by (2), the distance to Live! Casino Maryland
Arlington, VA – 14 miles to MGM National Harbor and 34 miles to Live!
Alexandria, VA – 5 miles and 35 miles
Bethesda, MD – Both casinos are 31 miles from downtown Bethesda.
Bowie, MD – 24 miles and 16 miles.
Fairfax, VA – 19 miles and 50 miles
Frederick, MD – 62 miles and 47 miles (Hollywood Casino at Charles Town Races is just 27 miles however)
Germantown, MD – 43 miles and 42 miles.
Loudoun County, VA. – 52 miles and 71 miles (Hollywood Casino is 26 miles)
Prince William County, VA (measured from Gainesville) – 40 miles and 66 miles
Rockville, MD – 34 miles to MGM and 37 miles to Live!
Stafford, VA – 40 miles and 76 miles.
Silver Spring, MD – 17 miles and 27 miles.
Waldorf, MD – 18 miles and 44 miles
Other
The third closest casino to Washington D.C. is a casino in Baltimore. Specifically, it's the Horseshoe Baltimore which clocks in at 39 miles from the center of the District.
Another option further west is the Hollywood Casino at Charles Town Races in West Virginia, 64 miles to the northwest of D.C.
This casino/resort boasts 2,500 slot machines, numerous table games (all the favorites: blackjack, roulette, craps, etc.), a 16 table poker room, sportsbook, and event center.
In addition to the live racing schedule, you can bet on simulcast races from around the country here. However if you're looking to bet on simulcast races, you can do that much closer to D.C. at the MGM National Harbor.
FAQ
Q. Does the MGM National Harbor and Live! Casino give out free drinks?
A. Nope. Complimentary drinks are not offered at either place (per Maryland law). You have to pay for your booze. Even when gambling.
Q. Can you smoke inside the MGM National Harbor Casino and Live! Casino?
A. No. The casinos are non-smoking, but both offer smoker's patios.
Q. How old do you have to be to gamble at these casinos?
A. You have to be 21 years or older to gamble at casinos in Maryland.
Q. Are the casinos open 24/7?
A. Yes. Both the Live! and MGM are open all day, 365 days a year.
Q. How Long Does it Take to Get to the Horseshoe Baltimore from Washington D.C.?
A. Just about an hour with normal conditions during the weekday or on a weekend.
However at busier times, (Friday afternoon for example), the drive can be much longer. Google Maps estimates a drive to the Horseshoe from downtown D.C. when leaving at 4:10 PM would take you anywhere from 1 hour 20 minutes, up to 2 hours 20 minutes.
Q. Are Children Allowed at the MGM National Harbor?
A. Yes, kids are allowed in the hotel, shopping and restaurants, but they're not allowed to linger on the gaming floor of course.
(Photos courtesy of the MGM National Harbor Hotel & Casino and the Live! Casino & Hotel)