Casinos in Charleston, WV – Map & Information
West Virginia's state capital doesn't have a casino in town, however there is a spacious casino resort just 13 miles away.
Specifically it's the Mardi Gras Casino Resort.
Located in the Cross Lanes/Nitro area northwest of Charleston, the Mardi Gras is the only casino within 100 miles of Charleston.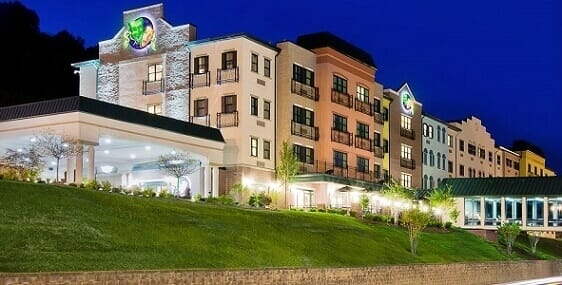 It has a racetrack, a 90,000 square foot New Orleans-themed casino, along with a modest 150 room hotel connected to the casino via an enclosed pedestrian walkway.
The Mardi Gras' slogan states: "We're just down the street." And indeed they are.
At 13 miles northwest of downtown Charleston, the drive is almost entirely on Interstate 64 and typically takes just 15 to 20 minutes.
(Below shows you the drive from downtown Charleston to the Mardi Gras Casino & Resort)
Mardi Gras Casino Resort Near Charleston
Opened in 1985 as the Tri-State Greyhound Park, a 57,000 square foot casino was added in 2002 with slot machines only.
In 2007, after voters in Kanawha County passed a measure that allowed table games at the casino, the name was changed to the Mardi Gras Casino Resort.
The 90,000 square foot casino is non-smoking. It has around 1,000 slot machines and video poker machines, ranging in denominations from a penny to $25.
Among the casino's lineup of 20 plus table games are casino standards like craps, blackjack, and roulette, along with games like Mississippi Stud, 3 card poker, and a game I haven't played called Criss Cross Poker. They even have a Big 6 wheel for those of you who don't like money:)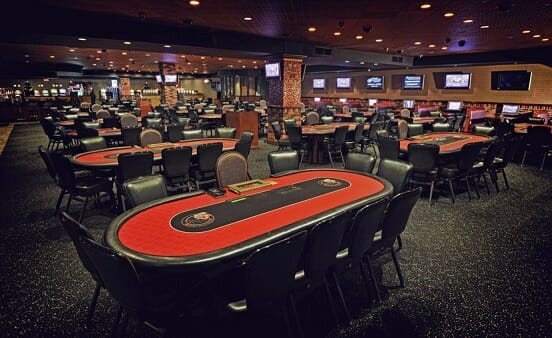 Poker is big here, and the Mardi Gras has a surprisingly large poker room. Pre-Covid, there were 24 tables, however now they say on their website that 10 tables are open on weekends.
Of course, the Mardi Gras started back in the 1980's as a greyhound race track, and that tradition remains, with live greyhound races during most nights during racing season.
If you prefer to bet on the horses, you can do that as well via simulcast wagering. There's also the Betly Sportsbook, with 5 self-serve betting kiosks.
Restaurants
No more buffet here (as of this update), but there is The Café Orleans – a food court style place with a variety of fast-casual options.
The French Quarter Restaurant & Bar, on the other hand, is their upscale place, with steak and seafood dominating the menu. There are also grab n' go options at the Sports Bar.
(Related: Casinos in Pittsburgh, PA)
On the entertainment front, Louie's is their lounge, offering live bands and dancing on Friday and Saturday nights.
The 150 room hotel attached to the Mardi Gras opened in 2010. It has pretty swimming pool area, fitness club and free coffee bar. Interestingly, all hotel guests must be ages 21 or older.
Parking at the Mardi Gras Casino & Resort is completely free.
Address, Phone & Website
1 Greyhound Drive
Nitro, WV. 25313
(304) 776-1000
Website: Mardi Gras Casino
Other Casinos Near Charleston, West Virginia
While there are several other casinos in West Virginia and surrounding states, none are within 100 miles of Charleston.
The second closest casino to Charleston, West Virginia is inside the famous luxury resort, The Greenbrier in White Sulphur Springs.
The Greenbrier's casino, (called "The Casino Club at the Greenbrier,") would result in a 120 mile drive on I-64 to the southeast. It typically takes around two hours. In addition, entrance into the resort's small casino is reserved for club members, hotel guests or meeting attendees.
The other closest casinos to Charleston allow everybody, and they include the Wheeling Island Hotel/Casino/Racetrack in Wheeling, West Virginia, 162 miles north east, and the Hollywood Casino in Columbus, Ohio – 164 miles north.
A little further, but staying in West Virginia is the Mountaineer Casino, Racetrack & Resort, 201 miles north of Charleston. It sits on the banks of the Ohio river near the Ohio and Pennsylvania border.
And on the opposite end of the state is the Hollywood Casino at Charles Town Races, 320 miles to the east.
Other
Delaware North, a Buffalo, New York based gaming company that owns several casinos, including Wheeling Island, purchased the Mardi Gras in 2018.
(By Steve Beauregard. Photos courtesy of the Charleston Convention & Visitors Bureau and the Mardi Gras Casino Resort.)