Detroit Casinos – Map & List
The city of Detroit, Michigan has a thriving gambling market, with three busy casinos located within the city.
In addition, there is a popular casino just across the river in Windsor.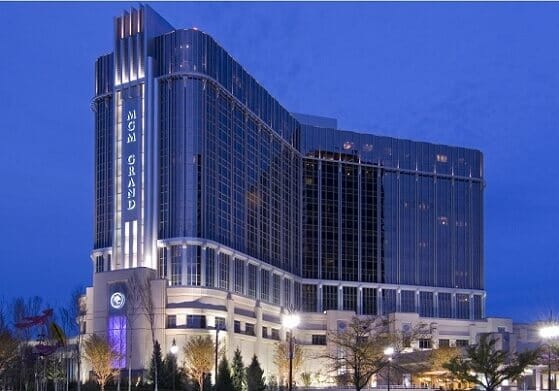 Detroit's three casinos generated over $1.45 billion in gaming revenue last year, per the Michigan Gaming Control Board.
These are real, Las-Vegas style casinos too, complete with a vast array of real slot machines, table games, shows, restaurants, and now sports books as well.
Casinos in Detroit, Michigan
In July of 1999, the MGM Grand Detroit became the first casino to operate in Detroit, albeit in just temporary digs. The MGM Grand's current hotel/casino opened in 2007.
(The red star is the MGM Grand. Black is the MotorCity Casino, purple is Greektown while the green star represents Caesars Windsor)
Here's a brief look at Detroit's three casinos:
MGM Grand Detroit
(Red star on map)
The oldest, largest, and fanciest of the three, The MGM Grand Detroit is Motown's busiest casino. The MGM Grand generates nearly 600 million dollars of gaming revenue per year. This represents about 42% of Detroit's gaming market.
Opened in 2007, the property sits on the west part of downtown and is less than a mile and half from city landmarks such as Ford Field, Comerica Park, the Cobo Convention Center and the Renaissance Center.
With just under 3,500 slot machines and video poker machines, the MGM Grand Detroit is by far the largest casino in Michigan.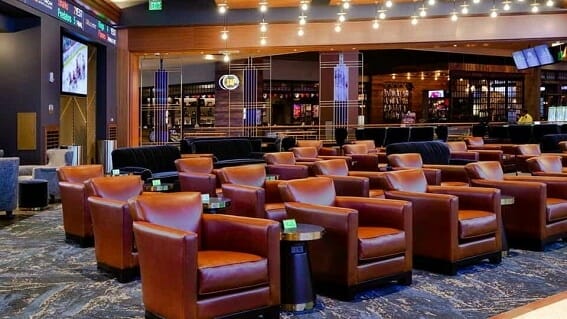 Its lineup of 143 table games include all the usual favorites (blackjack, craps, roulette, baccarat, etc.) along with carnival games such as Two-Way Monte, Mississippi Stud, Criss Cross Poker, and Pai Gow games, among others.
The resorts BetMGM Sportsbook is open from 9 AM to 11 PM, seven days a week. Here you'll find six betting windows, along with 14 betting kiosks and tons of TVs.
There's even a smoke-free gaming area and party pit with low-limit gaming.
The decent-sized poker room sits just off the casino floor and has weekend tournaments.
As for the rest of the resort, you'll find 400 hotel rooms, three restaurants (including a Wolfgang Puck Steakhouse), The "Breeze" food court, 24 hour-a-day coffee stand, fitness center and indoor pool, spa, bars and clubs.
The MGM Grand Detroit Events Center hosts everyone from comedians to fairly-famous musicians to boxing matches, while the Axis nightclub has live music and dancing. There's even a Topgolf virtual reality lounge where you can play pretend golf while sipping cocktails.
The resort's parking garage offers free self-parking.
MGM Grand Detroit Address, Phone & Website
1777 3rd Avenue
Detroit, MI. 48226
(877) 888-2121

Website: MGM Grand Detroit
Motor City Casino Hotel
(Black star on map)
Located just a little northwest of downtown, Detroit's second busiest casino has yearly gaming revenues just under ½ billion dollars.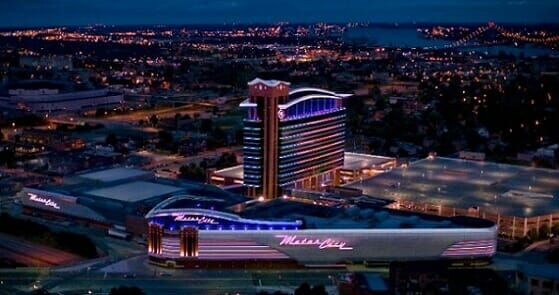 There are 2,700 slot machines/video poker machines here, in what is a pretty open and spacious (and contemporary-looking) casino floor.
There's also plenty of blackjack/roulette/craps tables with all the standard casino table games (and many carnival games as well). Motor City now has a spacious two-level FanDuel Sportsbook, complete with six in-person betting windows, and 54 manual betting kioks.
Motor City's poker room known for awarding the largest bad beat jackpot in the history of the United States, ($1.06 million dollars) when a local player lost with four threes to another player's four queens.
On the hotel side, MotorCity Casino's tower is home to 400 hotel rooms. There's also a spa, seven dining options (including a buffet, food truck and food court), bars, clubs, the Sound Board entertainment venue, and convention and meeting space.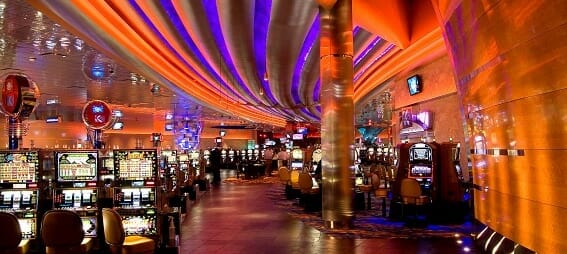 On the negative side, it can get smoky in this casino. On the positive front, there is free parking in the attached garage.
(Related: Michigan casinos)
Motor City Casino Address, Phone & Website
2901 Grand River Avenue
Detroit, MI 48201
(866) 782-9622

Website: Motor City Casino
Greektown Casino
(Purple star on map)
The Greektown Casino Hotel is right in the heart of the city, just a half mile walk to Ford Field and Comerica Park.
On top of that, it has a People Mover stop connected to the resort. (The People Mover is an aerial tram that circles Detroit's downtown core), making it easy to get to from hotels and attractions downtown.
In terms of gaming revenue, Greektown is the least busiest of Detroit's three casinos, but makes up for it in charm. Its historic location, brick exterior and multi-story casino give it a little more character than you find at the city's two other newer built casinos.
Days when the Lions or Tigers are playing give the casino a festive vibe as tons of fans park and pre-party at the Greektown.
Gambling at Greektown
In addition to having nearly 3,000 slot machines/video poker machines, the casino boasts sixty table games (with all the favorites), and a twelve-table poker room.
Barstool Sportsbook
The upper casino level is where you'll find the Barstool Sportsbook, where they have four betting windows, 40 kiosks, a 30 foot video wall accompanied by 25 HDTVs. (Just don't spend all your money betting the Tigers moneyline).
The sports book is open until 11 PM on Mondays – Thursdays, and until midnight Friday – Sunday.
Dining at Greektown
Greektown has plenty of dining options. Many off the first floor in Trapper's Alley.
These includes Noodle Art – Japanese ramen "with a Detroit twist," Bistro 555 (a buffet), Prism (steakhouse), and Stack'd (fast casual).
Greektown's version of the typical food court is a more fun and upscale-looking "Monroe Market." The 11,000 square foot food hall was renovated at a cost of $15 million.
It includes options such as American Burger Bar, Basil Leaf Pizza, Tia Loca (Mexican), Pit Boss (barbecue), Southern Fry, and the Josephine Bakery.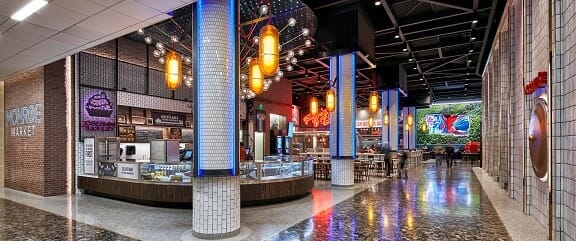 And just like it's other two Detroit casino competitors, the hotel (attached via a walkway) has exactly 400 rooms.
The only drawback to Greektown is the parking situation. It's not free (unless your play on their player's card qualifies you), and the garage can lead to long wait times on busy nights and on game days.
(Related: Greektown Casino Parking fee)
Greektown Casino Address, Phone & Website
555 E Lafayette Street
Detroit, MI 48226
(313) 223-2999

Website: Greektown Casino
Caesars Windsor (Green star on map)
Just across the river into Canada, the Caesars Windsor is a beautiful property, with two soaring hotel towers offering wonderful views of the Detroit skyline.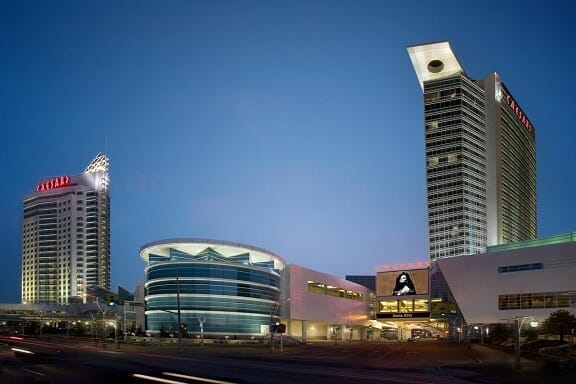 The drawbacks of course, are that you need to cross an international border to get there. While I haven't experienced it myself, many people complain about the wait and cost to cross the border, which you do via the Detroit/Windsor Tunnel or Ambassador Bridge. Either way, there are toll fees to pay.
The casino's 100,000 square foot of floor space includes over 2,000 slots and video poker tables, the normal table games (including a progressive blackjack game), along with a poker room.
Caesars Windsor's two soaring hotel towers (one built in 1998, the other ten years later), combine to give the resort 758 rooms.
The lineup of seven restaurants includes a Canadian staple (Tim Horton's ), along with a steakhouse, sports bar, buffet, and a Johnny Rockets.
Like its cousin in Las Vegas, this Caesars has a Colosseum for big name entertainment acts. It seats 5,000 guests.
A main benefit of Caesars Windsor (for some), is that unlike the Detroit casinos, you only have to be 19 years or older to gamble here.
It's also a non-smoking casino.
Detroit Casino FAQ
Detroit Casino Tidbits
Per state law, you won't be served free drinks at any of the casinos here.* Detroit casinos are the busiest in the spring, based on gaming revenue. The busiest month (by far) is March, followed by April, then May.
The slowest month? You'll probably be able to find an open seat at your favorite slot machine or table game in August, which is the slowest month for Detroit's three casinos.
81% of Detroit casino gaming revenue comes from slot machines.
The roots of this booming casino market began back in 1996, when Proposal E was passed by Michigan voters.
The act, which passed with just over 51% of the vote, allowed for three casinos to be built in the Detroit area. This was meant, in part, to prevent losing much of the gambling revenue Detroit-area gamblers would spend across the river in Windsor Canada, and the numerous Indian casinos springing up throughout the state.
(By Steve Beauregard. Photos courtesy of the MGM Grand, MotorCity Casino, Visit Detroit, Greektown Casino and Caesars Windsor.)