Casinos in Little Rock, Arkansas – Closest One with Map
In the past, when Little Rock residents craved a true Las Vegas-style casino experience, they had to travel as far as Mississippi or Oklahoma. However, after voters approved an initiative in 2018 and it took effect on April 1st, 2019 legalizing traditional casinos in Arkansas, people can now find two within 60 miles of downtown Little Rock. Prior to this legislation change, there were only electronic gaming machines found at certain race tracks – but nothing compares to the real deal!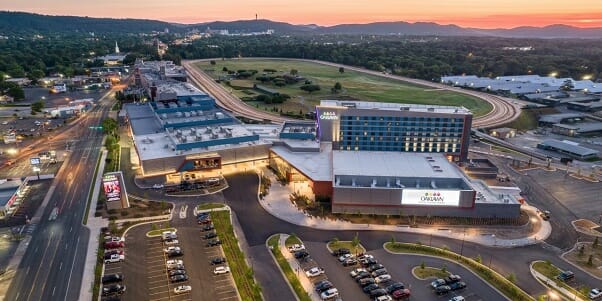 Oaklawn Racing Casino Resort is 57 miles west of Little Rock
Today, Arkansas proudly presents three luxurious casinos with a vast array of table games such as classic roulette and craps. These venues recently completed their expansions – one in the fall of 2020 while Oaklawn ended its $100 million dollar renovation project last spring. Enjoy these new gambling spots now.
Casino near Little Rock, AR
Arkansas has three legally-operating casinos. The two privately-owned casinos are located in Hot Springs and near Memphis respectively; the third is an Indian casino/hotel situated in Pine Bluff that was recently opened up to patrons. Keep in mind – you must be 21 years or older if you wish to play slots at any one of these establishments, but those who prefer participating at horse racing tracks only have to meet a minimum age requirement of 18+.
(Here's a map showing you the closest casinos around Little Rock, which is marked by the yellow star)
Oaklawn Racing Casino Resort (Red star on map)
Situated in Hot Springs, Arkansas, Oaklawn Racing Casino Resort was once the closest casino to Little Rock. Hot Springs used to be a hub of gambling with an estimated ten casinos – some of which had quite a notorious history.
Little Rock, Arkansas is home to one of the few legal gambling establishments within a 100 mile radius — Oaklawn Racing Casino Resort. This destination entices over 2.5 million people yearly and stretches across 200 acres in the southwest corner of Little Rock; just an hour away via Interstate 30. From poker tournaments to races, come experience why this vibrant resort has become known as the biggest tourist attraction in all of Arkansas.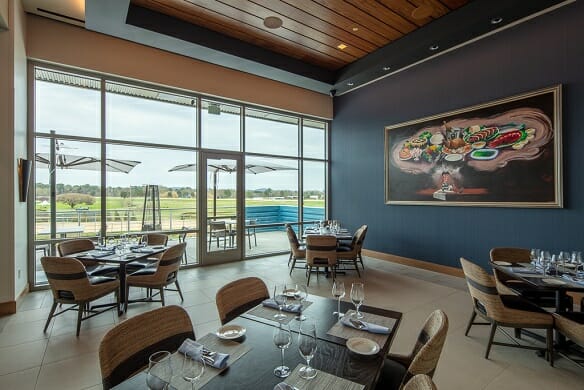 The expansive grandstand provides plenty of seating. General Admission seats are free, however there is a nominal fee for reserved seating.
Oaklawn Casino
The racetrack is traditionally what the establishment has been known for, but the casino side of its business is also thriving due to additional games being available. With its gargantuan 78,000 square feet of gaming space after a $100 million dollar expansion, it's no wonder that this destination draws visitors from near and far.
Recently, renovations have transformed the casino with an additional 28,000 square feet of floor space – offering more restaurants and meeting spaces than ever before. Plus, a 140,000-square-foot entertainment venue is now available for guests to enjoy. But that's not all; there's also a seven-story hotel outfitted with 200 rooms plus an outdoor pool area and spa/fitness center so visitors can relax in total comfort.
With 1,531 gaming machines available on the gaming floor – including Willy Wonka and video poker favorites – you won't have to worry about breaking the bank. Enjoy all your favorite slots for as low as a penny!
On any day of the week, you can find Oaklawn live table games operating from 10 AM to 6 AM. You will discover such exciting options as dice craps, baccarat, three-card poker, Ultimate Texas Hold'em, and roulette. An Interblock Stadium gaming region full of electronic versions is also available for your entertainment!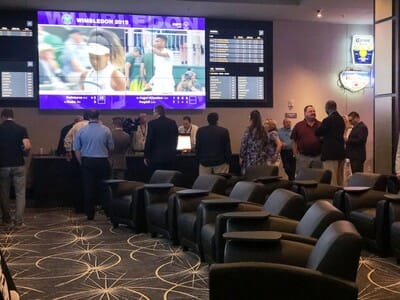 Get in on the action and place a bet at Oaklawn Sportsbook! With live teller windows, betting kiosks, and even betting from the Sports Tavern (on race days only), you'll never miss out on a chance to win big. So grab your lucky hat, set your bets with ease – it's game time!
Dining
With a range of culinary delights, Oaklawn Racing & Gaming boasts an array of delicious eateries, such as The OAK Room and Bar, where you can enjoy classic American cuisine in style; Silks Bar & Grill for quick casual fare with friends; Big Al's Diner and Deli to grab something on the go; Track Kitchen offering up burgers and fries after your day at the races; or treat yourself to a more upscale experience at The Bugler.
Oaklawn Racing Casino Resort Parking
On days when there aren't races running, parking is free. On race days, there is a nominal parking fee ($5 per day at the time of this writing).
Valet parking (for hotel guests) is $20 per day. On race days, valet parking for non-hotel guests is $30.
Oaklawn is open 24 hours a day, every day of the week.
And while they serve alcohol, drinks are not free to players and there's a hefty tax on drinks as well.
Address, Phone & Website
2705 Central Avenue
Hot Springs, AR 71901
Phone: 1-800-Oaklawn
Website: Oaklawn.com
Saracen Casino Resort
Owned by the Quapaw Nation, this Saracen Casino Resort is located in Pine Bluff, just 47 miles south of Little Rock.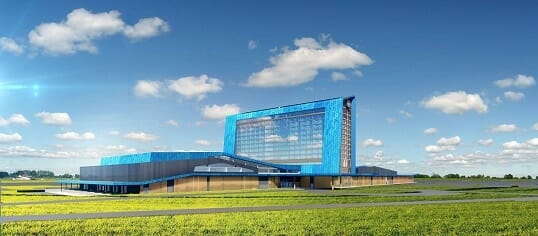 In the fall of 2019, the tribe kicked off its foray into gambling with an "annex" that featured 300 slot machines in a convenience store setting.
Thanks to the $350 million dollar construction project nearby, the casino floor now totals a staggering 80,000 square feet. That's where you'll discover 1,900 slots and 35 gaming tables. Fancy a classic game of blackjack, craps, or roulette? Or perhaps you'd like to try something more contemporary such as baccarat, Louisiana Stud, 3-Card Poker, and many other thrilling table games – all available for your gaming pleasure seven days a week until the wee hours of 4 AM.
Get ready for some fun – it's time to play poker. Saracen has an 11-table room where you can experience $1/3 and $2/5 hold'em, plus a variety of high-hand promotions, bonuses for quads, and royal flushes. And if sports betting is more your style, Saracen Sportsbook comes equipped with six betting kiosks and plenty of TVs to watch the games while enjoying your bets.
Completing the project is a 13-story, 300-room hotel that includes an entertainment venue, spas, and bars. Despite this promise of grandeur though, there are legal disputes regarding its architectural plans which are delaying construction significantly.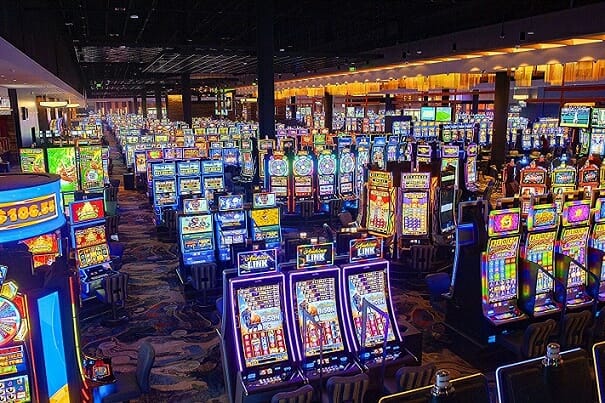 At present, the casino operates as a one-stop shop. On its floor, you'll discover a self-serve beverage station for players that not only serves alcoholic drinks but also at an immensely discounted price compared to regular bars or pubs. It's certainly worth it and much more budget-friendly than anticipated.
You must be 21 years or older to gamble at the Saracen Casino.
Saracen Casino Resort Restaurants
Your dining options here include the Red Oak Steakhouse, Legends Sports Bar, the Saracen Express and Sweets coffee shop, the Quapaw Kitchens Buffet.
The Post Food Court will feature four different quick-serve restaurants: Delta Farms (salads, flatbread, etc), Saracen Express (burgers, fried foods), The Taqueria (Mexican food), and Sweets Coffee Shop.
Saracen Casino Resort Address, Website & Phone Number
1 Saracen Resort Drive
Pine Bluff, AR 71601
Phone: (870) 686-9001
Website: Saracen Casino Resort
Other Casinos near Little Rock, Arkansas
Here are other casinos within a reasonable driving distance of Little Rock.
Southland Casino Racing (Brown star)
The other casino in Arkansas, this massive 113,000-square-foot complex of a casino and greyhound racetrack located in West Memphis is but two hours away via Interstate 40.
Boasting around 2,400 gaming machines and a few state-of-the-art electronic table games such as blackjack and the wildly popular Shoot to Win craps game, this venue is sure to provide hours of entertainment.
Thanks to recent legislation, Southland Casino & Racing now offers a state-of-the-art sportsbook. Additionally, guests can experience the thrill of 50 live table games including favorites like roulette, Mississippi Stud, Three Card Poker, and craps among other exciting carnival games.
Southland, a former greyhound track, continues to host up to 6,000 dog races each year. With three delectable sit-down restaurants (including a tantalizing buffet), Southland Casino stands 134 miles from Little Rock and is teeming with all the classic casino games you know and love!
Southland's ambitious $320 million dollar expansion is nearly complete, and by the end of 2022, a 20-story hotel tower boasting 300 rooms will be finished. This exciting new development promises to provide local visitors with an unforgettable experience!
(Related: Casinos by Memphis)
Isle of Capri Lula (Purple star)
Located right across the Mississippi border, the Isle of Carpi Lula Casino & Hotel is 121 miles east of Little Rock, or roughly a 2 to 2 ½ hour drive.
The resort rests on the banks of the Mississippi River and boasts 480 hotel rooms.
On their 63,000 square foot gaming floor, you'll find over 800 slot machines and 20 table games. These are real table games with real cards and dice and such.
Tunica (Black star)
A spread-out bustling casino town, Tunica, Mississippi is 156 miles from Little Rock, (or 171 miles if you stay on I-40). Either way, this makes it roughly a 2 ½ hour to 3 hour drive.
Tunica has six casinos – down from nine just a few years ago. Most of these are very nice, modern casino resorts – boasting nice hotel rooms, spas, restaurants, entertainment venues, and of course, thousands of slot machines, video poker machines and table games, including poker rooms.
The larger casino resorts here include the Gold Strike, the Horseshoe Tunica, Hollywood Casino and Sam's Town.
Other Casinos by Little Rock
Right across the Oklahoma border to the west, there are a couple of casinos 165 miles away.
These include the Cherokee Casino & Hotel Roland and the Choctaw Casino Pocola, both represented by the orange star on the map.
Other Oklahoma casinos, (including some very nice resorts), are a little further away. Here are their respective driving distances from Little Rock:
Cherokee West Siloam Springs – 220 miles
Tulsa – (Hard Rock Hotel & Casino and the River Spirit Hotel/Casino) – 268 miles
Downstream Casino Resort – 281 miles
Miami, Oklahoma – There are six smaller casinos here (and more on the outskirts), however Miami, OK is 283 miles away.
Choctaw Casino Resort Durant – 308 miles away
Winstar World Resort Casino (the largest casino in the United States) – 338 miles away.
(By Steve Beauregard. Photos courtesy of Oaklawn Casino Resort and Sacren Casino)