The unofficial capitol of the Mid-South is home to Beale Street, Graceland, world famous barbecue, and nearly 700,000 people.
But it's not home to a casino.
The state of Tennessee outlaws casino gambling, however a casino just 7 miles away across the river in Arkansas, along with a gambling mecca 30 miles to the south in Mississippi means there are a lot of casinos close to Memphis, TN.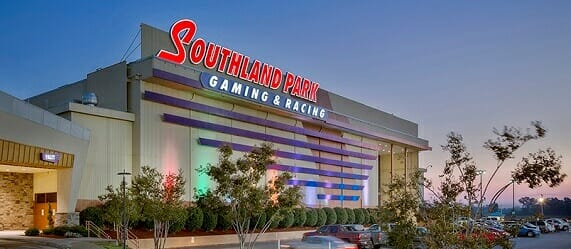 In fact, there are seven casinos within 40 miles of downtown Memphis, Tennessee.
The two main casino options in Memphis are: Southland Casino, and Tunica, Mississippi.
Southland Casino Racing is just a ten minute drive from downtown Memphis, whereas Tunica is anywhere between a 35 minute to one hour drive, (depending on when you leave).
The main difference is that Tunica is more of a destination casino town – with six casinos boasting the more restaurant, spa, golf and entertainment options you may be used to.
West Memphis Casino
The closest casino to Memphis is Southland Casino & Racing in West Memphis, Arkansas.
This combination greyhound dog racing track and casino sits seven miles due west of downtown Memphis off of the interstate, or about a ten minute drive.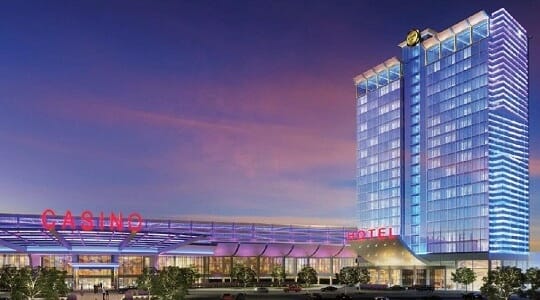 Located across the Mississippi River in West Memphis, Arkansas, Southland is currently undergoing a 1/4 billion dollar expansion. The expanded casino will be completed in September 2020, while the new 300 room, twenty story hotel is expected to be done in February 2021.
The casinos in Tunica used to dominate the Memphis casino market, (and still do), however Southland has since taken a good slice out of their business.
In fact, each year, Southland sees over $2.7 billion wagered. That impressive figure has been helped by the fact Southland now has more traditional casino games, such as live blackjack and craps with dice, whereas a few years ago, state law only allowed electronic versions of those games.
(Southland Casino & Racing is the red star, while the brown, purple & black stars represent the three different casino areas in Tunica, MS.)
Southland Gaming and Racing
Originally opened in the 1950's as dog race track only, legislation and voter-approved initiatives in the mid 2000's resulted in Southland Park embarking on a multi-million dollar expansion, adding slot machines, video poker machines, poker and table games, albeit digital versions.
After another 2018 vote to expand gambling, Southland began offering live blackjack, craps and other games in April of 2019.
(Related: Casinos near Nashville)
As a result, Southland Park is now a full-fledged casino, with an 80,000 square foot casino floor that features nearly 2,000 slot machines, a small poker room, and table games like craps and roulette. In January 2020, the casino opened Arkansas' first legal sportsbook, with betting windows open from 10 AM to 11 PM daily, but also with 24 hour a day sports betting kiosks.
The greyhound racetrack is one of the largest, and oldest in the nation. They run races all year round, with racing six days a week.
Southland Park's four restaurants, (not including the concession stand open during live racing), includes a steakhouse, Sammy Hagar's Red Rocker Bar & Grill and the popular World Market Buffet.
There is also live entertainment on weekends at Sammy Hagar's bar.
Address & Phone
1550 N. Ingram Boulevard
West Memphis, AR. 72301
(800) 467-6182
Casinos Close to Memphis
The six casinos scattered around the Tunica area in northern Mississippi are all within a 37 mile drive of downtown Memphis.
The drive south on U.S. 61 is pretty straightforward, and usually takes between 35 minutes to an hour.
Once there, the casinos are situated in three different clusters. Two of which allow you to casino hop.
The casinos at the Brown star on the map above are the Horseshoe, the Gold Strike, and the 1st Jackpot. Their close proximity gives you the chance to walk to a different casino should you want to try your luck somewhere else.
Similarly, the casinos represented by the black star on the map, (Hollywood and Sam's Town), are also all situated within walking distance.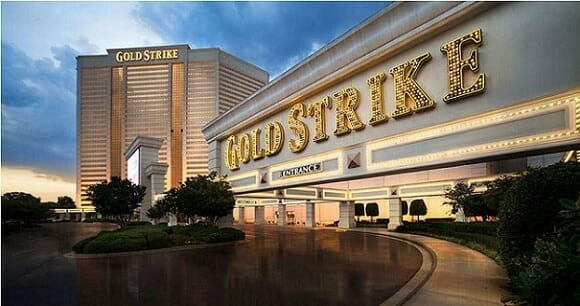 Overall, these six Memphis-area casinos range from the modest-sized Sam's Town, with 96,000 square feet of total space, to the modern and more upscale Gold Strike Casino Resort, which boasts of 1.4 million square feet of gaming and other space, along with a 1,133 room hotel.
(Related: Little Rock AR Casinos)
The six casinos are listed below, in order of size as determined by number of slot machines/video poker machines.
All have at least some table games, but only the Horseshoe and Hollywood Casinos have poker tables. With the exception of the 1st Jackpot Casino, all of them have hotels.
Gold Strike Casino Resort

Horseshoe Tunica Hotel & Casino

Hollywood Casino & Hotel Tunica

1st Jackpot Casino Tunica

Sam's Town Hotel & Gambling Hall Tunica

Fitz Casino & Hotel
Other
It's only 28 miles to Tunica from Memphis International Airport. It's 18 miles from the airport to Southland Casino Racing.
Distances from Memphis area towns to Southland Casino and the Tunica casinos respectively:
Bartlett, Tennessee: 20 miles to Southland and 44 miles to Tunica
Southaven, Mississippi: 19 miles and 25 miles
Collierville, Tennessee: 35 miles and 51 miles
Germantown, Tennessee: 27 miles and 43 miles
Olive Branch, Mississippi: 31 miles and 35 miles
Horn Lake, Mississippi: 24 miles and 22 miles
West Memphis, Arkansas: 3 miles to Southland (from the intersection of N. Missouri and Broadway), and 37 miles to Tunica.
Cordova, Tennessee: 30 miles and 48 miles.
(By Steve Beauregard. Photos courtesy of Delaware North Gaming and the Tunica Convention & Visitors Bureau)