Casinos Near Nashville, TN – Closest One with Map
Residents and visitors to Nashville, Tennessee wanting to visit a casino should buckle up for a for a multi-state road trip, as the closest Las Vegas style casinos are 150 miles away in different states.
Tennessee is one of just a handful of states without legal casino gambling. (Online sports betting is legal however). Adding to the long commute Music City residents face when wanting to hit the slots or tables is the fact another one of those casino-free states is their northern neighbor, Kentucky.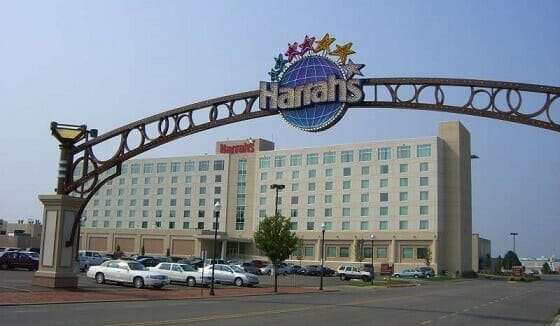 As such, Nashville's closest casino is found in the tiny town of Metropolis, Illinois.
It's called Harrah's Metropolis, a Caesars Entertainment property complete with a hotel, bars and restaurants that is exactly 150 miles away when starting from downtown Nashville's library.
Another casino in Evansville, Indiana is just slightly longer, at 153 miles away. (More on that below).
The drive from Nashville to Harrah's Metropolis takes a little over two hours. Google maps estimates a typical drive time of between 2 hours 10 minutes, to 2 hours 40 minutes.
On the bright side, it's an easy drive north and west on Interstate 24 the entire way, crossing through southeast Kentucky on the way across the Ohio River into Metropolis, Illinois, (population 6,283).
Harrah's Metropolis Hotel & Casino
Harrah's Metropolis opened in 1994 as a riverboat casino that actually looked like a true riverboat. It was replaced in 2014 by a more traditional looking casino building, however it still is technically on the river, in order to meet Illinois gaming law. In fact, the casino was closed due to flooding during floods in 2011, February 2018, and again in February 2020.
The original casino was built and opened by former talk-show host turned successful businessman Merv Griffin, whose company later sold it in 2000 to Caesars Entertainment.
Compared to Las Vegas casinos, (and even many regional casinos), Harrah's Metropolis is on the smaller-side. Although contemporary looking with the latest machines and games, its casino square footage makes it between a fourth and a third of the size of your typical casino on the Strip.
(On the map below, the black star represents Harrah's Metropolis. Green is Bally's Evansville, while the red star is the Horseshoe Southern Indiana)
There are, however, plenty of gaming options to go around, with 600 slot machines and 100 video poker machines spread throughout the building.
On the table game side, you'll find twenty-one different table games, including blackjack, real craps with dice (with 10x odds), roulette, mini-baccarat, Mississippi Stud, and 3 card poker, however they no longer have a poker room.
Harrah's Metropolis Casino used to have a popular "Fresh Buffet" however as of this update, the only food option is the Bridges Dining Company sit-down restaurant.
(Related: Memphis Casinos)
The "Signature Bar," offers live music on weekends.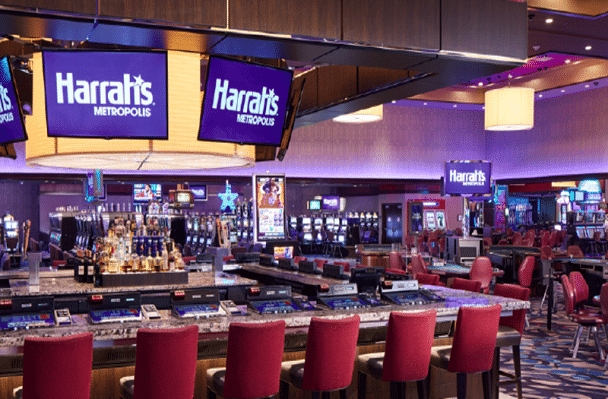 The hotel portion of the resort opened in 2006, and boasts 258 hotel rooms, many with pretty views of the Ohio River below. There is also a Baymont Inn & Suites next door if Harrah's gets sold out.
Harrah's Metropolis is a smoke-free casino, however there are covered and heated smoking patios outside.
Parking, including valet parking, is free here. The casino is open from 8 AM to 6 AM daily.
Harrah's Metropolis Casino Address, Phone & Website
100 E. Front Street
Metropolis, IL. 62960
(618) 524-2628

Website: Caesars.com/Harrah's-Metropolis
Other Casinos Near Nashville, Tennessee
Bally's Evansville Hotel & Casino
Formerly the Tropicana, Bally's is the second closest casino to Nashville, losing out to its Illinois neighbor by just three miles.
The newer kid on the block, Bally's in Evansville, Indiana was the Hoosier state's first land-based casino.
Having opened in 2017, and being just three miles further than Harrah's Metropolis, this casino has given Harrah's a run for its money when it comes to capturing gambling dollars from Music City residents.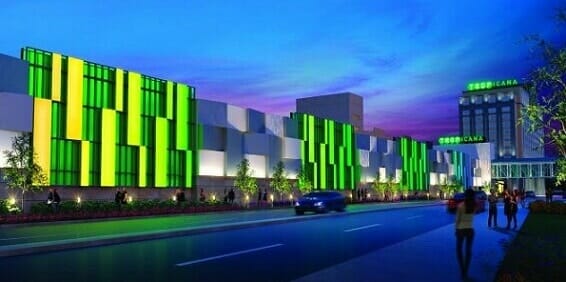 It's roughly a 2 and ½ hour drive (most times) to Evansville when going north on I-24 then onto I-69.
In it's version as the Tropicana, it used to be a riverboat casino, however due to a change in Indiana gaming law, they were allowed to build a new $50 million building on nearby land.
The result in a new gleaming 75,000 square foot building, of which 45,000 square feet is casino space, opened in the fall of 2017. Bally's took over the Tropicana in 2021.
It features just over 1,100 slot machines, and 30 table games, not including the poker room which was temporarily closed on this update.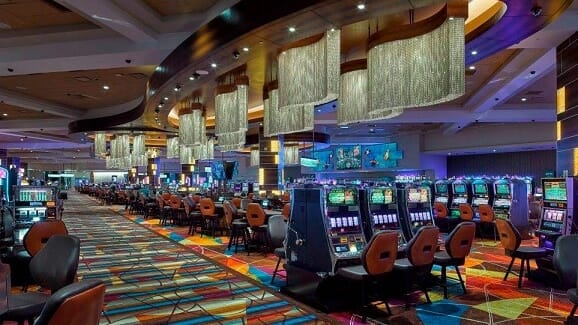 With sports betting legal in Indiana, you'll find a William Hill sportsbook here, which is open until 11 PM on weeknights, and midnight on weekends.
Bally's Evansville has an attached 243 room hotel, along with a 95 room boutique hotel, four restaurants, four bars, and conference space and entertainment venues.
You must be 21 years or older to gamble here.
Bally's Evansville Casino Address, Phone & Website
421 NW Riverside Drive
Evansville, Indiana 47708
(800) 342-5386

Website: BallysEvansville.com
Caesars Southern Indiana
The third closest casino to Nashville is Caesar's Southern Indiana, outside of Louisville, Kentucky.
Sitting on the banks of the Ohio River, this former riverboat casino is now a 110,000 square foot land-based casino. It's 191 miles away. When driving north on I-65, it would take you close to three hours to get there.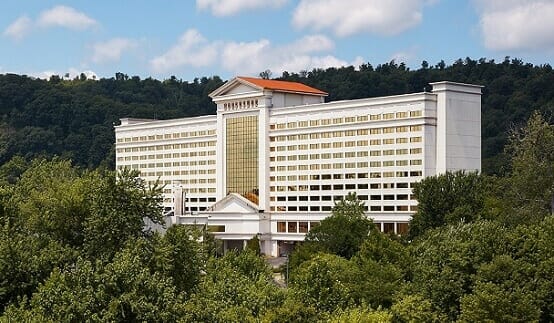 While it's a little further away from downtown Nashville than Harrah's Metropolis and Bally's Evansville, Caesars Southern Indiana has been a favorite for some due to its major size advantage.
It's casino floor space is about three times larger than Harrah's Metropolis and it has about twice the casino floor space of Bally's.
It also has about twice the number of slots/video poker machines and table games as both Harrah's and Bally's. In fact, Caesars Southern Indiana boasts 1,201 slots and video poker machines, and 87 table games. These include blackjack, craps with 100x odds, roulette, mini-baccarat and more.
There's also a 16 table poker room and pretty new spacious sports book.
In addition to the large casino, the resort grounds include a 500 room hotel, entertainment venue, and seven restaurants.
As with Bally's, Indiana law states gamblers must be 21 years or older.
Caesars Southern Indiana Address, Phone & Website
11999 Casino Center Drive
Elizabeth, IN. 47117
Phone: (866) 676-7463

Website: Caesars Southern Indiana
Other
Although it isn't a Las Vegas style casino, The Mint Gaming Hall at Kentucky Downs is fairly close gaming option for Nashville residents. This horse racing track is located just 40 miles north of Nashville, right on the Kentucky/Tennessee border. The Mint Gaming Hall boasts 1,000 gaming machines and a bingo hall.
In addition to these three casinos, the casino resort town of Tunica, Mississippi is 249 miles away, or a four hour drive roughly.
Harrah's also has two different nice casinos in western North Carolina, Harrah's Cherokee Casino Resort, and Harrah's Valley River Casino, however both are at least a four hour drive from Nashville.
(By Steve Beauregard. Photos courtesy of Visit Illinois, Visit Evansville, and Caesars Entertainment)