Casinos in Tunica, Mississippi – List & Map
Once a sleepy rural farming community, Tunica, Mississippi has become one of the country's leading gambling destinations.
In fact, the Mississippi Gaming Commission says that Tunica casinos see about a half a million customers.
Each month.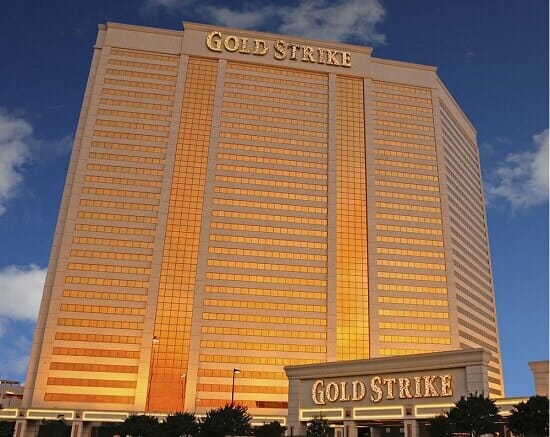 While competition from Arkansas casinos has hurt the region, there still are a total of six casinos in the Tunica area, and they combine to bring in just under $600 million dollars of gaming revenue each year.
All of these casinos are located near the Mississippi River in an area called "Tunica Resorts" that is actually ten miles outside the town of Tunica.
Unlike many Native American casinos, and racinos, these Tunica casinos offer real, Las Vegas-style gaming, with traditional slots, real blackjack (not electronic blackjack), real dice craps, sports books and more.
Many of these also offer luxurious accommodations, entertainment venues, dining options, and other amenities you'd expect to see in the Las Vegas and Atlantic City's of the world.
There are six casinos in Tunica, Mississippi in three different areas:
North (or the Casino Center area)
Middle
South (or the Casino Strip area)
There are three casinos in the north, and two in the south. In both areas, the casinos are bunched close enough together to allow you to walk from casino to casino to check out other resorts. The middle area has just one stand-alone casino.
Tunica Casinos Map
(Here's a map showing you the locations for Tunica's six different casinos)
Casino gambling on the Mississippi River became legal in the state in 1990. The first casino opened in 1992 and was called "Splash." Located around 12 miles south of the current casinos, this barge on the Mississippi River closed in the 1990s.
At its peak, in the mid-2000's, there were 9 casinos in Tunica with a combined annual gaming revenue of $1.2 billion. When the state of Arkansas allowed slot machines at Southland, just west of Memphis in 2005, that changed the game, as Memphis is Tunica's biggest customer base.
The implementation of expanded casino gambling in Arkansas in 2019 hurt the area even more.
But while Tunica gaming revenue is roughly half of its peak, the six Tunica casinos still combine to have 229 table games, over 7,000 slot machines, and 3,674 hotel rooms.
List of Casinos in Tunica, Mississippi
Here's a list of the casinos in Tunica, followed below by a more detailed look at each casino.
1st Jackpot Casino
Fitzgerald's Casino Tunica
Gold Strike Casino Resort
Hollywood Casino Tunica
Horseshoe Casino & Hotel
Sam's Town Tunica
Gold Strike Casino Resort
(yellow star on map)
The biggest resort in Tunica, (by a wide margin), the Gold Strike is visible from all over with its signature golden 31 story hotel tower.
All total, the resort, which is owned by MGM Resorts, has close to 1.4 million square feet of space.
Its 1,085 gaming machines, are the most in Tunica, and they have 61 table games as well as all of the usual favorites (craps, blackjack, roulette), as well as crapless craps, Caribbean Stud, Mini Baccarat, Mississippi Stud and more. The resort's BetMGM Sportsbook has over 50 HD TVs and numerous betting windows/kiosks.
With 1,133 hotel rooms, the Gold Strike is twice as big as the next largest hotel in the region.
There are also four restaurants onsite (including the Buffet Americana), a spa, an 800 seat concert venue, a Topgolf Swing Suite, and 30,000 square feet of meeting/convention space.
Gold Strike Casino Resort Address, Phone & Website
1010 Casino Center Drive
Tunica Resorts, Mississippi 38664
(662) 357-1111
Website: Gold Strike Casino Resort
Horseshoe Tunica Hotel & Casino
(black star)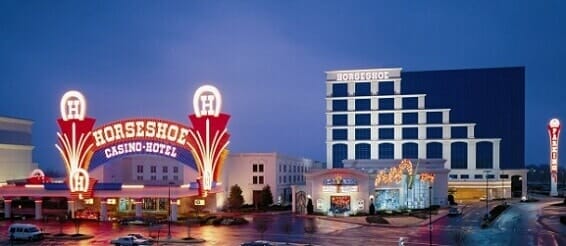 This is the biggest casino in Tunica in terms of actual gaming square footage. Among the casino's 63,000 square feet, you'll find 950 slots and video poker machines. Their high limit slots room has a machine with a $500 pull!
This Caesars Entertainment owned property is also Tunica's king of table games, as it spreads more table games than any other casino in the area.
Among the 77 different table games are craps of course, but here they allow you to bet 100x odds.
The Horseshoe is one of only two Tunica resorts to offer poker games, and it's 24 table poker room is by far the biggest in the region. The plush room has USB chargers at the seats and boasts 16 big TV screens. Place your football, baseball or basketball bets at the casino's Caesars Sportsbook.
The resort's four restaurants include Jack Binion's Steakhouse and JB's Cafe. Attached is a 14 story hotel tower with 505 rooms and spa.
Horseshoe's Bluesville Showcase is a 1,500 seat entertainment venue that brings in name musical and comedy acts to the region.
Horseshoe Tunica Address, Phone & Website
1021 Casino Center Drive
Robinsonville, MS. 38664
(800) 303-7463
Website: Horseshoe Tunica
Hollywood Casino & Hotel Tunica
(brown star)
The movie-themed resort has 55,000 square feet of casino floor space, on which you'll find 895 slots/video poker machines, and 10 table games, not including the 6-table poker room. It has a modest sports book.
The casino's four restaurants follow typical casino standards: the Epic Buffet, a steakhouse, and a casual coffee shop/grill.
In addition to the 494 hotel rooms, there is a 123 space RV park, with utility hook-ups.
Hollywood Casino Tunica Address, Phone & Website
1150 Casino Strip Resort Boulevard
Robinsonville, MS. 38664
(800) 871-0711
Website: Hollywood Casino Tunica
1st Jackpot Casino Tunica
(light green star)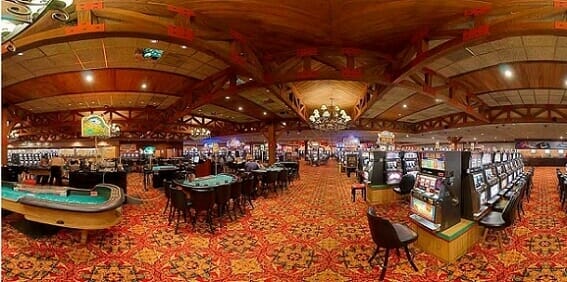 The 1st Jackpot Casino is the only Tunica casino without a hotel. The casino used to have a hotel, but it was demolished in 2017, along with the casino's former name, "Bally's."
The newly-branded 1st Jackpot has 833 slot machines and video poker machines, 9 table games, 15 electronic table games, a small sportsbook, and three restaurants.
1st Jackpot Casino Address, Phone & Website
1450 Jackpot Boulevard
Robinsonville, MS. 38664
(866) 422-5597
Website: 1stJackpot.com
Sam's Town Hotel & Gambling Hall Tunica
(orange star)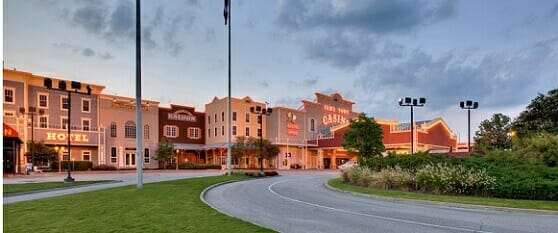 This Boyd Gaming property in the southern casino cluster boasts 706 gaming machines and 9 table games, including craps and all the other favorites. Like the other Tunica casinos, Sam's Town now has a modest sportsbook.
Its 700 hotel rooms make Sam's Town the second biggest hotel in Tunica. There are also two restaurants.
The resort's River Palace entertainment venue has seating for 1,600, while the hotel's 50 space RV park has full utility hook-ups available.
Sam's Town Tunica Address, Phone & Website
1477 Casino Strip Resort Boulevard
Tunica Resorts, MS 38664
(800) 456-0711
Website: Samstowntunica.com
(Related: Casinos near Memphis)
Fitz Tunica Casino & Hotel
(red star)
The only "middle" Tunica casino, the Fitz is located in-between the two clusters of casinos, and is therefore the only resort that doesn't allow you to casino hop.
However if you visit, you'll find 900 slots/video poker machines, and 7 table games including some single-deck blackjack and craps with 20x odds (along with electronic craps too). The "Sports Book at the Fitz" offers wagering on most sports and boasts 28 TV screens.
There are also three dining options, including the Riverview Buffet and a Fudruckers. The 506 room hotel boasts an indoor pool and jacuzzi.
Fitz Tunica Casino & Hotel Phone & Address
711 Lucky Lane
Tunica Resorts, MS 38664
(800) 766-5825
Website: Fitzgeraldstunica.com
Closed Tunica Casinos
Increasing regional casino competition has put a little dent in Tunica's formerly gambling monopoly. As such, the market has contracted a bit. Here are some of the casinos that have recently closed.
Closed down in June 2019, this modest size casino in the southern cluster of casinos had 794 gaming machines and just four table games. Craps was not among them, although they did have the electronic version of craps.
There was an attached 200 room hotel and three restaurants onsite.
The privately owned River Bend Links Golf Course is located right behind the resort.
Tunica Roadhouse Casino & Hotel
This was Tunica's smallest casino, both in terms of square footage and gaming machines. It closed in January 2019.
The western-themed casino featured 689 slots/video poker machines, and 17 table games. There were some low limits here, with $3 blackjack offered up to closing.
As with the Horseshoe, Tunica Roadhouse was part of Caesars Entertainment. There was not a restaurant here.
Harrah's Casino Tunica – Formerly called the Grand Casino Tunica, this was a massive casino resort, but closed in 2014.
Tunica Casinos FAQ
Other Tuinca Casino Tidbits
Penn National Gaming owns two of Tunica's six casinos: Hollywood & 1st Jackpot Casino
There's another casino in the northern Mississippi area, but it's not included here as it's roughly 40 miles south of the Tunica Resorts area. Called the Isle of Capri Casino Hotel Lula, it's roughly a 45 minute drive from the Tunica resorts.
(By Steve Beauregard. Photos courtesy of the Gold Strike Hotel & Casino, Caesars Entertainment, and the Tunica Convention and Visitor's Bureau)