Casinos In Louisville Kentucky: Closest One & Map
It's home to perhaps the world's greatest gambling spectacle, yet it doesn't have a casino.
We're talking about Louisville, Kentucky, the pretty, historic city on the banks of the Ohio River famous for the Louisville Slugger, Kentucky Fried Chicken, and a little horse race known as the Kentucky Derby, in which gamblers from across the globe spend part of the first Saturday in May to wager a combined $200 million dollars on "the most exciting two minutes in sports."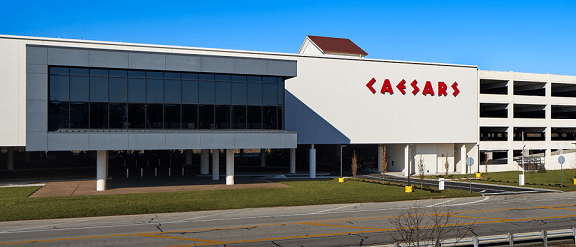 Despite being the gambling capital of the world (for one day anyway), Louisville does not have a casino in the traditional sense of a Las Vegas-style resort with a variety of slots, craps, blackjack and other table games. Kentucky is that rare state not to have any commercial or Indian casinos.
There is a modern-looking pseudo-casino called Derby City Gaming (more on that below), along with some Kentucky racetracks that offer what's called "historical racing machines."
As such, residents and visitors wanting to visit a casino to get their slot machine, craps or blackjack fix must go across the Ohio River to Indiana, where there is a major casino resort less than 10 miles away from downtown Louisville (as the crow flies).
It's about a 15 mile drive from downtown Louisville. (More on that later).
(Below you'll see the drive from downtown Louisville "A" to Caesars Southern Indiana "B". The brown star represents Derby City Gaming)
Closest Casino to Louisville, KY
Owning a virtual monopoly on the Louisville gaming market, Caesars Southern Indiana Hotel & Casino (formerly the Horseshoe), is the only casino within 50 miles of downtown Louisville, Kentucky.
It sits on the banks of the Ohio River, next to an open field, in a pretty rural setting that is the complete opposite of the Las Vegas Strip and most other casino settings you're probably used to.
And while it's just a 15 mile drive from downtown Louisville to Caesars Southern Indiana, it will take you between 20 to 30 minutes to get there, on account of the fact you'll have to drive over the Sherman Minton Bridge into New Albany, Indiana, before traveling south along Highway 111. (There aren't any closer bridges).
Caesars Southern Indiana Hotel & Casino
Opened in 1998 as "Caesars Indiana" then later renamed "The Horseshoe" the old casino was the largest riverboat in the United States. Now, however, the new casino is now all on land.
It's also a beautiful newer property. Opened in December 2019, the $90 million dollar casino has 110,000 square feet.
It's a Caesars' Entertainment property, meaning you can use your Caesars Rewards Card here at any one of the 1,100 slot machines/ video poker machines. Unlike the historical racing machines, these are real slot machines, like Wheel of Fortune, Hot Shot progressives, themed-based slots like "The Hangover," "Willy Wonka," and the like.
The selection of 70 table games include Blackjack, Let-it-Ride, roulette, Pai-gow, mini-baccarat and something you don't see in Las Vegas much, craps, with 100x odds! Thanks to legislation, there's also a plush sportsbook now called "The Book."
More my speed are the low limit hold'em and no-limit Texas hold'em games found in the 16 table poker room. They also run satellite tournaments for World Series of Poker events.
The new Caesars Events center hosts concerts, magicians and the like and can seat over 1,200 people.
Hotel and Restaurants
The hotel's 503 rooms were all renovated in the spring of 2017.
In addition, to the spa, shops, bars and lounges and showroom, there are several dining options, ranging from a coffee bar to – on the fancier side – Jack Binion's Steak. The new Piazza area is home to four fast-casual restaurants.
In addition to the massive 5 level parking garage for casino patrons, guests staying at the hotel have their own large four-story parking structure. Both have indoor walkways to the casino, and parking is free.
Address, Phone and Website
11999 Casino Center Drive
Elizabeth, IN. 47117
(866) 676-7463
Website: Caesars.com/Caesars Southern Indiana
Derby City Gaming
Owned by Churchill Downs, Derby City Gaming was built in 2018 and is located on Poplar Level Road in Louisville.
The modern building is infused with Kentucky Derby artifacts and decor, including a rose decorated ceiling. It has 1,000 historical racing machines. These look similar to traditional slots but play different (more on that below). There's also a very small simulcast racing OTB parlor.
Derby City Gaming's two restaurants are Lil'Wagners and Railbirds' Hot Chicken. You have to be 21 years or older to play here, and there is plenty of free parking, with nearly 1,200 spaces.
Other casinos close to Lousiville, KY
At just 15 miles from Louisville, the Horseshoe (black pin on map) doesn't have much competition. In fact, most of the the next closest casinos are casinos outside of Cincinnati, Ohio.
Closest among these is the Belterra Casino Resort (green star on map), in Florence, Indiana.
Located just a few miles off of Interstate 71 across the Ohio River, it's 66 miles northeast of Louisville, and would take you between an hour and an hour and twenty minutes to drive.
(Related: Cincinnati casinos)
The beautiful property includes a 603 room hotel, and a 38,000 square foot riverboat casino featuring 1,200 slot machine/video poker machines, along with all the usual table games. There is now a sports book here as well.
To the northwest, the French Lick Resort (Orange star) in French Lick, Indiana has a 51,000 square foot casino.
It's just 57 miles away, using the closest route, however because this Highway 150 is mostly just a two lane road, Google maps says it will take you between an hour and ten minutes, to an hour and forty minutes to get there.
Other than a couple of casinos near Cincinnati, the only other casino fairly close to Louisville is the Rising Star Casino (yellow pin on map), at 82 miles away.
Historical Horse Racing Machines
As mentioned above, Kentucky does allow racetracks to offer what's called "historical horse racing machines," (also called HRMs or "instant racing machines").
These are sort of look like video slot machines, but have outcomes based on past horse races – all in a complicated format clearly designed as a legal loophole used to sneak in games that would otherwise be illegal under Kentucky law.
Instead of using a random number generator and playing against the house, the money you insert is part of a pool of money put in by other players.
In addition to the thousand HRM's at Derby City Gaming, there are currently historical racing machines at Kentucky Downs, Red Mile, Keeneland, and Ellis Park.
By Steve Beauregard. Top photos courtesy of Caesars Entertainment