In 2009, Ohio voters passed an amendment to the state's constitution, allowing exactly one casino in each of the state's four largest cities.
As the third largest city in Ohio, Cincinnati is home to one of those casinos, the Hard Rock JACK Cincinnati Casino.
The 450,000 square foot complex sits on 23 acres in the in the northeast part of downtown, and generates over $200 million a year in gaming revenue.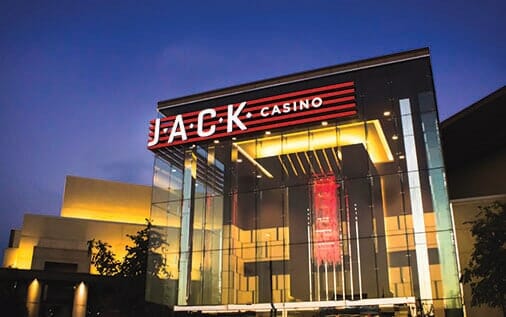 While this is the only real casino in this city of nearly 300,000, there are, in fact, horse betting tracks, video lottery terminals, and other casinos within a short drive of Cincinnati, (more on that below).
Hard Rock at Jack Cincinnati Casino
(Red star on map)
Opened in the spring of 2013, this is the newest of the four Ohio casinos.
Just to north and east of the heart of downtown, Hard Rock Cincinnati Casino is situated on the corner of Eggleston Avenue and the Central Parkway.
Originally called "Horseshoe Cincinnati" it was re-branded as the JACK Cincinnati Casino in June of 2016, then to the Hard Rock in 2020.
It's real, regular traditional 24 hour-a-day casino, similar to the ones you'll find in Las Vegas.
The casino floor space is 108,000 square feet, putting it right up there with many of the resorts on the Strip.
Hard Rock Cincinnati has 1,828 slot machines/video poker machines, and 84 table games. These include Let It Ride, Pai Gow, mini-baccarat, traditional blackjack games, along with a new blackjack variant they've introduced with different payouts.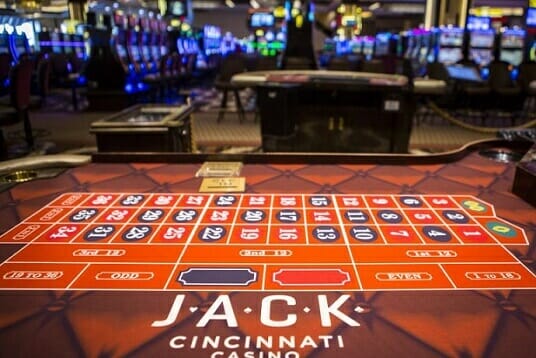 Called JACK JACK, the game pays you 2 to 1 if you get a blackjack with two black cards, while getting a blackjack with two red cards pays 3 to 2.
A blackjack consisting of a red card and black card only pays out even money however.
The casino also has regular live craps games (including crapless craps), and roulette.
The casino's 31 table poker room spreads the usual $1/2 No-Limit and higher games, along with $3/6 Limit Hold'em, Omaha, and a host of tournaments including daily tourneys, turbos, deepstacks, etc.
(The map below shows you the Hard Rock Jack Cincinnati Casino (red star), Belterra Park Gaming (black), Hollywood Casino Lawrenceburg (purple), Rising Star Casino (green) and Belterra Casino Resort (brown).
Other Hard Rock Jack Cincinnati Casino Amenities
The six eating options here include everything from a Starbucks to the Prism Steakhouse to the popular Seven Chefs Buffet. Bobby Flay, from Food Network fame, has a burger joint here as well.
A meeting space/concert venue, called "The Pavilion" is 33,000 square feet and seats up to 1,500 people.
(Related: casinos by Louisville, Kentucky)
Hard Rock Jack Cincinnati Casino Parking Fee
The casino has a 5 story garage with room for 2,500 cars attached to the building. However it's not free for everyone.
Parking IS free to anyone with a ClubJACK player's card at level "A" "C" or "K."
Anyone at level "J" or who does not have a card will have to pay a $10 flat daily rate, but only Monday through Friday. The fee will be waived should you play with a card for at least 30 minutes.
Valet parking is free (other than tip) to all ClubJACK cardholders. Non-card holders pay $15.
You have to be 21 years or older to player at the Jack Casino.
Address, Phone and Website
1000 Broadway Street
Cincinnati, OH. 45202

Phone: (513) 252-0777

Website: Hard Rock Casino Cincinnati
In April of 2019, it was announced that JACK Cincinnati was being sold to Hard Rock International, (they of the Hard Rock Cafe fame). Ohio State regulators approved the deal in August of 2019.
The casino is currently undergoing a $30 million dollar plus overhaul and is being re-branded as the Hard Rock. New features will include an expanded concert venue and of course, a Hard Rock Cafe. The rebrand will be complete in the spring of 2020.
Cincinnati's other Semi-Casino
Nine miles southeast of downtown is where you'll find Belterra Park Gaming.
I call it a "semi-casino" because the 48,000 square foot Belterra Park is a horse racing track without table games, bingo, or slot machines.
Instead, they have 1,300 video lottery terminals, or VLTs.
(Related: Casinos in Columbus, Ohio)
While these often look like slot machines, they are more like electronic versions of scratch-off lottery tickets.
Unlike the random number generator found at traditional Las Vegas style (and Jack Casino-style) slot machines, here you're playing a game with a pre-determined number of winners and prizes.
Casinos Close to Cincinnati
Other than the VLTs at Belterra Park Gaming, Jack Cincinnati's only nearby competition are three riverboat casinos across the border in southeast Indiana.
The closest among these three is the Hollywood Casino & Hotel Lawrenceburg in Lawrenceburg, Indiana (purple star on map). It's a marathon away to the west. Literally.
The Hollywood Casino Hotel Lawrenceburg is exactly a 26.5 mile drive when starting out in downtown Cincinnati (at the intersection of Walnut and E. 6th Streets).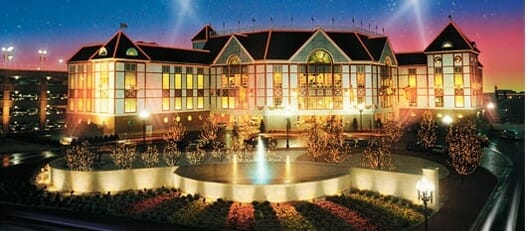 The 26.5 miles will take you between 25 minutes to 40 minutes to drive. On Friday afternoons however, the drive can take in the 50 minute range.
Prior to the Ohio vote allowing casinos, this was the main option for Cincinnati-area gamblers.
However since the Horseshoe (now Jack) Cincinnati Casino opened, gaming revenues at the Hollywood Casino Lawrenceburg have dropped 60%, according to an article in the Indianapolis Star.
Hollywood Casino Hotel Lawrenceburg has the usual assortment of over 2,000 slots, roughly 80 table games, along with a 19 table poker room. There's also a modest sportsbook, with 20 TVs, and 16 betting kiosks.
(Related: Cleveland Casinos)
The two others are:
Belterra Casino Resort (Brown star on map)
Not to be confused with Belterra Park Gaming, this riverboat casino is in located in Florence, Indiana, 51 miles south west of downtown Cincinnati.
It's usually a drive of between 45 minutes to just over an hour.
Being a riverboat casino means its casino floor is just a little more than 1/3rd the size of Jack Cincinnati. However it does have 1,200 slot machines, the usual table games and a small poker room. There's also the FanDuel sportsbook.
Attached to the casino (on land), is a nice 603 room hotel, restaurants, bars, a spa, showroom and golf course.
Rising Star Casino (Green Star)
The only other casino fairly close to Cincinnati is the Rising Star Casino, which is just 39 miles away, but still a 45 minute to 1 hour-plus drive, due to lack of closer bridge access.
Rising Star has about 1,000 slots and video poker machines, table games (including craps and roulette), and the modest BetAmerica sportsbook. It also boasts a 294 room hotel, four restaurants and a showroom.
By Steve Beauregard. Top photo courtesy of the Hard Rock. Roulette photo from Cincinnati's official travel guide. Hollywood Casino Lawrenceburg photo courtesy of VisitSouthwestIndiana.com