Casinos in Cleveland, Ohio – JACK, Map & Others Nearby
Cleveland, Ohio is that rare American city to have a casino right in the heart of its downtown core.In addition, the city on the shores of Lake Erie has two racinos. (More on those in a minute).
Cleveland's only casino is the Jack Cleveland Casino.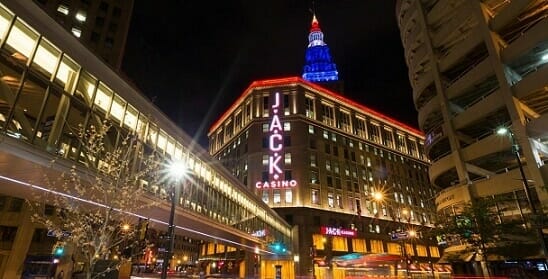 Opened in May of 2012 as the "Horseshoe Cleveland" it was the first legal casino in the state of Ohio. It became a JACK Entertainment property in 2016, changing its name accordingly.
JACK Casino Cleveland
Cleveland's only casino doesn't really look like a casino.
That may be because it's actually a remodeled department store. In fact, the former Higbee Department Store in the city's Public Square is the same one little Ralphie and his family visited in the iconic holiday movie, "A Christmas Story."
Nowadays, it's a bustling four-floor, 300,000 square foot gaming venue, complete with nearly 100,000 square feet of gaming floor space, bars, restaurants and more.
The building is beautiful and spacious, with high ceilings, beautiful chandeliers, and an Art deco vibe.
JACK Cleveland Casino Games
On the gaming side, there are 1,300 slot machines, of which 200 are video poker machines. Their high-limit room has slots up to $100 per pull.
(The JACK Casino Cleveland is in black, the MGM Northfield Park in green, and the JACK Thistledown Racino in blue)
The lineup of JACK's nearly 100 table games includes all the favorites like blackjack, roulette, craps, and even crapless craps.
As for table minimums? Limits can change of course, but $10 minimums seem to be standard. One of the craps table had $25 minimums recently on a busy night. I also believe there is the terrible 6/5 blackjack at those levels, but 3/2 Blackjack when moving up limits.
They also spread everything from baccarat to Crazy 4 Poker, to Pai Gow, Mississippi Stud, 4 Card Poker, and Let it Ride (among others).
JACK's Synergy Arena is a high energy gaming section full of stadium-style electronic gaming machines – the kind with a live dealer but where you bet electronically at your own machine. This area has the feature of allowing you to charge your phone and even order drinks at your station. There is also have a lineup of DJ's performing at night.
Poker
JACK's thirty table poker room is on the third floor. They spread No limit Texas hold'em games from $1/3 to $5/10, along with my favorite, $4/8 limit hold'em.
You Omaha players will find $1/2 Pot Limit Omaha and $4/8 Limit Omaha. There are also Texas Hold'em tournaments as well.
JACK Cleveland Casino Bars & Restaurants
JACK's lineup of restaurants include, among others, The Seven Chefs Buffet.
The seven stations here include: Asian, Italian, American, Carving, Salad, Pastry and a "Shuffle stations." This stations has locally-sourced fruits and vegetables.
Other dining options include a gourmet burger joint called, "Stacked," and a Wahlburgers at the parking structure building across the street.
Bars include the Legends Bar, Rock Bar and Lounge, and Vintage 51.
JACK Casino is not, technically, a hotel/casino, however the Ritz Hotel Cleveland is in the same complex.
JACK Casino Cleveland Parking Fee
Customers can park at JACK's large six story structure across from the casino on Ontario Street, just southeast of the casino. There are approximately 1,300 parking spaces.
A heated overhead pedestrian skyway connects the parking garage to the main casino. The garage is well-lit with security cameras.
Parking is not free, and can get pretty pricey.
| | |
| --- | --- |
| Monday – Friday | |
| 0-1 Hour | $6 |
| 1 – 2 Hours  | $10 |
| Over 2 Hours  | $15 |
| After 4PM | $15 |
| Weekends | $25 flat rate for all day |
In addition to these rates, downtown workers can park here for $10 on weekdays, so long as they arrive before 10 AM and leave before 6 PM.
Also, during special events, these parking rates are thrown out the 6th floor window.
Since this parking garage is right across the street from Rocket Mortgage FieldHouse (where the Cleveland Cavaliers play), and a few hundred feet away from Progressive Field, (home to the Cleveland Indians), the spaces can fill quickly.
As such, parking rates increase during these games, concerts and other events. The exact rate is not posted by the casino, however $50 is not unusual.
You can however, receive "free" parking by gambling and using your player's card.
JACK Casino Parking Comps
JACK casino has four different player card levels: J, A, C, and K (go figure).
People with a "J" card get free parking if there do one of three things (1) Play table games for at least 1/2 hour using their card, (2) Get 500 JACK points on a slot or electronic game, or (3) play one hour of live poker.
People with an "A" card get free parking the same as above, except they only have to accumulate 250 JACK points.
You'll want to use the parking kiosks in the welcome center to print off your free parking voucher, prior to leaving.
JACK casino players with player's card at the "C" and "K" levels get free parking.
Lastly, if you are 50 or older, you can get free parking all day every day, assuming there aren't any special events taking place.
Jack Cleveland Casino Address, Phone & Website
100 Public Square
Cleveland, OH 44114
(216) 297-4777
Website: JackEntertainment.com/Cleveland
FAQ
One of the few drawbacks to JACK Cleveland Casino, (other than their complicated parking scheme and lack of free drinks), is the presence of panhandlers right outside the casino doors. In other words, if the slots or craps game treated you right, you may not want to flash your winnings outside when leaving the place.
Other Casinos Near Cleveland
Cleveland has two nearby racinos, which are a combination of horse racing track and casino. However these racinos do not offer slot machines, but rather the less-popular video lottery terminals, or VLTs.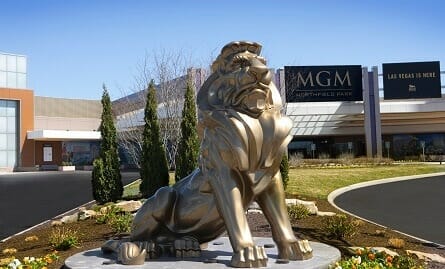 While they can appear to be similar in looks to a traditional slot machine, VLTs are more of an electronic bingo pull tab.
(Related: Closest casino to Cincinnati, Ohio)
MGM Northfield Park
Previously known as the The Hard Rock Rocksino, MGM Northfield Park opened in April of 2019.
Located between Cleveland and Akron, the MGM Northfield is situated 17 miles (or 26.6 kilometers), south of downtown Cleveland. This equates to a 30 to 45 minute drive.
In terms of gaming revenue, it is the busiest casino in Ohio.
This 200,000 square foot venue is located right next to the horse racing track where they run harness races in season, (222 nights per year). They also offer simulcast wagering on harness races throughout the country.
Inside the 65,0000 square foot casino part of the racino, you'll find 2,300 VLTs. In somewhat of a fun twist, they have a climate-controlled 8,000 square foot outdoor gaming patio – complete with 240 of the video lottery terminals.
Per Ohio law, the MGM Northfield is not allowed to offer any table games.
MGM Northfield Restaurants & Entertainment
The four restaurants here (not including the Roasted Bean coffee), include a steakhouse named after famous Brown's quarterback Bernie Kosar, the Concerto Italian Kitchen and the TAP Sports Bar.
With a 1,900 seat capacity, The racino's Center Stage concert venue hosts big names in comedy and music.
Another venue, The Neon Room, is more intimate, with just 300 seats. It too, will have live music and comedians.
Parking is free, and there are 3,000 parking spaces.
Address, Phone & Website
10777 Northfield Road
Northfield, OH. 44067
(330) 908-7625

Website: MGM Northfield Park
You must be 21 years or older to gamble here. The casino is open 24 hours a day.
JACK Thistledown Racino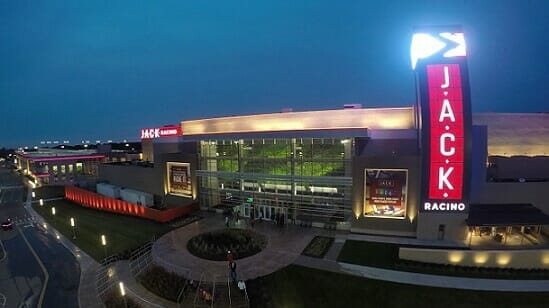 The downtown Cleveland JACK'S sister property is 11 miles (17 km) southeast of town in North Randall. it's anywhere from a 20 minute drive up to almost an hour at rush hour.
Unlike the downtown JACK, this casino is not a Vegas-type joint, as they only have horse racing, and video lottery terminals, (no table games).
(Related: Casinos in Columbus, Ohio)
The multi-floor building has 1,400 of these VLTs, and JACK Thistledown has live horse racing from late May into October. This is in addition to the simulcast betting offered throughout the year.
You'll find four restaurant options at the racino, which include the the more-upscale Millcreek Grille, Nonna Pizza, American Burger Bar, and Cleo's Hometown Bar.
Jack Thistledown Address, Phone Number & Website
21501 Emery Road
North Randall, OH. 44128
(216) 662-8600
Website: Jack Thistledown Racino
Unlike JACK Cleveland Casino, parking at JACK Thistledown is free.
(By Steve Beauregard. Photo courtesy of ThisisCleveland.com, MGM International and Jack Entertainment.com/Thistledown via Wikipedia)