Casinos in Minneapolis & Saint Paul, MN – Map & Information
While there aren't any casinos right in the heart of the twin cities, the Minneapolis/Saint Paul area has three nearby casinos south of town.
In addition, there are two nearby racetracks/cardrooms.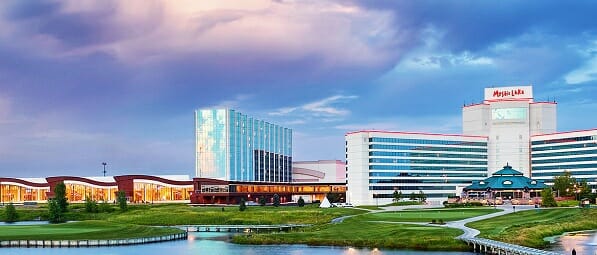 The king of Minneapolis casinos is the Mystic Lake Casino Hotel – a Native American casino 25 miles southwest of downtown Minneapolis (35 from downtown Saint Paul).
It is the largest casino in Minnesota, and the closest one to Minneapolis.
Mystic Lake Casino Hotel
Opened in 1992 and expanded in 2017, Mystic Lake Hotel Casino is not only the largest casino in the state, but with 150,000 square feet of gaming space, it's one of the largest casinos in the United States largest casinos in the United States.
Granted, the resort's 600 seat bingo hall accounts for a lot of the square footage, still, this means that Mystic Lake has more gaming floor space than many of the casinos on the Las Vegas Strip.
Mystic Lake is a Native American casino operated by the Shakopee Mdewakanton Sioux and is located 25 miles (or 44 kilometers) southwest of downtown Minneapolis. (35 miles from downtown Saint Paul).
The drive is on I-35W south for most of the way and would take you from 30 minutes to just over an hour (during afternoon rush hour).
The casino is part of a full-fledged resort, complete with hotel, spa, concert arena – all bordering the beautiful The Meadows at Mystic Lake 18 hole golf course.
(Below you'll find the Mystic Lake in red, Treasure Island in green, Canterbury Park in yellow and Running Aces in purple)
And at 766 hotel rooms, (180 of which are in the newer Mystic Lake Center complex), Mystic is the third largest hotel in the Minneapolis-Saint Paul region.
A $90 million dollar expansion in 2017 added the new 9 story hotel tower and 70,000 square feet of convention space.
Mystic Lake Casino
As for gambling, this spacious casino offers $2 blackjack, all day, every day. This sounds good until you learn about the 25 cent commission you pay to the house on every hand, which increases the house edge significantly.
All total, there are nearly 100 blackjack tables (at higher limits and without commission), along with 4,000 slot machines/video poker machines. Unfortunately for some of us, there aren't any live craps or roulette games spread. There is electronic roulette however.
In addition to not having live craps and roulette, you won't find any pai gow, 3-card poker, nor any other carnival game here. Just blackjack. Mystic Lake does not have a poker room either.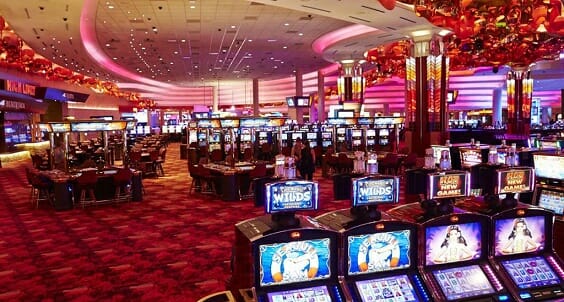 Bingo is big here however, with the 600 seat bingo hall hosting numerous daily bingo sessions.
They even the pulltabs you find at charity bingo events in your hometown that are somewhat similar to a lottery scratch ticket. In Mystic's case, the pulltabs range from ten cents up to $5 bucks each.
Mystic Lake Resort Amenities
Mystic has three bars now, whereas in years past, the resort did not serve alcohol. They do allow smoking inside the casino. There's also a self-service drink stand with coffee, tea, and pop available.
In addition to local favorite Caribou Coffee, the resort's lineup of 7 restaurants include Mystic Steakhouse, Mystic Deli, Gamblers Grille, Fusion Noodle Bar, Minnehaha Cafe, The Meadows Bar & Grille, and Sweet Temptations.
Other amenities include an indoor pool, spa, a 2,100 seat showroom, comedy club, and the aforementioned golf course.
Hotel guests get free access to the Dakotah Sport and Fitness center. Although it's about ½ mile down the road, Mystic Lake Hotel runs a free shuttle to and from the fitness center. They also have shuttle service to the casino from the Mall of American and other spots throughout the Twin Cities. A current schedule can be found here: MysticLake.com/FreeShuttle
There are plenty of parking available in both the parking lots surrounding the resort, as well as the parking garage which is attached to the resort via an enclosed skyway. Parking is always free here.
Mystic Lake Address, Phone & Website
2400 Mystic Lake Boulevard
Prior Lake, MN. 55372
(800) 262-7799
Website: MysticLake.com
Mystic Lake is open 24 hours a day. You only have to be 18 years or older to gamble here.
Treasure Island Resort and Casino
Located on the banks of the Mississippi River southeast of the Twin Cities in Welch, Minnesota, the Treasure Island Hotel and Casino is a tropical themed resort 45 miles southeast of Minneapolis.
It's anywhere from a 45 minute drive all the way up to an hour and 45 minutes in peak times (Friday afternoons).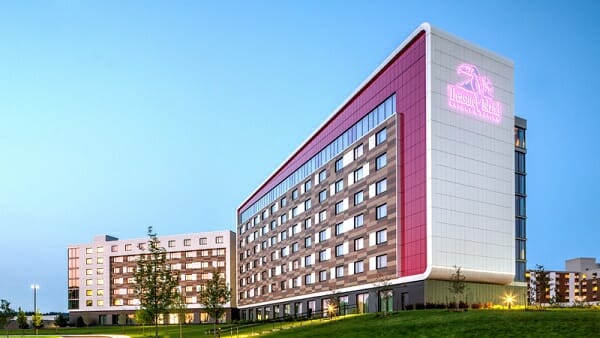 From downtown Saint Paul, the distance to Mystic Lake and Treasure Island casinos is almost exactly the same, 35 miles.
Treasure Island boasts 2,200 slot machine/video poker machines, and 44 table games, 27 of which are blackjack tables. There's also EZ Baccarat, Three-Card Poker and the like. The stadium gaming area has blackjack and roulette.
There's also a modest 6 table poker room and a spacious, 550 seat bingo parlor.
Treasure Island Resort Amenities
An $86 million dollar resort remodel and expansion has added 308 new rooms in two seven-story plus towers. This brings Treasure Island's hotel room count to 788 – making it the second biggest hotel in Minnesota.
Definitely a family-friendly resort as there is a 24 lane bowling alley, kids arcade, and a water park ("The Lagoon"), complete with slides and a lazy river.
The separate, adult-only pool has a swim-up bar and the resort grounds include "The Wave" spa.
In addition to the casino's numerous bars, and three sit down restaurants (which include the requisite steakhouse and buffet), there are four other counter-service restaurants.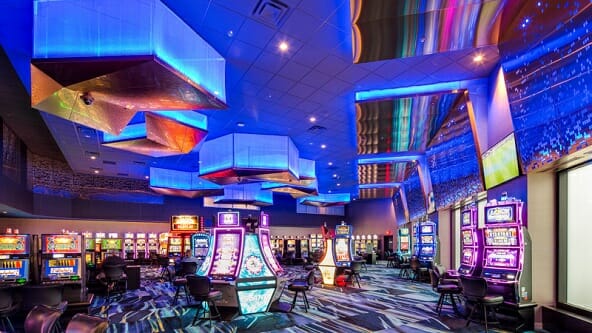 The event center seats up to 3,000 and there is also a new outdoor amphitheater by the river that hosts big name acts.
You RVer's should note the 95 space RV park on the resort grounds.
Being on the banks of the river, Treasure Island is able to offer some fun services you rarely find at any other casino in the United States. For example, there's even a 137 slip marina available for you boaters who want to get off the water and into a juicy poker game.
The casino also has daily cruises (in season), where for a fee, you board a 100 passenger yacht for a brunch, lunch, or dinner cruise.
And if you don't want to make the drive down from the Twin Cities, Treasure Island offers free bus service, with several stops in and around Minneapolis and Saint Paul.
Treasure Island Address, Phone & Website
5734 Sturgeon Lake Road
Welch, MN 55089
(800) 222-7077
Website: TICasino.com
Little Six Casino
Opened in 1982, Little Six is located just a thousand feet north of its much larger, newer sister casino, Mystic Lake.
The casino has several hundred slot machines and a handful of blackjack tables. There is one restaurant and bar as well.
Little Six Casino Address & Phone
2450 Sioux Trail NW
Prior Lake, MN. 55372
(952) 403-5525
Racetracks and Cardrooms near Minneapolis/St. Paul
Canterbury Park
This popular horse race track and 60 table card room is located 23 miles (37 km) southwest of Minneapolis. This comes out to a 25 minute to one hour drive.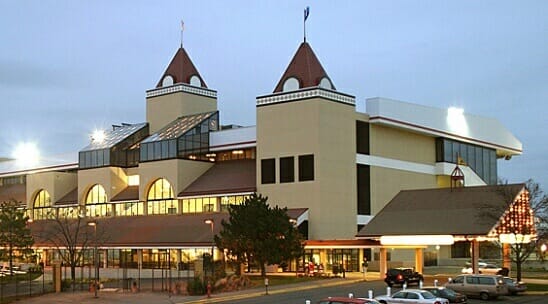 Canterbury Park is the poker capital of Minnesota with a spacious 31 table poker room.
They spread limit Texas Hold'em (from $2/4 on up to $50/100), along with Omaha Hi-Lo, and 7-card Stud. Interestingly, Minnesota law prohibits them from offering no-limit hold'em.
There are daily tournaments for those of you missing your "all-in" fix.
In addition to the poker tables, there are 60 tables of blackjack and other table games like EZ-Baccarat, Three-card poker, Mississippi Stud, Face Up Pai Gow and more.
The live horse racing schedule typically begins in early May and extends into mid-September. In addition to the live race wagering, there is simulcast wagering area with 250 seats.
You can even download their app and set up an account to place horse race bets on your phone. Racing at Canterbury is family friendly, with live music, and playground for the kids.
Other times, Canterbury Park and its Expo Center hosts everything from car shows to concerts to snowmobile snocross races.
While there isn't a hotel here, you'll find several restaurant and dining options at Canterbury, including both sit-down restaurants (like the Triple Crown and the Chips Bar & Restaurant), as well as counter service joints. There is also free parking for 10,000 vehicles.
You only have to be 18 or older to play here.
Canterbury Park Address, Phone & Website
1100 Canterbury Road
Shakopee, MN 55379
(952) 445-7223
Running Aces Casino & Racetrack
Located 29 miles north of downtown Minneapolis in Columbus, this is a 30 minute drive (usually), up to an hour's drive during rush hour.

Table games include $2 live blackjack, pai gow, Mississippi Stud, and EZ-baccarat. The 20 table poker room has $3/6 limit hold'em on up (keep in mind Minnesota has $100 maximum poker bets), including $4/8 limit half-kill game. They also spread Omaha High, at various levels.
You won't find live craps or roulette here, however they do have bing. There is a newer, attractive 116 room hotel.
The live horse racing season runs from mid-May to mid-September.
Running Aces Address, Phone & Website
15201 Running Aces Boulevard
Columbus, MN. 55022
(651) 925-4600
Website: Runaces.com
Other
Another option two hours north of Minneapolis off of I-35 is the Black Bear Casino Resort. The Native American casino has 250 rooms, 1,800 slots, table games, a 10,000 square foot bingo parlor, and an 18 hole golf course. It's also home to the popular Black Bear Casino Buffet.
(By Steve Beauregard. Photos courtesy of Mystic Lake, Lakeville Convention & Visitors Bureau, ExploreMinnesota.com, Running Aces, and VisitShakopee.com)