Casinos in Montgomery, Alabama – List & Map
Although traditional casino gambling is not legal in the state, Alabama's state capitol is somewhat of a hotbed for gambling in the Heart of Dixie.
In fact, while the entire state of Alabama has just four casinos, three of them are within 22 miles of downtown Montgomery.
Two of these are Indian casinos on the outskirts of town, while the third is a privately-owned casino able to operate bingo-style slot machines.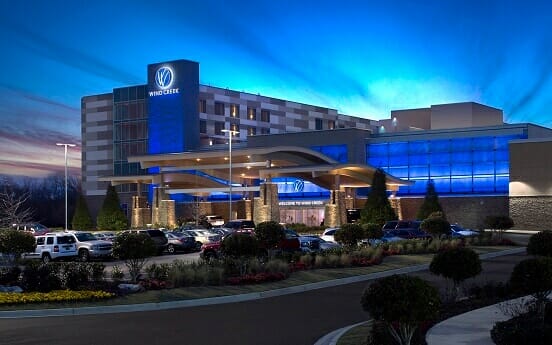 All three of the casinos near Montgomery are slot-only joints. And not only do they lack table games, sports books and the like, the slots they do have are class II gaming machines.
What this means for you is that the slots you'll find in Montgomery are electronic bingo games rather than the random reels slots and video poker machines you'll find in places like Biloxi, Las Vegas, and Atlantic City.
Many folks in Montgomery wanting a more traditional casino experience find themselves skipping these places in favor of making the 226 mile drive south to Biloxi.
Still, these casinos in the Montgomery area seem to do a decent business. It helps that two of the three area casinos are newer, very attractive resorts with spacious gaming floors, hotels, restaurants, bars and entertainment venues.
(The red star – the Wind Creek Montgomery Hotel & Casino – is the closest casino to Montgomery)
Wind Creek Casino & Hotel Montgomery
Being situated 13 miles northeast of downtown makes this Wind Creek casino property the closest casino to Montgomery.
It's operated by Poarch Band of Creek Indians. The revamped casino opened in December of 2015 and has a wonderful, charming old school Memphis-style theme.
The Wind Creek Montgomery décor features a B.B. King mural and vintage touches, including, "turn-of-the-century street lamps, rough-hewn wooden beams reclaimed from barns, and exposed antique brick walls."
Here you'll find 2,200 electronic bingo machines, but again, no table game nor traditional slots. There's both a non-smoking area and high-limit room.
The casino's B.B. King's Blues Club is a popular draw for both its food and live music, while Lucille's Eatery is a quick-service option.
A third restaurant, the Itta Bena, dishes up gourmet southern cuisine.
The five-floor hotel has 123 rooms. There's a fitness center and a rooftop pool. And while many casinos have a beauty salon, the Wind Creek Montgomery has that, plus a separate old school barbershop.
There are self-serve Coke machines here, and please note that you have to be 21 or older to play here.
Wind Creek Montgomery Address, Phone & Website
1801 Eddie L. Tullis Road
Montgomery, AL 36117
(866) 946-3360
Website: Windcreek.com/Montgomery
Wind Creek Casino & Hotel Wetumpka
Wind Creek Montgomery's bigger sister is just a little further out, at 19 miles from downtown.
The Wind Creek Wetumpka casino has about 20,000 more square feet of gaming floor space than Wind Creek Montgomery.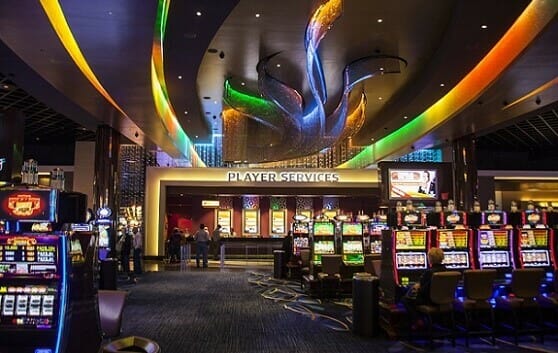 In addition to the 2,500 plus electronic bingo machines, the resort has an attached 20 story hotel tower, wonderful pool area, and numerous restaurants and bars, including a spacious center bar complete with a 16,000 gallon shark tank.
Opened in 2013, Wind Creek Wetumpka is just a 20 to 30 minute drive from downtown Montgomery on Highway 231.
Wind Creek Wetumpka Address, Phone & Website
100 River Oaks Drive
Wetumpka, AL 36092
(866) 946-3360
Website: Windcreek.com/Wetumpka
Victoryland
A 22 mile drive east on I-85 to Shorter, Alabama gets you to the Victoryland.
Because it's privately owned, Victoryland does not have tribal immunity. As such, the casino was shut down by the state in 2013 with cash and machines seized, however it re-opened in 2016.
Overall, the consensus seems to be that the place is a shell of the bustling casino it once was, when it had live greyhound racing and over 4,000 gaming machines. The attached 300 room hotel does not appear to be open either.
If you do go, you'll find 1,500 something charity bingo machines and simulcast betting on dog and horse races at other tracks around the United States. You have to be 19 or older to play here.
Willie's Café here has sandwiches and wings and the like.
(Related: Casinos near Birmingham, Alabama)
Other Casinos near Montgomery, AL.
Wind Creek Atmore – 116 miles via a straight shot south west on Interstate 65.
Pearl River Resort, Mississippi (2 attached casinos with golf courses and a waterpark) – 203 miles directly west of Montgomery. A minimum of 3 ½ hour drive west.
Biloxi, Mississippi – Golden Nugget is the easternmost Biloxi casino and as such is the closest Biloxi casino to Montgomery, at 226 miles away. This is kust over a 3 hour drive down on Interstate 65 then I-10 into Mississippi.
Vicksburg, Mississippi (casinos like the Ameristar Casino Vicksburg) – 291 miles away
Tunica, Mississippi – 340 miles, or roughly a 5 to 6 hour drive.
(By Steve Beauregard. Photos courtesy of Wind Creek Hospitality)