Casinos in & Near Birmingham, Alabama with Map
As Alabama's largest city, Birmingham has a rich history, the SEC Conference headquarters and is the hometown of baseball legend Willie Mays.
But it's not home to a casino. (More information on a quasi casino is further down below).
The combination of a statewide prohibition on casino gambling, combined with the fact Alabama is bordered by two states without casinos (Tennessee and Georgia), means that the gambling options are slim for visitors and the million plus residents of the Greater Birmingham area.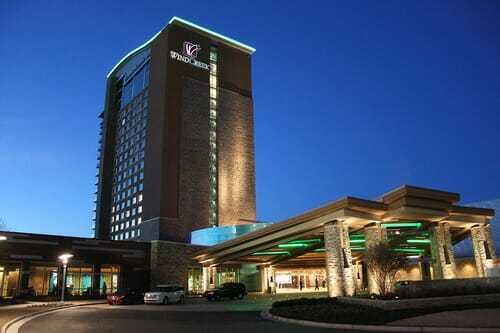 But while there aren't any legal casinos or card rooms in the immediate area, there are, however, two casinos within a 90 mile drive of downtown Birmingham.
Neither of these two casinos are traditional Las Vegas style casinos. For that, you would have to the casinos at the Pearl River Resort, 171 miles away in Philadelphia, Mississippi. This is covered further down below.
As for the two casinos within 90 miles of Birmingham? Neither offer table games, nor do they have traditional slot machines. Instead, both have electronic bingo-style machines, which play differently, but which also resemble traditional slots.
Having said that, the biggest casino near Birmingham is the Wind Creek Wetumpka.
(Below is a map of your legal gambling options around Birmingham. The purple star on the left represents the two Pearl River Resort casinos while the black star represents the Wind Creek Wetumpka Hotel & Casino)
Wind Creek Wetumpka Casino & Hotel (black star on map)
Located 89 miles southeast of downtown Birmingham, the Wind Creek Casino & Hotel Wetumpka is a contemporary Native American casino set on the banks of the Coosa River. It's (at the minimum), an hour and 30 minute drive.
A very modern-looking resort, Wind Creek Wetumpka has a spacious 85,000 square foot gaming floor, in the center of which you'll find a gorgeous circular bar.
(Related: Casinos in Montgomery, AL.)
The casino has just over 2,000 gaming machines. Again, these aren't slot machines, but rather electronic bingo games.
You won't find your Wheel of Fortune slots here, or many of your favorites found at regulator casinos. Instead, you'll see bingo cards on these machines. There is a high limit area.
Also as a reminder, there aren't any table games allowed to be spread here (or anywhere else in Alabama for that matter). Nor is there a sportsbook.
The attached hotel tower is AAA Four Diamond resort and comes complete with 283 rooms, a fitness center and surprisingly, a very lovely and well-designed pool area with a bar and cabanas.
Dining options here include the Fire Steakhouse, a buffet, your typical all-encompassing casino coffee shop/restaurant (simply called "Grill"), and a Starbucks.
The resort's attached five story parking garage offers free parking, and there's even the digital counters out front to show you the available parking spaces on each level.
Lastly, Wind Creek Wetumpka also has an entertainment center that features live bands, including some fairly big names.
Wind Creek Wetumpka Casino Address & Phone and Website
100 River Oaks Drive
Wetumpka, AL. 36092
(866) 946-3360
Website: WindCreek.com/Wetumpka
Because there are closer options, it's not covered in detail in this article, however the Wind Creek Wetumpka has a sister property, the Wind Creek Montgomery Casino & Hotel, 101 miles away.
Greenetrack (green star on map)
The only other pseudo casino close to Birmingham is Greenetrack, located 82 miles to the south and west. This equates to roughly a one hour 15 minute drive on Interstate 20.
Opened in 1977, Greenetrack is pretty much the opposite of Wind Creek Wetumpka in terms of ambiance. The small casino has 400 electronic charity bingo machines.
There's also simulcast betting on horses and greyhounds at tracks around the country.
Greenetrack is open 24 hours a day.
Greenetrack Address & Phone & Website
523 Co Road 208
Eutaw, AL. 35462
Phone: (205) 372-9318
Website: Greenetrackpaysyoumoney.com
Pearl River Resort (Purple star on map)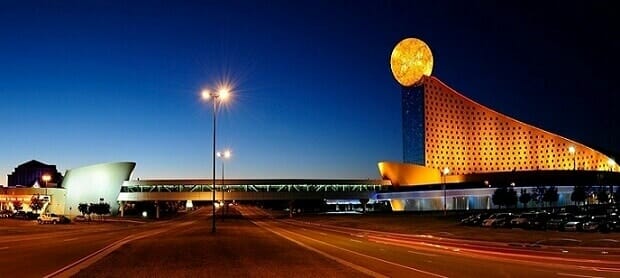 A three hour drive west of Birmingham will lead you to a dual-casino Indian complex called Pear River Resort.
The two resorts are the Silver Star Hotel & Casino, and the Golden Moon Casino & Hotel The casinos, (attached via a pedestrian walkway), are just outside of Philadelphia, Mississippi – 171 miles away from downtown Birmingham.
The Silver Star is a little bigger, with 90,000 square feet of gaming floor space, however both casinos have 1,100 plus slot machines/video poker machines each.
Unlike the Wind Creek or Greenetrack, Pear River casinos have real slot machines. Combined, the two casinos have 59 table games, which includes craps, roulette, blackjack and mini-baccarat. There's also a 14 table poker room and live bingo. The Golden Moon has a sportsbook.
Golden Moon and Silver Star combine to have over 1,000 hotel rooms and ten dining options, including a popular buffet. Nearby are two golf courses, and a large family water park.
Pearl River Resort Address, Phone & Website
Highway 16 West
Choctaw, MS 39350
(866) 447-3275
Website: PearlRiverResort.com
Birmingham Racehorse Casino (red star on map)
I didn't include this above because of the poor reviews and my questions about the legality of the place.
Either way, the former greyhound track no longer runs the dogs. They do, however have simulcast wagering and 900 electronic gaming machines. It's just 13 miles northeast of downtown.
Typically the fastest route is on Interstate 59, and the drive from downtown results in a 15 to 20 minute drive.
In addition to greyhound races five days a week, the track also has simulcast wagering on horse races.
Address & Phone
1000 John Rogers Drive
Birmingham, AL 35235
Phone: (205) 838-7500
Closest Casinos to Hoover, Alabama
From the Riverchase Galleria in Hoover, the Wind Creek Wetumpka Casino is 79 miles. Greenetrack is 76 miles to the west.
It's a 163 miles from Hoover to the casinos at the Pear River Resort across the border into Mississippi.
Other Casinos by Birmingham, AL.
Bok Homa Casino (Heidelberg, MS) – 199 miles away
Harrahs Cherokee Valley River Casino in North Carolina – 240 miles from Birmingham.
Tunica, MS. Casinos – 252 miles away
Biloxi, MS. Casinos – 318 miles away
(By Steve Beauregard. Photos courtesy of the Wind Creek Wetumpka Casino & Hotel and Pear River Resort)