There are eight casinos in the Phoenix area, including two in Scottsdale.
With the exception of one in Glendale, all have the regular slot machines and video poker games you're used to, along with some table games.
While you won't get served free alcohol like you would in Las Vegas, nor will you find the live versions of craps and roulette, you will be able to experience fine restaurants, entertainment options, and other amenities you'd find at resorts along the Strip.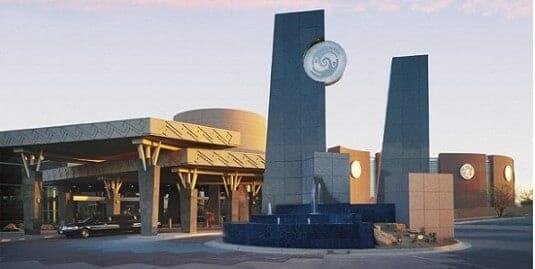 Here's a rundown of the eight casinos in the Phoenix and Scottsdale areas:
Casino Arizona
(Black pin on map)
One of two casinos located in Scottsdale, Casino Arizona is located 14 miles east of downtown Phoenix and is the closest casino.
It's owned by the same tribe that owns its larger, fancier sister resort: Talking Stick a few miles north.
Located just off of Highway 101, or Loop 101, Casino Arizona has over 900 slot machines, and over 50 table games, including blackjack of course, but also Let It Ride, 3 Card Poker, Pai Gow Poker and War.
(Each pin represents one of the 8 Phoenix-area casinos)
There aren't table game favorites like craps and roulette, however there are the electronic roulette games and the "Shoot to Win" electronic craps game.
Casino Arizona has a popular 1,000 seat bingo hall and offers Keno as well.
The resort has five restaurants ranging from the Eagles Buffet to the Cholla Steakhouse & Lounge, to your standard casino coffee-shop type of restaurant.
524 North 92nd Street
Scottsdale, AZ. 85256
Phone: (480) 850-7777
Website: CasinoArizona.com
Desert Diamond Casino West Valley
(Purple pin)
This is the newest casino in the Phoenix/Scottsdale area and the only one in Glendale, on the western part of Phoenix. It's 19 miles north and west of downtown Phoenix, and would take you about a half hour to drive there.
The Desert Diamond Casino West Valley opened on December 20, 2015, but an elaborate, $400 million dollar expansion completed in February of 2020 refreshed the resort considerably.
The casino now boasts a 75,000 square foot gaming floor, with with 1,136 slot machines, and 48 table games, including Pai Gow Poker, Spanish 21, Ultimate Texas Hold' Em and 3 Card Poker. There's also a 380 seat Bingo Hall, with games daily.
Desert Diamond West Valley's 12 table poker room has table-side food and beverage service, a ton of TVs, and high hand promotions.
In addition to the food court, there's a steakhouse, a sports bar and more.
Address, Phone & Website
9431 W Northern Ave
Glendale, AZ 85305
Phone: (520) 294-7777

Website: Desert Diamond West Valley Casino
We-Ko-Pa Casino (Burgandy pin)
The furthest north of any of the Phoenix and Scottsdale area casinos, the We-Ko-Pa (formerly called Fort McDowell Casino), is 31 miles northeast of Phoenix. It's roughly a 30 minute, to one hour drive, depending on traffic.
Situated seemingly in the middle of nowhere, it's pretty nonetheless. A massive expansion completed in the fall of 2020 brought the complex up to 166,000 square feet, and it now features 850 slot machines and video poker games, and lots of the normal table games, including 22 blackjack tables, along with 3 card poker, and Progressive Pai Gow. Limits go from $5 to $1,000.
The five-table poker room has daily, fun high hand promotions, like aces cracked bonuses that amateurs like me enjoy.
The new bingo room has seating for 750 players, and is smoke-free.
Six restaurants dot the property, including a buffet, Ember (fine dining), a sports bar, and more.
The 246 room home attached to the casino has a spa, beautiful pool area, and a gorgeous 18 hole golf course.
We-Ko-Pa Casino Resort Address, Phone & Website
10424 N. Fort McDowell Road
Fort McDowell, AZ. 85264
Phone: (480) 837-1424
Poker room (480) 789-4284

Website: WeKoPaCasinoResort.com
Harrah's Ak-Chin Casino
(Pink pin)
Having opened in 1994, this is one of Arizona's older casinos, however a $100 million dollar plus renovation and expansion was completed in 2019.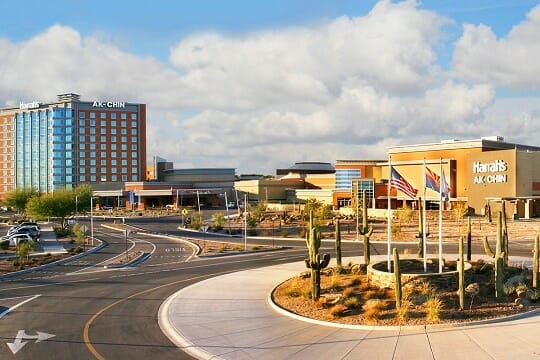 According to a story in the Arizona Republic, the popular resort welcomes 700,000 visitors a year. It gets its name from the Ak-Chin Indian tribe, who owns the casino resort. The tribe has partnered with Caesars Entertainment in running it, meaning you can use your Caesars Rewards card at Harrah's Ak-Chin casino.
This is the southernmost of all the Phoenix casinos, being 37 miles south of Phoenix, in Maricopa. The drive can range from 40 minutes to an hour and 40 minutes, depending on traffic.
Ak-Chin Casino Slots & Games
Harrah's Ak-Chin has 1,135 slot machines and video poker machines. Table game limits start at $5, and include blackjack, Pai Gow Poker, Mississippi Stud, 3-card Poker, and Ultimate Texas Hold'em. The new bingo hall seats over 400 players.
With a 12 story, 229 room hotel tower completed in 2019, the resort now has 529 rooms. Based on hotel room count, Harrah's AK-Chin is the biggest hotel/casino in the Phoenix area.
The Events Center at Harrah's Ak-Chin has seating for 2,000 people. In addition, the property boasts a 20,000 square foot ballroom and a 3,000 square foot spa.
The resort's six restaurants include everything from a Dunkin Donuts to a buffet, to a gourmet chophouse. The pool area's grounds are beautifully landscaped. There's even a swim-up bar.
Harrah's AK-Chin Casino has free daily shuttle service to and from various points around the area. The current schedule can be found here:
https://www.caesars.com/harrahs-ak-chin/casino/free-ride-free-play
Another attractive feature is the AK-Chin Multi-tainment Center across the street from the casino/hotel. If you get tired of losing in the casino, you can skip on over there via the pedestrian bridge to check out the bowling alley, movie theater and restaurants.
Harrah's AK-Chin Casino Address, Phone & Website
15406 N Maricopa Rd
Maricopa, AZ 85139
(480) 802-5000

Website: Caesars.com/Harrahs-AK-Chin.com
Lone Butte Casino
(Green pin)
Not the largest casino, Lone Butte is situated 18 miles south of Phoenix, about a 25 to 40 minute drive into the outlying town of Chandler, Arizona. It opened in November of 2008.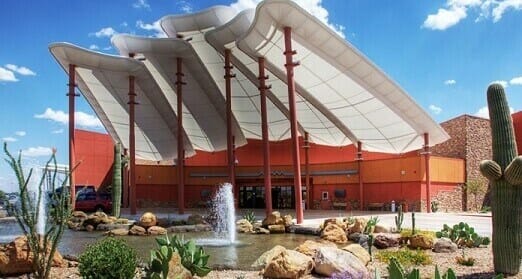 In addition to the 794 slots, there are 24 table games, with limits up to $1,200. As with other casinos in the region, you won't be able to throw dice, but they do have the electronic craps, along with electronic roulette.
There is a 750 seat bingo parlor.
Your eating options at the Lone Butte include a 24 hour café, a food court (with a Panda Express), and their Cities Bar & Grille.
Lone Butte Address & Phone:
1077 S. Kyrene Road
Chandler, Arizona 85226
(800) 946-4452

Talking Stick Resort & Casino (Blue pin)
The most "Vegas-y" of all of the casinos near Phoenix, Scottsdale's Talking Stick is 20 miles away from downtown Phoenix, or roughly a 25 to 45 minute drive.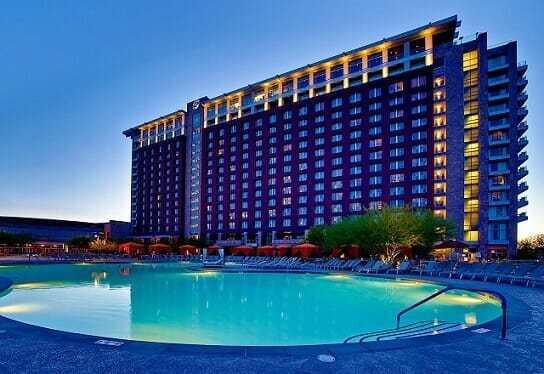 It's located in a beautiful area just east of Salt River Fields, which is the large baseball field complex that acts as the spring training home to both the Colorado Rockies and Arizona Diamondbacks.
The biggest and arguably nicest casino in Phoenix area, the casino space is reported to be just shy of 100,000 square feet. This puts it on par with some of the famous casinos on the Las Vegas Strip.
The hotel has been ranked as a AAA Four Diamond Resort. The 15 story hotel has 496 rooms, six restaurants, four lounges. Behind the resorts sits the 36 hole Talking Stick Golf Club.
On the 14th floor of the resort, the well-regarded Spa at Talking Stick has over 13,000 square feet of relaxation (as long as you don't look at the bill).
Talking Stick Casino
Down below in the casino are more than 800 slot machines and video poker games, along with a Keno hall complete with Keno tournaments.
You table game players will find most of the usual favorites among 50 table games. There aren't any craps tables or roulette wheels, other than the electronic version of both games.
Talking Stick's poker room, (called the "Arena Poker Room") is the by far the largest in Phoenix, with 47 tables. It plays host to a number of tournaments, big and small, including the Arizona State Poker Championship.
The 25,000 square foot Salt River Ballroom and 10,000 square foot concert venue hosts concerts and performances by big-name acts, from Terry Fator to Alice in Chains to Jay Leno.
Talking Stick Address, Phone Number & Website
9800 Talking Stick Way
Scottsdale, AZ 85256
(480) 850-7777

Website: TalkingStickResort.com
Quiva Hotel & Casino (Brown pin)
Nicknamed the "VQ", this new version of the Vee Quiva opened in July of 2013. The resort is 15 miles southeast of Phoenix, just off the brand new Loop 202 South Mountain Freeway.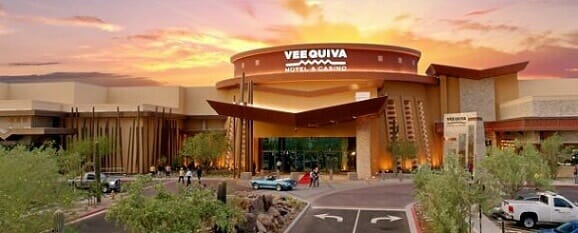 Thirty table games can be found inside here, along with 900 slots, 30 table games (including "Lunar Poker" which I have yet to play), a 14 table poker room, and spacious 550-seat bingo hall.
The VQ has a 90 room hotel. While small, it has received the AAA Four Diamond Award.
There are two restaurants here, (including a 24 hour coffee shop). Vee Quiva's food court includes a Panda Express, and a Fatburger.
As with some other Phoenix casinos, the Vee Quiva has a free shuttle that picks up passengers from several different stops throughout the Phoenix area.
Vee Quiva Casino Address & Phone
15091 South Komatke Lane
Laveen, AZ. 85339
(800) 946-4452
Wild Horse Pass Hotel & Casino (Yellow Pin)
Conveniently located just off Interstate 10, the Wild Horse is 18 miles south of Phoenix, or roughly a 30 minute drive.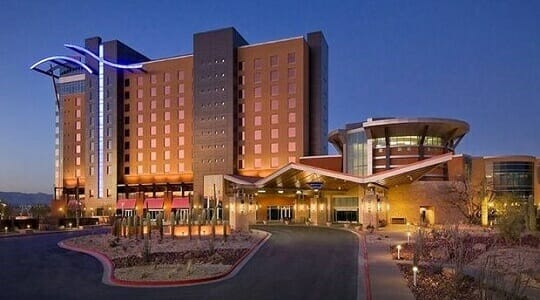 The resort opened in October of 2009. It gets great reviews and competes with Talking Stick Resort as one of the largest casinos in Arizona, although it is not as luxurious.
Wild Horse's website says they have 100,000 square feet of casino space. The AAA 4 Diamond hotel has 262 rooms.
There are 956 slot machines, and 40 table games, (not including their 25 table poker room), and a 1,400 seat concert arena.
Dining options include Shula's American Steak House, a 24 hour café, the popular Ling & Louies, and food court.
Wild Horse is undergoing an expansion that will include 205 new hotel rooms, swimming pool area, enhanced gaming floor, and more. The expansion is expected to be completed in the fall of 2021.
Wild Horse Casino Address, Phone Number & Website
5040 Wild Horse Pass Boulevard
Chandler, AZ 85226
(800) 946-4452
Official Website: PlayatGila.com
More Casinos Coming to Phoenix
An April 2021 agreement with Indian Tribes signed by Arizona Governor Doug Ducey is going to result in two more casinos being built in the Phoenix valley. The compact also will allow sports betting and new table games, such as craps and roulette. We'll update this when the sportsbooks and new casinos are announced.
Other Casinos Near Phoenix
One other note, this list only includes casinos in and around the Phoenix area and does not include the four casinos in Tucson (116 miles south), nor outlying casinos like the Apache Gold Casino, which is 96 miles away (close to a 2 hour drive), east of Phoenix.
(By Steve Beauregard. All casinos photos courtesy of each respective casino except for official city websites: Talking Stick (ExperienceScottsdale.com), and Harrah's AK-Chin and Lone Butte – both from VisitPhoenix.com)