Casinos in Tucson, AZ. – List and Map
It has a major university, international vibe, and 1 million residents. Tucson also has a thriving casino market, with four nearby casinos satisfying area residents' gambling itch.
In addition, there are eight casinos in the Phoenix and Scottsdale area, 115 miles up Intestate 10.
All four of the Tucson-area casinos are located south of downtown Tucson.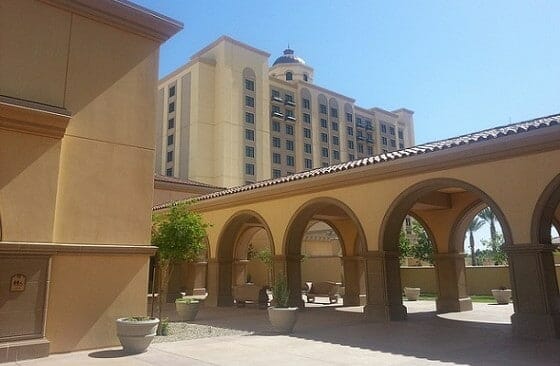 They are all Indian casinos, with two tribes owning two casinos each. As such, there are no free alcoholic drinks served at these four casinos near Tucson. While the casinos do have liquor licenses, players have to pay to drink.
Other than that, you'll find Las Vegas-style gaming here. In addition to the plehora of slot machines and video poker game, there are now live craps and roulette games. In addition, some Tucson casinos have sportsbooks.
(Each colored pin represents one of the four casinos near Tucson)
Here's a brief description of the four casinos in the Tucson area.
Casino Del Sol Resort, Spa & Conference Center (Red pin on map)
The Casino Del Sol Resort is a contemporary hotel and casino situated 15 miles southwest of downtown Tucson. It's a 30 minute drive to the resort from downtown.
Built in 2001, the casino is run by the Pascua Yaqui Tribe. The resort is beautiful, with lovely modern exterior and pretty landscaping outside while the interior boasts a Mediterranean décor with the faux sky roof (like you see at the Paris Las Vegas), that always seems to work and adding ambience.
The casino part of Casino Del Sol has 22,000 square feet, and boasts 1,075 slots and 24 table games, including blackjack, Fortune Pai Gow Poker, Ultimate Texas Hold'em, Three Card poker, EZ baccarat, craps and roulette.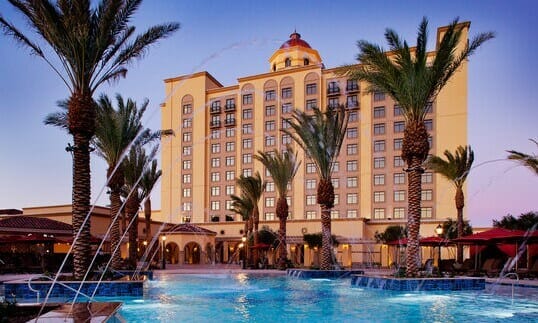 Their Interblock Stadium gaming area has electronic versions of craps, blackjack and roulette, and the casino's high-limit room offers slots and blackjack games.
Casino Del Sol Poker, Bingo & Sportsbook
The 10 table poker room, comes complete with 14 big TVs. Games offered include $4/8 limit hold'em, and $4/$8 Omaha, (among others). Casio Del Sol's poker room also features bad beat jackpots, promotions, and weekly tournaments.
Casino Del Sol's popular 300 seat bingo room runs games 7 days a week. Sessions start at 11:30 AM daily, and a current schedule and list of up-to-date progressive amounts can be found here: Casinodelsol/bingo.com
With the passage of legalized sport wagering in Arizona, the resort opened the Solsports Sportsbook. The room features 5 live betting windows, 15 betting kiosks, and of course, tons of high-def televisions.
Restaurants
Dining options include the requisite fine steakhouse, (PY Steakhouse), Bellissimo ristorante Italanio, Fiesta International Buffet, the Asian-themed Ume, Moby's beach diner, a deli near the bingo hall, and more. The Oasis Bar at the pool has your quesadillas, pizza, club sandwiches, and the like.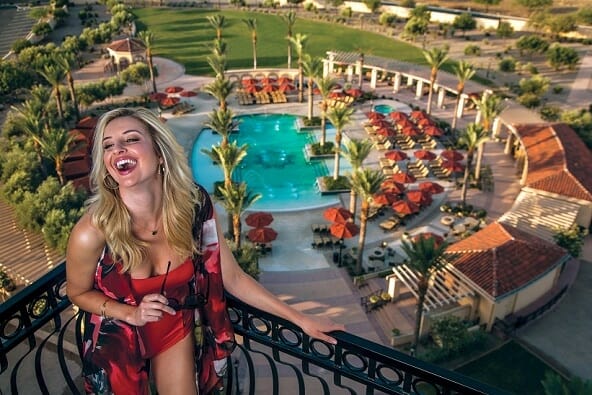 Including the Oasis bar, there are six bars at the Casino Del Sol. The 225 room hotel has a spa & fitness center, and a 65,000 square foot conference center. An additional 151 hotel rooms are available at the adjoining Estrella Hotel on the northern side of the property.
The resort's AVA Amphitheater is a gem, and seats 5,000. It's hosted everyone from Don Henley to Toby Keith to Van Halen. Bordering the Casino Del Sol resort to the south is the beautiful Sewailo Golf Club, which was recently ranked as Arizona's 12th best course, by Golf Advisor.
It's also pretty conveniently located, as the Casino Del Sol is just 6 miles west of Interstate 19 (around a 13 minute drive), and 12 miles west of Interstate 10 (around a 25 minute drive). Free parking is available in the resort's 1,100 space parking garage.
Casino Del Sol Resort Address, Phone & Website
5655 W. Valencia Rd.
Tucson, AZ 85757
Phone: (520) 838-6506
Website: Casinodelsol.com
Casino of the Sun (Yellow pin)
Two miles southeast of Casino del Sol is the resort's much smaller, older sister property, the Casino of the Sun.
Originally opened as a bingo hall only, this no-frills casino has 300 slot machines and some electronic table games. It doesn't have a hotel. The Sunflower Café is the only dining option here.
Desert Diamond Casino & Hotel Tucson (Green pin)
The Desert Diamond casino chain has three casinos in the Phoenix and Scottsdale areas, including two in or around Tucson. (There's another one in Why, Arizona, but that's over a 2 hour drive to the west of Tucson, and therefore is not covered in this article).
The Desert Diamond Tucson is the flagship, and is located right across from Tucson International Airport, about 10 miles (or 15 kilometers), south of downtown. A typical drive would be between 20 to 30 minutes.
The new contemporary resort building and hotel opened in 2007, replacing the white dome structure that had been in place for years prior.
In addition to a wide selection of over 700 slots, the casino has blackjack, craps, roulette and EZ Baccarat. The 12 table poker room has splash pot promotions, aces cracked promotions, and weekly tournaments. It's open from 10 AM to 4 AM daily.
Sportsbetting is available here with several betting kiosks spread around the casino.
Bingo is big here, as it probably should, since the Desert Diamond originally opened as just a bingo hall. Today, the casino's bingo area seats up to 300 gamblers and runs games five days a week (Thursdays through Sundays).
In addition to the popular (and affordable) 250 seat Ko:Sin:Ki buffet, the Desert Diamond Tucson has the typical casino coffee shop, called the Diamond Café, and a food Court consisting of a pizza place, the Diamond Grill (salads, sandwiches), and a coffee bar.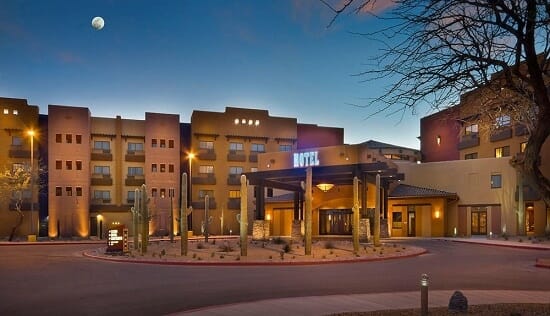 Attached to the casino is the 148 room hotel.
Desert Diamond Casino & Hotel Tucson Address, Website & Phone number
7350 S. Nogales Highway
Tucson, AZ. 85756
Phone: (520) 294-777
Poker room: (520) 342-1810
Website: ddcaz.com/Tucson
Desert Diamond Casino Sahuarita (Blue Pin)
Twenty-one miles south of downtown lies the Desert Diamond Casino Sahuarita. The desolate drive south on Interstate 19 will take you around a half hour.
Opened in 2001, this Sahuarita location is open 24 hours a day, and is home to 600 slot machines, blackjack tables (including Spanish 21), roulette and EZ baccarat.
The new sportsbook, located next to Taste of Agave restaurant, has tons of screens and self-service betting kiosks.
The buffet is no longer (as of this update), so dining options are limited to the more upscale Taste of Agave restaurant, the Diamond Grill and food specials at the sportsbar.
The Desert Diamond Sahuarita has a large concert venue called the Diamond Center. With 2,064 seats, it plays host to well-known comedians like Jim Belushi and Brian Regan, bands like Three Dog Night, Kansas, along with cover-bands as well.
Desert Diamond Casino Sahuarita Address, Phone & Website
1100 W. Pima Mine Road
Sahuarita, AZ. 85629
Phone: (520) 294-7777
Website: ddcaz.com/Sahuarita
Tucson, Arizona Casino FAQ
(By Steve Beauregard. Photos courtesy of Nick Bastian via Flickr, The Casino Del Sol and Desert Diamond Casinos.)