Casinos in Southern California: List of Indian Casinos with Slot Machines & Map
There are 25 casinos in Southern California.
But while SoCal has 22 million people and roughly 60% of the state's population, it's home to just 39% of the state's casinos.
There are a total of 66 casinos in California: 41 in Northern California, and 25 in Southern California, which we consider to be the ten most southern counties in the state.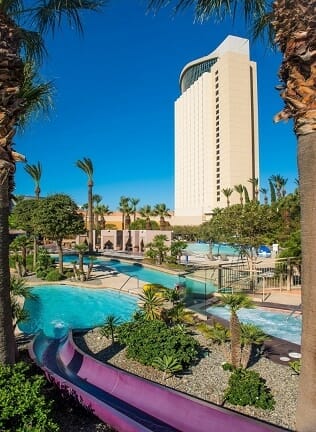 To be more specific, we're only count Southern California casinos to be ones that are south of Bakersfield.
We're also only counting the more traditional, Indian casinos.
We say this because in addition to the 25 casinos in Southern California, there are numerous card rooms. Many of these even have the word "casino" in their name. However per California Gaming Control Board regulations, they are not allowed to have slot machines, craps, etc.
Casinos in Southern California
These 25 Indian casinos are all on tribal land, and they run the gamut from small joints to massive resorts.
(Here's a map showing you each of the 25 Southern California casinos)
Many casinos close to L.A. and San Diego have over 2,000 slot machines, and over 100 table games in beautiful resort settings.
In fact, two Southern California casinos, the Yaamava Resort & Casino (previously known as San Manuel Indian Bingo & Casino), and Pechanga Resort & Casino, are two of the top ten biggest casinos in the United States. Both have over 4,000 slot machines.
If not in the top ten, many of Southern California's other casinos are at least, decent sized casinos, with lots of offerings.
By my count, 8 of the 25 casinos have at least 2,000 slot machines/video poker machines. To put that in perspective, the MGM Grand, Aria, and Bellagio each have less than 2,000 gaming machines. In other words, one-third of the casinos in Southern California are bigger than the biggest, fanciest casinos on the Las Vegas Strip.
For example, the Golden Acorn Casino & Travel Center off of Interstate 8 has a name that implies it's nothing more than a truck stop with a few slots. However a look inside reveals it has a nice décor, table games, and 750 slot machines!
Even casinos out in the middle of nowhere are decent-sized. The Tortoise Rock Casino outside of Twentynine Palms, for example, is smack dab in the middle of the desert, yet it has 490 slot machines, table games, concerts and more.
Many of these casinos however are located close to urban areas, and therefore have large casino footprints.
And while these 25 casinos are spread throughout the region, from the bottom corner of the California/Arizona border to just north of Santa Barbara, they mostly tend to be concentrated in certain areas. For example, there are ten casinos near San Diego, (or at least within an hour's drive).
Similarly, there are seven casinos scattered around Palm Springs.
List of Southern California Casinos
Here are all 25 casinos in Southern California and their respective city:
Agua Caliente Casino Resort Spa – Rancho Mirage
Agua Caliente Spa Resort Casino – Palm Springs
Agua Caliente Casino – Cathedral City
Augustine Casino – Coachella
Barona Resort & Casino – Lakeside
Cahuilla Casino – Anza
Casino Pauma – Pauma Valley
Chumash Casino Resort – Santa Ynez
Fantasy Springs Resort Casino – Indio
Golden Acorn Casino & Travel Center – Campo
Harrah's Resort Southern California – Valley Center
Havasu Landing Resort & Casino – Havasu Lake
Jamul Casino – Jamul
Morongo Casino Resort & Spa – Cabazon
Pechanga Resort & Casino – Temecula
Pala Casino Spa Resort – Pala
Quechan Casino Resort – Winterhaven
Red Earth Casino – Salton Sea Beach
Soboba Casino – San Jacinto
Spotlight 29 Casino – Coachella
Sycuan Casino & Resort -El Cajon
Tortoise Rock Casino – Twentynine Palms
Valley View Casino & Hotel – Valley Center
Viejas Casino and Resort – Alpine
Yaamava Resort & Casino – Highland
Southern California Casino Expansions
In just the last few years, the Southern California casino market has gotten larger, and is about to get even bigger.
The $400 million dollar Jamul Casino near San Diego opened in December 2016, adding 1,700 slot machines and 40 table games to the busy San Diego casino market.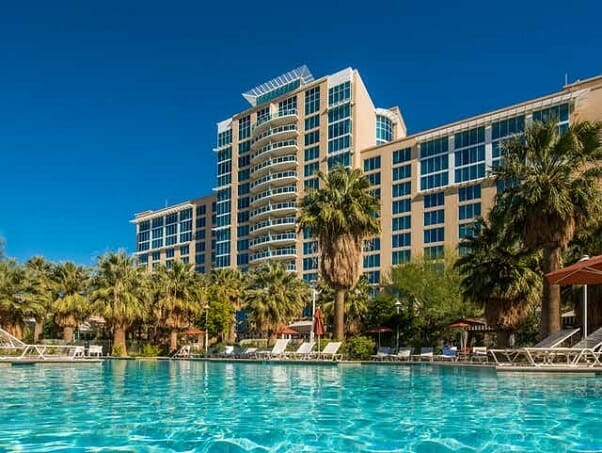 Harrah's Resort Southern California completed their $160 million dollar expansion in the fall of 2017, while a more recent $300 million dollar expansion of Pechanga made one of the nation's largest casinos even bigger.
Several other SoCal casinos have undergone recent expansions, or plan to do so.
The Sycuan Casino, for example, completed a $260 million dollar expansion in March of 2019 that added a 12 story 300 hotel room, along with 2,000 more parking spaces, restaurants, pools and 21,000 more square feet of gaming floor space.
In 2020, Morongo completed a massive expansion that added 65,000 square feet of casino space, along with 800 new slot machines, a new pool area, bars and restaurants. In May of 2022, they opened their now-popular The Marketplace Buffet at Morongo.
Yaamava Resort & Casino is still undergoing a half billion dollar plus expansion that includes a new 17 story hotel tower and entertainment venue. Everything is expected to be completed in late 2021.
Biggest Casino in Southern California
The Yaamava Resort & Casino is the largest casino in Southern California, both in terms of casino square footage and slot machine count.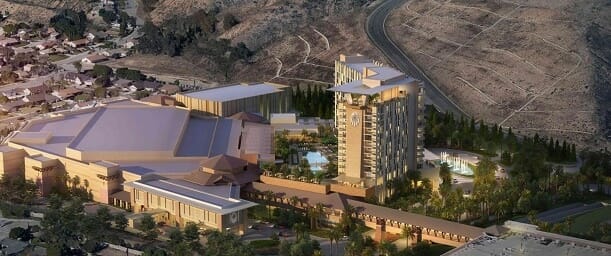 The casino formerly known as San Manuel is a massive 700,000 square foot facility, of which 290,000 square feet is gaming floor space. Yaamava' Resort & Casino has a whopping 6,500 slot machines/video poker machines, and 123 table games.
Some of the Other Largest Casinos in Southern California
After the Yaamava Resort & Casino, the area's next largest casino (in terms of slot count), is Pechanga, with 5,000 slot machines. With 153 table games (not including its 38 table poker room), it has the most table games in Southern California. The casino's footprint of 188,000 square feet includes the 700 seat bingo parlor.
The third biggest Indian casino in Southern California is Morongo, coming in at 195,000 square feet of casino floor space. Just off of Interstate 10 on the way to Palm Springs, Morongo boasts just under 4,000 slot machine/video poker games, and 80 total table games (including their poker room).
Brand New Casinos in Southern California
Soboba Casino – San Jacinto
The new casino/hotel replaced its tent structure with this 200 room resort in February 2019. It now boasts 2,000 slot machines, and 38 table games.
The Cahuilla Casino Hotel – Anza
While there has been gambling here for a while, the Cahuilla Casino transformed from mostly a large prefabricated tent with just a few hundred slot machines and zero table games into a more contemporary casino in 2020. It's still small (14,000 square feet with 353 slot machines), but now has a few table games, and a small 58 room hotel.
Agua Caliente – Cathedral City
This smaller casino opened in the fall of 2020. The 30,000 square foot casino boasts 536 slot machines and eight table games.
And with the popularity and social acceptance of casino gambling expanding, we are bound to see new casinos pop up on this list in the near future.
(By Steve Beauregard. Photos courtesy of each respective casino and the San Manuel Band of Mission Indians.)