Casinos Near San Diego, CA : List & Map of Indian Casinos with Slot Machines
San Diego is a mecca for Indian casinos.
While there are 24 casinos in Southern California total, 9 of these are located within San Diego County.
In total, there are ten casinos within an hour's drive of San Diego. Three of these are less than 30 miles away from the heart of downtown.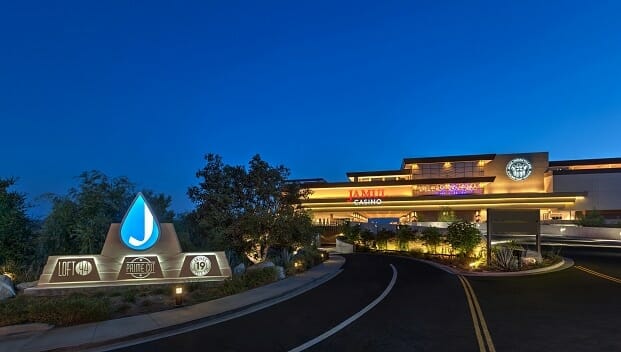 In addition to the ten casinos near San Diego, there are two card rooms located in town. There's more on that later, but we're not counting these card rooms in our list of ten full-fleged regular casinos.
Here's a list of San Diego's ten casinos, in order of proximity from San Diego.
Specifically, these distances are calculated when starting out at the Balboa Theatre in downtown San Diego. I've also listed estimated driving times here, but as you might imagine, just because a casino is closer, doesn't mean it's faster to get to.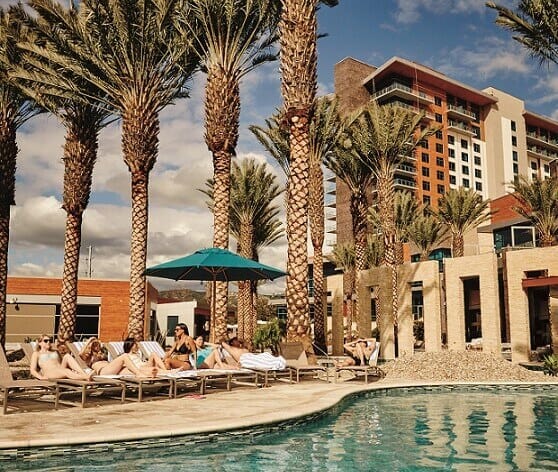 (Here's a map showing you the ten casinos near San Diego. The six closest casinos are individually colored. The other four are brown in color).
Jamul Casino (Orange pin on map)
San Diego's closest casino is also its newest.
Built for over $400 million dollars, the casino opened on October 10th, 2016 as the "Hollywood Casino Jamul," but has since been rebranded as just the Jamul Casino.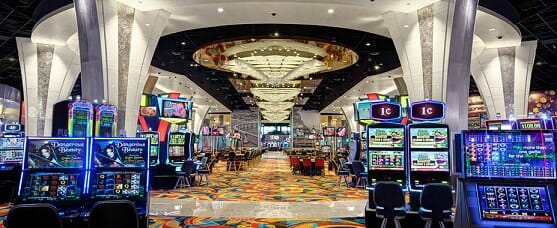 Located just 20 miles east of downtown San Diego, it would typically take you anywhere from 25 minutes to 45 minutes to drive. However they do offer a free shuttle service from numerous points all over the San Diego area. You have to have their player's card (called the Sweetwater Rewards Card), to board the shuttle, and the schedule can be found here: Jamul Casino Shuttle
The 200,000 square foot casino is home to seven different restaurants (including Tony Gwynn's Pub), while their Jamul Marketplace is the casino's food court.
Gambling wise, there are 1,600 slot machines, and 37 table games. While it did not have one originally, a ten table poker room was opened at Jamul in February 2019. It does not have a hotel.
Jamul Casino Address, Phone & Website
14145 Campo Road
Jamul, CA. 91935
Phone: (619) 315-2250
Website: JamulCasinoSD.com
Sycuan Casino Resort (Red pin on map)
San Diego's second closest casino is 25 miles or (40 kilometers) away from the heart of the city. It would take you around 35 to 50 minutes to drive to the Sycuan.
After a quarter-billion dollar expansion completed in March of 2019, the Sycuan is now a full scale casino/resort, complete with a 12 story hotel tower with 300 rooms and 57 suites, a spa, fitness center and 4 acre pool complex with a lazy river.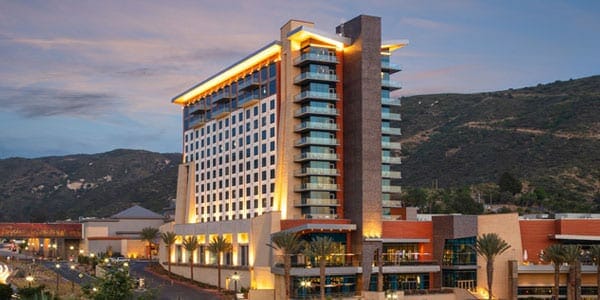 As for gambling, the expanded casino has over 2,500 slot machines and 56 table games. There is also a bingo hall and a 17 table poker room, making it the largest poker room in San Diego.
Including their new food court, (dubbed "The Commons"), there are thirteen different dining options, plus a Starbucks. The resort also boasts a large theater that plays host to some pretty big name comedy and musical acts.
The Sycuan has a shuttle free to ride for anyone with a Sycuan player's card, and there are 13 different pick-up locations in the San Diego metropolitan area. The schedule can be found here: Sycuan Shuttle Schedule
Sycuan Casino Address, Phone & Website:
5469 Casino Way
El Cajon, CA 92019
Phone: (800) 2SY-CUAN
Website: Sycuan.com
Barona Resort & Casino – (Blue pin)
This 400 room hotel/casino is located 28 miles or 45 kilometers, north and east of San Diego. It's between a 35 minute to one hour drive to Barona from downtown.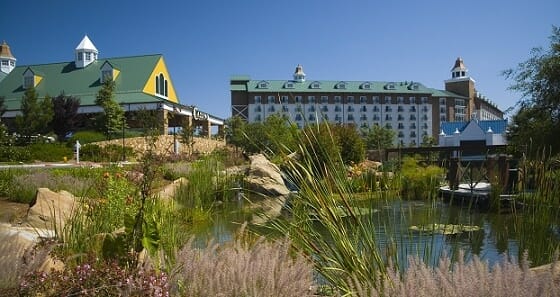 The resort has a golf course and spa. The casino's boasts 2,200 slot machines and 75 gaming tables. A 2019 USA Today reader's poll voted Barona as "The Best Casino Outside of Las Vegas."
As with other San Diego-area casinos, these table games include card-based craps instead of the traditional numbered dice game. There's also card-based roulette, baccarat, pai gow, tons of carnival games and blackjack of course. Barona used to have a 15 table poker room, however I believe it has closed.
You just have to be 18 or older to gamble at Barona.
Barona has six sit-down restaurants, along with a food court. The resort is also home to the Barona Creek Golf Course.
Barona Casino Address, Phone & Website
1932 Wildcat Canyon Road
Lakeside, CA 92040
Phone: (888) 722-7662
Website: Barona.com
Viejas Casino & Resort – (Green dot)
Almost directly east of San Diego in Alpine, California, the Viejas is a 33 mile drive away, or 52 kilometers. The driving time would be in the 30 to 45 minute range.
The beautiful, modern-looking resort has 237 hotel rooms in the main tower. In 2018 they opened a 159 room all-suite, adult-only Willows Hotel & Spa tower while also adding restaurants and pools.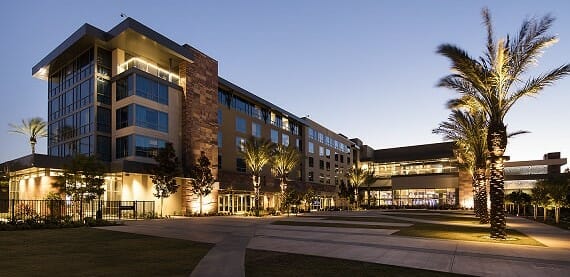 Viejas is a AAA Four Diamond hotel with around 2,500 thousands of slots and all the usual table games. Plus there are the electronic roulette and other e-games, in addition to a bingo hall and off-track betting area too. Across the street, an outlet stores shopping mall has stores, restaurants, bowling and even an ice skating rink.
Viejas Address, Phone & Website
5000 Willows Road
Alpine, CA 91901
(619) 445-5400
Website: Viejas.com
Valley View Casino & Hotel – (Yellow pin).
Living up to its name, the Valley View sits atop a bluff and has great vistas of the valley below.
The 108 room hotel/casino is located 41 miles (66 km) away from San Diego. A typical drive would take between 50 minutes to an hour and 50 minutes.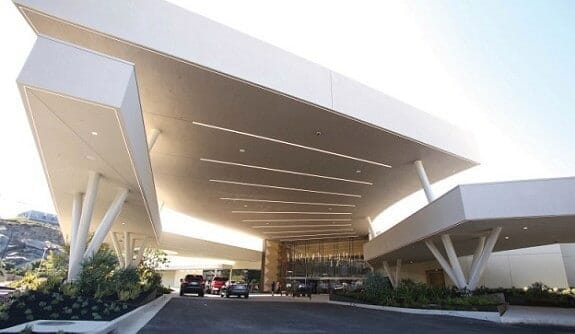 Valley View has 2,000 slots and numerous table games as well (everything from black jack to Fortune Pai Gow to Three Card Poker and the like). It's know for its award-winning buffet. In fact, the Valley View Casino Buffet holds 600 patrons and has Maine lobster every night. There are seven additional dining options as well.
A $50 million dollar expansion completed in the summer of 2019 added 25,000 more square feet of casino floor space, along with a new restaurant and an infinity pool.
Harrah's Resort Southern California – (Purple pin)
This Caesars Entertainment-owned hotel/casino is 47 miles, (74 kilometers), from downtown San Diego.
The drive is on Interstate 15 for most of the way. Normally it is a 55 minute to 1.5 hour drive, but, as you might imagine, that will vary widely based on traffic. Google maps estimates that time stretching into 2 hours on average should you leave San Diego late on a Friday afternoon.
Harrah's Southern California, formerly known as Harrah's Rincon, has just under 1,700 slot machines and over 50 table games on its 59,000 square foot gaming floor.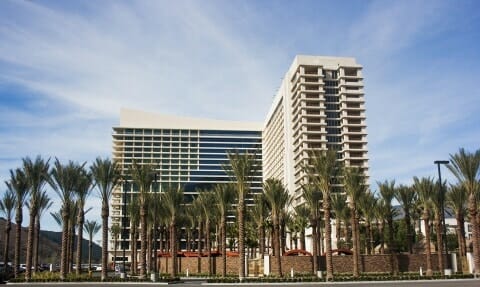 The 1,065 room hotel, has pools, a lazy river, nine different restaurants, ranging from a Starbucks to a taco truck, an oyster bar to an upscale steakhouse to their own Rincon Reservation Road brewpub, where the beer is made onsite. The newest edition is Gordon Ramsey's Hell's Kitchen.
Other distractions include a 2,200 seat concert venue and a Top Golf Swing Suite.
Harrah's Resort Southern California Address, Phone & Website
777 Harrah's Rincon Way
Valley Center, CA 92082
Phone: (760) 751-3100
Website: Caesars.com/Harrahs-SoCal
Harrah's Southern California runs free daily shuttle service to and from the resort from various points from Los Angeles to San Diego.
You can find the current full schedule here: Harrah's Southern California Shuttle
Pala Casino Spa & Resort – 52 miles (84 kilometers). An hour to an hour and a half drive.
Pala has 2,250 slot machines, and 74 table games. (The bingo hall and poker room have closed). In addition to the 500 hotel rooms, shops, bars and a spa, there are 11 restaurants at Pala.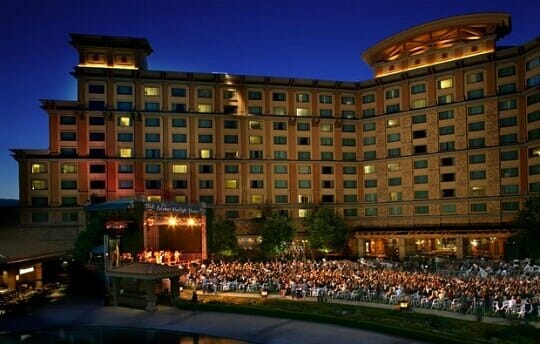 Casino Pauma – 59 miles (94 km) directly north. A hour to an hour 45 minute drive.
Golden Acorn Casino & Travel Center – 59 miles (94 km), a little south and east of San Diego. An hour to an hour and a half drive on Interstate 8.
Pechanga – Although nice and large, (it's the largest casino in California), Pechanga Resort & Casino is well north of San Diego, just outside the San Diego county line.
It's 60.3 miles to be exact, when driving the fastest route on Interstate 15. The drive north will take you between 1 hour (on a good day), to close to two hours during peak traffic times.
Card and Poker Rooms in San Diego
In addition to the ten nearby casinos, San Diego is home one card room.
It's not a casino in the traditional sense, as there aren't any slot machines nor video poker terminals. It's just cards here: poker, blackjack, pai gow and the like. Unlike the Indian casinos, this cardroom is are privately owned, and not on tribal-owned land.
Seven Mile Casino – It gets it's name for being located seven miles south of San Diego. (Actually 8 miles from downtown according to Google Maps). It's just a ten to 20 minute drive south on Interstate 5.
In addition to its poker tables, Seven Mile has blackjack, pai gow, EZ baccarat, and a couple of carnival games.
285 Bay Blvd
Chula Vista, CA. 91910
Lucky Lady Casino and Card Room – CLOSED
Located 8 miles north and east of downtown San Diego in El Cerrito, this closed in 2021.
This small joint in the northeast part of San Diego was located in a strip-mall setting on a busy road in what some have described as not the nicest area.
It used to spread poker games, pai gow, 3 card poker, mini baccarat, and blackjack. The 8 table poker room ran small stakes daily tournaments (we're talking $25 entry fee).
Due to legal issues involving the card room's owner and suspected illegal sports betting, (he agreed to a deferred judgement according to an article in the San Diego Union-Tribune), the club closed in the summer of 2021.
One last note in case you played here before and missed it on this list:
The Santa Ysabel Casino in Santa Ysabel, 58 miles north of San Diego, closed in February 2014. It was one of the smaller casinos in the San Diego area and is likely to have succumbed to competition from closer, larger, and fancier casinos.
By Steve Beauregard. Photos courtesy of each respective resort and PR Newswire.