Valley View Casino Buffet Price & Hours 2023
While other casinos are eliminating all-you-can eat options, the classic casino buffet is alive and well at the Valley View Casino.
Called simply "The Buffet," Valley View Casino's popular dining option is open and is as popular as ever. It's located right off the casino floor, with a fairly recent remodel. As of this update, you still need to have a Blue Card player's card to get in. (Or go with someone who has it).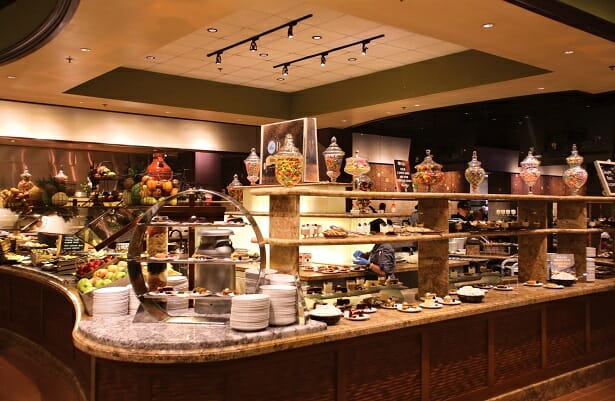 Valley Valley View Casino Buffet
The Maine Lobster is the "main" draw here, but there are over one hundred other menu items at a variety of stations.
The Buffet at Valley View Casino has seating for nearly 600 guests. The most recent poll from readers of Southern California Gaming Guide magazine ranked Valley View's buffet as the "Best Buffet" among all casinos in Southern California.
As of this update, it is a sit-down style buffet, in which you can choose items from the placemat menu at your table, after which a server delivers the plates to you. You may order four items at a time. It is still all-you-can-eat however.
Valley View Buffet Prices & Hours
For a lot of customers, the Valley View Casino Buffet is free, as they get two free ones from their player's card at Blue or higher. There are kiosks out front in which you can see what type of player's club discount you may receive. So this price below is standard, non-discounted prices before taxes and the mandatory $7 tip:
| | | |
| --- | --- | --- |
| Monday – Friday | 4 PM – 8:30 PM | $49 |
| Saturday & Sunday | 3 PM – 8:30 PM | $49 |
You'll pay before entering. Please know that because it's so popular, lines can get long here. You may get a pager to inform you of your seating availability. One reviewer on Yelp reported having to wait 3 hours! (And that was after they had gotten there to sign up right at 4 PM.
Again, the buffet is only open to those at the Blue Card level or higher. Valley View Casino has five levels, starting at Red. It takes a player acquiring 1,500 points to reach Blue.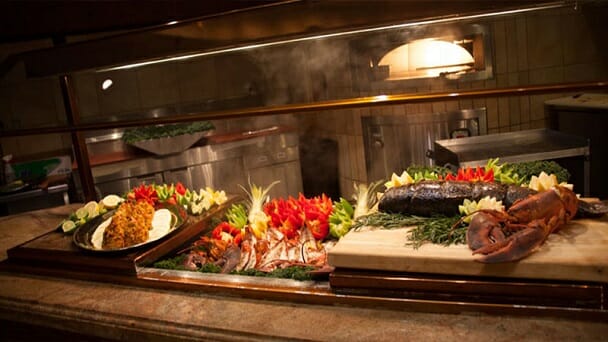 Menu Items at the Valley View Hotel & Casino Buffet
Please note that these dishes may rotate in and out, meaning not all may be available during your visit.
Seafood
The highlight for most of course, is their Steamed Maine Lobster Tails, (with lemon and hot butter).
Right behind the lobster are the Steamed Alaskan Crab legs, while other selections here include Chilled Crab Louie, your standard Shrimp Cocktail, and Shrimp & Scallops in a pastry.
Starters
You'll find chips with guacamole and/or fresh salsa (at your table), along with baked rolls. Soup choices rotate among Green posole, red bean chili, lobster bisque, clam chowder, beef barley, and chicken noodle.
Salad options may include a caprese salad, antipasto, a seafood salad mixed greens with fixings, wedge salad, coleslaw, and Caesar.
American
The carving station is here. Including that, the selection of dishes includes:
Prime rib
Glazed pork loin
Roasted turkey breast
Fried chicken
Grilled salmon
Cod Picatta
Macaroni & Cheese
Roasted brussels sprouts
Roasted potatoes
Mashed potatoes & gravy
Sweet corn
Roasted asparagus
Asian
Crispy tangerine beef
Garlic lobster fried rice
Korean BBQ Pork Ribs
Sweet Chili Chicken Wings
Tempura Fried Shrimp
Kung Pao Shrimp
Salt & Pepper soft shell crab
All of these are available with steamed white rice too, with a selection of sauces.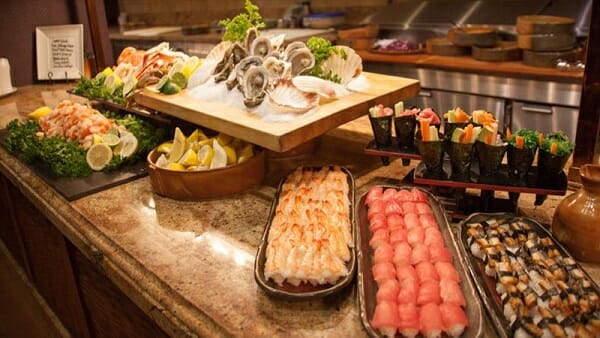 Sushi is another highlight here, and the selection features California rolls, spicy crab, spicy tuna, and vegetable. i options include eel, salmon, shrimp and tuna.
Italian
Sauteed lobster with pipette pasta
Osso Buco
Chicken parmigiana
Asparagus Ravioli
Spinach, prosciutto, ricotta, pasta roulade & vodka sauce
Garlic & herb roasted mushrooms
Sicilian roasted vegetables
South of the Border
Chicken enchilada
Chile Relleno
Skewered grilled shrimp
Coconut fried shrimp
Warm corn tortillas
Fried plantans
Beef & Chicken tamales
Spanish rice
Desserts
Selections from The Buffet's 100 foot long dessert bar include Chocolate lava cake, bread pudding, pistachio baklava and coconut macaroons.
Hand-dipped ice cream is served in either a bowl or waffle cone. Rotating flavors (there are typically eight different flavors), include: Butter pecan, Coffee, mango sorbet, chocolate, Moose Tracks, Pistachio, Salted Caramel, and your basic strawberry and vanilla. You can also add on a variety of toppings (Hot Fudge, Bananas Foster, cherries, etc.)
Cakes: Cannoli Cheesecake, Lemon Blueberry Cheesecake, Limoncello Mascarpone, Mango Coconut and Pistachio Vanilla.
Cookies: Chocolate Chip, Oatmeal Raisin, Peanut Butter, Pecan Sandie, Sesame balls, and Coconut Macadammia.
Pies: Apple, Cherry, Pecan, Pumpkin, Lemon Meringue, and both Chocolate Cream and Coconut Cream.
You'll also find fresh fruit in this area, which include whole apples, pears, bowls of raspberries, blueberries, melon, etc.
Sugar Free Options include:
Carrot cake
Cheesecake
Apple pie
Butter pecan ice cream.
Another nice touch here are the buffet's Gluten Free Desserts, which include:
Flourless chocolate cake
Caramel flan
Creme Brulee
Valley View Casino & Hotel Address, Phone & Website
16300 Nyemii Pass Road
Valley Center, CA. 92082
(760) 291-5500
Website: Valleyviewcasino.com
Other
Per their website, players at the Blue Card level (or higher), receive a "Complimentary Monthly Maine Lobster Buffet or Associated dining Credits."
As part of a $50 million dollar casino expansion completed in 2019, an additional 100 seats were added to the Valley View Buffet, along with 25 new menu options and a remodel of the dinning room.
In addition to The Buffet, dining options include Patties & Pints, The Cafe, Black & Blue, Snax (quick eats), and Stix (noodle bar).
Located approximately 40 miles north of downtown, The Valley View is one of 10 San Diego casinos within an hour's drive of downtown.
(By Steve Beauregard. Photos courtesy of the Valley View Casino & Hotel)