Casinos in St. Louis, MO – Map & Information
St. Louis Missouri is a mecca for Midwest gamblers, as there no less than six casinos in the area.
All six of these casinos are within a 25 mile radius of downtown St. Louis,
They include casinos right near downtown, a couple across the Mississippi River into Illinois, and a couple of large (and popular casinos) in suburbs west of the city.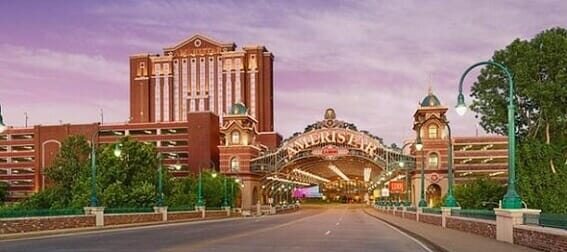 Fortunately for us gamblers, these are real casinos, with normal, Las Vegas style slot machines, along with popular table games like craps, roulette and blackjack. Some have poker rooms, hotels, spas and nice showrooms, and all provide dining options.
(The stars show the location of the six St. Louis-area casinos)
Here's a breakdown of the six St. Louis area casinos:
Lumiere Place Casino (Yellow Star on map)
Located in the shadows of the Gateway Arch, the Lumiere Place Casino is a contemporary-looking resort just a half a mile or so from downtown St. Louis, on the other side of Interstate 44. It's a Caesars property, so you can use your Caesars Rewards card here.
While not the biggest casino in the area, the 75,000 square foot gaming floor space does have over 1,300 slot machines/video poker machines, and 55 table games, including all the typical games (blackjack, craps, roulette), along with Let-it-Ride, 3 Card Poker and 4 Card Poker. There's even a high-limit room.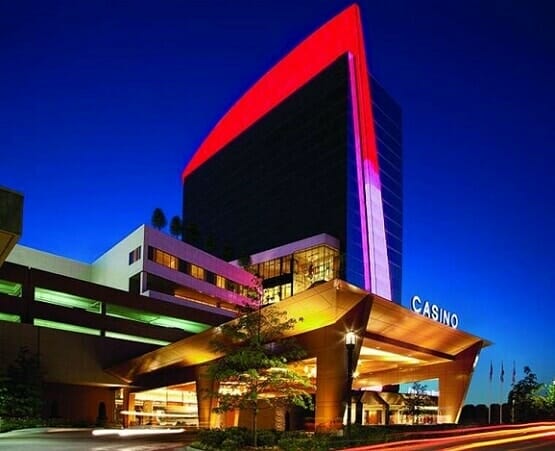 The ten-table poker rooms spreads limit hold'em ($4/8), no-limit ($1/3 on up), pot-limit Omaha, and has weekend tournaments.
While there are free self-serve beverage machines here for water, tea and pop, players do have to pay for beers and other alcoholic drinks.
Restaurants/bars at Lumiere Place, include Ozzie's Burger Bar, named of course, after St. Louis Cardinal's legendary shortstop Ozzie Smith. There's also Morton's Steakhouse, and the Riverfront Grill. The resort's Top Golf Swing Suite is the first of its kind in St. Louis.
The resort's four bars include a sports bar and Wet Willie's frozen daiquiri bar.
Two hotels are part of the resort and have walkways to the casino. The Hotelumiere at the Arch has 294 rooms, and there is the more pricey 200 room Four Seasons Hotel St. Louis.
Going to Busch Stadium or the downtown business district? There's an underground pedestrian moving walkway under the interstate to connect Lumiere Place with downtown.
Lumiere Place Casino Hotel Address, Phone & Website
999 N. 2nd Street
St. Louis, MO. 63102
(877) 450-7711
Website: LumierePlace.com
Ameristar Casino Resort & Spa St. Charles
(Red Star on map)
Located 25 miles west of downtown on the banks of the Missouri River, the Ameristar is the region's largest casino, with 130,000 square feet of gaming floor space alone.
It's also the area's busiest casino, according to figures from the Missouri Gaming Commission.
The resort's distinctive, dramatic 74,000 square foot lighted, arched covered port cochere offers one of the prettiest drives into a casino garage you'll ever find, and conjures up images of classic riverboat casino (even though it is not).
Inside, the multi-level Victorian-themed casino is home to just over 2,000 slot machines and video poker machines, along with 58 table games. These include all of the usual favorites, including baccarat and pai gow poker. The blackjack limits are up to $10,000 per hand. More relevantly to me is the fact the craps games offer a nice 20x odds.
The high limit area boasts 89 slots and video poker games and 8 black jack tables. Ameristar's 19 table poker room hosts an annual stop on the Heartland Poker Tour. Games start at $3/6 limit and the standard $1/2 No-limit hold'em.
Hotel and Spa
The 400 room towering hotel attached to the Ameristar St. Charles is one of the nicest hotels in all of Missouri, with a AAA Four Diamond rating.
The beautiful, glass-enclosed pool area offers both indoor and outdoor swimming.
In addition to the fitness area and 7,000 square foot luxury spa, Ameristar has 20,000 square feet of convention and meeting space.
Restaurants & Bars
There are seven restaurants here, including the popular and very spacious Amerisports Bar & Grill, Pearl's Oyster Bar, Falcon Diner, and and Bugatti's Steak & Pasta.
In addition to standard casino bars, you'll find the RYSE Nightclub, King Cat Club (martini bar), and the Bottleneck Blues Bar, which provides an eclectic, yet classy vibe with live music.
Parking at the Ameristar is free, and there are spaces for 6,450 vehicles.
Ameristar St. Charles Address, Phone & Website
One Ameristar Boulevard
St. Charles, MO 63301
(800) 325-7777
Website: AmeristarStCharles.com
Hollywood Casino St. Louis
(Green star)
Almost right across the Missouri River from the Ameristar, you'll find the Hollywood Casino St. Louis, which is actually in Maryland Heights – a 25 mile drive from downtown.
As the second busiest casino in the region, Hollywood has a spacious 120,000 square foot casino floor, and attached 502 room hotel.
Hollywood boasts of having 2,000 slot machines and video poker machines.
Besides the normal offerings, the resort's 80 table games include a Mississippi Stud progressive, Heads-Up Hold'em, and some unusual ones I have yet to try, such as Cajun Stud, and Four Card Prime. There's also eight tables in the high-limit room.
The good-sized poker room (14 tables) has your usual no-limit games and limit games, high-hand jackpots, and at least one tournament every day of the week.
The casino/hotel's seven restaurants include the Celebrity Grill, Final Cut Steakhouse, a Charlie Gitto's location (the Italian eatery has been a St. Louis staple since 1981), and the intriguing 99 Hops House, which serves 99 different craft beers.
In addition to your typical bars and dance club, the Hollywood Casino Amphitheater, just down the road from the casino, hosts big name concerts (in the summer) with seating for up to 20,000 people.
Hollywood Casino St. Louis Address, Phone & Website
777 Casino Center Drive
Maryland Heights, MO. 63043
(800) 855-STL-GAME
Website: HollywoodCasinoStLouis.com
River City Casino
(Blue star)
Located nine miles south of downtown St. Louis on the banks of the Mississippi, River City Casino is the third busiest casino in the area, despite being a little "off the beaten path."
Opened in 2010, the resort has beautiful grounds and a classy, unique décor, set in a 1904 World's Fair theme (St. Louis hosted the 1904 World's Fair).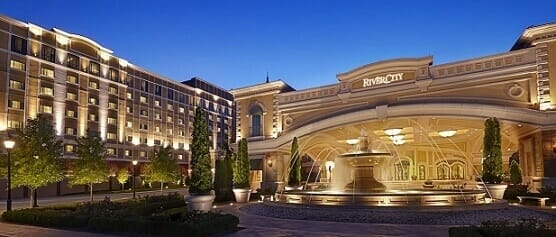 (RELATED: Kansas City Casinos)
From the fountains out front, to the arched ceilings, chandeliers, skylights and clean, open hallways, River City is more Bellagio than your standard local's casino. They describe the décor as "reflective of a Missouri riverboat town at the peak of the steamboat trade on the Mississippi River."
The 90,000 square foot casino space hosts just under 2,000 slot machines, and 50 normal table games. They let you bet up to 20x odds on craps here. River City does not have a poker room, however they do boast a six-table baccarat room.
Five restaurants dot the property, not including the special lounge for players who have reached an elite level on the casino's player's card.
The dining options include The Beerhouse, (which makes it's own brew), Asia Noodles, the 1904 Steakhouse and Burger Brothers.
The resort's seven-story 200 room hotel is AAA Four-Diamond ranked property.
An event center hosts meetings and concerts for up to 1,400 guests. You'll find free parking in the outdoor spaces surrounding the casino, as well as 1,600 spaces in the attached parking garage.
River City Casino Address, Phone & Website
777 River City Casino Blvd
St. Louis, MO 63125
(888) 578-7289
Website: RiverCityCasino.com
DraftKings at Casino Queen (Brown star)
Located across the Mississippi from downtown, just off the Eads Bridge, DraftKings at Casino Queen is one of two St. Louis area casinos that are on the Illinois side of the river.
Formerly just the "Casino Queen" the 2022 DraftKings partnership brought with it a $10 million dollar expansion that added 30,000 square feet, a new restaurant, food court, and spacious, hi-tech sportsbook.
The sportsbook itself is a spacious 6,000 square feet, complete with a sixty foot video wall, 28 TVS, live betting odds wall, 5 betting windows, and an additional 28 betting kiosks.
Currently it's one of the region's smaller casinos, with 980 slots/video poker machines. That's roughly half of what's found in the two bigger casinos west of downtown).
The table games include craps, blackjack, roulette, EZ Baccarat and a fairly unique 3 Card Poker with 6 card bonus game.
DraftKings at Casino Queen is that rare casino to actually have closing hours. That is, they open daily at 8 AM, but close at 3 AM Sunday through Thursdays, and at 5 AM, Friday and Saturday.
The casino's limited restaurant options include Deli & Chips and the Q Bar, however that will soon change after the expansion as a new food court and restaurant will open.
The property has a 157 hotel rooms, some offering incredible views of the river, Gateway Arch, and St. Louis skyline.
DraftKings at Casino Queen is also known for their spacious RV park nearby, which is open from early March into late October. They provide both a convenience store onsite, as well as a shuttle to and from the casino.
DraftKings at Casino Queen Address, Phone & Website
200 South Front Street
East St. Louis, Illinois 62201
(800) 777-0777
Website: draftkingsatcasinoqueen.com
Argosy Casino Alton (Black star)
Twenty-five miles north of St. Louis, across the river into Illinois, the Argosy Casino Alton is the area's only true riverboat casino, although it doesn't actually go out onto the river.
Opened in 1991 and lacking a hotel and many of the amenities of the more larger, newer casinos, it's the least busiest of the six St. Louis-area casinos.
The multi-level riverboat has slots, and twelve table games (craps, blackjack, roulette, Three-card poker, Ultimate Texas Hold'em and a game called, "21 +3"). It also boasts a Barstool Sportsbook, with tons of big TVs.
The boat's dining options include the Hops House pub that serves locally-made beers.
Argosy Casino Alton Address, Phone & Website
1 Piasa Street
Alton, IL. 62002
(800) 711-GAME
Website: ArgosyAlton.com
(By Steve Beauregard. Photos courtesy of the Ameristar St. Charles, Discover St. Charles, and Downtown STL Inc.)