Casinos in Kansas City, MO – Map & Information
With 4 casinos on the Missouri side and 2 others just across the Kansas border, there are plenty of options for visitors or residents of Kansas City to scratch their gambling itch.
From a small slots-only joints to luxurious Las Vegas-style resorts, the Kansas City metropolitan area has a thriving gambling market. The Missouri Gaming Commission says that the three casinos north of the Missouri River alone see over 6.3 million visitors a year.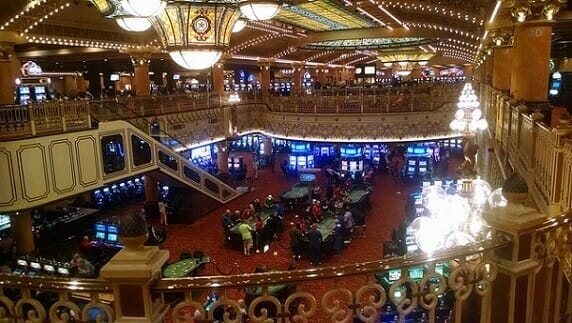 The area's six casinos are all within a ½ hour drive of downtown Kansas City, Missouri.
We'll break these down in more detail below, but overall, five of the six are what you'd consider to be nice, traditional casinos – ones with regular slot machines, table games like craps, roulette, blackjack, etc. You have to be 21 or older to play here.
All but one are set on the banks of the Missouri River, and all 5 of these main casinos are clean, spacious, with all the usual games. Three have nice hotels attached, along with a variety of restaurants, showrooms, along with many of the amenities you would find at Las Vegas resorts.
A sixth casino is a small Indian-run slots-only casino in Kansas City, Kansas.
Below is a map of the six casinos:
(Ameristar Casino Hotel (Red Star) * Argosy Casino Hotel & Spa (Brown) * Harrah's Kansas City (Purple) * Hollywood Casino (Black) * Bally's Kansas City (Green) * 7th Street Casino (Blue))
Ameristar Casino Hotel Kansas City
By far the largest of the KC-area casinos, the Ameristar is 8 ½ miles northeast of downtown Kansas City. This equates to just a 15 to 25 minute drive most times.
The two levels of gaming are beautiful, with an ornate, Victorian décor. And with 140,000 square feet of casino space, Ameristar is larger than many of the casinos on the Las Vegas Strip.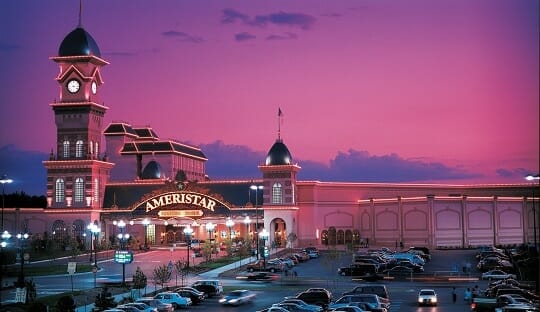 Here at this Boyd Gaming property, you'll find 2,200 slot machine/video poker machines, along with 66 table games. You'll find all the usual favorites here, including blackjack, roulette and craps. The high limit room takes bets up to $10,000! There's also a baccarat pit and a 13 table poker room.
Opened in 1997, the rest of the resort has a charming old village motif with the pretty blue faux sky ceilings you often see at casinos.
(RELATED: Casinos in St. Louis, MO)
In addition to an attached 184 room hotel, Ameristar Kansas City has an 18 screen theater, meeting space, and the Star Pavilion showroom, which holds concerts for up to 1,350 guests.
Ameristar Kansas City Restaurants
As of this late 2021 update, there are six dining options at the Ameristar Kansas City (the popular buffet was an early Covid casualty, and it looks to be closed permanently).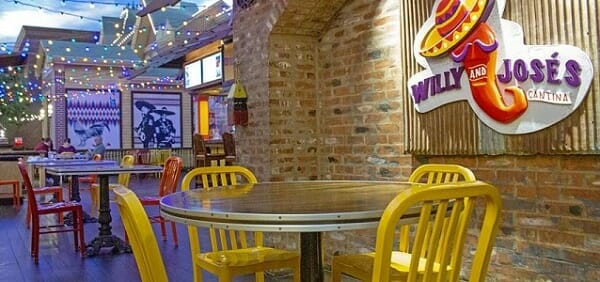 There is, however, the following:
The Great Plains Cattle Company steakhouse (a 16 ounce slow-roasted prime rib goes for $45. There's seafood too).
Amerisports Brewpub – which boasts a cool vibe and huge TV screen. Typical sports bar fare here (burgers, pizza, wings), along with "Ghost fries."
Willy & Joe's Cantina – with house-made tacos and 16 different brands of Tequila. As of this update, they still have a pretty good happy hour deal (Monday – Thursday: 4PM to 6 PM), featuring $2 tacos (chicken or beef), and $1.25 chips & salsa.
Big Tony's Pizza (quick bite)
An Pho – Vietnamese (quick bite)
The Burger Joint (quick bite)
The attached 5 level parking garage holds room for over 2,600 vehicles. Per figures from the Missouri Gaming Commission, the Ameristar Kansas City is the most popular casino in the region, (based on total gaming revenue and number of admissions.)
Ameristar Kansas City Address, Phone & Website
3200 North Ameristar Drive
Kansas City, MO 64161
(816) 414-7000
Website: Ameristar Kansas City
Argosy Casino Hotel & Spa
The Argosy Casino Hotel & Spa opened back in 1994 as the Kansas City area's first riverboat casino. And it was a true riverboat too, floating up and down the Missouri River.
It's now permanently docked of course, on beautiful grounds just around 7 ½ miles northwest of downtown, or roughly a 12 to 20 minute drive.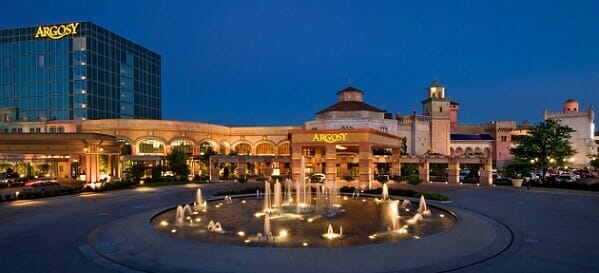 The 62,000 square foot casino has around 1,500 slot machines, and 37 table games. Attached to the casino is a 258 room hotel, spa, along with five restaurants, including a buffet.
Argosy Kansas City Address, Phone & Website
777 N.W. Argosy Casino Parkway
Riverside, Missouri 64150
(816) 746-3100
Website: Argosy Kansas City
Harrah's Kansas City
Part of the Caesars Entertainment chain of hotel/casinos, this resort is the second busiest casino in the area, and located 6 ½ miles northwest of downtown. It's normally just a 10 to 20 minute drive.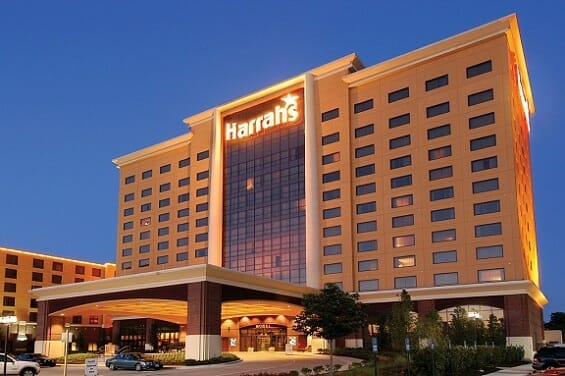 Here you'll find 1,500 slot machines/video poker machines, and 45-plus table games. They even offer 100x odds on craps! If you don't care for the live version, there are electronic versions of craps, blackjack and roulette.
Harrah's KC's 13 table poker room is plush, with 13 large plasma TVs. Promotions include both high-hand and bad-beat jackpots.
Their lineup of restaurants includes Gordon Ramsey Steak, Winning Streaks sports bar, the Bite & Bean coffee bar, and the Royal Noodle Bar. Harrah's Voodo Lounge concert venue has room for 1,200 guests.
And while it's only the third largest casino in the region, Harrah's KC boasts the largest hotel of the region's casinos, with 392 rooms.
Address, Phone & Website
One Riverboat Drive
North Kansas City, MO. 64116
(816) 472-7777
Website: Harrah's Kansas City
Hollywood Casino at Kansas City Speedway
The most distant of the six KC-area casino, the Hollywood Casino is across the border into Kansas, but still just 16 miles directly west of downtown.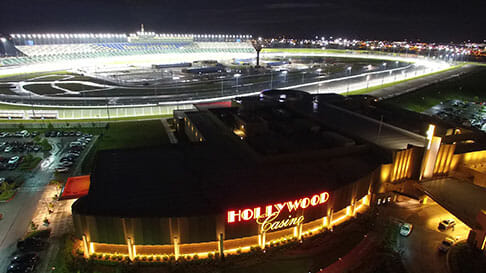 Just off of I-70 (the Kansas Turnpike), it would take you only around 20 to 25 minutes to drive.
Opened in February 2012, it's the second largest casino in the KC area, at 100,000 square feet of casino space, complete with 2,000-plus slot machine/video poker machines and 40 table games.
The 12 table poker room is back open and spreads $4/8 limit on up, and $1/3 no-limit Texas Hold'em and higher. There's high-hand and bad-beat promotions here as well.
The Hollywood Casino Kansas City does not have a hotel attached to the resort, just a 74,000 seat NASCAR race track, which hosts two big NASCAR events each year.
Dining options at Hollywood KC include the Final Cut Steakhouse, Marquee Cafe, and the Turn 2 Sports Bar & Restaurant.
Hollywood Casino Kansas City Address, Phone & Website
777 Hollywood Casino Boulevard
Kansas City, KS. 66111
(913) 288-9300
Website: HollywoodcasinoKansascity.com
Bally's Casino Kansas City
Currently the second smallest casino in the area, at just 38,000 square feet, the casino formerly known as the Isle of Capri Kansas City and briefly (Casino KC), has become Bally's Kansas City.
It has the benefit of being by far the closest casino to the city, at just 2 ½ miles northwest of downtown, or just a 5 to 10 minute drive.
The old riverboat casino still looks like a riverboat – complete with a moat-like setting on water south of the river, however that is about to change, as Bally's is undergoing a $61 million dollar transformation.
As part of the rebrand/remodel (which is expected to be completed in early 2022), there will be two new restaurants: a Sugar Factory, and a Chickie & Pete's Crabhouse and Sports Bar.
Bally's KC is open during construction. Amenities include a Baccarat and Blackjack lounge, the usual table game favorites like roulette and craps, (with bonus betting options on blackjack games), along with over 900 slots and video poker games.
Dining options include the 1800 Noodle Bar, and the fast-casual Tradewinds Marketplace.
Bally's Kansas City Address, Phone & Website
1800 East Front Street
Kansas City, MO, 64120
(816) 855-7777
Website: Bally's Kansas City
7th Street Casino
The only Indian casino among the six, it's just a fairly small, slots-only building (no table games).
The 20,000 square foot casino is on the Kansas side, tucked between a cemetery and some Wyandotte County government buildings.
Five hundred and seventy-five slot machines dot the property. I haven't personally been here, but they may be the bingo-style class II gaming machines found at Indian casinos, rather than traditional Vegas-style slot machines.
777 North 7th Street Trafficway
Kansas City, Kansas 66101
(913) 372-3500
Kansas City Casinos with Hotels
Here's a list of the casinos in the Kansas City area that have hotels attached to them.
Ameristar Casino Hotel Kansas City
Argosy Casino Hotel & Spa
Harrah's Kansas City
(By Steve Beauregard. Photos courtesy of Brian Whitmarsh via Flickr, the Argosy Hotel & Casino, Bally's KC via JCJ Architecture, Caesars Entertainment, VisitKC.com and each other respective casino's media page.).