Casinos Near El Paso, Texas – List & Map
Unfortunately for gambling-loving residents of El Paso, there aren't any legal casinos in town.
There are however, three casinos in Eastern New Mexico, including one just 15 minutes from El Paso in Sunland Park, New Mexico.
This racetrack/casino isn't like the ritzy Las Vegas-style casinos you may be used to, but the lack of any casinos in West Texas (or Texas at all for that matter), means this and the two other border casinos will have to do.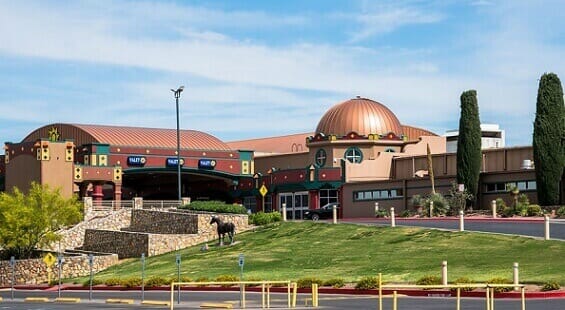 Besides this casino just east of El Paso, the only other two casinos are another racetrack/casino, along with a beautiful Indian casino/resort – both a two hour-plus drive north into the Sacramento mountains.
Sunland Park Racetrack and Casino (Yellow star on map)
The only legal casino close to El Paso, Sunland Park is a New Mexico casino located 8.3 miles northwest of downtown.
This equates to just about a 15 minute drive, which can extend to close to a half hour during rush hour.
Opened in 1959 as a horse racing track, slot machines were added in 1999 after legislation was passed in the New Mexico legislature allowing them.
(The stars on this map represent the closest casinos to El Paso)
The casino is fairly small, and smoky, but seems to do OK as it's the only game close to El Paso.
Sunland Park has just over 700 video slot machines. These include penny machines and some progressives.
There aren't any table games as most of us know them, however there are electronic versions of blackjack, roulette, and Ultimate Texas Hold'em.
Electronic blackjack has just $2 minimums, while roulette has a $1 minimum bet.
Sunland Park Racing
Thanks to good weather, horse races are run year-round here at Sunland Park, including their signature event, the Sunland Derby, held every spring.
There aren't daily races, and often times there will be a couple of weeks in-between races. A pleasant air-conditioned grandstand overlooks the track and the racetrack offers year-round off-track simulcast betting on races all over the United States.
While you only have to be 18 to bet on the ponies, you have to be 21 years to play in the casino.
Sunland Park Restaurants
Sunland Park's dinding options include the Jackpot Grill and the Turf Club.
The casino's Franklin's Lounge hosts free live music acts (mostly tribute bands), every weekend night.
Sunland Park also offers free shuttle service from four different locations in El Paso.
Next door to the casino is Sunland's modest, four-story detached hotel. It has 78 rooms and six suites. And while I've never stayed there, many reviewers complain about super-thin walls between the rooms.
Sunland Park Racetrack & Casino Address, Phone & Website
1200 Futurity Drive
Sunland Park, NM. 88063
Phone: (575) 874-5200
Website: Sunland-park.com
Directions to El Paso's Closest Casino
From downtown, you would take Interstate 10 to Sunland Park Drive. From there it's just ½ mile to the New Mexico state line, then another ½ mile to the racetrack and casino.
Right across the street is Western Playland, a modest amusement park with roller coasters and other rides.
Other Casinos by El Paso
Inn of the Mountain Gods Resort and Casino (Black star on map)
Located 132 miles north of El Paso, this drive would take you close to 2 ½ hours.
Once there, this beautiful, contemporary-looking resort set among the spruce and pine trees bordering Lake Mescalero seems a million miles away from the dry dessert landscaping of El Paso.
The 45,000 square foot casino has slot machines, live blackjack, craps, and roulette, and even a poker room. You can always check their website (there's a link to it below), but as of this update, games run Thursdays to Sundays. No-limit and Limit Texas Hold'em are spread here, ranging from $3/6 limit to $5/$10 NL, and even Omaha.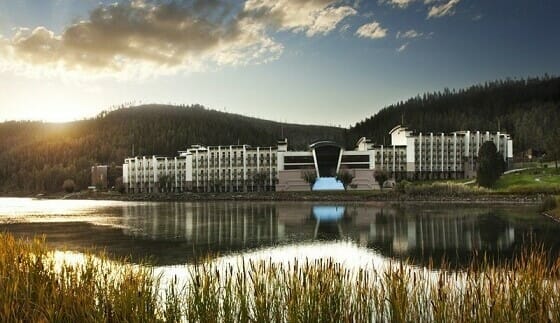 Located next to the Big Game Sports Bar, the newer William Hill Sportsbook has betting kiosks and twelve big TVs.
There's a comedy club, large hotel, entertainment venue, a zip line, meeting space, and several restaurants, including the Market at the Mountain food court. The Apache Tee 18 hole championship golf course is laid out in a beautiful setting.
Address & Website:
287 Carrizo Canyon Road
Mescalero, New Mexico 88340
(800) 545-9011
Website: Innofthemountaingods.com
Casino Apache Travel Center
Technically a separate casino, the Inn of the Mountain Gods has a satellite casino just over a mile away on Highway 70, called the Casino Apache Travel Center.
This combination gas station/casino has slot machines, video poker machines, and a small selection of table games with limited hours. There's also the Red Hat Grille.
Ruidoso Downs Racetrack & Casino (Red star)
Driving five miles north of the Inn of the Mountain Gods Casino on Highway 70 takes you to the only other casino within reasonable driving distance of El Paso, Ruidoso Downs Racetrack & Casino.
This makes it 137 miles from downtown El Paso. Again, about a 2 ½ hour drive.
As its name implies Ruidoso Downs has live horse racing. The season runs from Memorial Day to Labor Day, however they offer OTB simulcast racing from other tracks all year long.
Next to the grandstand is the Billy the Kid Casino – that rare casino to have limited hours of operation.
Gambling here is available starting at 10 in the morning, and going until 11 PM on weekdays, and until Noon on weekends. Hours can be shorter in winter months, or an hour longer in the summer months.
There aren't table games in this small, dark casino – just 300 video slots, including electronic versions of blackjack.
Between the horse track and the casino, there are three dining options, two of which are only available during racing.
There is not a hotel at Ruidoso Downs.
Other
This list does not include a Native American gaming parlor in El Paso that seems to be in constant legal limbo.
Called Speaking Rock Entertainment Centre, this non-descript building on Tigua tribal land is 14 miles southeast of downtown El Paso.
The tribe and the State of Texas are in a perpetual court battle regarding the games offered. In February of 2022, the case was heard by the United States Supreme Court. As such, this is the only "casino" that doesn't mention anything about having slot machines on their website nor social media sites.
(Related: Casinos near San Antonio)
They have a restaurant, and bars, and free concerts, but this may be the least appealing "casino" you'll ever visit.
The Speaking Rock Entertainment Centre has a bunch of video psuedo-slots they have called "sweepstakes validation machines," which are bingo-style slots, rather than the traditional slots you'll find in Las Vegas and at most casinos.
There isn't any video poker here, nor are there aren't any table games.
Please also note that this list of the closest casinos to El Paso does not include casinos across the border in Ciudad Juarez.
There are, however, three casinos in this Mexican city of over 1.3 million residents. In addition to slots, some of these three have live craps, poker tables, and sports books.
(By Steve Beauregard. Photo courtesy of the city of Sunland Park, NM and the Inn of the Mountain Gods Resort and Casino)