Casinos Near San Antonio, TX. – Closest One, Map & Directions
Because there's a lack of legalized gambling in the Lone Star State, San Antonio residents and visitors will have a long trek if they want to play slots or hit the blackjack tables.
There is an electronic gaming-only casino located 149 miles away on the Mexican border, (more on that below).
There are also casino cruises available from Corpus Christi, however those wanting a real casino environment with real slots, video poker, table games, entertainment, nice restaurants and the like will have to venture 366 miles east, to Lake Charles, Louisiana.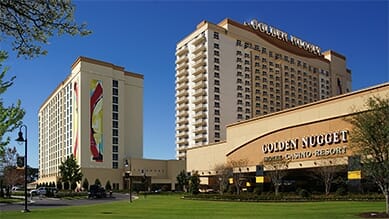 Casinos Near San Antonio
Lake Charles, Louisiana
This industrial town in western Louisiana is home to three very nice Las Vegas-style casinos, and is a mecca for Texas gamblers. It's estimated that 80% of all visitors to Lake Charles are from Texas. The town is also home to the closest casinos to Houston.
The three casinos are the L'Auberge, the Golden Nugget, and the Isle of Capri (soon-to-reopened as the Horseshoe Lake Charles in the fall of 2022). All three offer thousands of slots, along with table games, plenty of bars and restaurants and entertainment options.
(Below is the route from downtown San Antonio to the casinos in Lake Charles, Louisiana)
The L'Auberge and Golden Nugget each have over 1,000 hotel rooms and over 1,600 slot machines. The two resorts are connect via a walkway and both have adjoining championship golf courses. Either of these two luxurious resorts would fit in perfectly on the Las Vegas Strip.
Drive from San Antonio to the Closest Casinos in Lake Charles
A drive from San Antonio to Lake Charles will take between 4 ½ hours on the low end, up to six hours and a half hours if you get caught in bad Houston traffic.
The Other Closest Casinos to San Antonio
(The Yellow Pin represents the Lake Charles Casinos, the Orange pin is the WinStar Casino, while the Blue Pin is the Kickapoo Lucky Eagle Casino)
WinStar World Casino & Resort
At 341 miles from San Antonio, the WinStar World Resort & Casino on the Texas/Oklahoma border is just 5 miles further away than the Lake Charles casinos, however the drive takes longer.
The WinStar is the biggest casino in the United States.
According to Google Maps, your very best case scenario is a 4 hour and 40 minute drive, however it's much more likely to be in the five to six hour drive range.
(Related: Closest Casinos to El Paso, Texas)
You'd simply take I-35 all the way north, but between traffic in Austin and Fort Worth, it can be up to a 7 hour drive. This drive factor makes Lake Charles a more popular option for most San Antonio gamblers.
Speaking of drive..
Kickapoo Lucky Eagle Casino & Hotel
This Indian casino, (and the only casino in all of Texas), is, technically, the closest casino to San Antonio, at just 149 miles to the south and west, by the small town of Eagle Pass, Texas.
We don't list it as the closest in that it's not the Las Vegas style casino most of us have come to expect. Although popular with many San Antonians, this casino doesn't have table games, nor do they have traditional slot machines and video poker machines. They have machines that look and sound like slots, however they are the class II style electronic bingo games allowed on some Indian casinos.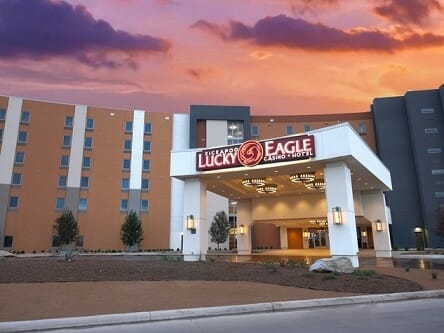 Google Maps estimates it takes (on average) between 2 hours 20 minutes to 2 hours 40 minutes to drive from downtown San Antonio to the Lucky Eagle Casino.
Built in 1996 and added onto in 2013, the casino hotel has bingo (five days a week, Wednesday – Sunday), 3,000 electronic gaming machines, but no table games. There is, however a poker room.
The Lucky Eagle Poker Room spreads $1/2 to $5/10 no-limit hold'em, as well as limit hold'em games ranging from $3/6 up to $15/30. There are Bad Beat Jackpots. The room is open everyday of the week, starting at 2 PM.
The six-story hotel has 249 guest rooms. Six restaurants and a food cart dot the property, and the restaurant lineup includes Mexican (naturally), a steakhouse and a buffet. There are also three bars/lounges.
Lucky Eagle Casino Address, Phone & Website
794 Lucky Eagle Drive
Eagle Pass, TX. 78852
(888) 255-8259
Website: Luckyeagletexas.com
One final note, there are some Louisiana casinos on I-10 close to the Texas border that are closer to San Antonio than the Lake Charles casinos mentioned above, however all of these (including Delta Downs) are slot-only casinos. Most are tiny buildings and not really traditional casinos and are therefore not discussed here.
(By Steve Beauregard. Photos courtesy of the Golden Nugget Hotel & Casino Lake Charles and the Kickapoo Lucky Eagle Casino)