Casinos Near Fresno, CA – Map & List
Of the 41 casinos in Northern California, the Fresno area is home to four of them.
These four casinos are all within 40 minutes of downtown. And to be clear, we're talking about casinos with slot machines. Three of these casino have table games as well.
In addition to Fresno's four-area casinos, there are two card rooms.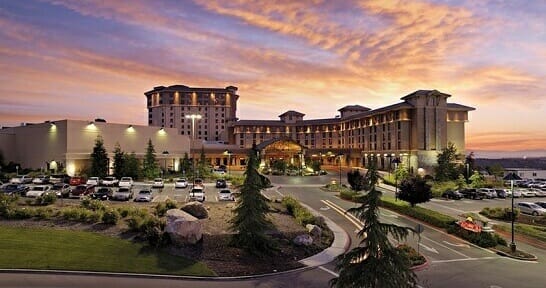 Here's a look at the four casinos near Fresno, in order of proximity from downtown. Information on the two cardrooms is further below.
Table Mountain Casino (Black star on map)
Located 25 miles to the northeast, the drive from downtown Fresno is typically just over a half-hour, with that time extending to closer to an hour during either rush hour or construction delays.
This is a casino only (no hotel), but that is about to change. There is a new 600,000 hotel/casino complex under construction that is expected to open later in 2022.
The new resort will have a 14 story hotel tower, 110,000 square foot casino floor, more slot machines, parking, restaurants and more.
Currently, the existing building has 2,000 machines. The casino's lineup of 18 table games includes Casino War, Fortune Pai-Gow, Ultimate Texas Hold'em and mini-baccarat, amonth others.
In addition to the table games, Table Mountain spreads limit and no-limit games in their 10 table poker room, along with weekly tournaments and some splash-the-pot type of promotions.
The bingo hall seats 700 players.
Table Mountain's three dining options are the Mountain Feast Buffet, the Eagles Landing restaurant, and the TM café. A concert venue hosts some pretty big name acts, (such as Peter Frampton), and there's also the Eagle Springs 18 hole golf course available nearby.
Eighteen year-olds on up can gamble here, however keep in mind that alcohol is not available anywhere at this casino.
Table Mountain Casino Address, Phone & Website
8184 Table Mountain Road
Friant, CA. 93626
Phone: (559) 822-7777
Website: TMCasino.com
Lastly, while Table Mountain used to offer bus service from various points around Fresno and Clovis, that service is not in operation as of this March 2022 update. Typically you would ay $5 to ride, but get $10 in free play at the casino.
Chukchansi Gold Resort & Casino (Green star)
Perhaps the most "Las Vegasy" of the Fresno-area casinos, Chukchansi is located 35 miles north of downtown Fresno, and fairly close to Yosemite National Park. The drive up on Highway 41 to the resort typically takes between 40 minutes to close to an hour during Friday afternoons.
With a mountain lodge look and feel, Chukchansi is an impressive-looking 400-plus room resort, complete with numerous restaurants, a spa, entertainment options and an indoor/outdoor pool.
The 73,000 square foot casino floor boasts 2,000 slot machines, and over 100 video poker machines.
(Each star represents either one of the four casinos or two poker rooms)
No bingo or poker room here (nor craps), however there are 40 table games, including Mini-baccarat, Pai-gow, etc. In addition to blackjack, there's "Richer Roulette," which is basically traditional roulette without the ball.
There's a pavilion for big-name concerts outside, while inside, the Firehouse lounge has live music and comedians.
Chukchansi's lineup of restaurants include a steakhouse, noodle bar, Italian restaurant, diner, and standard casino café. In addition to these six full service restaurants, there is both a bakery and a coffee shop.
Chukchansi Gold Resort & Casino Address, Phone & Website
711 Lucky Lane
Coarsegold, CA 93614
Phone: (866) 794-6946
Website: Chukchansigold.com
You have to be 21 or older to play at Chuckchansi Gold Resort & Casino. And as with Table Mountain, bus service is not offered as of this update.
Tachi Palace Hotel & Casino (Red star)
Tachi Palace is situated 39 miles south off of Highway 41 in Lemoore, or about a 45 minute drive.
There are two casinos inside here, Casino of the Moon, and Casino of the Sun, and they combine to have 145,000 square feet, 2,000 slot machines and 25 table games.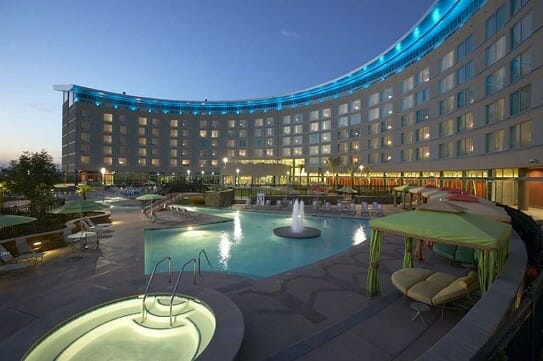 These include blackjack, Spanish 21 and the like. Craps and roulette are not offered here. It appears the poker room is no more, however there is live bingo.
The 255 room hotel has a pretty and heated pool area, along with a spa and fitness center. There is also 6,000 square feet of meeting space available.
As for restaurants, you'll find the Pork Chop Hill Buffet, and Coyote Grill for sit down full service meals, and a coffee stand, hot dog stand and a Pizza Hut Express for more fast food type of meals.
The Koy'Wae' Lounge has live music on weekends, while bigger name acts perform in Tachi's outdoor concert area.
Tachi Palace Hotel & Casino Address, Phone & Website
17225 Jersey Ave
Lemoore, CA 93245
(800) 942-6886
Website: TachiPalace.com
Please note that you have to be 21 years or older to play in the casino, but just 18 to play bingo.
Mono Wind Casino (Brown star)
This is a tiny slots-only joint 39 miles northeast of Fresno. This equates to about a 45 minute drive. There's not a whole lot at Mono Wind, other than 300-something slot machines and their Broken Arrow restaurant.
Mono Wind Casino Address & Phone
37302 Rancheria Lane
Auberry, CA. 93602
Phone: (559) 825-4480
Card Rooms/Poker Rooms in Fresno, CA
Those of you who prefer poker or table games to the slots are fortunate to have two cardrooms in town.
Club One Casino (Orange star)
The Club One Casino used to be downtown, but moved to northeast Fresno. It has a large poker room, table games, and even simulcast horse race wagering.
Club One Casino boasts of having 51 tables, but not all of these are poker tables. They do spread several Texas Hold'em games, starting at $1/1 no-limit and $2/4 limit along with both Omaha and Omaha Hi-Lo.
Their selection of table games includes blackjack, a BJ variant called No Bust Blackjack, Spanish 21, 3 Card Poker, and Fortune Pai Gow with a progressive (among other games). It's open 24 hours a day.
Address & Phone
3950 N Cedar Ave
Fresno, CA 93726
(559) 497-3000
500 Club Casino (Purple star)
Seven miles northeast of downtown Fresno in Clovis, the 500 Club is just east of the Fresno State campus.
The restaurant/bar/cardroom has around 12 poker tables, on which they spread low limit hold'em ($4/8 limit last time I checked), low limit Omaha, and $1/3 no-limit hold'em seven days a week. Higher limits are spread on fewer nights.
Table games include Blackjack, Spanish 21, Fortune Pai Gow, Ultimate Texas Hold'em, 3 Card Poker, and EZ Baccarat.
Address & Phone
771 W. Shaw Avenue
Clovis, CA. 93612
(559) 299-9951
Casinos Near Madera, CA.
At just 25 miles due east, Table Mountain is the closest casino to Madera. Chukchansi Gold Resort & Casino is 31 miles from Madera.
Other
Since there are two good poker rooms in Fresno, we're not focusing on more distant ones too much here, however there is another card room 35 miles south east in Visalia.
Called the Deuce Lounge & Casino, it's a hole in the wall place with four tables, and a restaurant and bar.
(By Steve Beauregard. Photos courtesy of the Chukchansi Gold Resort & Casino and the Tachi Palace Casino)