Casinos in Northern California: List of Indian Casinos with Map
Of the 66 casinos in California, 43 of them are located in Northern California.
We're talking about casinos with slot machines. Most of these 43 Indian casinos have table games like blackjack and poker as well.
In addition to this list of forty-three casinos, there are numerous card rooms in Nor Cal. However card rooms mostly just cater to poker players, and they aren't allowed to have slots or video poker machines.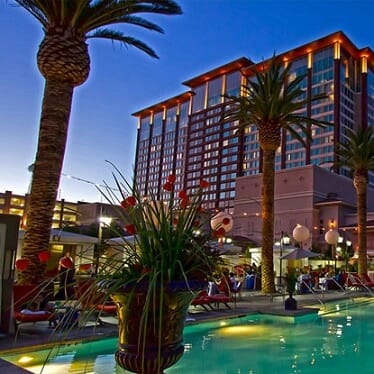 Although there is no official government designation, Northern California is generally understood as consisting of the state's 48 northernmost counties.
Start at San Luis Obispo on the coast, and draw a line east to Bakersfield and then on further east to the Nevada border. For the purposes of this article, everything above that is considered Northern California.
Indian Casinos in Northern California
There are casinos spread throughout Northern California, from casinos just south of Fresno, all the way north to the California/Oregon state line.
They range from luxurious resorts with golf courses, beautiful hotels, fine restaurants, and thousands of slot machines, to tiny road-side joints with just a few slots situated in small pre-fabricated buildings. One of these casinos is actually a truck stop with some slots.
(Here's a map showing you all 43 casinos in Northern California)
Because Indian casinos have to be on, well, Indian land, there aren't all ideally located in terms of population.
For example, tiny Bishop, California, with less than 4,000 people, has a casino, while San Francisco does not. And there are four casinos near Fresno, whereas San Jose, (twice its population), has none.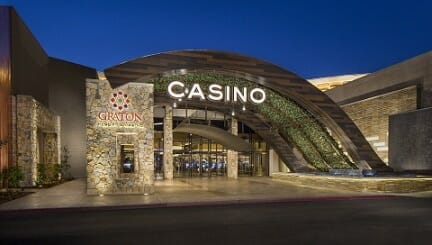 Nevertheless, you will find a casino within a short driving distance from almost all areas of Northern California.
The Sacramento area is one metropolitan with a bounty of nearby gambling dens. The seven casinos near Sacramento include some of the largest in the state including a newer one, the Sky River Casino, that opened in August of 2022. And all are within 50 miles of the city's core.
Biggest Casinos in Northern California
The largest casino in Northern California is the Thunder Valley Casino Resort in Lincoln. This resort, located 30 miles east of Sacramento, has received the AAA Four Diamond Award for six years in a row.
The resort's 17 story hotel tower has 408 rooms. There is a beautiful pool area, 12,000 square foot spa, 4 restaurants and a food court, a 2,000 seat concert venue, along with a 5,000 seat amphitheater.
The casino itself, is one of the largest in all of the USA, with nearly a quarter-million square feet of casino floor space. In addition to 3,500 slot machines and 110 table games, Thunder Valley has a poker room and 800 seat bingo hall.
Other major casinos in the northern part of the Golden State include:
Graton Resort and Casino – With 3,000 slot machines, it is the 3rd biggest casino in California (based on number of gaming machines). The $800 million dollar resort also has over 100 table games, a spa, and a room hotel.
Cache Creek Casino – Forty-six miles northeast of Sacramento, it has 2,400 slot machines, 122 table games (including the 14 table poker room), a new 659 room hotel, 9 restaurants, and an 18 hole golf course.
Table Mountain Casino – Just 25 miles from Fresno, Table Mountain has 2,000 slot machines, 40 table games, a ten-table poker room, and a 700 seat bingo parlor.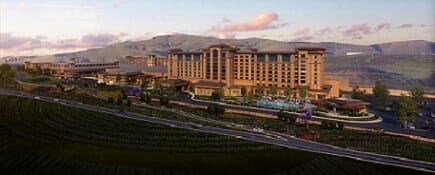 Tachi Palace Casino – In between Fresno and Bakersfield, this huge casino rises up from seemingly nowhere.
At 140,000 square feet of casino gaming space, it's one of the state's largest casinos, even though a lot of that square footage is part of the bingo hall. The casino also has 2,000 slot machines, and 33 table games, including a small 7-table poker room. The curved seven-story hotel boasts 255 rooms, a spa, entertainment venues and bars.
Full List of Northern California Casinos
Here's a list of the 42 Indian casinos in Northern California, followed by their respective locations:
Bear River Casino Hotel – Loleta, CA
Black Oak Casino – Tuolumne
Blue Lake Casino & Hotel – Blue Lake
Cache Creek Casino Resort – Brooks
Cher-Ae Heights Casino – Trinidad
Chicken Ranch Casino – Jamestown
Chukchansi Gold Resort & Casino – Coarsegold
Colusa Casino Resort – Colusa
Coyote Valley (Shodakai Casino) – Redwood Valley
Desert Rose Casino – Alturas
Diamond Mountain Casino & Hotel – Susanville
Eagle Mountain Casino – Porterville
Elk Valley Casino – Crescent City
Feather Falls Casino & Lodge – Oroville
Garcia River Casino – Point Arena
Gold Country Casino & Hotel – Oroville
Graton Resort & Casino – Rohnert Park
Hard Rock Hotel & Casino Sacramento at Fire Mountain – Wheatland
Harrah's Northern California – Ione
Hidden Oaks Casino – Covelo
Jackson Rancheria Casino & Hotel – Jackson
Konocti Vista Casino – Lakeport
Lucky 7 Casino – Smith River
Lucky Bear Casino – Hoopa
Mono Wind Casino – Auberry
Pit River Casino – Burney
Rain Rock Casino – Yreka
Red Fox Casino – Laytonville
Red Hawk Casino – Placerville
Redwood Hotel and Casino – Klamath
River Rock Casino – Geyserville
Robinson Rancheria Resort & Casino – Nice
Rolling Hills Casino – Corning
Running Creek Casino – Upper Lake
Sherwood Valley Rancheria Casino – Willits
Sky River Casino – Sacramento
Table Mountain Casino – Riverside
Tachi Palace Hotel & Casino – Lemoore
Thunder Valley Casino Resort – Lincoln
Twin Pine Casino & Hotel – Middletown
Wanaaha Casino – Bishop
Win-River Casino – Redding
Notes
*** The Hidden Oaks Casino in Mendocino County is no longer on the official list from the California Gaming Commission, however as of this update in 2021, it is still apparently in operation.
(Related: Casinos in Southern California)
*** The Sho-Ka-Wah Casino in Hopland counts among the 42, as it still has an active license. However the casino closed in 2018 due to the wildfires. A planned re-opening still has yet to be announced.
*** Lastly, there are some slot machines at a gas station in Independence, California. Called the "Winnedumah Winn's Casino," this casino is not on California Gaming Commission's website however.
(By Steve Beauregard. Photos courtesy of the respective resort's press rooms)