Casinos Near Sacramento & Map
California's capitol city is a mecca of sorts for gambling, as there are seven casinos within easy driving distance of Sacramento, including a new one just 18 miles south of downtown.
There are 41 casinos in Northern California, meaning the Sacramento area is home to 14% of NorCal's casinos.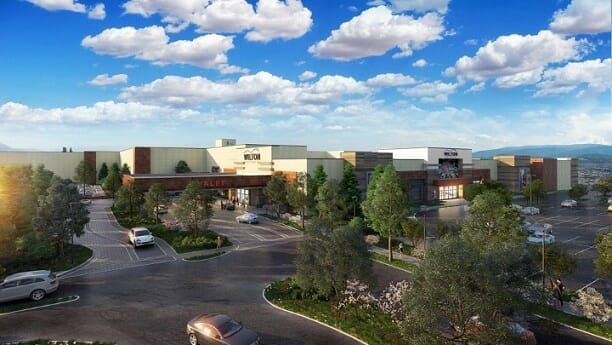 You should note that in addition to the seven casinos, there are ten card rooms within a 20 mile radius of downtown.
Sacramento Casinos
However here we're just talking about Indian casinos, which – unlike card rooms – have slot machines, video poker machines, craps tables, and the like.
As you can see from the map below, these seven casinos are spread out to the north and outskirts of Sacramento.
Here's a little more information on each of the six Sacramento-area casinos, in order of their exact driving distances as measured when starting from the Sacramento city hall downtown:
Sacramento Casinos Map
(Each colored star represents one of the 7 Sacramento-area casinos.)
Sky River Casino
In late August 2022, The Wilton Rancheria Tribe opened their spacious 1/2 billion dollar, 300,000 square foot casino on land just off Highway 99 and Grant Line Road in Elk Grove. It is the closest casino to Sacramento – at a distance of just 18 miles south of downtown.
With a 100,000 square foot gaming floor operated by Boyd Gaming, Sky River's casino boasts 2,000 slot machines/video poker games including all of the favorites, (Cashman, Cleopatra, etc.), and 80 table games including blackjack, roulette, baccarat and the like, along with electronic versions of these games.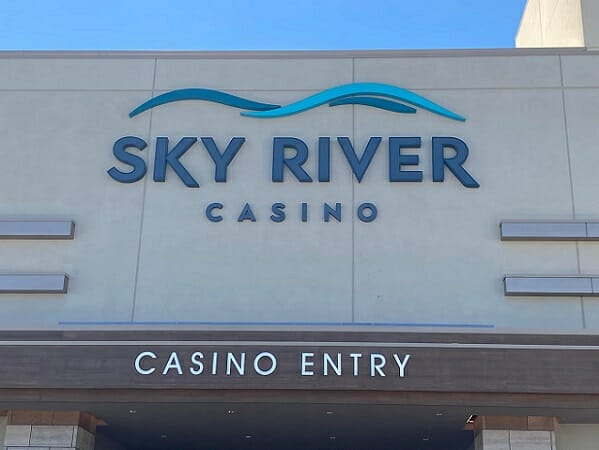 There's even two live craps tables with real dice (which you don't usually see in California). The electronics craps was $3 minimum versus the $25 minimum on a weekend night. There isn't a poker room.
The Market at Sky River is a beautiful food court area that is clearly a step above your typical casino food court, not just in selection, but atmosphere too.
There is hanging foliage and a contemporary décor. Your choices include Sky River Java, Aurelia's Taqueria, Butcher's Burger, CA99 Hot Chicken, Fukuro by Kru (contemporary Japanese), Chickie's Pizzeria, Global Eats (a rotating menu with dishes from France to Greece to Switzerland to Indonesia and all points in-between), Koi Palace Express, Ocean (seafood favorites), Roli Roti, (described as "America's first gourmet rotisserie food truck," and lastly, The Upper Barrell wine lounge, and Desserts, which serves, (you guessed it), a variety of soups. Just kidding. They serve Gunther's ice cream and pies.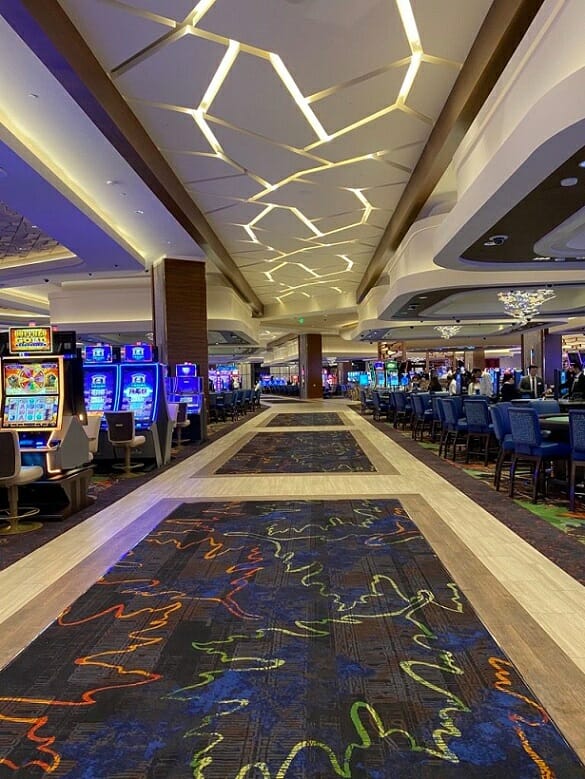 Other dining options include the Thirty-two Brews Street Gastropub with a nice upscale lounge and huge TV wall for sports, SR Prime Steakhouse, and Dragon Beaux (Chinese). Sorry, there isn't a buffet at the Sky River Casino. Hopefully that will change.
As of this writing, the parking garage is not built, so parking is all on the surface lots, which is beautifully landscaped. There are Chargepoint EV stations here.
You have to be 21 or older to gamble at Sky River.
Sky River Casino Address, Phone & Website
1 Sky River Pkwy
Elk Grove, CA 95757
(916) 866-0200
Website: Skyriver.com
Thunder Valley Casino Resort
One of the largest of the 66 casinos in California, Thunder Valley is the second closest casino to Sacramento.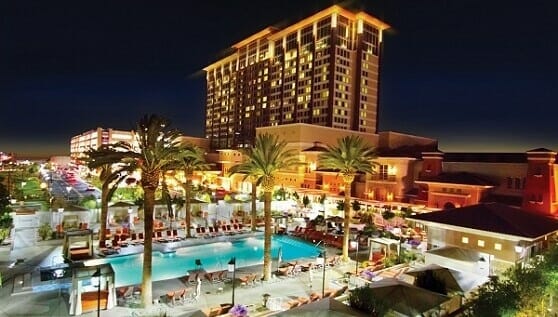 It's also the biggest. The Auburn Journal reports the Lincoln casino sees 16,000 customers per day. The casino has 3,500 slot machines/video poker machines, and 110 table games. The resort claims it has 250,000 square feet of gaming space, making it one of the country's biggest casinos.
There is also a bingo room with room for 800 players, and a beautiful 50 table poker room that plays host to World Series of Poker satellite events, as well as nationally televised tournaments, such as the Heartland Poker Tour and the World Poker Tour.
In addition to an ultra lounge, standard casino bars and a pool bar, there are three sit-down restaurants, a buffet, and a food court that has six options, including a Peet's Coffee, Pizza Hut Express, Fatburger and Panda Express.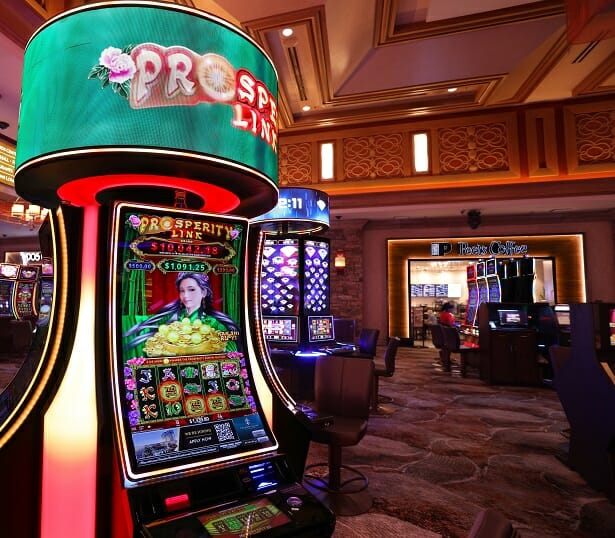 On the entertainment side, Thunder Valley has three venues: a lounge band type of stage, a 2,000 seat indoor venue, and a 5,000 seat outdoor amphitheater.
The Venue at Thunder Valley is a 4,5000 seat indoor stadium currently under construction at a cost of $100 million dollars. It's expected to be completed in early 2023. Thunder Valley's 17 story hotel tower has 408 rooms.
Address, Phone & Website

1200 Athens Avenue
Lincoln, CA. 95648
(877) 468-8777

Website: ThunderValleyResort.com
Hard Rock Hotel & Casino Sacramento at Fire Mountain
The Hard Rock Sacramento Fire Mountain opened in October 2019.

It's located 36 miles due north of Sacramento, near Wheatland, just south of Yuba City.
Built at a cost of $450 million, the resort boasts 1,587 slot machines, 57 table games, and the loud party-vibe the Hard Rock casino chain in known for. You'll find all of the favorites here, including blackjack, roulette, mini-baccarat and California craps.
You won't however, find a poker room. Nor is there a sports book of course, as sports betting is still not allowed in the Golden State.
The 300,000 square foot resort includes a 170 room hotel, a pool, 8,500 square feet of convention space, bars, spa, and six restaurants, ranging from a pricey steakhouse to the Fresh Harvest Buffet, and of course, a Hard Rock Cafe.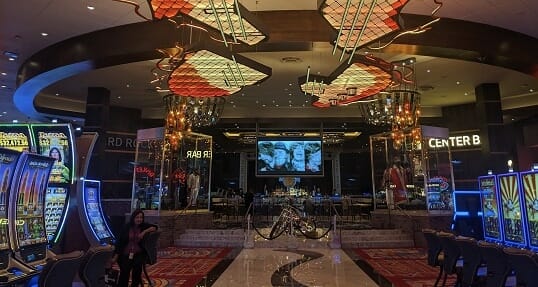 In addition to live music at bars, the resort opened up the new Hard Rock Live 2,500 seat venue in 2022. The HRC Sacramento at Fire Mountain also has partnered with the Toyota Amphitheater just a tad over a mile down the road.
Address, Phone & Website

3317 Forty Mile Road
Wheatland, CA. 95692
(833) 337-3473

Website: https://www.hardrockhotels.com/sacramento
Red Hawk Casino & Resort
Located north and east of Sacramento on Highway 50 in Placerville, the Red Hawk is 37 miles away. It has 88,000 square feet of casino floor space. It's full of 2,500 slot machines, 75 table games, which includes tables in their poker room.
Red Hawk says that they have $5 minimum black jack games – even on weekends!
While it does not have a hotel, the Red Hawk has 4 sit down restaurants. Red Hawk Casino's buffet, called the Koto Buffet, has a very popular Friday and Saturday night seafood buffet.
They even have a kid's play area, in which they offer baby sitting for kids from 6 weeks of age to 12. Currently the resort is nearing the completion of a 5-story hotel tower, and entertainment center, which will have a bowling alley, sports bar, golfing simulation bays, and an elaborate indoor go-kart track.
Address & Phone

1 Red Hawk Parkway
Placerville, CA. 95667
(888) 573-3495
Cache Creek Casino & Resort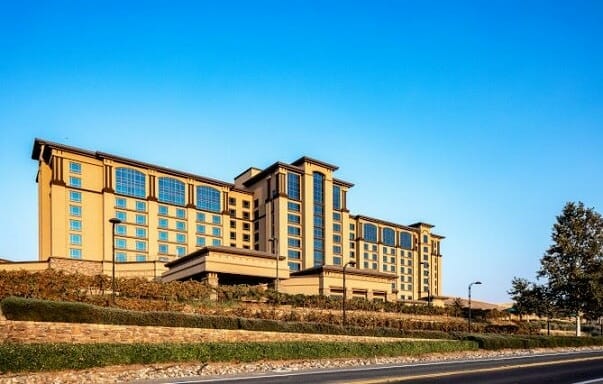 The only casino east of town, Cache Creek Casino is a growing resort 46 miles away in Brooks, California.
The resort sets on a beautiful acreage, across from vineyards. There's even some grapes growing on open space in front of the resort.
Popular with residents of San Francisco and Sacramento alike, Cache Creek recently completed a $200 million dollar expansion, which brought the hotel's room count to 659 rooms.
(Related: Distance and Drive from Sacramento to Las Vegas)
The casino itself is plenty big as it stands, with 94,000 square feet of casino floor space, 2,400 slots and video poker machines, and 122 table games, (this includes the resort's 14 table poker room).
Cache Creek has four sit-down restaurants, a buffet, and four counter-style to-go restaurants.
Cache Creek's golf course, Yocha Dehe Golf Club, sits just a few hundred feet to the east of the casino, but is not your typical casino golf course. Golfing publications give it very high marks. In fact, in 2015, GolfAdvisor.com ranked it the number one public course in the country.
Cache Creek Address, Phone & Website

14455 Highway 16
Brooks, CA. 95606
(530) 796-3118

Website: CacheCreek.com
Jackson Rancheria Casino Resort
The second most distant of the Sacramento-area casinos, the Jackson Rancheria Casino Resort sits around 51 miles southeast of downtown in, well, Jackson, California.
Seventeen hundred slots and video poker machines dot the resort, along with 32 table games (blackjack, mini-baccarat and all the usual favorites), and a six table poker room.

There are four restaurants, an 1,800 seat outdoor event area that plays host to concerts and MMA fights, and an indoor ballroom with concert seating for 800.
Jackson Rancheria has an 86 room hotel and a popular 100 spot RV park nearby with free, 24 hour a day shuttle service to and from the casino.
Address, Phone & Website
12222 New York Ranch Road
Jackson, CA. 95642
(800) 822-9466
Website: JacksonCasino.com
Harrah's Northern California
Opened in April of 2019, Harrah's Northern California is located to the southeast of Sacramento, near Ione, California. It's about an hour's drive from downtown Sacramento, (53 miles).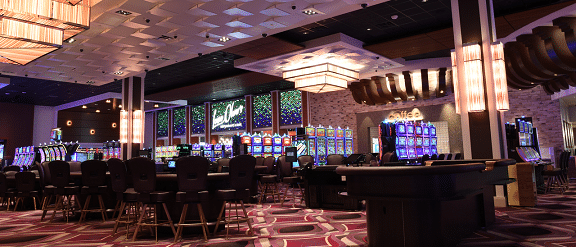 The 71,000 square foot casino has 950 slot machines, and 20 table games. In addition to three quick-service restaurants, there is one full service restaurant. There's not a hotel here, nor are there entertainment venues.
Address, Phone & Website
4640 Coal Mine Road
Ione, CA 95640
Phone: (866) 915-0777
Website: Harrah's Northern California
Sacramento Casino FAQ
By Steve Beauregard (Photos courtesy of each respective casino, except for Cache Creek, which comes from the city of Vallejo.)