Distance from Sacramento, CA to Las Vegas – Driving Time & Directions
While there are six casinos by Sacramento to scratch a gambling itch, nothing can compare to the fun-filled excitement of a visit to Las Vegas.
Fortunately, residents of the Golden State's capital city can get to Las Vegas in just a day's drive.
Albeit a long day's drive.
In fact, it is 558 miles (or 898 kilometers) from Sacramento to the Las Vegas Strip.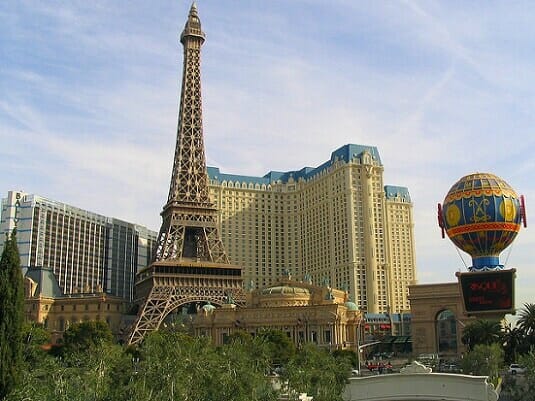 Under normal driving conditions, it would typically take you between 8 and 9 hours to get there (without long stops for eating).
Google Maps estimates this trip can take up to close to 11 hours when leaving at the least optimal time (around 3:30 or so on a weekday afternoon).
(Below you'll find the fastest driving route from Sacramento "A" to the Bellagio "B" on the Las Vegas Strip)
There are other, more scenic ways to get to Sin City (more on that below), but this is the quickest way if you're just looking to get there as soon as possible.
The drive is a straightforward one south through the Central Valley on Highway 99 (or officially "State Route 99.")
You'll drive through Elk Grove, bypass Stockton, and go through other Central Valley towns like Modesto, Merced, and Fresno before reaching Bakersfield.
From Bakersfield, California, it's a 131 mile drive east to Barstow, where you'll hop on Interstate 80 for the final 153 mile stretch to the Las Vegas Strip. This last leg typically takes 2 to 2.5 hours, but will seem a lot longer due to the fact you're itching to get to Las Vegas, and because you've already been in the car for six hours.
One last note, as you'll see on the map, Interstate 5 parallels Highway 99 to the west. You may think this is a faster option, however going this way adds 27 miles to trip (or 54 miles roundtrip). And although it is Interstate, you don't save any time taking I-5.
Alternative Scenic Drive from Sacramento to Las Vegas
Sacramento and Las Vegas are separated by no less than four National Parks (Sequoia, Kings Canyon, Yosemite, and Death Valley), not to mention several more national forests. All of this is to say there are a multitude of much prettier routes available.
All of these, however, will take a lot more time and call for an overnight stay of one night (at least).
In addition, many of the roads you would take to cross the parks are closed in the winter.
Sacramento to Las Vegas via Reno
The other major route from Sacramento to Las Vegas does stay open all year long.
It would have you going a little north and east on Interstate 80 to Reno, before heading south on Highway 95 all the way into Las Vegas.
This drive is 583 miles, or 939 km. Although just 25 miles longer than the Highway 99 route shown above, this way takes between a half-hour to over an hour longer to drive.
This is because a good portion of the drive will take place on Highway 95 in Nevada – a desolate two-lane road with lots of curves – whereas the Golden State Highway (Highway 99) used above, is a 4 lane, sometimes 6 lane highway that is basically a straight shot south.
This drive is much more scenic however. Instead of miles of flat farmland and dessert, this drive has you at, or near Donner Pass and Lake Tahoe, along with with other views of lakes and mountain ranges. But there's plenty of flat, nothingness dessert as well.
Distance from other Sacramento-area towns to Las Vegas
These represent the distances using the fastest routes from the downtown area of each city to the Bellagio in the center of the Las Vegas Strip.
Davis – 571 miles
Elk Grove – 544 miles
Folsom – 576 miles
Rancho Cordova – 568 miles
Rocklin – 577 miles
Roseville – 574 miles
Woodland – 578 miles
Yuba City – 601 miles
Flight Distance from Sacramento to Las Vegas
At 397 miles flying distance, it's just a one hour, twenty minute flight to Las Vegas from Sacramento (that includes time spent to taxi on the runway).
From Sacramento International Airport, there are over 50 direct flights to Las Vegas each week. All of them via Southwest Airlines, which runs 6 to 8 flights to Sin City each day.
(By Steve Beauregard. Photo courtesy of Ken Lund via Flickr).