Red Hawk Casino Buffet Price & Hours 2023
The Red Hawk Casino Buffet, called the Koto Buffet is open six days a week and offers a very reasonably-priced weeknight dinners and Sunday brunch.
Compared to many casino buffets I've visited, where the buffet is stuck in a dark back corner, Red Hawk Casino's buffet is that rare casino restaurant to be open and airy, boasting tall windows that offer sweeping views of the foliage and hillside below.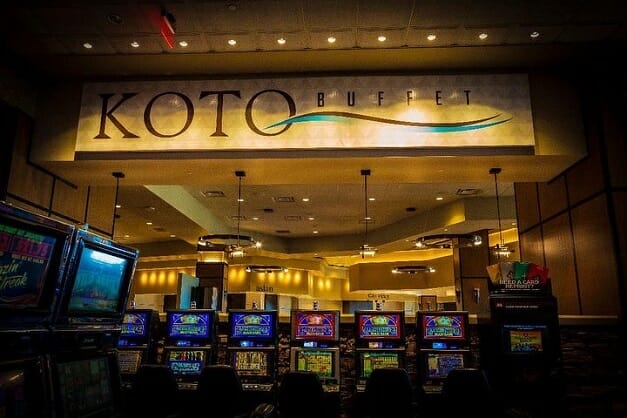 Friday nights and Saturday nights are home to their popular Seafood Buffet.
The Red Hawk Resort & Casino is one of seven casinos near Sacramento, located just 37 miles northeast of downtown in Placerville.
Red Hawk Casino Buffet
Opened in February 2022, the Koto Buffet is located down the escalator and to your left. The wood contemporary decor boasts high ceilings, circular lighting, and lots of light, thanks to the aforementioned windows. There is both booth and table seating.
It's all self-service here, including getting your own drinks (they have Pepsi product dispensers – both here in the buffet and on the casino floor). There are bussers, however, who go around, taking your empty plates and such.
This is a very popular buffet, and as such, you now make a reservation at the Koto Buffet's SpotOn page here: Spotonreserve.com/RedHawkKotoBuffet
Koto Buffet at Red Hawk Casino Prices & Hours
As you can see below, the Koto Buffet is closed on Wednesdays. Dinner prices on the seafood Friday and Saturday night dinners are higher than weeknight buffets. Current buffet prices and hours are as follows:
| | | |
| --- | --- | --- |
| Brunch | | |
| Sunday | 10 AM – 3 PM | $32 |
| | | |
| Lunch | | |
| Monday, Tuesday, Thursday & Friday | Noon – 3 PM | $25 |
| Saturday | Noon – 3 PM | $39 |
| | | |
| Dinner | | |
| Monday, Tuesday & Thursday | 4 PM – 8 PM | $29 |
| Friday & Saturday | 4 PM – 10 PM | $47 |
| Sunday | 4 PM – 8 PM | $32 |
These prices are what you will pay. In other words, you do not have to pay the 7.25% sales tax, being on Indian land. Thus, a Seafood dinner (Friday or Saturday) for two people would cost a total of $94.00.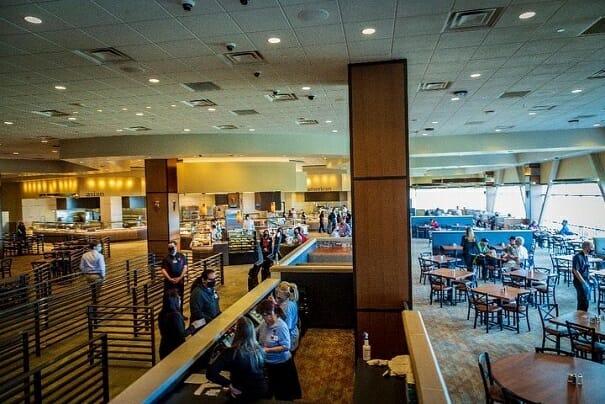 Koto Buffet Kid's Prices
Children ages 6 to 12 pay $15 for all buffet meals. Those five and under eat free, while your teenager pays full, adult prices.
While you must be 21 or older to gamble at Red Hawk Casino, guests under the age of 21 are allowed to go to the buffet, as long as they are with an adult 21 or older.
Koto Buffet Menu Items
Available dishes will change, depending on the day of your visit. However there are your standard stations: American, Asian, Carvery, Mexican, pizza, etc. The Koto Buffet says the following items are found every day:
Artisan Pizzas (I counted four different varieties) • Mashed Yukon Gold Potatoes • Teriyaki Chicken • BBQ Pork Ribs • Buttermilk Fried Chicken • Assorted Dim Sum • Assorted Sushi and Rolls • Vegetable Lo Mein • Stir Fry Young Chow Rice • Stir Fry Squash • Broccoli Tossed in Oyster Sauce • Sweet & Sour Pork
For cold dishes, you will find the salad bar island out front with two types of lettuce and all the usual condiments (from olives to garbanzo beans, diced hard-boiled eggs, mushrooms, radishes, etc, along with six different dressings). You'll also find potato salad, Hi-Mac Pasta Salad, Ambrosia, a 3-Bean Salad, Spinach Salad with Oranges, Beet Salad, Button Mushrooms and Artichoke Salad, artesian breads, along with cheeses, a selection of fresh fruit (strawberries, pineapple, melon, etc.), and some dried fruit.
Dishes unique to certain dinners are listed below. These are for dinner, (lunch will see fewer options, but also a cheaper price). Also, dishes may rotate in and out and are not guaranteed to be there at the time of your visit.
Monday
Smoked Brisket • BBQ Pork Ribs • Penne Pasta Toscana • Mac & Cheese • Baked Beans • Selection of Barbeque Sauces • Cole Slaw • Potato Salad • Macaroni Salad • Jalapeno Corn Bread with Honey Butter
Tuesday
BBQ Tri-Tip • Cider Brined Pork Loin • Roast Sweet Potatoes • BBQ Pork Ribs • Chili Colorado • Saffron Fish • Mac & Cheese Station • Roast Root Vegetables • Rigatoni ala Vodka • Jalapeno Corn Bread
Thursday
Smoked Brisket • BBQ Pork Ribs • Penne Pasta Toscana • Mac & Cheese • Baked Beans • Selection of Barbeque Sauces • Cole Slaw • Potato Salad • Macaroni Salad • Jalapeno Corn Bread with Honey Butter.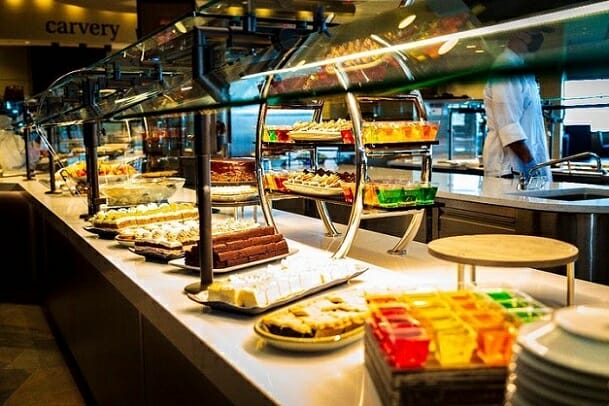 Seafood Friday & Saturday Night Buffets
This popular buffet stays open two hours longer than the normal buffet, closing at 10 PM. Dishes include the following
Hot Snow Crab
Shrimp Scampi
Paella
Ginger & Scallion Crab,
Stuffed Clams
Lemon Butter Pasta with Scallops & Shrimp
Chilled Peel & Eat Shrimp
Poke Station
Sunday Dinner
Carved Turkey • Roast Beef Roast • Pork Belly • Chicken Adobo • Grilled Sausage • Green Curry Chicken • Pesto Penne
Champagne Brunch
Among more dinner-type brunch items are the made-to-order omelet station, bacon, sausage, biscuits and gravy, French Toast, pancakes, brunch casseroles, eggs benedict, and the like.
Desserts
Constant offerings include soft serve ice cream with a topping bar. Various other choices can move in and out, but can include (from a recent visit) carrot cake, cupcakes, little cups of Jell-0, chocolate cream pie, cookies, cakes, slices of pie, chocolate covered strawberries, along with a few "no sugar added cookies."
Drinks
As mentioned earlier, there are two self-service drink stands here. Your choices include Pepsi, Diet Pepsi, Sierra Mist, Mountain Dew, Tropicana lemonade, Dr. Pepper, Mug Root beer (among others), and coffee.
Overall the Koto Buffet seems to offer a decent variety at an affordable cost. On the downside, there aren't a lot of vegetarian dishes, if that is a concern to you.
Koto Buffet Other
There is a 90 minute dining limit.
There is always free parking (including valet) at the Red Hawk Resort & Casino's eight-story parking structure, which has room for 2,400 vehicles.
The buffet reopened in February of 2022, after being shuttered during Covid. It was previously called the Waterfall Buffet.
Other restaurants at Red Hawk including Henry's Steakhouse, which is right across from the Koto Buffet, Pearl Asian Cuisine, The Burger Spot, and Verona Coffeehouse.
Red Hawk Casino & Resort is nearing the end of the massing expansion that is adding a five-story, 150 room hotel, outdoor terrace, pool, and 85,000 square foot amusement center that features a bowling alley, arcade, golf simulation bays, a sports bar, and go-kart racing.
Red Hawk Casino Address, Phone & Website
1 Red Hawk Parkway
Placerville, CA95667
(888) 573-3495
Website: Redhawkcasino.com
(By Steve Beauregard. Photos courtesy of Red Hawk Casino's official Twitter page. )