Ebro Greyhound Park & Poker Room Ebro
Address: 6558 Dog Track Rd, Ebro, FL 32437, USA
Phone Number: +1 850-234-3943
Website: https://www.goebro.com/
Hours: Ebro Greyhound Park is open 10 am – 4 am, 7 days a week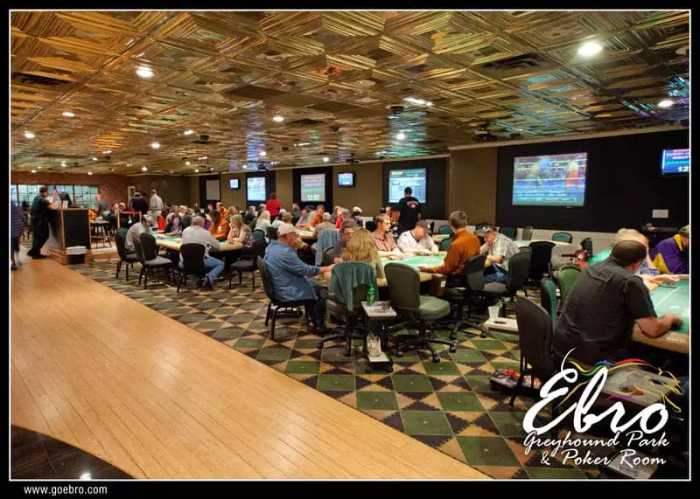 Ebro Greyhound Park has been a part of the Florida racing landscape since 1969. It is one of the smaller tracks in the state, but it has a loyal following thanks to some top-notch greyhound racing and poker action.
The track is open 10 am – 4 am, 7 days a week, and there is always something exciting happening at Ebro Greyhound Poker Room.
Greyhound racing is some of the best in the state. The track features live racing from Wednesday through Sunday, with simulcast betting available on Mondays and Tuesdays.
There are typically 10-12 races per day, and various wagering options are available.
The poker room is open Sunday through Thursday from noon until 4 am, and Friday and Saturday from noon until 6 am. The room features a variety of cash games and tournaments, and there is always something going on.
Whether you're looking to watch some exciting greyhound racing or play some poker, Ebro Greyhound is the place to be.
Guest reviews for Ebro Greyhound Park are generally positive. Most guests report that the track has good racing, and the poker room is lively and fun. However, a few guests have complained about the casino's poker room's smoke and tight games.
(Related reading: Florida casinos)
Gaming
This casino offers live greyhound racing and simulcast betting on dogs and horses. It also offers a poker room with cash games and tournaments.
Table Games
It offers a variety of table games for visitors to enjoy. One popular option is blackjack, which can be played with either real money or play chips. Guests can also try their hand at roulette, craps, or three-card poker.
For those looking for something a bit different, the gaming facility also offers electronic bingo and keno. With so many options available, there is sure to be a table game that everyone will enjoy at Ebro Greyhound.
The minimum bet for table games at this casino varies depending on the game. The minimum bet for blackjack is usually $5.00, but it can be higher or lower depending on the time of day and the number of decks used.
The minimum bet for roulette is typical $2.00, while the minimum for craps is usually $1.00. Three-card poker and electronic bingo minimum are usually $2.50 and $0.25 per game, respectively.
Slots
Unfortunately, this casino does not offer any slot machines for guests to play. However, there are several other casinos in the area that do have slots available.
Hotel/Resort
Ebro Greyhound Park in Ebro, Florida, offers various amenities for guests. The park features a spacious poker room with multiple TV screens and comfortable seating. There is also a full-service bar and restaurant on-site and a gift shop.
Outside, guests can take advantage of the park's walking trails, picnic areas, and playground. Additionally, the park offers live greyhound racing and simulcast wagering on horse and dog races.
With so much to do, Ebro Greyhound is the perfect place to spend a day or night.
Restaurants & Buffets
Ebro Greyhound is one of Florida's best places to eat. The food is delicious, and the service is outstanding. The restaurant is located in Ebro, Florida, and it offers a wide variety of food choices. The menu features American, Italian, Mexican, and seafood dishes.
Pools
Unfortunately, there is no swimming pool at this casino. However, many other ways to stay entertained include gambling and exploring the beautiful Florida Panhandle.
Whether you're looking for a night of excitement or a relaxing way to spend an evening, Ebro Greyhound Casino is sure to please.
Ebro Greyhound Park & Poker Room FAQ
Does Ebro Greyhound Park Casino Have A Sportsbook?
Ebro Greyhound does not currently have a sportsbook. However, they are considering adding one shortly. This would allow guests to bet on sporting events while they are at the park.
Currently, the park offers live greyhound racing and simulcast wagering on horse and greyhound races. They also have a poker room with daily tournaments. Adding a sportsbook would give guests another reason to visit the park and would likely increase revenue.
Is Poker Available At Ebro Greyhound Park Casino?
This casino offers a wide variety of gaming options, including poker. Whether you're a seasoned player or just getting started, you'll find a game to suit your needs. There are daily tournaments with huge payouts and weekly and monthly events.
Cash games are also available, with buy-ins starting at just $1. The friendly staff is always available to help you get the most out of your experience.
What Are The Age Requirements For Gambling At Ebro Greyhound Park?
All Ebro Greyhound visitors must be at least 21 years of age. This includes both gamblers and those simply wishing to watch the races or take in the atmosphere of the casino.
ID checks are conducted at the entrance to the facility, so be sure to bring along a valid form of identification if you plan on gambling.
Does Ebro Greyhound Park Have An Online Casino?
This casino does not have an online casino. While it may be possible to place bets on greyhound races online, there is no indication that the Ebro offers this service. In addition, the poker room is only available for physically present players at the park.
Is There An Ebro Greyhound Park App?
Although there is no official Ebro Greyhound app, there are a few ways to stay up-to-date with the latest news and information. The park has an active Facebook page where they regularly post updates and announcements.
In addition, there is an Ebro Greyhound Casino blog that offers detailed information about upcoming events and promotions. Finally, the park's website also has a section dedicated to news and events.
What Is The Dress Code At Ebro Greyhound?
There is no dress code at this casino. However, guests are encouraged to dress in casual attire. This means avoiding any clothing that is overly revealing or suggestive, as well as anything that could be considered offensive.
In addition, it is important to remember that this is a gambling establishment, so avoid wearing any clothing with profanity or offensive images.
Is There An Airport Shuttle Available From Ebro Greyhound Park?
This poker room does not offer an airport shuttle. However, several taxi and ride-sharing services operate in the area.
These include Uber, Lyft, and Yellow Cab. Fees for these services vary, so be sure to check with your provider of choice for more information. In addition, many hotels in the area offer shuttle services to and from the airport.
What Is The Smoking Policy At Ebro Greyhound Park?
The smoking policy at this Poker Room is by Florida state law. Smoking is permitted only in designated areas, and guests must adhere to the posted signs and regulations.
What Is The Pet Policy At Ebro Greyhound?
The pet policy at this casino means that only service animals are permitted on the premises. Guests who attempt to bring pets into the park may be subject to ejection.
Is Wifi Available At Ebro Greyhound Poker Room?
Yes, free wifi is available at Ebro Greyhound Poker Room. Just look for the "Ebro WiFi" network and enter the password when prompted.
What Is The Cancellation Policy For Ebro Greyhound Casino?
There is no hotel on site, so this casino has no formal cancellation policy. However, those who have booked rooms at nearby hotels should contact their hotel directly to inquire about their cancellation policy.
Conclusion
Ebro Greyhound is a popular gambling destination in Florida. The park offers a wide range of gaming options and several dining and entertainment options.
Those who are interested in gambling at the park will need to visit in person, as there is no online gambling option available.
In addition, it is important to note that the park has a dress code and smoking policy that must be followed. Finally, those who are planning to visit the park should be aware that there is no airport shuttle available.