Q Casino Dubuque
Address: 1855 Greyhound Park Rd, Dubuque, IA 52001, USA
Phone Number: +1 563-582-3647
Website: https://qcasinoandhotel.com/
Hours: Monday 7am–3am, Tuesday 7am–3am, Wednesday 7am–3am, Thursday 7am–12am, Friday Open 24 hours, Saturday Open 24 hours, Sunday 7am–3am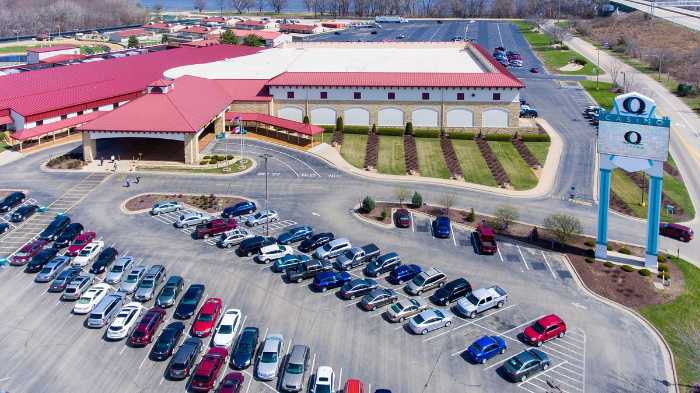 The Q Casino in Dubuque, Iowa, is a popular gambling destination. It was first established in 1995 as the Diamond Jo Casino. The casino was later sold to the Isle of Capri Casinos, which was renamed it the Q Casino.
The casino has since been sold to the Majestic Star Casino, which has plans to remodel and expand it. It offers a variety of gaming options, including slot machines, table games, and a poker room.
The casino also features live entertainment and multiple dining options and is attached to a hotel with over 200 rooms.
Whether you're a seasoned gambler or just looking for fun entertainment, the Q Casino in Dubuque is worth visiting. Make sure to check out their website for special offers and promotions.
As of right now, Q Casino hasn't been rated on TripAdvisor. However, the Diamond Jo Casino (which is now the Q Casino) was rated 4 out of 5 stars on TripAdvisor.
The Majestic Star Casino, which currently owns the Q Casino, has plans to remodel and expand it, so we'll have to wait and see how the guests rate it when it's completed.
(Related reading: Iowa casinos)
Gaming
This casino offers various gaming options, including slot machines, table games and a poker room.
Table Games
When you're looking for a little excitement and fun, look no further than Q Casino. This casino has it all, including plenty of table games to keep you entertained. One popular option is blackjack. With its simple rules and exciting gameplay, blackjack is a favorite among casino-goers.
If you're feeling lucky, try your hand at one of the casino's progressive jackpot games. These games offer big payouts, making them perfect for those who are looking to score a big win. Other table game options include roulette, baccarat, and craps.
The minimums for table games at this casino vary depending on the game and time of day. In general, the minimum bet for blackjack is $5 on weekdays and $10 on weekends. The minimum bet for roulette is $2 on weekdays and $5 on weekends.
No matter your gaming style, Q Casino has a table game that's sure to please.
Slots
This casino is home to a wide variety of slot machines, offering something for everyone. From classic three-reel machines to the latest in video slots, there is sure to be a game that catches your eye.
Some of the most popular machines at Q Casino include:
Wheel of Fortune: One of the most iconic games in the casino industry, Wheel of Fortune has been a mainstay at Q Casino for many years. Players have the chance to spin the wheel and win big prizes, making it one of the most popular games on the casino floor.
Buffalo Gold: A perennial favorite, Buffalo Gold is a five-reel slot machine that offers up exciting gameplay and the chance to win big. With a minimum bet of just $0.01, it's no wonder this game is so popular with players.
Double Diamond: A classic three-reel slot machine, Double Diamond offers up straightforward gameplay and the chance to hit it big with just a few spins. With a top prize of 1,000 coins, this machine is always a hit with players.
No matter your taste in slots, you're sure to find a machine that you'll love at this casino. With so many options to choose from, there's something for everyone at this Iowa casino.
The payback percentages for slot machines at Q Casino vary, as they do at all casinos. However, Iowa law requires that all casinos have an average payback percentage of at least 80%.
This means that, on average, a player can expect to win back at least $0.80 for every dollar they spend playing slot machines at this casino.
Hotel/Resort
In addition to its gaming options, Q Casino also offers a hotel attached to the casino with over 200 rooms called the Hilton Garden Inn.
Guests can enjoy amenities such as an indoor pool, fitness center, and on-site restaurant and bar. A shuttle service is also available for guests to easily access the casino and other nearby attractions.
The hotel at Q Casino offers a relaxing oasis for visitors looking to extend their stay in Dubuque. With comfortable accommodations and top-notch amenities, it's the perfect place to relax and recharge during your visit.
Room rates at the Hilton Garden Inn vary but can range from $99 to $179 per night. Guests can also choose to book packages that include casino gaming credits or spa treatments for an additional fee.
Whether you're visiting for a weekend getaway or an extended stay, Q Casino's hotel offers everything you need for a comfortable and enjoyable trip.
Check-in time at Hilton Garden Inn is 3:00 pm
Check-out time at Hilton Garden Inn is 11:00 am
Restaurants & Buffets
This casino is the perfect place to go, no matter what your mood is. They have everything from a place to have fun to fine dining and even something on the go. If you're looking for a place to watch the game and have some drinks with friends, then Q Sports Bar is the place for you.
They have multiple big-screen TVs so that you won't miss a second of the action. If you're in the mood for something more indulgent, then Houlihans is the place for you. They offer a wide variety of delicious food that is sure to satisfy your cravings.
And if you're looking for something quick and easy, then WOW Bao is the place for you. They offer a variety of delicious baos that are perfect for the on-the-go. So no matter what your mood is, Q Casino has the perfect spot for you.
Pools
This casino offers a refreshing escape from the hustle and bustle of the casino floor. The indoor pool features a hot tub, lap lanes, and plenty of lounge chairs for relaxation.
The outdoor pool is open seasonally and offers a relaxing atmosphere with cabanas and comfortable seating for guests to enjoy.
For those looking for an added touch of luxury, the hotel offers poolside cabana rentals with amenities such as a TV, refrigerator, and fan. Q Casino's pools provide the perfect place to soak up some sun and relax during your stay.
Q Casino Dubuque, IA FAQ
Does Q Casino Have A Sportsbook?
This casino does have a sportsbook. This 4,200 square foot area features 47 TVs, including a 165″ video wall. You can bring your friends and enjoy game day specials from the Q Sports Bar with a selection of 20 beers on tap.
Plus, they've covered all your games with DIRECTV's NFL Sunday Ticket and MLB Extra Innings.
Is Poker Available At Q Casino?
Yes, poker is available at this casino. The casino offers a variety of poker games, including Texas Hold'em, Omaha, and Seven-Card Stud. Several poker tournaments are held each month, with cash prizes up for grabs.
Whether you're an experienced player or just starting out, Q is the perfect place to test your skills.
What Are The Age Requirements For Gambling At Q Casino?
At this casino, you must be 21 years or older to gamble. This is because gambling is considered a form of adult entertainment, and it is only legal for adults to participate.
So if you're looking for a fun night out and want to try your luck at the casino, be sure to bring your ID and plan on staying up late.
Does Q Have An Online Casino?
No, this casino does not have an online casino. However, they do offer a wide variety of casino games that can be played in person at their facility. They have slots, table games, and a number of other gaming options available.
In addition, they also offer a wide variety of restaurants and bars on site, so there's something for everyone at Q.
If you're looking for an online casino experience, there are plenty of other options out there. However, Q is worth checking out if you're looking for a fun night out with friends or family.
Is There An Q Casino App?
Sports betting is now available on your mobile device with the Q Sportsbook app! You can now place your sports bets anytime, anywhere, using your iPhone or Android phone. The Q Sportsbook app is free to download and allows you to place your bets conveniently.
You'll be able to view all of the latest odds and lines and place your bets with just a few taps. So whether you're at the game or at home, you can now bet on your favorite team with the Q Sportsbook app.
What Is The Dress Code At Q Hotel & Casino?
There is no strict dress code at this casino. However, they ask that patrons wear appropriate attire and avoid offensive or obscene clothing.
Overall, the casino suggests dressing nicely but also being comfortable while enjoying your time at the casino. So feel free to dress up a bit or keep it casual – just make sure you're having a good time.
Is There An Airport Shuttle Available From Q?
No, this casino does not offer an airport shuttle service. However, they do offer a complimentary shuttle to and from the Dubuque Regional Airport for hotel guests.
If you're flying into the area and are staying at the Q Hotel, be sure to arrange this transportation with the hotel staff before your arrival. Otherwise, several taxi and rideshare services are available at the airport for easy transportation to the casino.
What Is The Smoking Policy At Q Casino?
Q Casino is a non-smoking facility, except for designated smoking areas outside. This includes cigarettes, cigars, and vaping devices.
They have a smoking lounge on the casino floor where patrons can enjoy their cigarettes or cigar in a comfortable setting.
What Is The Pet Policy At Q?
Unfortunately, pets are not allowed in the casino. Only service animals are permitted on the premises as defined by the Americans with Disabilities Act.
If you have a pet and plan on visiting Q, it's best to make arrangements for them to be taken care of during your visit.
Is Wifi Available At Q Casino?
Yes, free wifi is available throughout the casino for all patrons. Just ask a staff member at the front desk for the password, and you'll be able to access it easily.
So whether you're playing your favorite slot machine or enjoying a meal at one of their restaurants, you can stay connected with free wifi at Q Casino.
What Is The Cancellation Policy For Q Hotel & Casino?
The cancellation policy for hotel reservations at Q varies depending on the type of room and rate booked. It's best to check with the hotel directly for specific details about your reservation.
Generally, cancelling a reservation more than 24 hours before your arrival will not result in any charges. Cancellations made within 24 hours of your arrival may result in a fee equal to one night's stay.
Conclusion
Overall, Q Casino offers a complete entertainment experience for visitors to Dubuque, Iowa. Its wide selection of slot machines and table games, luxurious hotel accommodations, and top-notch amenities makes it the perfect destination for a fun and exciting vacation.
So come down to Q Casino and see what this vibrant casino offers.