Golden Eagle Casino Horton
Address: 1121 Goldfinch Rd, Horton, KS 66439, USA
Phone Number: +1 785-486-6601
Website: https://www.goldeneaglecasino.com/
Hours: Wednesday 7am–12am, Thursday 8am–12am, Friday 8am–2am, Saturday 8am–2am, Sunday 8am–12am, Monday 7am–12am, Tuesday 7am–12am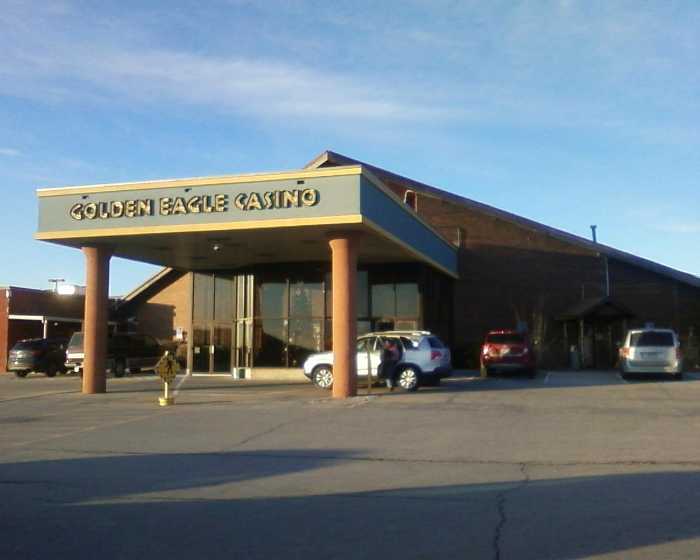 The Golden Eagle Casino in Horton, Kansas, has a rich history that spans more than three decades. The casino was first opened in 1985 by the Kaw Nation and has been operated by the tribe ever since.
In its early years, the Golden Eagle was a small, humble operation with just a handful of slot machines and a few gaming tables. However, over the years, the casino has expanded and grown considerably.
Today, it is one of the biggest casinos in the state of Kansas, with more than 350 slot machines and dozens of gaming tables. The casino is also home to a popular poker room, which regularly hosts tournaments and events.
In addition to its gaming options, it also features a full-service restaurant serving up delicious food and a lounge with live entertainment on weekends.
So whether you're looking for some exciting gaming action or just want to enjoy a tasty meal and catch some live music, the Golden Eagle in Horton is the place to be.
Golden Eagle Casino is rated 3.5 out of 5 stars on Google Maps. Customers rave about the friendly staff and great food at the restaurant, but some note that the casino can get quite smoky. Visitors are advised to bring their ID, as all patrons must be 21 or older to enter the gaming area.
(Related reading: Kansas casinos)
Gaming
This casino offers 350+ slot machines, as well as a variety of gaming tables, including blackjack, roulette, and poker. The casino also has a popular poker room that regularly hosts tournaments and events.
Table Games
At this casino, plenty of table games keep you entertained. Whether you're looking for a classic game like blackjack or something a little more unique, they've got you covered.
The friendly and professional dealers are always on hand to help you learn the ropes, and the wide range of bets means that there's something for everyone.
The minimum bets for table games at this casino vary depending on the specific game. For example, blackjack and three-card poker have a $5 minimum bet, while roulette has a $10 minimum bet.
Slots
At Golden Eagle, the slot machine is one of the most popular games. There are many different slot machines available, each with its unique theme and jackpot size.
Many of the machines are connected to progressive jackpots, which means that the jackpot grows larger as more people play. In addition to standard slot machines, it also offers video poker and Keno.
Video poker is a popular game among casino visitors, as it offers a wide variety of game options and a chance to win big jackpots. Keno is another popular game, as it allows players to win large prizes without putting any money down.
Whatever your game of choice, Golden Eagle will surely have a machine that will suit your needs.
The payback percentage for the slot machines at this casino is not publicly available information. However, it is common for casinos to have a range of payback percentages on their slot machines, with higher paybacks offered on certain games or machines.
Hotel/Resort
When it comes to entertainment, options are plentiful at this casino. The casino offers more than 350 electronic gaming machines and 16 gaming tables featuring blackjack, poker, and other popular games.
For those looking for a more relaxed experience, the casino also has a bar and lounge area where guests can enjoy drinks and live music. In addition, the casino regularly hosts special events such as concerts and comedy shows.
Although there is no hotel on site, there are several hotels and resorts within a few miles of the casino. And for those looking for more relaxation, the nearby River's Edge Spa offers massages, facials, and other treatments.
Whether you're looking for excitement or relaxation, Golden Eagle has something to offer everyone.
Restaurants & Buffets
The Grill at Golden Eagle is the perfect place to enjoy a casual meal with friends. The menu features a variety of delicious options, including burgers, wings and ribs. And for those looking for something a little lighter, there are also salads and sandwiches available.
Whether you're in the mood for breakfast, lunch or dinner, The Grill has something to suit everyone's taste. Plus, with an extensive wine list and a full bar, you can enjoy a glass of your favorite wine or cocktail with your meal.
So head on down to The Grill at this casino and enjoy a great meal in a relaxed setting.
Pools
Unfortunately, this casino does not have a pool on site. However, several hotels and resorts in the area offer pool access to their guests.
Or, if you're looking for some relaxation during your visit, the nearby River's Edge Spa offers a variety of relaxing treatments, including hot stone massages and body wraps.
Golden Eagle Casino Horton FAQ
Does Golden Eagle Casino Have A Sportsbook?
This casino does not have a sportsbook. However, they do offer a wide range of gambling options, including table games, slots, and video poker.
While they may not offer sports betting, Golden Eagle Casino is still a great place to visit for a fun and exciting gambling experience.
Is Poker Available At Golden Eagle Casino?
You can find poker at the Golden Eagle. They have Texas Hold'em, Omaha, and Seven-Card Stud. The casino also offers daily tournaments. You can buy in for cash or with chips that you can get at the cage.
You must be 21 years of age or older to play poker at the Golden Eagle Casino.
What Are The Age Requirements For Gambling At Golden Eagle Casino?
The legal age for gambling at Golden Eagle is 21. This means that you must be at least 21 years old to enter the casino, play any of the games, or collect any winnings. ID will be required to verify your age, so be sure to bring a valid form of identification with you when you visit.
Additionally, please note that the casino reserves the right to refuse service to anyone they believe to be under the legal gambling age. So if you're not yet 21 or don't have a valid ID, it's best to wait until you meet these requirements before attempting to gamble at Golden Eagle Casino.
Does Golden Eagle Casino Have An Online Casino?
As of right now, Golden Eagle does not have an online casino. However, this could change in the future. The casino may launch an online platform to reach a wider audience and attract more customers.
If Golden Eagle does launch an online casino, it would be a major development in the world of online gambling.
Is There An Golden Eagle Casino App?
At this time, there is no Golden Eagle Casino app available. However, this does not mean you can not enjoy all of the great games and features the casino offers. The casino has a mobile-friendly website that can be accessed from any smartphone or tablet.
Simply open up your web browser and type in www.goldeneaglecasino.com. You will then be able to access the same great games and features that are available on the desktop version of the site.
So even though there is no app, you can still enjoy all the Golden Eagle Casino offers.
What Is The Dress Code At Golden Eagle?
The dress code at the Golden Eagle is casual and comfortable. However, it is recommended that you avoid wearing anything that could be considered offensive or disrespectful.
For example, clothing with explicit language or images should not be worn. Additionally, it's best to avoid overly revealing outfits as well. As long as you're dressed in an appropriate and respectful manner, you should have no issue with the dress code at this casino.
Is There An Airport Shuttle Available From Golden Eagle?
This casino does not offer an airport shuttle. However, several transportation options are available for getting to and from the airport.
Guests can arrange for a taxi or rideshare service, such as Uber or Lyft. There is also a public bus that runs from the airport to nearby stops, including the casino. If you rent a car, you can also drive to the casino.
What Is The Smoking Policy At Golden Eagle?
This casino allows smoking on the gambling floor and in designated smoking areas. However, there are also non-smoking sections available for those who do not wish to be around smoke.
If you do choose to smoke, please remember to be considerate of those around you and only smoke in designated areas. Electronic cigarettes and vaping devices are also allowed in these areas.
What Is The Pet Policy At Golden Eagle Casino?
Unfortunately, pets are not allowed in the casino. Only service animals, such as those for assisting individuals with disabilities, are permitted on the premises.
If you plan on visiting Golden Eagle and have a pet, arrangements will need to be made for them to stay elsewhere during your visit.
Is Wifi Available At Golden Eagle Casino?
Yes, wifi is available at the casino for all guests to use. Simply ask a staff member at the front desk for the password to access the wifi network.
Additionally, there are several charging stations and outlets scattered throughout the casino for you to charge your electronic devices. Enjoy all that this casino has to offer while staying connected.
What Is The Cancellation Policy For Golden Eagle?
There is no direct booking option through Golden Eagle Casino, so the cancellation policy will depend on the third-party website or company you book with.
It's best to review the cancellation policy of your booking before making any reservations at this casino. If necessary, you can also contact the casino directly for more information on their policies.
Conclusion
Overall, the Golden Eagle offers a wide range of gaming options, a casual dress code, and amenities such as wifi and designated smoking areas. With so many gaming and entertainment options, it's a great choice for a fun night out.
Just remember to make other arrangements to stay, as this casino does not have an onsite hotel. For a fun and exciting time, consider visiting Golden Eagle Casino.